After my previous post about making a Baked Potato Bar, it occurred to me that it would be fun to do the same thing using sweet potatoes. In an effort to load my meals with more nutritious vegetables, I'm trying whenever possible to substitute sweet potatoes for white potatoes. Even though white potatoes have nutrition value of their own, the sweet version has so many more health benefits.
Sweet potatoes are #1! They are a complex carbohydrate loaded with Vitamin A (in the form of beta-carotine), Vitamin B6, Vitamin C, and fiber. They are rich in antioxidants, potassium, and iron. They really are one of the most nutrition-packed veggies you can eat. In fact, nutritionists at the Center for Science in the Public Interest (CSPI), ranked sweet potatoes #1 for overall nutrition above all other vegetables. They have a low glycemic index and help lower blood pressure, making them a much healthier choice than regular Idaho spuds.
Here's how I prepare my sweet potatoes and ideas for toppings.

PREPARE THE POTATOES
(same directions as for white baked potatoes explained in previous post)
If possible, purchase sweet potatoes that are a uniform size so they cook evenly.
Scrub them under water and dry them off.
Spray or rub them with oil.
Use a metal fork to poke a few holes in each potato. (This keeps them from exploding when they cook. Don't do this too far ahead of baking or the fork holes will oxidize and turn dark.)
Put them on a rimmed baking sheet, and bake at 400 degrees for 50-60 minutes, until soft.
If you're baking sweet potatoes ahead for a party, the hot, baked potatoes can be stored in a cooler for up to 4 hours. Seriously. They keep really well this way. Preheat the cooler with hot water before hand; empty and dry it right before adding the hot potatoes.
When it's time to serve, cut potatoes longways across the top of each potato and squeeze the ends together to open the potato.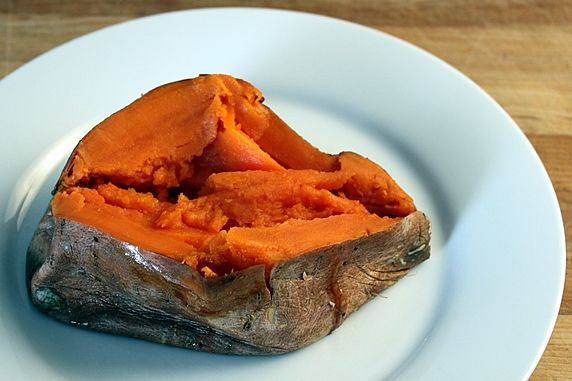 SAME AND NEW TOPPINGS. All of the toppings listed in my previous post about a white Baked Potato Bar can be used on sweet potatoes, too. But, sweet potatoes are also compatible with some sweeter toppings (think of the traditional sweet potato casseroles at Thanksgiving). So, I've added a few sweet options to the toppings list for a sweet potato bar.
Basics: salt, freshly ground pepper, butter, sour cream (or yogurt)
Cheese: shredded cheddar/jack, crumbled blue/feta, grated Parmesan; ricotta
Fresh herbs and seasonings: chopped fresh basil, cilantro, oregano, chives or dill; crushed red pepper;
Meats: chili, taco meat (recipe), fajita chicken or beef, pulled pork (recipe), bacon, chopped ham, salami, mini meatballs (recipe), salmon
Vegetables: chopped scallions or red onions; steamed broccoli, green beans, snow peas, or asparagus; grilled corn; canned beans; chili beans (recipe); chopped fresh tomatoes or sun-dried tomatoes; sauteed spinach mushrooms or onions; roasted red peppers; jalapenos; thawed frozen peas; chopped avocado or guacamole (recipe); cole slaw
Sauces & dressings: salsa (recipe); barbecue sauce (recipe); gravy; alfredo sauce; nacho sauce; blue cheese or ranch salad dressing; peanut sauce (recipe), soy sauce, marinara sauce - or other red Italian sauce (recipe); pesto (recipe)
Sweets: brown sugar, honey, maple syrup
Toasted Nuts: sunflower seeds, pepitas, pecans, almonds, walnuts, pine nuts, peanuts
TOPPING COMBINATIONS that I think are particularly good with baked sweet potatoes:
Barbecue - cole slaw, pulled pork, and barbecue sauce (see my recipes for Slow Cooker Pulled Pork and 3 Barbecue Sauces)
Asian flavors - sauteed veggies (snow peas, mushrooms, bean sprouts), peanut sauce (recipe) or soy sauce, chopped peanuts, chopped cilantro
Cheesecake (kinda) - low-fat ricotta cheese, honey or brown sugar, toasted nuts (pecans, almonds, or walnuts) for crunch
Sweet Potato Pie (kinda) - brown sugar or maple syrup, cinnamon or pumpkin pie spice (recipe), toasted chopped pecans
Italian - chopped fresh tomatoes, pesto (recipe), grated Parmesan, toasted pine nuts
Veggie - One or more steamed or sauteed veggies (asparagus, broccoli, spinach), crumbled feta or blue cheese, chopped scallions, freshly ground black pepper
My loaded sweet potato (below) was what I threw together for a quick lunch yesterday. See the "Veggie" combo above: steamed asparagus (in the microwave, zap the asparagus with 1 tablespoon of water for 2 minutes in a covered dish), crumbled feta, chopped scallions, freshly ground black pepper. It was so yummy. And, so nutritious. Try it!
MAKE IT A PARTY! This is such a great way to feed a crowd with a party buffet. Offer lots of toppings of just a few, and let people make their own. They'll have fun coming up with different combinations. This would be an easy dinner party buffet. I think it would be fun for a luncheon buffet, too. My girlfriends would love this, since many of us try to make our lunches particularly healthy.
You don't have to choose--have a baked white AND sweet potato bar. Offer both kinds of potatoes and let everyone choose one or have half of each. This is a fun way to mix it up and make your dinner or party buffet a bit more creative and interesting. And healthier!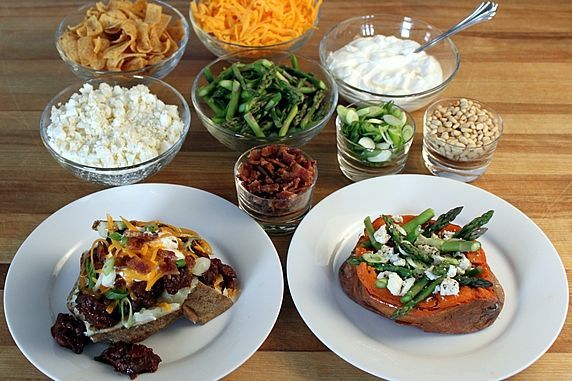 What would you like on top of your sweet potatoes?
Make it a yummy day!
Other posts that may interest you:
Baked Sweet Potato Bar
By Monica
Sweet Potatoes (uniform size for even baking)
Olive oil
TOPPING POSSIBILITIES--
Basics: salt, freshly ground pepper, butter, sour cream (or yogurt)
Cheese: shredded cheddar/jack, crumbled blue/feta, grated Parmesan; ricotta
Fresh herbs and seasonings: chopped fresh basil, cilantro, oregano, chives or dill; crushed red pepper;
Meats: chili, taco meat, fajita chicken or beef, pulled pork, bacon, chopped ham, salami, meatballs, salmon
Vegetables: chopped scallions or red onions; steamed broccoli, green beans, snow peas, or asparagus; grilled corn; canned beans; chopped fresh tomatoes or sun-dried tomatoes; sauteed spinach mushrooms or onions; roasted red peppers; jalapenos; thawed frozen peas; chopped avocado or guacamole; cole slaw
Sauces & dressings: salsa; barbecue sauce; gravy; alfredo sauce; nacho sauce; blue cheese or ranch salad dressing; marinara sauce - or other red Italian sauce; pesto
Sweets: brown sugar, honey, maple syrup
Toasted Nuts: sunflower seeds, pepitas, pecans, almonds, walnuts, pine nuts, peanuts
--Scrub potatoes under water and dry them off.
--Spray or rub potatoes with oil.
--Use a metal fork to poke a few holes in each potato.
--Put potatoes on a rimmed baking sheet, and bake at 400 degrees for 50-60 minutes, until soft.
--If baking potatoes ahead for a party, the hot, baked potatoes can be stored in a cooler for up to 4 hours. Preheat the cooler with hot water before hand; empty and dry it right before adding the hot potatoes.
--When it's time to serve, cut potatoes longways across the top of each potato and squeeze the ends together to open the potato.
--Serve with a variety of toppings.
RECOMMENDED TOPPING COMBINATIONS:
1. Barbecue - cole slaw, pulled pork, and barbecue sauce
2. Asian flavors - sauteed veggies (snow peas, mushrooms, bean sprouts), peanut sauce or soy sauce, chopped peanuts, chopped cilantro
3. Cheesecake - low-fat ricotta cheese, honey or brown sugar, toasted nuts (pecans, almonds, or walnuts) for crunch
4. Sweet Potato Pie - brown sugar or maple syrup, cinnamon or pumpkin pie spice, pecans
5. Italian - chopped fresh tomatoes, pesto, grated Parmesan, pine nuts
6. Veggie - One or more steamed or sauteed veggies (asparagus, broccoli, spinach), crumbled feta or blue cheese, chopped scallions, freshly ground black pepper