This recipe is so simple. Just 3 ingredients, plus barbecue sauce or whatever condiments you like on your pulled pork. I season the meat with my spice blend from a previous post, 14-Spice Dry Rub. That spice blend plus a bottle of beer is all you need to make flavorful, moist, pulled pork.
Slow cooker pulled pork recipes often call for mixing in barbecue sauce with the pork either while or after it cooks. I prefer to serve barbecue sauce on the side. That way people can choose the quantity and type of sauce they want on their pork, if any. This pork is so moist and flavorful, it can be enjoyed without any sauce added at all. That's the way King-Man prefers it. He's not much of a barbecue sauce guy. Using the barbecue sauce as an optional condiment also makes it possible to use the leftover pork for other dishes.
To cut calories, choose a lean pork roast. In order to make this recipe as low-fat and healthy as possible, I use the leanest pork roast I can find. Others will disagree with that and argue that a fattier roast (like a pork shoulder) is more flavorful. That may be; but I prefer to make the leanest pulled pork possible and add flavor with seasonings. This recipe results in a delicious broth that I thicken so that it clings to the pieces of meat and gives them great flavor and moisture--without the fat. The slow cooker is perfect for producing amazingly tender meat from a lean roast. And, it's so easy.
Want a faster method for making pulled pork? Check out my recipe for Pulled Pork In An Instant Pot.
Nutritional Info (for 1/2 cup pulled pork): 126 calories, 3.4g fat, .6g carbs, 0g fiber, 21.2g protein; Weight Watchers PointPlus: 3
Step-by-Step photos for making Slow Cooker Pulled Pork
Step 1. Assemble the ingredients.
Pork roast (I used a boneless, center cut pork loin roast)
Bottle of dark beer (I used Schlafly Coffee Stout--it's a favorite local St. Louis beer--gotta represent the home town!)
14-Spice Dry Rub Mix. Here's that recipe:
View & Print 14-Spice Dry Rub Mix Recipe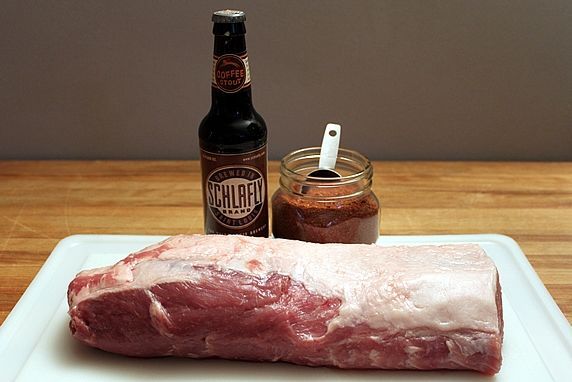 Step 2. Trim as much fat as possible from the pork roast. Cut it into 3-4" pieces. Cutting it up exposes more of the meat surface to the seasonings and enhances the flavor.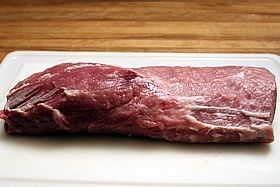 Step 3. Put the 14-spice blend in a shallow dish. Roll each piece of pork in the spice blend, coating all sides.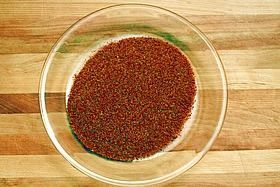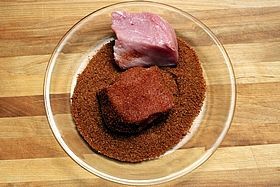 Make ahead tip: You can prepare the meat to this point the night before and put it in the fridge until you're ready to cook it the next day. Start the slow cooker in the morning, and it's ready by dinner time.
Step 4. Place the pork pieces in the slow cooker.
Step 5. Add the bottle of beer to the slow cooker. Pour it down the sides of the slow cooker to avoid washing the dry rub off of the pork pieces. Cook for 8-12 hours on low (or high for 6-10 hours). The time can vary widely depending on your particular slow cooker, how full it is, and the starting temperature of the pork. Ideally, your slow cooker should be no more than 3/4 full, and all ingredients should be room temperature before starting.
click here for Amazon link to my 6-1/2 qt Crock Pot
(rated #1 by Cook's Illustrated)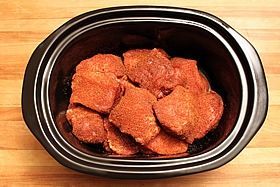 Step 6. Remove the cooked pork onto a cutting board and shred it with two forks.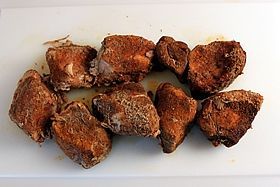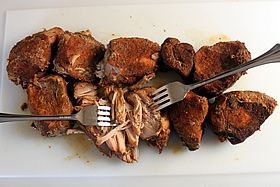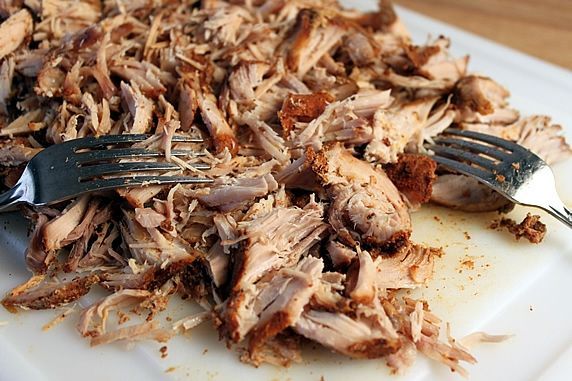 The pork will be flavorful but dry after shredding it. There are 2 options for adding moisture and additional flavor:
1. Return the pork to the slow cooker, stir in barbecue sauce until it's the "sauciness" that you like, turn the slow cooker to high until it's heated throughout.
OR
2. Make a gravy out of the broth left in the slow cooker and mix it with the shredded pork to add flavor and moisture. This is the method that I prefer. The broth has an amazing flavor that makes the shredded pork all the more succulent when it's thickened and mixed back in. Read on to see how.
Step 7. Pour the broth from the Slow Cooker through a fine wire mesh strainer into a bowl. This will remove the solid bits and pieces from the broth.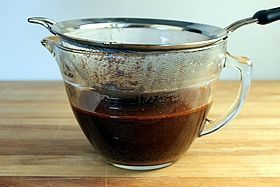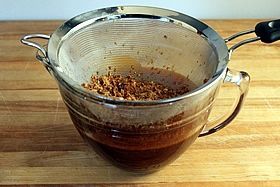 Step 8. Pour the broth into a grease separator. (You can spoon off the fat, but it's virtually impossible to get it all unless you refrigerate it first.) Release the trigger on the handle of the grease separator to pour the fat-free broth back into the bowl. (This same technique is demonstrated in my post on Make Ahead Fat-Free Turkey Gravy.)
Click here for Amazon link to grease separator.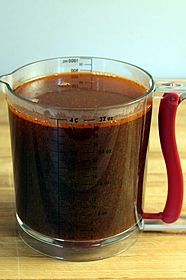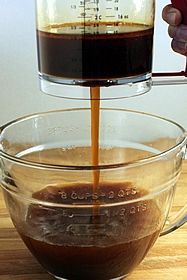 Step 9. Thicken the broth so that it will cling to the shredded pork, adding flavor and moisture to each piece. You'll need some cornstarch for that. I use Michael Ruhlman's thickening formula in his book, Ratio, for thickening the broth.
thickening rule = 1 tablespoon cornstarch thickens 1 cup liquid
Measure your broth and apply the formula accordingly. I had approx. 4 cups of broth, so I measured out 4 tablespoons of cornstarch to thicken it.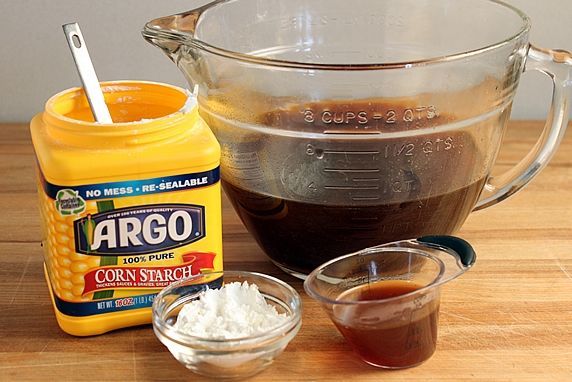 Step 10. Make a slurry with equal parts of cornstarch and water (or use part of the broth). I put 4 tablespoons of broth in a bowl and added the 4 tablespoons of cornstarch. Then whisked it all together.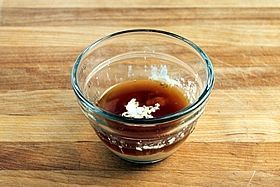 Step 11. Return the broth to the slow cooker, set it on high, and whisk in the slurry. Let it cook until it thickens. This can take awhile, especially if the broth has cooled off considerably. OR . . .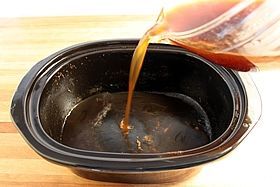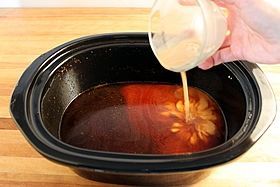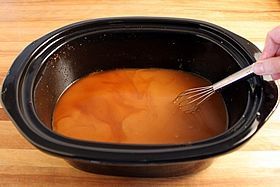 Speed method: Transfer the broth/cornstarch mixture to a saucepan on top of the stove and heat it until it thickens. This will take a just a few minutes, as opposed to 30-60 minutes in the slow cooker.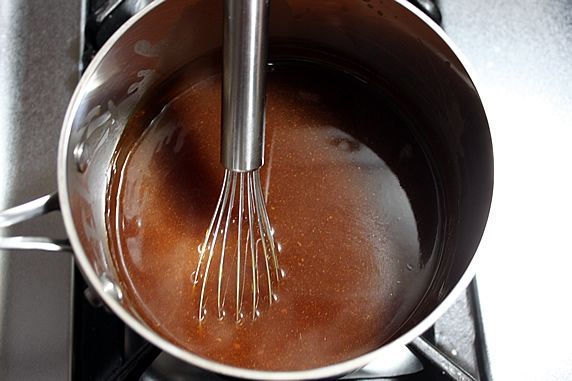 Step 12. Combine the shredded pork and thickened broth (gravy) in the slow cooker set on high. Stir it until every piece of meat is covered with the flavorful gravy. Taste and add more salt, if needed.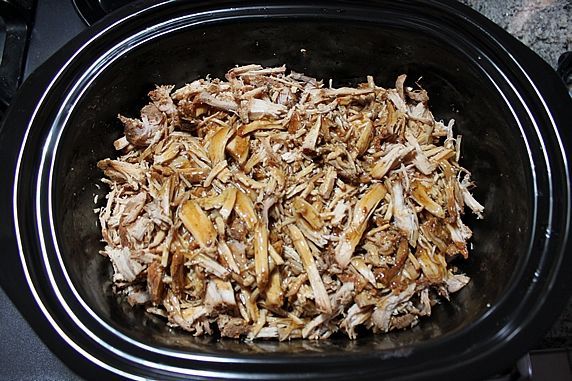 Step 13. It's ready to serve. Pile some of the shredded pork on a bun. It's flavorful enough to eat it plain like this, OR . . .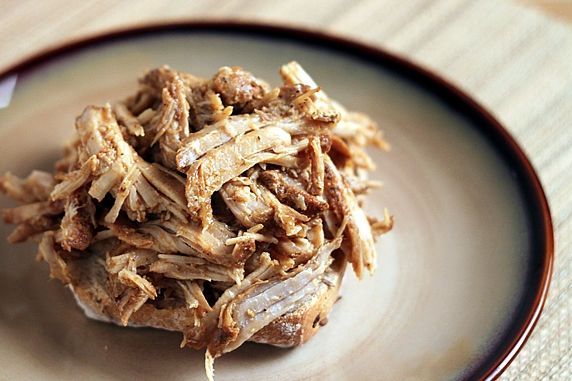 Step 14. Add some barbecue sauce before you put on the bun top. Use your favorite bottled sauce, or make some of your own. I like to serve a selection of my homemade barbecue sauces in condiment bottles, just like the barbecue restaurants. It's easy and tidy this way. Here's my easy recipe for 3 sauces to suit a variety of tastes:
View Barbecue Sauce--Sweet & Tangy, Spicy, or Smoky Recipe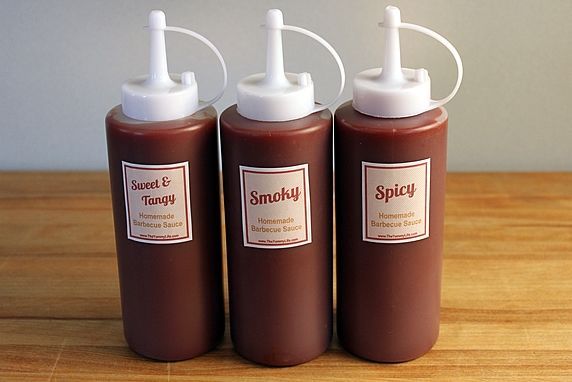 Drizzle on that delicious sauce and enjoy! You'll need lots of napkins. There's no way to eat this without getting it all over your face and hands. That's part of the fun.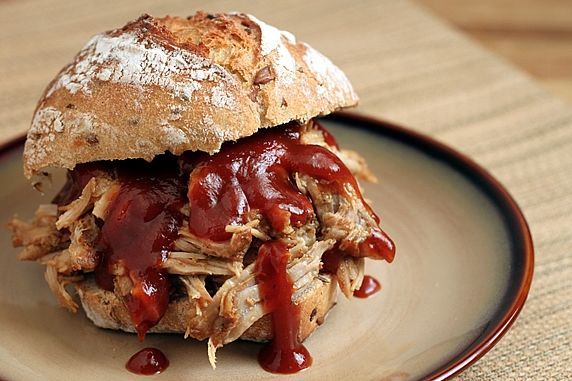 Turn these into sliders for a party. Simply use mini-sized buns, and you've got a perfect party food.
Make it a yummy day!

Other posts that may interest you:
14-Spice Dry Rub Mix Recipe--For Chicken, Pork, or Beef

3 Barbecue Sauces--Sweet & Tangy, Spicy, and Smoky

Pulled Pork In An Instant Pot

Classic Creamy Potato Salad

Slow Cooker Corn-on-the-Cob

Slow Cooker Pulled Pork - A Low Fat Recipe
By Monica Servings: Makes 8-9 cups
4-5 pound lean pork roast (center cut pork loin, or similar)
1/2 to 3/4 cup 14-spice dry rub mix (for recipe, go to www.TheYummyLife.com/recipes/69)
1 (12-oz.) bottle dark beer
3-5 tablespoons cornstarch
barbecue sauce (for recipe, go to www.TheYummyLife.com/recipes/71)
Remove as much fat as possible from pork roast. Cut roast into 3-4" pieces. Pour dry spice rub into shallow dish. Roll each piece of pork in spice rub, covering all sides. Place pork in slow cooker. Add beer. Cook on low 8-12 hours, or on high for 6-10 hours. When done, pork will easily flake apart with a fork. Remove pork from slow cooker and shred with 2 forks. Strain broth through fine wire mesh strainer. Remove fat with grease separator or spoon. Return broth to slow cooker or saucepan on stovetop. To thicken broth, measure 1 tablespoon cornstarch per 1 cup of liquid. In small bowl, whisk together a slurry with equal parts of the cornstarch and water. Slowly whisk slurry into hot broth. Heat until thickened. Combine shredded pork and thickened broth in slow cooker on high; heat through. Taste and add salt, if needed. Serve on buns, plain or with barbecue sauce.
ALTERNATIVE METHOD: Mix barbecue sauce with cooked, shredded pork in slow cooker in place of thickened broth. Heat through on high.

Nutritional Info (for 1/2 cup pulled pork): 126 calories, 3.4g fat, .6g carbs, 0g fiber, 21.2g protein; Weight Watchers PointPlus: 3