No question that Marinara Sauce is the sauce I use most frequently in Italian recipes. Pesto runs a close second. This is a good basic vegetarian marinara sauce to:
serve over pasta, ravioli, or meatballs (check out my recipe for Italian Meatballs)
turn into a meat sauce by adding browned ground meat or crumbled meatballs or Italian sausage
turn into a seafood sauce by adding shrimp or clams
use as a pizza sauce
use as the base sauce in lasagna
use to make baked chicken parmesan (smother chicken breasts with this marinara sauce, generously sprinkle with parmesan cheese, top with a layer of mozzarella cheese and bake for 35-45 minutes at 350º)
use as a sauce on meatball sandwiches
use as a sauce on my Parmesan Chicken Sandwiches
I love this rich, red Italian sauce. An added bonus is that it is very nutritious.
Did you know? Cooked tomatoes are more nutritious than raw ones. Although tomatoes may lose some of their vitamin C when cooked, heating and crushing them actually boosts their antioxidant power. Cooked tomatoes are high in lycopene, a powerful antioxidant that is believed to promote heart health and help fight cancer. Yay for cooked tomatoes!
Freeze or can it! For convenience, I make this sauce up in big quantities and freeze or can it. That way it's always on hand for a variety of quick Italian meals. It will come as no surprise, that my mom (aka Grammy) taught me how to make marinara sauce. Grammy managed an Italian restaurant for many years and had her hand in developing a number of recipes there. She really knows her way around a marinara sauce.
This recipe combines the Italian seasonings that Grammy taught me to use with a recipe for canned Italian sauce from The Complete Book of Small-Batch Preserving. This way I am sure to have the right proportions of ingredients to safely can it.
If you haven't canned before but would like to give it a try, check out my post:
A word of caution about canning. For food safety, it is important to have the correct amount of high acid food in a recipe in order to use water process canning. That's why I use a tested canning recipe for the base of this sauce. You can make tweaks to the seasonings, but it is important to keep the ratio of tomatoes, wine, vinegar, and other ingredients to ensure a safe pH level. Canning homemade recipes can be risky if they haven't been tested for proper pH levels. Without enough acid in a canning recipe, harmful bacteria like botulism can form. Yikes. (NOTE: If you want to can sauce that adds meat or cheese, look for a recommended recipe that is processed in a pressure cooker. Water process canning is not safe for canning with these ingredients.)


Of course, you don't have to can or freeze this recipe. It's terrific to make up and eat right away.
Step-by-step photos for making Marinara Sauce:

First, assemble the ingredients: plum (aka Roma) tomatoes, olive oil, red wine vinegar, dry red wine, fresh basil and Italian parsley (or you can use dried), crushed red pepper, marjoram, oregano, thyme, salt, pepper, tomato paste, garlic.
If you prefer the convenience of using canned tomatoes, the sauce will turn out every bit as delicious. Grammy taught me that you get a better quality of canned tomato if you buy them whole and chop/crush them yourself. That does make sense, but if you prefer the convenience of buying them already chopped or crushed, that is just fine. It sure is easy that way. (Shhhh, don't tell Grammy I said that.) I prefer to buy "no salt added" canned tomatoes so that I can control how much salt is added to the recipe. But, again, that's up to you. This photo shows enough canned tomatoes for 2 batches of marinara sauce: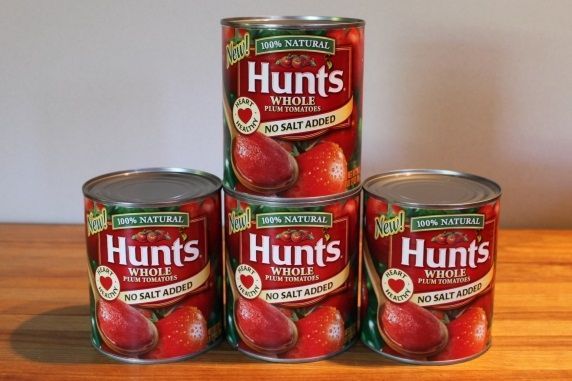 If you're using fresh tomatoes, you need to blanch and peel them. It's easy to do. If you don't know how, find out in my post How to Blanch and Peel Tomatoes.
Next, roughly chop the peeled tomatoes. If you're using canned whole tomatoes, roughly chop those, too. Keep the liquid that's in the can--it goes in the sauce, too.
Add olive oil to a large pot and heat over medium-high heat. Add the garlic and crushed red pepper and heat for approximately one minute--don't let the garlic brown.
Add the chopped canned or fresh tomatoes, plus any liquid from the cans. (The liquid hasn't cooked out of the fresh tomatoes yet--but it's in there!) Add all of the seasonings and tomato paste.
Add the wine and red wine vinegar.
Stir the pot--so to speak. Heat to a boil, then lower heat to a simmer.
Simmer uncovered for 40-60 minutes until it's reached a consistency you like. Here's what mine looked like after it cooked. Now it's time to decide if you want a smooth or chunky sauce. If you want it chunky, your sauce is finished.
If you want your sauce smoother, you can remove some or all of it to a food processor or blender and whirl it until it's the texture you want. Or, if you have a handy dandy immersion blender, it is the quickest and easiest way to blend your sauce. This gadget gives you the most control for gradually getting the sauce to the texture you want. (It's great for blending soups and getting lumps out of gravy, too.)
I like my sauce kind of "medium" in texture--a little texture, not too many big chunks, not completely smooth. But, that's me. You can decide and produce the perfect texture for you. Here's what my finished marinara sauce looks like:
Weight Watchers PointsPlus = 1 point per 1/2 cup of sauce
Eat it. Freeze it. Can it. This sauce can be eaten right away. It also freezes really well--either in jars, plastic freezer containers, or ziploc bags. I've used all three freezer methods. My freezer is full, though. So, I've been canning my marinara sauce lately. I explain how in my post, Step-By-Step Canning Tips.
For a finishing touch, I like to label my processed jars. That way they're easy to identify and organize, and they're ready for gift giving, too.
To use the downloadable tags:
Print these on card stock, cut them out, punch a hole in the corner, and hang them from the jar neck with a ribbon, string, or rubber band.
Print them on sticker paper and stick them to the jar lid or side. Or, stick them on with tape.
If you don't have a printer or specialty papers, you can have a store with printing services download and print them for you (Kinkos, Office Depot, Staples, etc.)
Cut with scissors or a circle punch. You can cut the round tags out carefully with scissors, or use a circle punch to make the task easier and more precise. I use a 2-1/4" circle punch; it fits both regular and wide canning lids.
view on Amazon: 2-1/4" circle punch (this fits mason jar lids)
Click on the image below to download & print a full sheet of labels.
It just makes me happy to see all of these jars of homemade goodness lined up. Although it makes me even happier to open one up at eat it!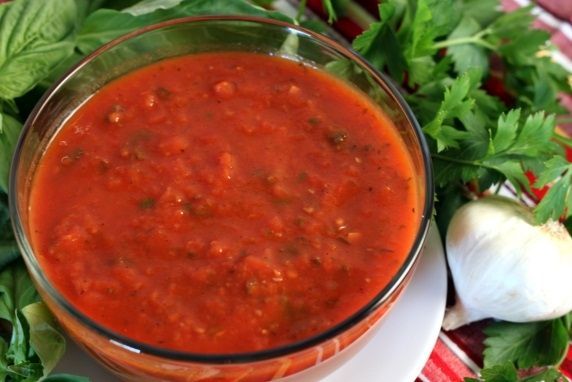 Make it a Yummy day!
Monica
This sauce is fantastic with my Italian Meatballs.
click to view Italian Meatball recipe
More posts that may interest you:
Marinara Sauce
By Monica Servings: Makes 8 cups
2 28-oz. cans unsalted whole tomatoes, coarsely chopped; OR, 8 c. (4 lbs.) coarsely chopped fresh plum tomatoes that have been blanched and skinned
2 tablespoons olive oil
1 tablespoon minced garlic (3 cloves)
1/2 teaspoon crushed red pepper
2/3 cup dry red wine
1/3 cup red wine vinegar (reduce to 2 tablespoons if not canning)
1 6-oz. can tomato paste
1 teaspoon dried leaf oregano
1/2 teaspoon dried leaf thyme
1/2 teaspoon dried leaf marjoram
1/4 cup chopped fresh basil (or 1 tablespoon dried basil)
1/4 cup chopped fresh Italian parsley (or 1 tablespoon dried parsley)
1/2 teaspoon sugar
1-1/2 to 2 teaspoons kosher salt (to taste)
1/2 teaspoon ground black pepper
In large stockpot, warm olive oil over medium-high heat. Add garlic and red pepper flakes and cook approx. 1 minute--don't let the garlic brown. Add tomatoes (include liquid in canned tomatoes), wine, vinegar, tomato paste, oregano, thyme, marjoram, basil, parsley, sugar, salt, and pepper. Bring everything to a boil, lower heat and simmer uncovered for 40-60 minutes, until mixture is desired consistency. Taste & add salt, if needed. This is a chunky sauce. For a smoother sauce, blend with an immersion hand blender or food processor. May be frozen or canned.
To can, ladle sauce into hot, sterilized jars, leaving 1/2 inch headspace. Process in water bath 35 minutes for pint jars or 40 minutes for quart jars.

Weight Watchers PointsPlus = 1 point per 1/2 cup serving