If you were to ask my 2 sons to list the most memorable foods they ate while growing up, meatballs would likely be at at the top of the list. You see, Grammy (my mom) managed an Italian restaurant when they were young. Their favorite food there was meatballs.
It became a tradition to eat meatballs whenever Grammy was around. Even for breakfast. Seriously. Want some evidence? Here is a photo of Bracken in 1987 (he was 5). He and T-Man had a slumber party at Grammy's, and their doting grandmother served them breakfast in bed while they all watched cartoons on TV (pretty much heaven for 2 little boys). Breakfast menu: French toast, cantaloupe, and...MEATBALLS! I believe the caption for this photo is, "Mmmmmmmm...!"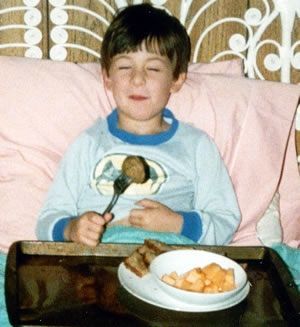 Through the years, when Grammy would fly from Arizona to visit us in St. Louis, she would bring frozen meatballs along. T-Man and Bracken would immediately divide up the meatballs to make sure that each got their fair share. These meatballs were made from scratch in enormous batches in the restaurant, and it is impossible to exactly replicate the process and ingredients that included other restaurant recipes.
After many attempts to replicate Grammy's restaurant meatballs, I gave up and created my own recipe. They're not Grammy's, but they've gotten a thumbs up from my family. And, they're a bunch of meatball snobs!
Two features are important to making a good meatball: flavor and texture. This recipe has the essential ingredients for flavorful Italian meatballs. The secret to avoiding hard, hockey puck meatballs is mixing the meat and other ingredients with a light, gentle touch. I'll share my tips for achieving those results.
Big meatballs and mini meatballs. This recipe makes a big batch, and I like to make them in 2 sizes and freeze them. The big size is for eating as a separate meat entree, with spaghetti, and slicing for meatball sandwiches and sliders. The small, cocktail meatballs are perfect for appetizers, as a pizza topping, and to add to soup. With these in the freezer, I can quickly throw together a number of delicious meals.
Step-by-step photos for making Classic Italian Meatballs
Step 1. Assemble the ingredients: ground beef, ground pork, eggs, buttermilk, unseasoned bread crumbs (I use whole wheat), garlic, onion, Italian parsley, Parmesan cheese, oregano, salt, and pepper.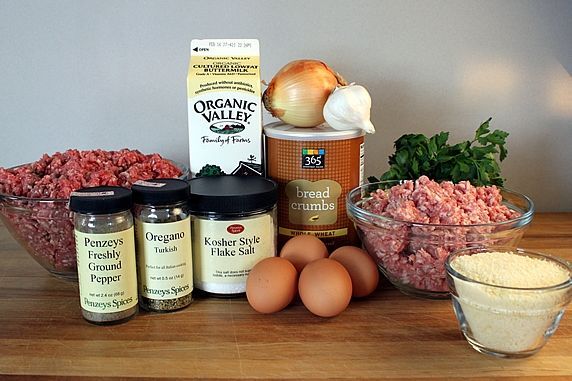 Step 2. Put the eggs in a bowl and whisk them together.
view on Amazon: my go-to mix & measure bowl (with a lid for easy fridge storage when needed); wire whisk
Step 3. Add the water, buttermilk, and breadcrumbs. Stir until mixed. Let this mixture rest for 10 minutes. It will thicken as the bread crumbs absorb the liquid.
Step 4. Mince the garlic using a garlic press or knife.
Step 5. Grate the onion with the course side of a grater--this results in a finely minced onion. Or, finely mince the onion with a knife.
NOTE: You want the onion and garlic to be minced into teensy pieces so that their flavor distributes well throughout the meatballs with no evident chunks.
view on Amazon: garlic press; box grater
Step 6. Measure 1 cup of loosely packed parsley leaves; chop finely with a knife.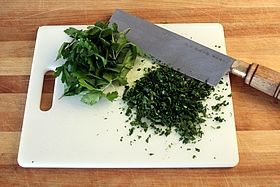 Step 7. Combine breadcrumb mixture, garlic, onion, parsley, cheese, oregano, salt and pepper. Stir until well mixed.
NOTE: Mixing all ingredients together before adding them to the meat results in everything getting evenly distributed throughout the meat so it doesn't have to be mixed and handled as much. This is key to keeping a light texture to the meatballs.
Step 8. In a separate large bowl, combine the ground beef and pork. Mix it together with a very light touch. Use your fingers or a big fork. Add the breadcrumb/seasoning mixture.
Step 9. Combine everything together until well mixed. Don't use a spoon--that tends to compact the mixture as you stir and results in dense, hard meatballs. Instead, use your fingers and lightly mix ingredients together; OR, my preference is to mix with a large fork with long prongs. This allows you to lift the mixture from the bottom, and drag the fork through the ingredients, and combine them without compressing them. The fork method will give your meatballs a light, tender texture.
view on Amazon: long pronged fork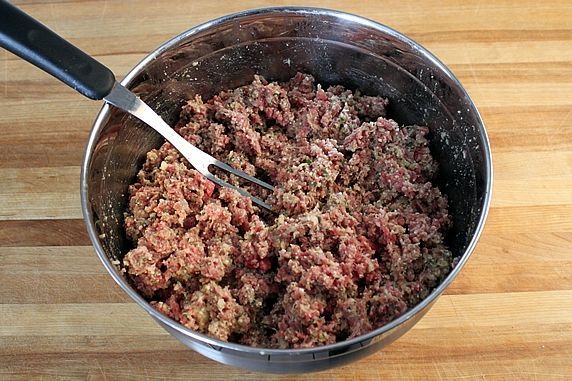 Step 10. Form meatballs with your hands or a scoop, again using a light touch--don't mash them together any more than is necessary for the shape to hold. For large meatballs, use a generous 1/4 cup per meatball or a 2" scoop. For mini meatballs, use 1 to 1-1/2 tablespoons or a 1-1/4" scoop. The scoops make it easy to form quick, round meatballs of uniform size.
view on Amazon: large scoop; small scoop
Here are the 3 baking sheets of meatballs that I got from a single batch. I made 35 large meatballs and 54 mini meatballs.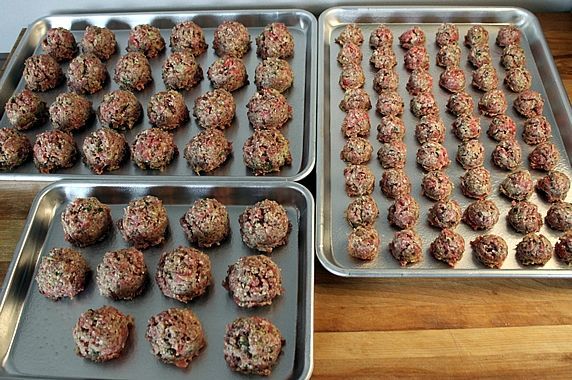 Bake the large meatballs for approx. 30 minutes and mini meatballs for 15 minutes. I like to bake them until a tasty brown crust forms on the bottom.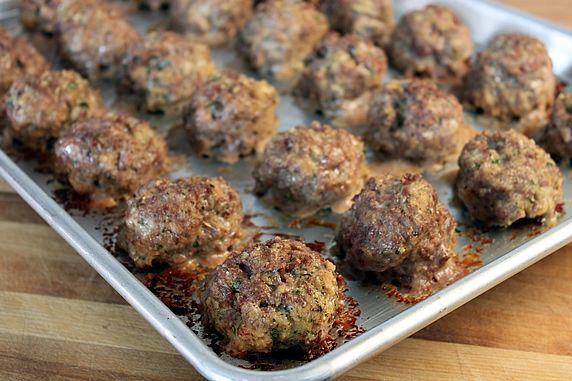 Break one open to make sure there's no pink meat inside. You can see the light, airy texture of the meatballs in this photo. They fall apart in your mouth, they are so tender.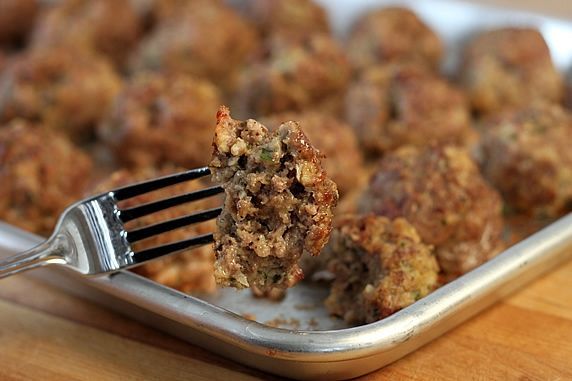 Freeze them. I freeze my meatballs in Ziploc bags so that I can quickly grab what I need for future meals. Put them in a single layer so they don't stick together as they freeze. That makes it easier to remove individual meatballs after they're frozen.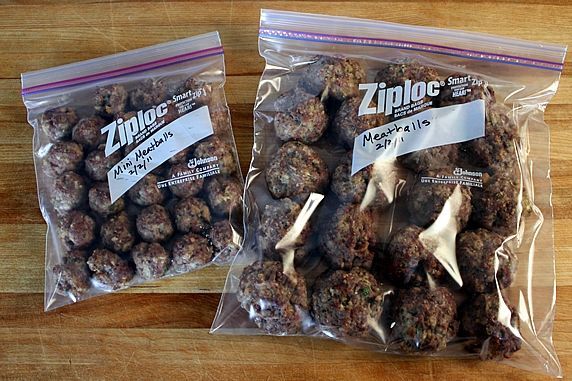 Reheat the meatballs in some marinara sauce. You can buy a jar of marinara sauce, or make your own. Here's my recipe.
Sprinkle freshly grated Parmesan cheese on top for the finishing touch.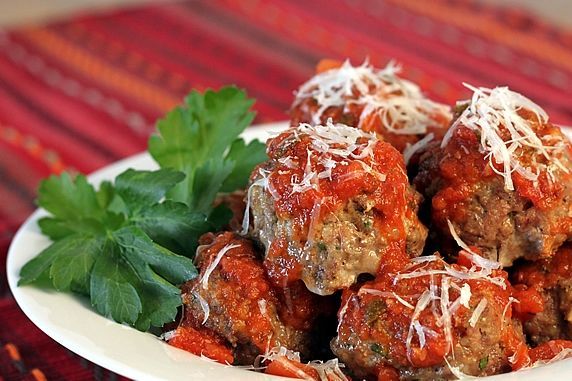 I love having meatballs in my freezer, because there are so many quick meals I can make with them.
Serving ideas for large meatballs:
The classic way:

on top of spaghetti.

An entree:

Pair meatballs with a salad and some garlic bread, and you've got a meal. No pasta required.

A quick meat sauce:

Crumble meatballs into marinara sauce to make an instant meat sauce. Serve on pasta.

Meatball sub sandwiches:

slice the meatballs, heat them in the marinara sauce, spoon them on the bottom half of a split loaf of French or Italian bread, top with grated Parmesan and mozzarella cheese, put them under the broiler until the cheese melts, top with the other half of the bread loaf. Yum! (Slicing the meatballs makes the sandwich much easier to eat.)

Meatball sliders:

same procedure as for the sandwich above, except make them on small dinner rolls or buns.
Serving ideas for mini (cocktail) meatballs: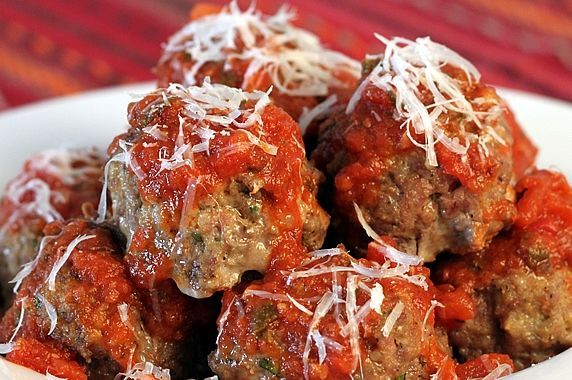 If you like Italian food as much as I do, you might also enjoy these recipes that all originated in Grammy's kitchen: marinara sauce, pesto, antipasto, creamy Italian dressing, pizza sauce, and garlic bread spread.
Make it a Yummy day!
Monica
Classic Italian Meatballs
By Monica Servings: 50-60 2" meatballs
4 eggs, slightly beaten
1/4 cup water
1 cup buttermilk
1-1/2 cup unseasoned bread crumbs (I use whole wheat)
4 teaspoons minced garlic
1 medium onion, finely minced or grated
1 cup fresh Italian parsley, chopped
1 cup grated Parmesan cheese
1 tablespoon dried leaf oregano
2 teaspoons kosher salt
1 tablespoon ground black pepper
1-1/2 lbs. ground pork
3 lbs. ground beef
Preheat oven to 375 degrees. Combine eggs, water, buttermilk, and breadcrumbs in a bowl; let rest for 10 minutes. The mixture will thicken as the bread crumbs absorb the liquid. To this thickened mixture, add garlic, onion, parsley, cheese, oregano, salt, and pepper; stir until combined. In separate large bowl, combine ground pork and beef. Mix meats with fingers or a large fork using a light touch until 2 meats are combined throughout. Add bread crumb mixture to meats. Mix these together, again using a light touch with fingers or large fork. Combine ingredients well, but do not overmix. Form meatballs with hands, or use a scoop. For larger meatballs, use 1/4 cup meat per meatball or use a generous 2" scoop. For mini meatballs, use 1 to 1-1/2 tablespoons per meatball or a generous 1-1/4" scoop. Place meatballs on baking sheets. Bake large meatballs for 30 minutes and mini meatballs for 15 minutes, until no longer pink in center.