These crispy Bread and Butter Pickles are the happy marriage of sweet and tangy flavors with zippy spices. This is my favorite pickle recipe and is tried and true through generations in our family. I've been eating these homemade pickles my entire life. I watched my Grandma Ruby make them from her home-grown pickling cucumbers, and my mom, Pat, made them, too. Now it's my turn, and yours!
Fast and easy. These are surprisingly easy to make. They are especially fast to prep as a refrigerator pickle. If you want them to be shelf stable for an extended time, this recipe is also suitable for canning. As canning recipes go, this is one of the simplest. Read on for step-by-step prep and canning instructions.
Printable labels, too. Canned goods make a great gift to have on hand, and most everyone loves pickles. I've provided printable labels near the end of this post that transform your jars into distinctive gifts. Make them now to have ready for holiday, hostess, teacher, and friend gift-giving. There's nothing more appreciated than a homemade gift.
How did Bread and Butter Pickles get their name? According to Wikipedia, a pair of farmers in the 1920's made these pickles from leftover, undersized cucumbers and bartered them for grocery staples like bread and butter to help them survive through some rough years.
Step-by-step photos for making


Bread and Butter Pickles

Step 1. Assemble the ingredients:
Pickling cucumbers--If you don't grow your own, Farmer's Markets are the best places to find fresh pickling cucumbers. I harvested mine from my garden when they were approx. 4.5" long and 1.5" in diameter. 23 cucumbers weighed 5 lbs. Although I prefer for my pickles to be a uniform size, Bread and Butter Pickles can be made from a variety of sizes, too.
Pickling or kosher salt-- These 2 salts are pure and without additives. Table salt isn't recommended because it contains additives that can cloud the liquid and degrade the quality of the pickles. (source: The Kitchn)
White or cider vinegar--Use either or a combination of the two. I use a half-and-half combo.
view on Amazon: pickling salt
Pickle Crisp--optional. A smidgeon of this added to each pickle jar results in crispier pickles. It's safe and easy. I add it to all of my pickles. (view on Amazon: Pickle Crisp)
sugar
spices: celery seed, mustard seed, crushed red pepper flakes, cloves, turmeric
onions and garlic
Step 2. Wash the cucumbers well, and then cut them into 1/4-inch thick slices using a knife, food processor, or mandoline.
Step 3. Cut the onions in half, and then into thin slices.
Step 4. Add sliced cucumbers, onions, and salt to large (6 qt.) container. Toss them to mix well, cover, and refrigerate at least 3-4 hours. (May be refrigerated as long as 12 hours.)
view on Amazon: 6 qt. plastic container, lid for container
Step 5. After the chill time you'll see liquid in the bottom of the container; the salt causes the liquid to release from the cucumbers. (Mine released 2 cups of liquid.) Transfer mixture to a colander and rinse well for 2 minutes, tossing the veggies as they're rinsing. Drain.
Step 6. In an 8-10 qt. pot, combine vinegar, sugar, garlic, mustard and celery seeds, pepper flakes, cloves, and turmeric. Heat over high heat until boiling. Add the cucumber/onion mixture, stir, and return to a boil, and then turn off the heat.
view on Amazon: 8 qt stainless steel pot, 10 qt stainless steel pot
For refrigerator pickles--you are done! Transfer the cucumber/onion mixture to jars or containers, fill with hot liquid (enough to immerse the pickle mixture), cover, and place in refrigerator for at least 24 hours before eating. Pickles can be stored in the fridge for 2-3 months.
For canned pickles--below are step-by-step photos that explain how to can them.
CANNING PICKLES (Water Processing)
Adhere to canning safety guidelines. It's important to follow the jar preparation and processing recommended by the USDA. If you want more detailed canning information, I recommend the Ball website. They are the ultimate authority, and their site is loaded with detailed information and recipes suited for canning.
For general canning tips, see my previous post,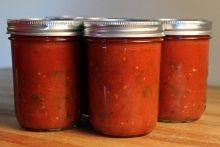 1. Prepare the jars & lids. I use pint jars for pickles. Wash the jars in hot sudsy water, rinse and dry them. The jars don't have to be sterilized, since they will be processed for 10 minutes (as per updated canning guidelines from Ball). The washed jars need to be hot when they're filled with the hot pickle mixture. Keep the jars hot in the canner filled with simmering water. Or, my preference is to put them on a tray in an 180 degree oven to keep them hot until it's time to fill them. I think that's easier that juggling them in and out of hot water right before filling them.

The lids and rings should be washed in hot sudsy water, rinsed and dried. The lids do not have to be kept hot in simmering water according to current canning guidelines.
2. Fill the jars. If using Pickle Crisp (optional), add 1/8 teaspoon to the bottom of each jar. Use a canning funnel and tongs to fill each hot jar with pickle mixture; using tongs to press down on mixture to remove gaps. Ladle hot vinegar liquid into jars, covering pickle mixture, and leaving 1/2" headspace.
3. Insert a bubble remover down the side of the jar and pull toward the center to release any bubbles (you can use any long, thin object like a chopstick).
4. Measure headspace and add more hot vinegar mixture to restore 1/2" headspace, if necessary.
5. Clean jar rims thoroughly with a wet paper towel. If the rims are dirty the jars won't seal.
6. Add a lid to each jar. Screw on a ring until it is "finger tight".
7. Use a jar lifter to lower each jar vertically into the canner of boiling water. There should be at least 1" of water over the tops of the jars. Cover and return water to a rolling boil. Process jars in boiling water for 15 minutes. Turn off heat and remove lid; leave jars in hot water for 5 more minutes. (I'm using the Ball Electric Canner in these photos.)
8. Use a jar lifter to remove each jar vertically and set on a towel. Leave undisturbed for 12 hours. Within 30 minutes after the jars are removed from the water, you know they've safely sealed if the center of the jar is slightly indented (it shouldn't give when you press it); often you'll hear a popping noise when they seal. If any of your jars don't seal, store them in the fridge and eat them within 2-3 months.
view on Amazon:
Store your sealed, processed jars in a cool, dark place (a cabinet or pantry is fine as long as it doesn't get too hot); a basement is ideal.
For a finishing touch, I like to label my jars. That way they're easy to identify on my shelf, look attractive on the table, and are ready for gift giving, too. Pickles are universally loved and fun to share. Going to a party? Grab one of these to take as a perfect host/hostess gift. Need a little something for a teacher, co-worker, or neighbor? You can't go wrong with a jar of pickles. Print the labels and stick them on the sides or lids of each jar--easy!
Download printable jar labels/tags. These are sized to fit on jar lids (regular or wide mouth) or sides.
Print these on card stock, cut them out, punch a on top, and hang them from the jar neck with a ribbon, string, or rubber band. OR
Print them on sticker paper and stick them to the jar or lid. (This is what I do.) Or, print them on regular paper and stick them on with tape.
If you don't have a printer or specialty papers, you can have a store with printing services download and print them for you (Office Depot, Staples, etc.)
Click on the label image below to download & print a full sheet of labels/tags.
Cut with scissors or a circle punch. You can cut the round tags out carefully with scissors, or use a circle punch to make the task easier and more precise. I use a 2-1/4" circle punch; it fits both regular and wide canning lids.
view on Amazon: 2-1/4" circle punch (this fits mason jar lids)
Write-on labels are an easy option if you don't want to go to the trouble of printing and cutting your own. These ready-made rolls of labels are sized just right for canning jars and they are dissolvable for easy removal when the jar is empty.
These crispy, flavorful pickles are great in sandwiches or on the side. One bite takes me back to my Grandma Ruby's kitchen. She was a good country cook whose recipes never fail. I hope you like this one as much as I do!
Make it a Yummy day!
Monica
Bread and Butter Pickles
By Monica Servings: makes 6-7 pints
5 lbs. pickling cucumbers, sliced 1/4" thick (16 cups when sliced)
2 lbs. onions, halves and thinly sliced (6 cups when sliced)
1/3 cup pickling salt (or 1/2 cup kosher salt)
3-1/2 cups vinegar; use white or cider or half-and-half combination
4 cups sugar
10 garlic cloves
2 tablespoons mustard seeds
1-1/2 teaspoons celery seeds
1 teaspoon red chili flakes
1/8 teaspoon ground cloves
1 teaspoon turmeric
optional: 3/4 teaspoon Pickle Crisp granules
Combine sliced cucumbers, onions, and salt in large bowl; toss to combine; cover and refrigerate for 3-4 hours (or as long as 12 hours). Drain in colander, rinse well under running water for 2 minutes, tossing vegetables as they are rinsing. Drain.

In 8-quart pot, combine vinegar, sugar, garlic, mustard and celery seeds, pepper flakes, cloves, and turmeric; heat over high heat until boiling. Add cucumber/onion mixture, stir, and return to boil. Turn off heat.

FOR REFRIGERATOR STORAGE, pickles are finished. Transfer the cucumber/onion mixture to lidded jars or containers, cover with hot liquid, and place in refrigerator for at least 24 hours before eating. Pickles can be stored in the fridge for 2-3 months.

FOR SHELF-STABLE STORAGE, PROCEED WITH WATER PROCESS CANNING:

(Optional: Before filling jars with other ingredients, add 1/8 teaspoon pickle crisp granules to each heated jar.)

Use tongs or a slotted spoon to fill hot pint jars with cucumber/onion mixture, filling to just below where the jar rim begins, pressing down with tongs/spoon to fill in any gaps in jars. Ladle hot vinegar liquid into jars, allowing 1/2 headspace.

Insert chopstick or bubble remover down sides of jars, drawing it towards the center to release any trapped bubbles; refill jars, if necessary, to restore 1/2" headspace. Clean jar rims with wet paper towel. Add lids to each jar; screw on rings just until finger tight.

Bring water to a boil in water process canner, add jars making sure there is at least 1" of water over top of jars. Cover canner, return water to a boil, and process jars for 10 minutes. Remove lid and turn off heat, leaving jars in water for 5 minutes. Use jar lift to remove jars vertically from water and rest on towel undisturbed for 12 to 24 hours.

Store jars in cool dark place. Shelf stable for at least 1 year.
Here are more of my recipes that are suitable for water process canning: