There are few foods I enjoy more than a bowl of chili on a cold, winter day. I've made many different recipes through the years. The truth is, I've liked most of them. I often make a quick version that uses ground turkey.
Today I'm sharing a recipe with you that takes a bit more time, but is well worth it. Oh my goodness, this is delicious. It's made with steak instead of ground beef or turkey, involves some slow cooking in the oven, and results in meat that will melt in your mouth and a deep, rich flavor that makes this my favorite chili recipe ever.
It starts with a recipe from the Feb 2011 issue of Cooks Illustrated. (Sorry, but you can't access their recipe online without paying for an online subscription.) CI's chili recipe is pretty involved. They start with arbol and ancho whole dried chiles that are toasted, ground, and made into a paste. I made the recipe their long way first, and then made this version that simplifies the process a bit and results in chili that is, in my opinion, every bit as good. Bracken (aka Brackenthebox) and Rachel made the CI recipe last week, and described it as "off the chain" (that's a good thing). So, although this is a new recipe, it has been tested and enthusiastically approved in two of our family kitchens.
This is my somewhat simplified version of the CI recipe. As a shortcut, I followed their suggestion of substituting a good quality chili powder for the whole chiles. The beer, cocoa powder, cornmeal, and molasses, combine with the other seasonings to create a rich, flavorful result.
NUTRITIONAL INFORMATION per serving: 588 calories, 19.7g fat, 529mg sodium, 30.6g carbs, 8.3g fiber, 4.7g sugars, 68.4g protein. Weight Watchers PointsPlus: 14
Nutrient rich! Although not a low-calorie recipe, this chili is nutrient rich. It is very high in iron, phosphorus, selenium, and vitamins A, C, B6 & B12.
Step-by-step photos for making


Thick and Hearty Steak Chili
Step 1. Assemble the Ingredients. Steak (I used top sirloin steak; CI recommends blade steak or a chuck-eye roast), dried or canned pinto beans, chili powder (make sure it's fresh and good-quality), cornmeal, cumin, oregano, cayenne, cocoa powder, chicken broth, onions, jalapenos, garlic, molasses, canned diced tomatoes, beer (I used Schlafly Pale Ale--a local St. Louis favorite of ours).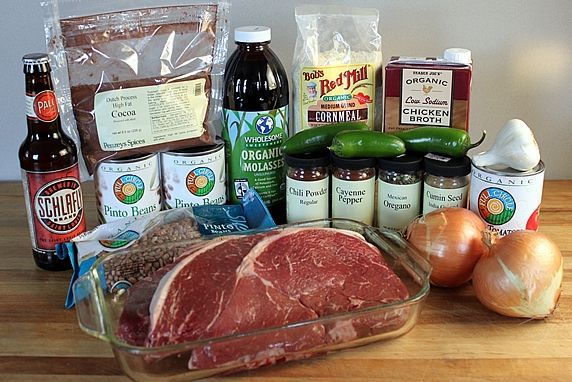 Step 2. If using dried beans (recommended over canned for taste, texture, and price), combine them in pan with 3 tablespoons salt and 4 quarts water and heat them to a boil on stovetop. Turn the heat off, cover the pot, and let the beans stand in the salty water for 1 hour. If using canned beans, pour them into a colander, and rinse and drain them.
Step 3. Cut off as much fat as possible from the steak, and cut it into 3/4" pieces.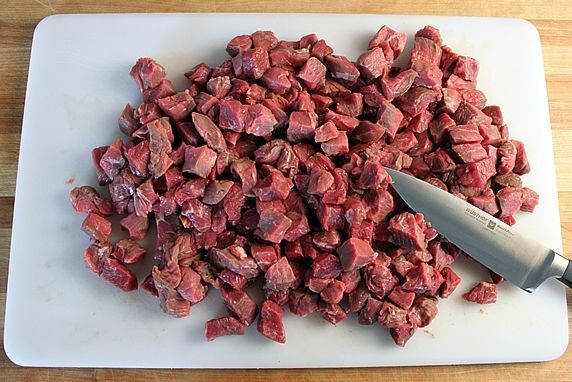 Step 4. Put the garlic in a food processor and give it a whirl until completely chopped.
view on Amazon: my food processor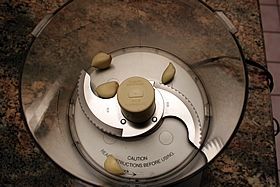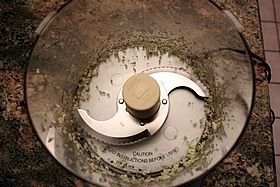 Step 5. Cut onions into chunks and add them to the food processor. Remove seeds and membrane from jalapenos (wear plastic gloves when handling the jalapenos), cut them into chunks, add them to onions and pulse until chopped.
NOTE: the garlic, onions, and jalapenos can also be chopped by hand.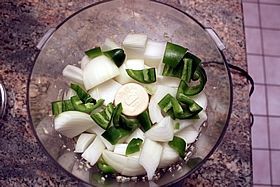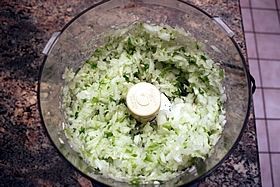 Step 6. In an oven-safe Dutch oven, saute onion/jalapeno/garlic mixture until soft.
view on Amazon: Dutch oven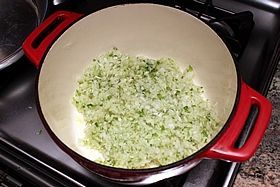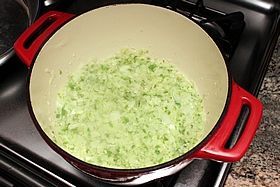 Step 7. Add chili powder, cornmeal, cumin, oregano, cayenne, and cocoa powder and stir. Let it cook a minute or two.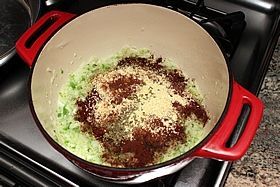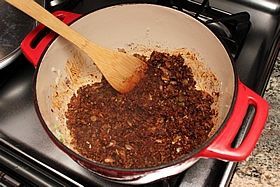 Step 8. Add the chicken broth, molasses, beans, and salt.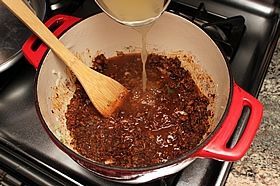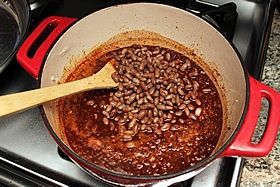 Step 9. Add the canned tomatoes. Stir everything together.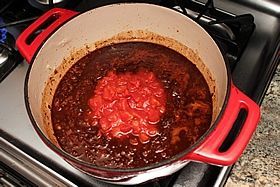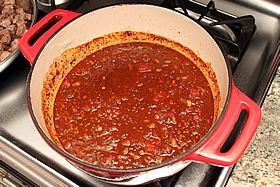 Step 10. Meanwhile, heat some oil in a skillet. Pat the meat dry and add half of it to the skillet.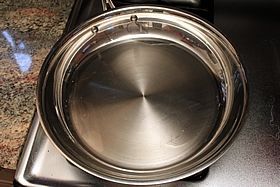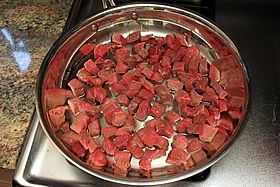 Step 11. Cook the meat until it's browned on all sides.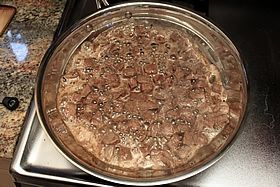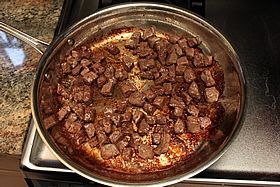 Step 12. Add the beef to the Dutch oven. You'll have lots of browned bits left on the bottom of the skillet.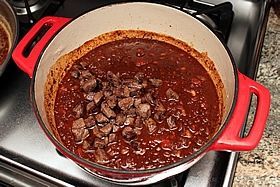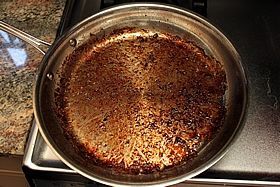 Step 13. Pour half of the bottle of beer into the skillet. It will be foamy at first.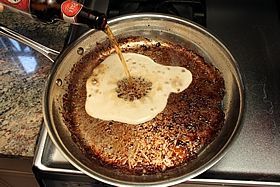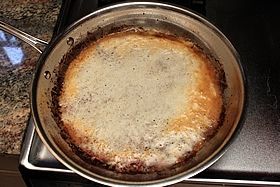 Step 14. As the beer warms in the skillet, use the flat end of a spatula to scrape all of the browned bits off of the bottom of the pan. This will add rich flavor to the chili. Add the beer broth to the Dutch oven.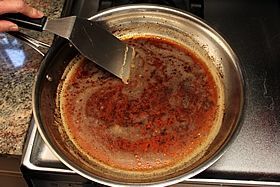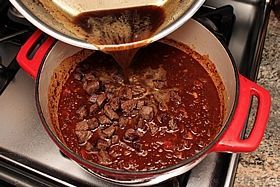 Repeat this same process with the remaining half of the steak and beer.
Step 15. Stir everything together, heat it through, and put the lid on.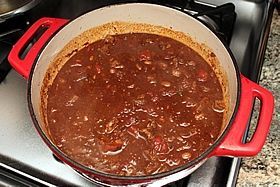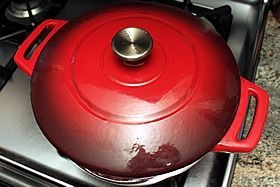 Step 16. Transfer the pot to the oven and bake at 300 degrees for approx. 1-1/2 hours until steak and beans are tender.
The result is a delicious, rich chili.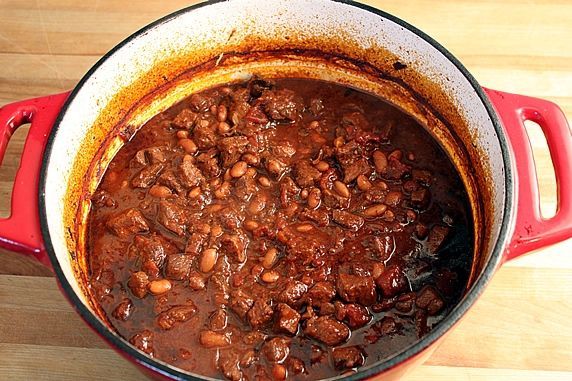 It's definitely thick and hearty.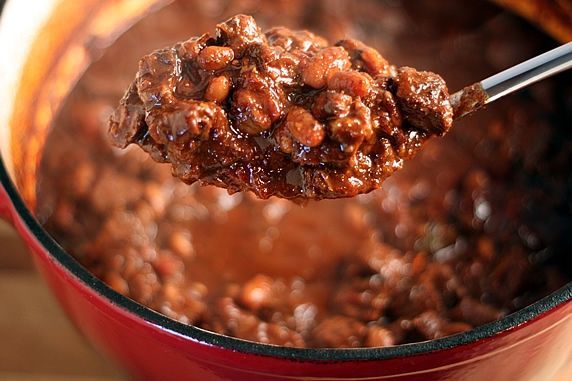 Dish it up and enjoy!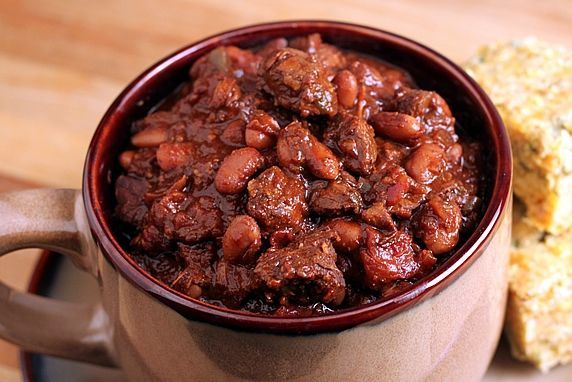 Add your favorite chili toppings, like chopped green or red onions, shredded cheese, sour cream, cilantro, jalapenos, Fritos, crumbled tortilla chips--whatever you like.
This is great paired with my Corn Cake Toppers, Classic Buttermilk Cornbread or Cheesy Jalapeno Cornbread.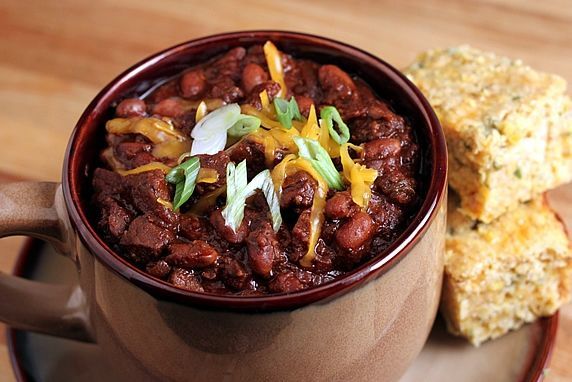 Chili is great party food. You can set up a chili bar with a variety of toppings for guests to add. It's an easy way to feed a crowd and always a good choice to serve at a Super Bowl party.
Make it a Yummy day!
Monica
Other posts that may interest you:
Thick & Hearty Steak Chili
By Monica Servings: 8 servings
1 cup dry pinto beans; or, 2 (15-oz) cans pinto beans
3 tablespoons kosher salt (for soaking dried beans); omit if using canned beans
3-1/2 pounds sirloin or blade steak or chuck-eye roast
4 garlic cloves
2 medium onions, each cut into 8 pieces
2-3 jalapenos, seeds and ribs removed, cut into 1/2" pieces
3 tablespoons canola oil
1/2 cup regular chili powder
1/4 to 1/2 teaspoon cayenne pepper (may omit if less heat is desired)
3 tablespoons cornmeal
2 teaspoons dried oregano
2 teaspoons ground cumin
2 teaspoons unsweetened cocoa powder
2-1/2 cups low-sodium chicken broth
2 teaspoons molasses
1 (14.5 oz) can diced tomatoes
1 (12-oz) bottle beer
1 teaspoon kosher salt (approx--add to taste)
Optional garnishes: chopped green or red onions, shredded cheese, sour cream, cilantro, jalapenos, Fritos, crumbled tortilla chips
IF USING DRIED BEANS, combine them in pan with 3 tablespoons salt and 4 quarts water; heat to a boil on stovetop. Turn the heat off, cover the pot, and let the beans stand in the salty water for 1 hour. Drain and rinse; discard salty water.

IF USING CANNED BEANS, add beans to colander, rinse well with water, drain, set aside.

Trim fat from steak or roast. Cut into 3/4" pieces.

Preheat oven to 300 degrees. In food processor, mince garlic; add onions and jalapenos and pulse until chopped. (Or, chop garlic, onions and jalapenos by hand.) On stove top, heat 1 tablespoon oil in oven-safe Dutch oven over med-high heat. Add onion/garlic/jalapeno mixture and saute until soft. Add chili powder, cornmeal, cumin, oregano, cayenne, and cocoa powder and stir; cook 1-2 minutes. Add chicken broth, molasses, tomatoes, and beans. Stir. Meanwhile, heat 1 tablespoon oil in a skillet over med-high heat. Pat meat dry and add half to skillet. Cook until browned on all sides. Add cooked meat to Dutch oven. Pour half of beer into skillet, stir and scrape to remove browned bits. Pour beer mixture into Dutch oven. Repeat with remaining oil, meat, and beer. Combine everything in Dutch oven and heat through. Cover and move to oven. Bake until meat and beans are tender, approx. 1-1/2 to 2 hours. Stir, taste, and add up to 1 teaspoon salt, if needed. Serve with cornbread and garnishes.

NOTE ABOUT HOTNESS OF CHILI: The hotness of chili powders can vary widely. Regular chili powder is normally flavorful without packing much heat. Medium and hot varieties have increasing amounts of heat. A milder chili powder is recommended. You can add more heat with cayenne, if desired. That combination gives you more control over the hotness of the chili.
Jalapenos also can vary in their level of hotness. Removing the seeds and membrane makes them less hot.

NUTRITIONAL INFORMATION per serving: 588 calories, 19.7g fat, 529mg sodium, 30.6g carbs, 8.3g fiber, 4.7g sugars, 68.4g protein. Weight Watchers PointsPlus: 14