In a previous post with a recipe for Quick and Healthy Turkey Chili, I mentioned that I like to top my chili with cheesy corn cakes. They are easy to make and so good on top of chili and soups.
I used to make these by simply adding cheese to a corn muffin mix. But, after reading the paragraph of scary ingredients on the mix box (hydrogenated lard and numerous mystery ingredients), I figured out a way to make these from scratch that is almost as easy as using a mix and is much healthier.
Corn cakes are really just cornbread in pancake form. In fact, I used the same ingredients that are in my Classic Buttermilk Cornbread. Just added some grated cheese and cooked them like pancakes on a griddle.
Nutritional Information for 1 corn cake: 272 calories, 13.4g fat, 27.1g carbs, 1.5g fiber, 6.0g sugar, 11.3g protein; Weight Watchers PointsPlus: 7
Step-by-step photos for making Cheesy Corn Cake Toppers.
Step 1. Assemble the ingredients: Pepper Jack cheese (you can use whatever cheese you like), butter, flour (you can substitute some whole wheat pastry flour for part of the white flour, if you wish), stoneground cornmeal (I use medium grind), baking powder, kosher salt, egg, honey, and buttermilk (I sometimes use the convenient buttermilk powder, but today I'm using fresh buttermilk). There is just enough honey in this recipe to give it a hint of sweetness, but it can be omitted altogether if you prefer.
Don't have buttermilk? Make this easy substitute: Add 1 tablespoon white vinegar to 1-1/4 cups milk and let rest for 10 minutes.
view on Amazon: corn meal, organic corn meal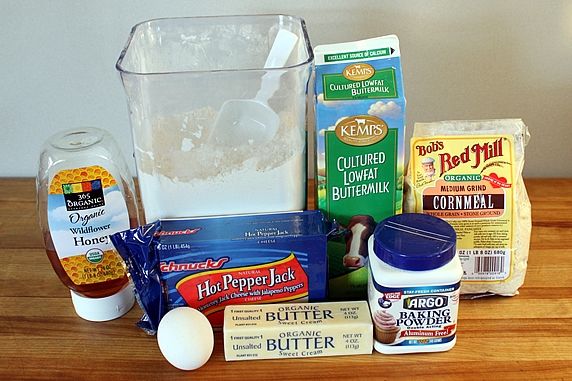 Step 2: Whisk the dry ingredients together in a large bowl.
Step 3: Whisk the wet ingredients together in a separate medium bowl.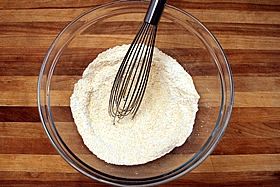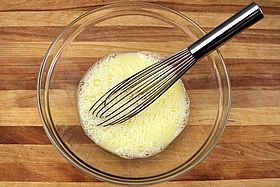 Step 4: Pour the wet ingredients into the dry ingredients. Stir them just until they're combined--don't over mix.
Step 5. Grate the cheese.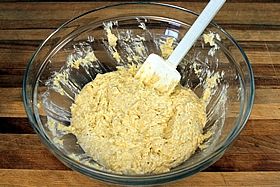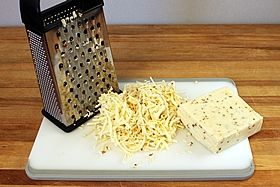 Step 6. Fold the grated cheese into the batter.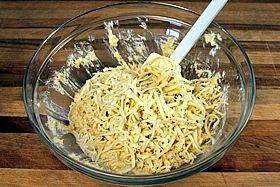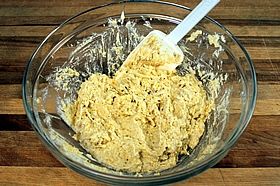 Step 7. Rub hot griddle or skillet with butter.
Step 8. Use a measuring cup or ice cream scoop to measure 1/3 to 1/2 cup batter.
view on Amazon: my cast iron griddle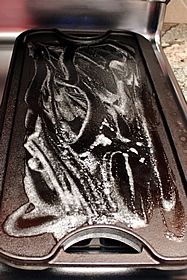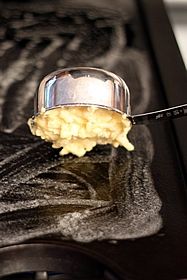 Step 9. Put measured batter on hot griddle and flatten it with a spatula to make a pancake. (Coat the spatula with cooking spray to prevent sticking.) Mine are approx. 4" diameter.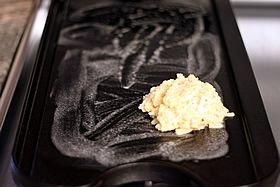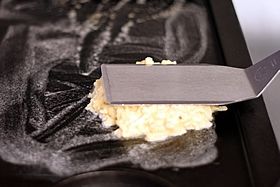 Step 10. Cook until browned on bottom; flip and brown the other side.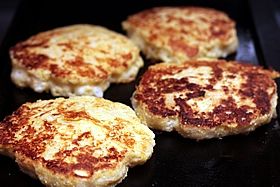 Step 11. When browned on both sides, remove corn cakes to pan with wire rack (so they don't get soggy on bottom) and keep warm in 225 degree oven until ready to serve.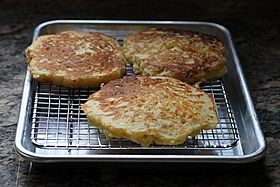 Make ahead, refrigerate or freeze, and reheat. These keep well in the fridge or freezer. A zap in the microwave, and they taste fresh and are ready to top your chili or soup. If they're thawed, place on a plate and microwave for approx. 30 seconds. If they're frozen, microwave at 50% power. Check after 60 seconds, continue to heat in 20-30 second intervals until hot. I love having these in my freezer along with single portions of chili or soup. That makes it easy to thaw and heat a quick lunch or dinner.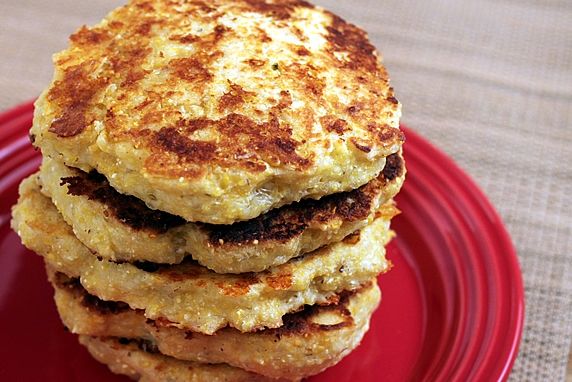 Serve 'em up! Adding one of these tasty corn cake toppers turns an ordinary bowl of chili or soup into something special.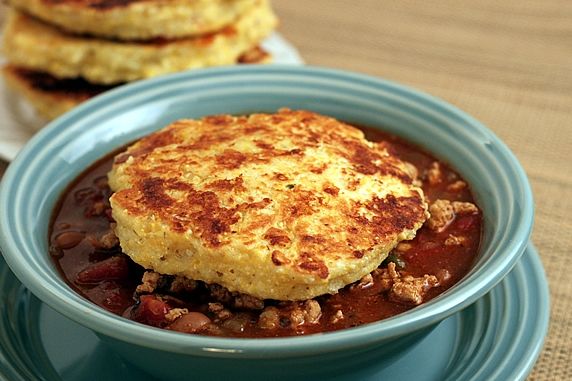 Break off a piece of the corn cake with each bite of chili. SO GOOD!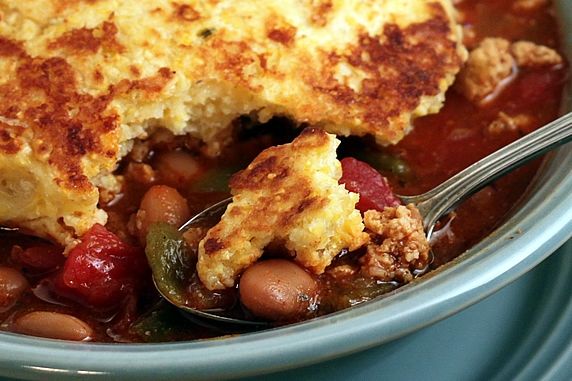 These corn cake toppers also make a great base for open face sandwiches, tostadas, and breakfast stacks. To learn how, check out this post:
Corn Cake Breakfast Stack with Bacon and Eggs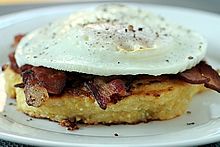 Corn Cake Breakfast Stack with Eggs Florentine
Make it a Yummy day!
Monica
Other posts that may interest you:
Cheesy Corn Cakes
By Monica Servings: 6-8 corn cakes
Ingredients
1-1/4 cups stone ground yellow cornmeal (I use medium grind)
3/4 cup all-purpose flour (can substitute 1/4 cup with whole wheat pastry flour)
2-1/2 teaspoons baking powder
1/2 teaspoon kosher salt
1-1/4 cups buttermilk* (Don't have buttermilk? Make this easy substitute: Add 1 tablespoon white vinegar to 1-1/4 cups milk and let rest for 10 minutes.)
1 large egg
2 tablespoons honey
2 cups grated Pepper Jack cheese (or plain Jack or cheddar cheese)
2 tablespoons butter
--Combine cornmeal, flour, baking powder, and salt in large bowl (plus buttermilk powder if you're using it--see * below). Whisk together.
--In separate bowl, whisk the egg, buttermilk (or water--see * below), and honey together. Add wet ingredients to dry ingredients. Stir until just mixed--don't over mix. Add grated cheese; stir just until combined.
--Heat griddle or skillet over med-high heat. Grease with melted butter. Drop 1/3 to 1/2 cup portions of batter onto griddle. Flatten with back of spatula to form pancake. (Coat the spatula with cooking spray to prevent sticking.) Cook until browned on bottom, flip and brown other side. Repeat with remaining batter. Place on rack in pan/plate in 225 degree oven until ready to serve.
--Make ahead, refrigerate or freeze, and reheat. These keep well in the fridge or freezer. If thawed, place on a plate and microwave for approx. 30 seconds. If frozen, microwave at 50% power. Check after 60 seconds, continue to heat in 20-30 second intervals until hot.

*In place of buttermilk, can substitute:
--1-1/4 cups water, and
--4 tablespoons + 1 teaspoon dry buttermilk powder.

Nutritional Information for 1 corn cake: 272 calories, 13.4g fat, 27.1g carbs, 1.5g fiber, 6.0g sugar, 11.3g protein; Weight Watchers PointsPlus: 7
| | | |
| --- | --- | --- |
| | | |