In a previous post, I shared my recipe for Corn Cake Toppers and showed how to serve them on top of chili and soup. They also make a delicious base for a breakfast stack. Today's post is one of my favorite combos.
These breakfast stacks have 3 layers of ingredients: eggs scrambled with fresh spinach, Canadian bacon, and a corn cake. That's it. Easy, nutritious and delicious.
High in protein, iron, calcium, and vitamin A. These aren't exactly low in calories & carbs, but they are loaded with nutrients. (If you're watching your sodium intake, you may want to omit the Canadian Bacon.)
Nutritional Information (for 1 serving using 1 piece of Canadian Bacon): 397 calories, 20g fat, 945mg sodium*, 29g carbs, 2.6g fiber, 6.5g sugars, 25.7g protein. Weight Watchers PointsPlus: 10
Here's how to make and assemble them.
Step-by-step photos for making
Eggs Florentine Corn Cake Breakfast Stacks
Step 1. Make a batch of corn cakes. You'll find my step-by-step photos here:
Click to view Cheesy Corn Cakes recipe tutorial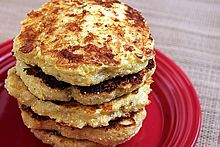 Step 2. Brown the Canadian Bacon in a skillet that's been coated with cooking spray. Use 1 or 2 slices per breakfast stack.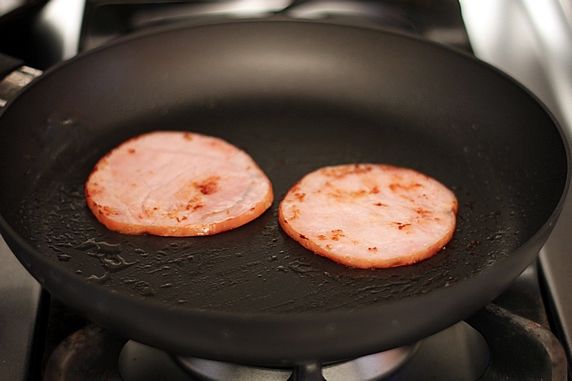 Step 3. Meanwhile, cut some fresh spinach into 1/4" shreds and toss it in a hot skillet that's coated with cooking spary. Cook just until it's wilted--this only takes a minute.
view my favorite non-stick skillet on Amazon: 10 1/4 inch Scanpan Skillet
(It's pricey, but the best!)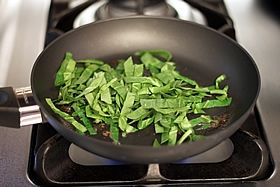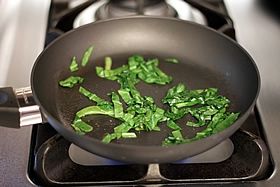 Step 4. Whisk the eggs and add them to the spinach. I use a 1:1 ration of whole eggs to eggs whites--reduces calories and fat, while you get a protein boost from the egg whites. These cook up quickly.
Step 5. Season eggs with salt and pepper to taste.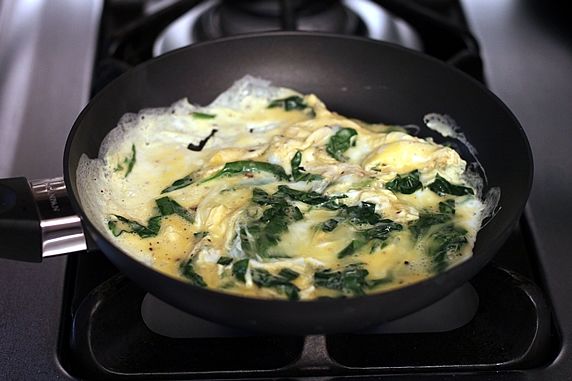 Step 6. Put a warm corn cake on a plate.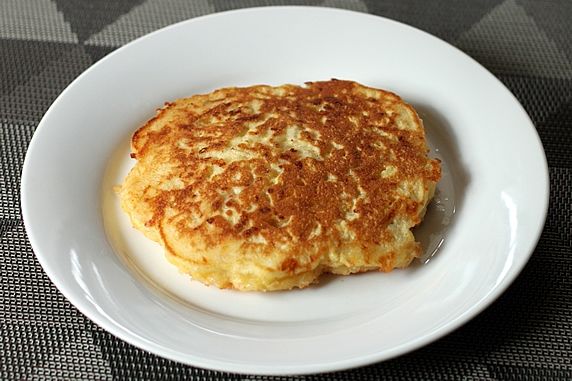 Step 7. Add the Canadian Bacon.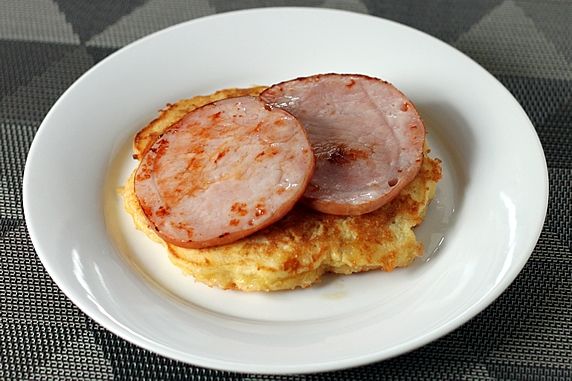 Step 8. Top it with the egg/spinach mixture.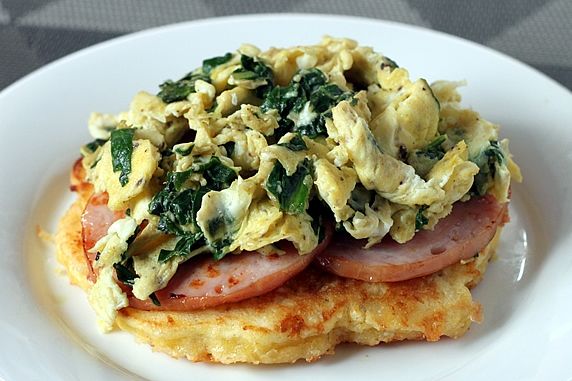 Done!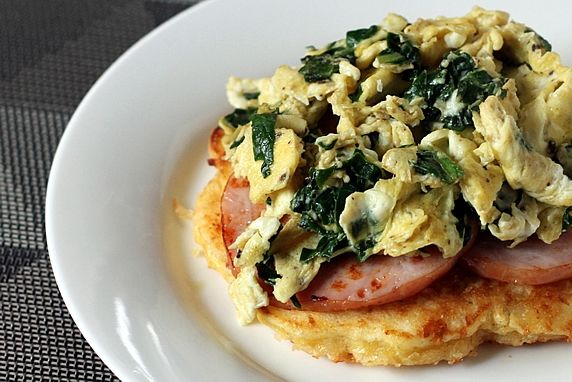 That's it. Easy, huh?
VARIATIONS TO TRY. You can mix it up with different layer combinations and toppings. There are so many possibilities. Here are a few.
Egg layer- fried, poached, scrambled, or a sliced boiled egg
Meat layer - bacon, ham, Canadian bacon, sausage patty, crab cake, chorizo
Veggie layer - spinach, avocado, tomato, roasted peppers, sauteed mushrooms or onions, sprouts, fresh basil leaves, hash browns
Sauce on top - salsa, tabasco, hollandaise, guacamole, gravy, cheese
MAKE IT CHEESY. Try adding cheese on top and melting it under the broiler.
FEEDING A CROWD? Set up a corn cake breakfast stack bar with a variety of layer and topping options, and let everyone build their own. Fun and easy.
This is stacking up to be a delicious breakfast. So good.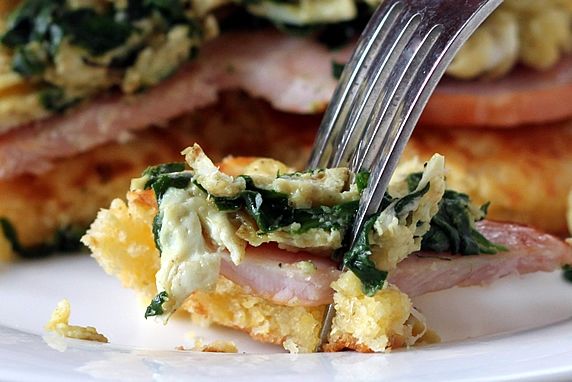 Make it a Yummy day!
Monica
Here's another breakfast stack to try:
Corn Cake Breakfast Stack with Bacon and Eggs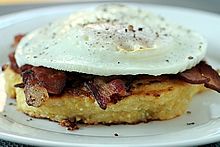 Serve these with:
Parmesan Hash Brown Cups

Corn Cake Breakfast Stack with Eggs Florentine & Canadian Bacon
By Monica Servings: 4 servings
Ingredients
4 whole eggs
4 egg whites
2 cups fresh spinach, cut into 1/4" wide shreds
4 to 8 slices Canadian bacon
4 cheesy corn cakes (find corn cake recipe at www.TheYummyLife.com/recipes/110)
Coat a skillet or griddle with cooking spray and brown Canadian bacon over medium-high heat. Meanwhile, whisk together eggs and egg whites until blended. Coat another skillet with cooking spray and heat on med-high, add spinach strips and cook just until wilted (approx. 1 min.). Lower heat and add eggs. Cook, stirring occasionally, until eggs are set. Salt and pepper to taste.
Assemble 4 breakfast stacks in this order: corn cake on the bottom,1-2 slices Canadian bacon on top of corn cake, 1/4 of scrambled egg mixture on top of the Canadian bacon.

Nutritional Information (for 1 serving using 1 piece of Canadian Bacon): 397 calories, 20g fat, 945mg sodium*, 29g carbs, 2.6g fiber, 6.5g sugars, 25.7g protein. Weight Watchers PointsPlus: 10

| | | |
| --- | --- | --- |
| | | |