Sometimes, I don't have time to cook or just don't feel like it. This is a great chili recipe for those days. It doesn't have the deep, rich flavor of my Thick & Hearty Steak Chili, but that one takes awhile to prepare. This turkey chili recipe is tasty, healthy, and quick--start to finish in 30 minutes. Seriously. Most of the ingredients come from a can, but are still nutritious and good. Taco mix is all the seasoning you need to make this chili taste great. Easy short cuts that work.
Nutritional Information: 256 calories, 8.5g fat, 18.7g carbs, 4.1g fiber, 3.4g sugar, 26.9g protein; WEIGHT WATCHERS PointsPlSmartPoints: 2 pts per 1 cup serving
Step-by-step photos for making Quick & Healthy Turkey Chili
Step 1. Assemble the ingredients: ground turkey, chicken broth, olive oil, salt, taco seasoning mix (homemade or 1 store-bought packet), onion (oops, not pictured), Cans of: diced tomatoes (fire roasted are best, if available), pinto beans, tomato paste, diced green chiles.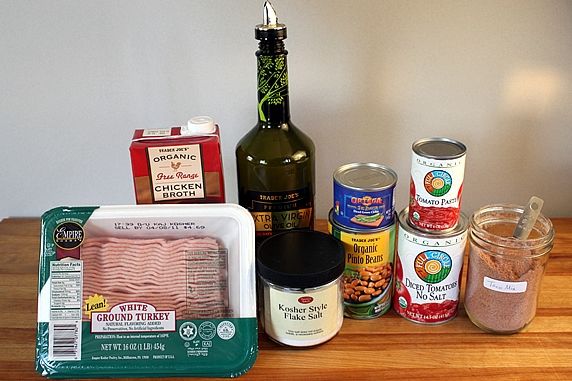 I wrote a post awhile back with my recipe for a homemade taco seasoning mix that I make up and store in a jar to have on hand for flavoring tacos, nachos, and chili. It's much healthier (and tastier!) than what you can buy in the store. Here's that recipe, if you want to make your own:
Click to view Fiesta Taco Seasoning Mix recipe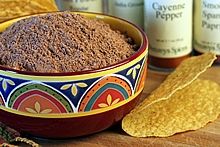 If you prefer the convenience of a store-bought packet of taco mix, look for a low sodium variety. Most of the taco mixes exceed the USDA's recommendations for daily salt.
Step 2. Chop the onion. This is the only chopping you have to do in this easy recipe!
Step 3. Heat some olive oil in a Dutch oven, add the onion, and cook until soft.
view on Amazon: my Lodge Dutch Oven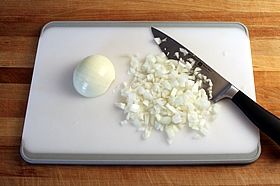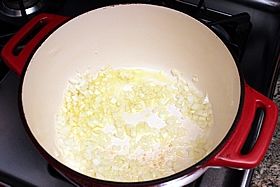 Step 4. Add the ground turkey. As it cooks, break it up into crumbles with the end of a wooden spoon or spatula. Cook until the turkey crumbles are no longer pink.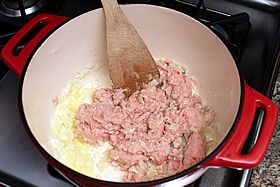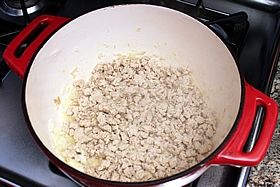 Step 5. Add the taco seasoning mix and stir it so that the turkey crumbles get coated throughout. Let it cook for 1 minute--this brings out the flavors of the seasonings.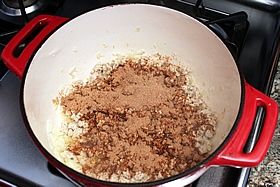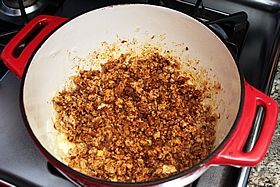 Step 6. Add the tomato paste and canned tomatoes. Stir it.
Step 7. Add the beans.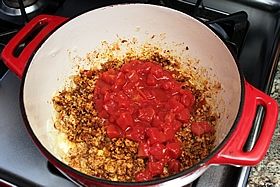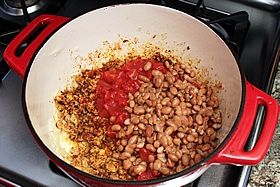 Step 8. Add the green chiles.
Step 9. Add the chicken broth. Stir it all together, bring it to a simmer.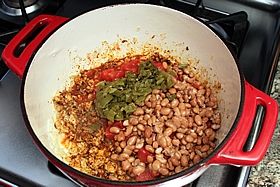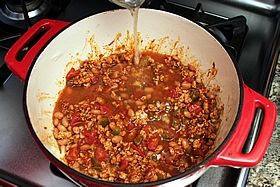 Done! You can eat it right away, or turn the stove down to low and let it hang out for awhile. If you have time, it's better if it simmers a bit. It's even better the next day. This chili freezes well, too. I like to freeze it in single servings to have handy for a quick lunch.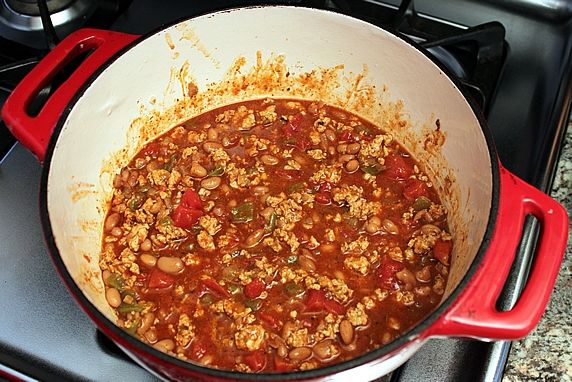 Serve it up.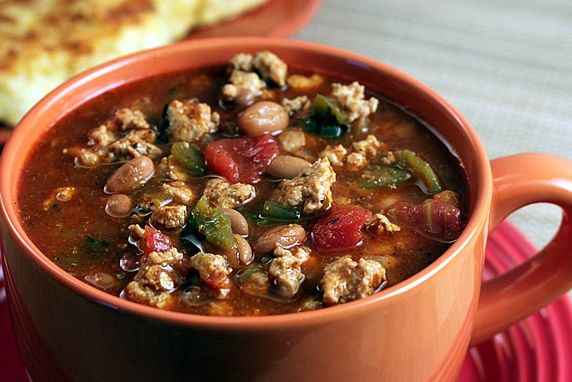 Eat and enjoy!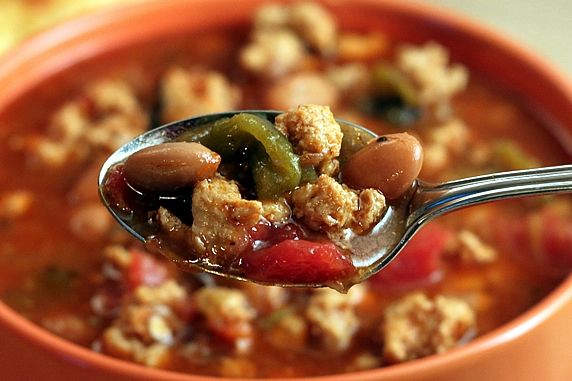 I like to top my chili with cheesy corn cakes. So good! Here's how:
Click to view Cheesy Corn Cake Toppers post and recipe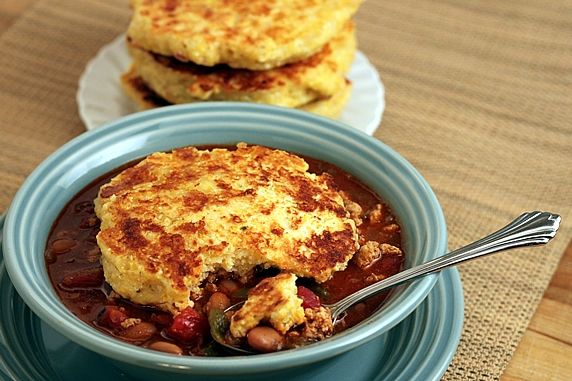 Make it a Yummy day!
Monica
Other posts that may interest you:
Turkey Chili - Quick & Healthy
By Monica Servings: 4-6 servings
1 tablespoon olive oil
1 small onion, chopped
1 pound ground turkey
4-5 tablespoons taco seasoning mix (or one store-bought packet); recipe for making your own taco mix at www.TheYummyLife.com/recipes/76
1 (14.5 oz) can diced tomatoes (fire-roasted recommended)
2 tablespoons tomato paste
1 (15 oz) can pinto beans
1 (4 oz) can diced green chiles
1 to 1-1/2 cups chicken broth
salt to taste
Add olive oil to Dutch oven over medium-high heat. Add onion and cook until soft. Add turkey and cook until no longer pink, breaking into crumbles as it cooks. Sprinkle on taco seasoning mix and stir to coat turkey thoroughly; cook for 1 minute. Add tomato paste and stir; then add diced tomatoes, beans, green chiles, and 1 cup of chicken broth. Stir. Add more chicken broth, if needed, to reach desired consistency (thick or brothy--your choice). Heat through and simmer for 15 minutes. Add salt to taste.

Want it spicier? Add a dash of cayenne pepper or crushed red pepper flakes.

Optional toppings: shredded cheese, chopped onions, sour cream, chopped cilantro

Nutritional Information: 256 calories, 8.5g fat, 18.7g carbs, 4.1g fiber, 3.4g sugar, 26.9g protein; WEIGHT WATCHERS SmartPoints: 2 pts per 1 cup serving