I love the taste and smell of fall and winter spices like cinnamon, nutmeg, and cloves. There's something both festive and comforting about them. A cup of cider heated with these aromatic spices is the perfect beverage this time of year. It warms you up and smells oh-so-yummy.
Today, I'm sharing my recipe for a mixture that is great to have on hand throughout the fall and winter for making up quick cups or big batches of spiced cider. Or spiced anything, really. This mix is delicious added to coffee, cocoa, tea, wine, and any ol' kind of juice. You can spice up your hot drinks by the cup, or make up a big batch on top of the stove or in the crock pot.
This mix also makes great gifts. To learn how, check out my post:
Making A Spiced Hot Drink Mix Gift Jar
instructions and a downloadable gift tag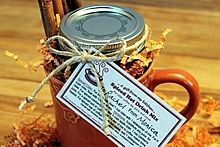 Here's the simple recipe. And I do mean simple.
Step-by-step photos for making Spiced Hot Drink Mix

Step 1. Assemble the ingredients:
view organic ingredients on Amazon: dark brown sugar, sucanat, coconut palm sugar
Step 2. Combine the mix ingredients. You can whisk these together by hand in a bowl; but it mixes easier and thoroughly in a food processor. Just add the brown sugar (or other sweetener) and spices to the food processor bowl and pulse until everything is well mixed. You may need to scrape down the sides of the bowl a time or two.
Done! Like I said.....fast and easy! Store your mix in an airtight container. It's ready to scoop into a cup or pot on the stove or crock pot of cider, or whatever hot beverage you choose. I store mine in mason jars.
Storage tip: If you make this with brown sugar, this mixture can harden over time (just as regular brown sugar can harden). It should be fine if used up in one season. For longer storage, you can keep it soft by putting a brown sugar keeper inside the container with the mix.
Beverage options to combine with this spice mix: apple cider, cranberry juice, dry red wine, coffee, tea, or cocoa. Use your imagination and try the spice mix with other heated juices. Orange juice? Mango, peach, or apricot nectar? Cherry juice? The sky's the limit. Get creative.
How to use this mix:
Add one tablespoon of spice mix per cup of hot beverage. Use that same formula for making larger batches on the stove or in a crock pot: 4 tablespoons (1/4 cup) mix for one quart (4 cups) of hot beverage. 1/2 cup mix for 2 quarts of hot beverage. Etc. Easy math!
By the cup, let the mixture steep for 5 minutes so everything dissolves and flavors blend. On the stove top, heat it up to a slow simmer and let it cook for 15 minutes. In a crock pot, cook it on high for 1-1/2 to 2 hours.
Orange or lemon slices make a flavorful, pretty garnish for ciders, wine, and juices. Try spiking it with a shot of rum for a hot after-dinner or party drink. Add a cinnamon stick for a flavorful stir stick.
To make cranberry cider, use 1 part cranberry juice to 3 parts apple cider. If you use a cranberry juice cocktail (instead of 100% juice), you can mix it half and half with the cider.
Brew spiced coffee. Try adding the spice mix to the brew basket of your coffee maker right along with the ground coffee. 1/4 cup of spice mix will flavor a pot of coffee.
For mugs of spiced cocoa and spiced black coffee, use the same formula as with cider and juice: 1 tablespoon of spice mix per cup of hot cocoa or coffee.
It's not just for drinks.

This mix is also good sprinkled on muffins, cookies, toast, or pancakes before cooking them.
An easy, inexpensive, festive gift! Make up jars of this dry mix for fun, seasonal gifts for hosts/hostesses, teachers, & friends. For tips on turning this into a gift click over to this post:
Making A Spiced Hot Drink Mix Gift Jar (with printable tags)
You will love having this spice mix on hand for an instant way to spice up all of your favorite hot beverages. They don't just taste good, they smell heavenly, too!
Make it a Yummy day!
Monica
Other posts that may interest you:
Spiced Hot Drink Mix
By Monica Servings: 6 cups of mix
2 lb. bag (4-1/2 cups) dark brown sugar, sucanat, or coconut palm sugar
2-1/2 tablespoons ground cinnamon
1 tablespoon ground ginger
1 tablespoon ground allspice
1 teaspoon ground nutmeg
1 teaspoon ground mace
1 teaspoon ground cloves
OR
2 lb. bag (4-1/2 cups) dark brown sugar, sucanat, or coconut palm sugar
5-1/2 tablespoons pumpkin pie spice (View recipe for making your own pumpkin pie spice at: www.theyummylife.com/recipes/24)
With food processor (recommended): Add all ingredients to food processor bowl and pulse until combined.
By hand: Whisk spices together in small bowl; then add to brown sugar in large bowl. Whisk until combined.
Store in airtight container.
TO MAKE HOT SPICED CIDER:
--Heat 1 cup cider with 1 tablespoon of mix. Steep for 5 minutes.
--Heat 4 cups (1 quart) cider with 1/4 cup of mix. Simmer for 15 min. on stove top. In crock pot, cook on high for 1-1/2 to 2 hours.
VARIATIONS:
--For spiced cranberry cider, use 3 cups apple cider, 1 cup cranberry juice. (Equal parts if using cranberry juice cocktail.)
--For spiced wine, coffee, tea, or hot cocoa, add 1 tablespoon of mix for each one cup of beverage.
--For a spiced pot of coffee, add 1/4 cup of mix to coffee maker brew basket.
--Get creative! Make your own combination of hot juice (orange? pomegranate? mango?) and spice mix.
--Add a shot of rum for a hot after-dinner or party drink.
--Garnish your drink with cinnamon sticks, orange/lemon slices, or whipped cream.
This post was updated 10/2013