This is the dressing that I make and have in my fridge for everyday use on salads. It's simple and delicious. Use good quality ingredients in this dressing and your salad, and you can't go wrong.
For years our family has enjoyed the salad at The Pasta House Company in St. Louis. I'm pretty sure it's the most popular salad in town. (See my copycat recipe for Pasta House Salad: Everyday Italian Tossed Salad.) The key to this popular salad is the dressing. Pasta House Famous Salad Dressing is now available in stores here. I'm not sure if it is distributed outside of St. Louis; but I was surprised to find it available on Amazon. As bottled dressings go, it's a good one.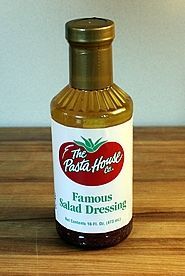 However, I prefer to make my own salad dressings. It's easy, less expensive, and I can control the ingredients and avoid preservatives, fillers, and mystery ingredients. This recipe is as close as I could come to the Pasta House version, which is really just a slightly seasoned, simple vinaigrette.
NUTRITIONAL INFORMATION (per tablespoon of dressing): 77 calories, 8.7g fat, .1g carbs, 0g fiber & protein. Weight Watchers PointsPlus: 2
Step-by-step photos for making



Everyday Vinaigrette
Step 1. Assemble the ingredients: red wine vinegar, kosher salt, pepper, garlic powder, extra virgin olive oil, and a neutral tasting oil (grapeseed, vegetable, canola).
TIP: I recommend a good quality garlic powder over fresh garlic. The flavor is mild, and it will keep longer in the fridge than if it's made with fresh garlic.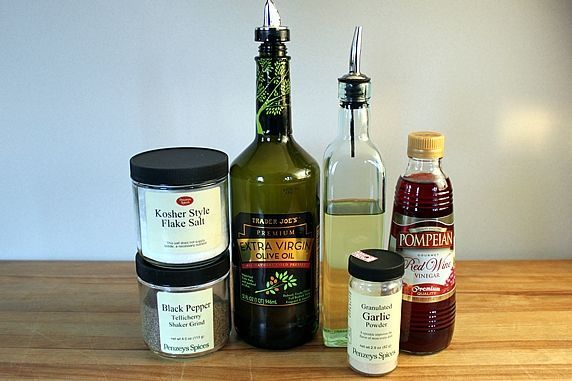 Step 2. Combine the ingredients. Here are 2 easy methods:
1st Method:

Add the vinegar, salt, pepper, and garlic powder to a bowl or 2-cup measure cup. Whisk together. While whisking rapidly, pour in the 2 oils in a thin stream.
2nd Method:

Combine ingredients in a jar or shaker bottle. Shake vigorously until well combined. I prefer using a salad dressing shaker bottle, since I can measure, shake, store (in the fridge), and pour from the same container.
view on Amazon: Oxo Salad Dressing Shaker Bottle
Done! Easy, right?
This dressing is good on any combination of greens and veggies. I often drizzle it over a plate of sliced tomatoes or use it as a marinade for chicken. It's, of course, also perfect with my Everyday Italian Tossed Salad. Here's that recipe:
Click to view Everyday Italian Tossed Salad recipe

How long will it keep? I keep Everyday Vinaigrette in a shaker bottle in my fridge door to have on hand for dressing salads throughout the week. It's good for at least a month--if it lasts that long! As soon as the bottle is empty, I mix up another batch to have on hand. This dressing is so simple, yet versatile. It's a staple in my kitchen.
Make it a Yummy day!
Monica
Everyday Vinaigrette
By Monica Servings: makes 1 cup
1/3 cup red wine vinegar (substitute white wine vinegar, if preferred)
1 teaspoon kosher salt
1/4 teaspoon finely ground black pepper
1/8 teaspoon garlic powder
1/3 cup extra virgin olive oil
1/3 cup neutral tasting oil (grapeseed, vegetable, or canola)
Add vinegar, salt, pepper and garlic powder to bowl or 2-cup measure cup; whisk together. Continue whisking rapidly while adding oils in a thin stream. Or, add all of the ingredients to a jar or salad dressing shaker bottle; shake vigorously until well combined.

Use 1/3 cup dressing for 8 cups torn or chopped greens, or a standard 9-10 oz. bag of greens. Taste and add more dressing, if desired.

NUTRITIONAL INFORMATION (per tablespoon): 77 calories, 8.7g fat, .1g carbs, 0g fiber & protein. Weight Watchers PointsPlus: 2

Try this vinaigrette on an Everyday Italian Tossed Salad. Recipe at: www.theyummylife.com/Italian_tossed_salad
You might also enjoy these salad dressing recipes: