I could eat this tasty salad dressing with a spoon. It has the refreshing tang of lime juice with a hint of sweetness from honey and a touch of cumin to complement the other flavors. Toss it with some salad greens, and you've got an easy side. I especially like to serve Spicy Grilled Shrimp Skewers on a bed of greens dressed with this. It's so easy to make. Here's how.
The ingredients: honey, olive oil, grapeseed or canola oil (or any preferred mild tasting oil), salt, pepper, cumin, garlic powder, Dijon mustard, and lime juice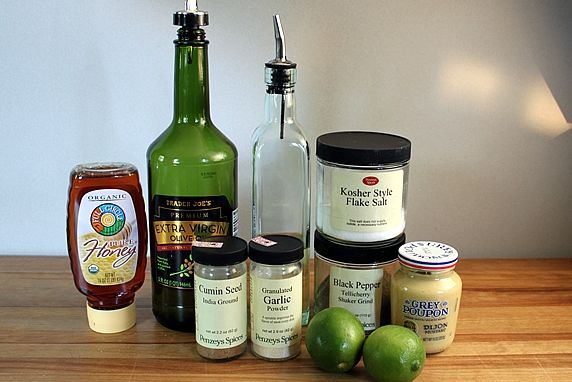 3 easy ways to mix the dressing:
In a blender (this is the way I make it). Blend everything but the 2 oils. With the blender running, pour in the oils in a thin stream through the hole in the blender lid. Blend until well mixed.
In a bowl. Whisk together everything but the 2 oils. Continue whisking while adding the oils in a thin stream. Keep whisking until well combined.
In a jar. Add everything but the 2 oils to the jar. Cover and shake to combine. Add the 2 oils and shake vigorously until well combined.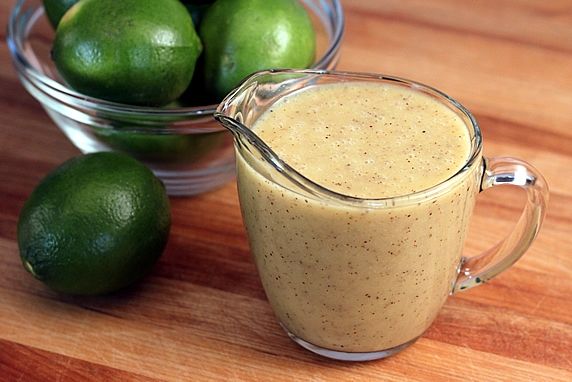 Nutritional Info (for 1 tablespoon): 70 calories, 6.8g fat, 2.6g carbs, 0g fiber,1g protein; Weight Watchers PointsPlus: 2
Serving suggestions:
Toss dressing with your choice of salad greens. Use approx. 1 tablespoon of dressing per 2 cups of greens.
Drizzle dressing over sliced tomatoes or cucumbers.
Top dressed salad greens with Spicy Grilled Shrimp - the spicy shrimp and tangy/sweet dressing taste great together.
view Easy Spicy Grilled Shrimp recipe
Make it a Yummy day!
Monica
Other salad dressing recipes that may interest you:
Honey Lime Vinaigrette
By Monica Servings: Makes almost 1 cup
1/4 cup fresh lime juice
2 tablespoons honey
1 teaspoon Dijon mustard
1/2 teaspoon garlic powder
1/4 teaspoon cumin
1/2 teaspoon kosher salt
1/2 teaspoon ground black pepper
1/4 cup olive oil
1/4 cup grapeseed or canola oil (or other preferred mild tasting oil)
3 EASY WAYS TO MIX THE DRESSING:
--In a blender. Add everything except the 2 oils to the blender and mix until combined. With the blender running, add the oils in a thin stream through the hole in the blender lid. Blend until well mixed.
--In a bowl. Whisk together everything except the 2 oils. Continue whisking while adding the oils in a thin stream. Keep whisking until well combined.
--In a jar. Add everything except the 2 oils to the jar. Cover and shake to combine. Add 2 oils and shake vigorously until well combined.

SERVING SUGGESTIONS:
--Toss dressing with your choice of salad greens. Use approx. 1 tablespoon of dressing per 2 cups of greens.
--Drizzle dressing over sliced tomatoes or cucumbers.
--Top dressed salad greens with Spicy Grilled Shrimp (find shrimp recipe at www.theyummylife.com/recipes/131)

Nutritional Info (for 1 tablespoon): 70 calories, 6.8g fat, 2.6g carbs, 0g fiber,1g protein; Weight Watchers PointsPlus: 2