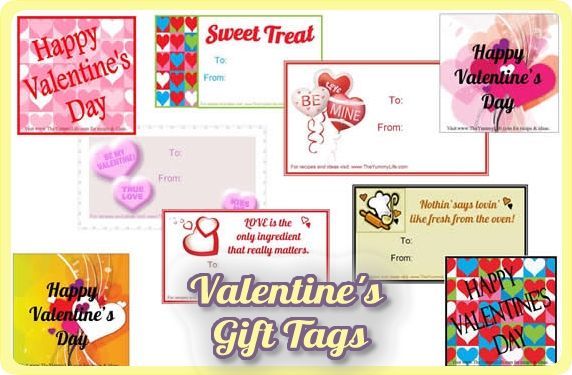 I've created 10 different gift tags for you to print and attach to your Valentine's gifts to add a fun, personal, finishing touch. Some of the tags are multi-purpose for any gift and some are specific for homemade kitchen gifts. A couple of these have appeared in previous posts, but most of them are new.
Print these on card stock, punch a hole in the corner and hang them from a ribbon or string.
Print them on sticker paper and stick them to your gift. If you don't have a printer or specialty papers, you can have a store with printing services download and print them for you.
To print, simply click on the design(s) of your choice.
There are 3 of each of these 4 designs on a single sheet. These tags are good to use if you're making multiple gifts (like for a classroom or work gift) and don't want to personalize them. Although, you can write a note or "TO and FROM" on the back, if you want to.

Click on an image to print out a full sheet of each of these individual designs:
Pictured below are some Valentine's treats in a bag and jar with gift tags. I attached the tag to the jar with double-stick tape; or it could have been printed on sticker paper. The cellophane bags are 5x11. The recipe and instructions for this Valentine's Party Mix are in a separate post.
Click here for Pretty-in-Pink Popcorn Party Mix post and recipe.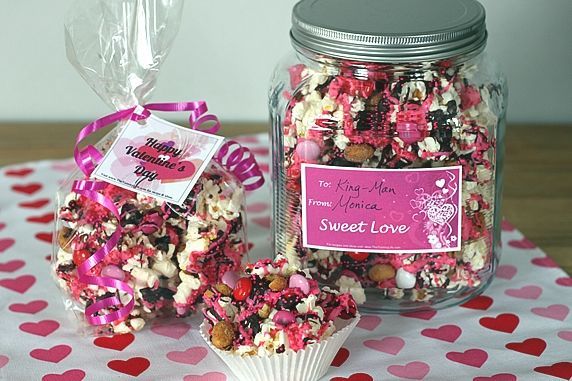 Chocolate Covered Strawberries are also a perfect Valentine's Day gift. Here's how to make them.
Click here for Easy Chocolate Covered Strawberries post and recipe.
Here are some more Yummy recipes that make great Valentine's treats. These can be put in a cellophane bag and tied with ribbon. The mixes are convenient to give in a jar. Click on the photo to link to the recipe post.
1. Symphony Bar Brownies 2. Toffee 3. Chocolate-Dipped Oatmeal Cookies
4. Hot Cocoa Mix 5. Grammy's Granola 6. Banana Bread Mix
Here are some previous posts that illustrate how to use gift tags with homemade gifts, along with recipes that you could use for Valentine's gifts:
For more gift tags for other occasions, check out my post:
Homemade gifts are always the best to give and to receive.
Make it a yummy Valentine's Day!

Pin on Pinterest