My last post was about a Mango Fruit Salad Salsa that I served with these tortilla chips at a bridal brunch. These tortilla chips are so easy to make--only 3 ingredients! They have no added fat, making them a healthier alternative to cookies. Their spicy sweetness and crispy texture make them a perfect complement to fruit salsa, ice cream, and sweet dips.
Step-by-step photos for making
Sugar & Spice Baked Tortilla Chips
Step 1. Assemble the ingredients: sugar, pumpkin pie spice, flour tortillas. I used both white and whole wheat tortillas; both turned out crispy and delicious. view on Amazon: pumpkin pie spice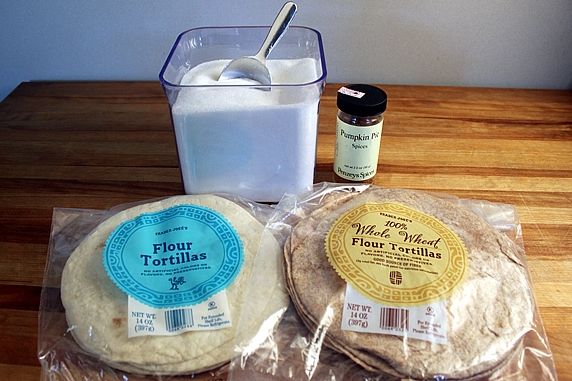 Combine the sugar and pumpkin pie spice in a shaker or bowl. It's easier to sprinkle the mixture with a shaker, if you have one.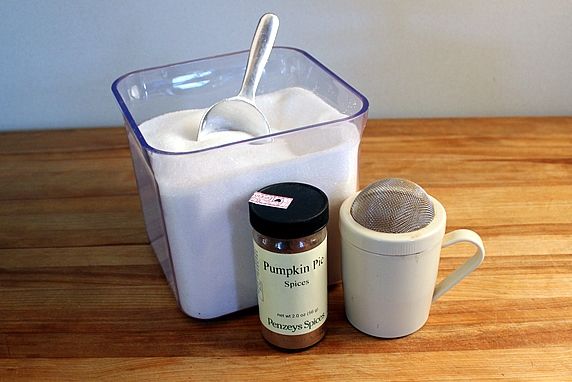 If you don't have pumpkin pie spice, you can make your own. Here's my recipe.
Click to view Pumpkin Pie Spice recipe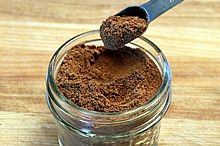 Another option if you don't have pumpkin pie spice is to use just plain cinnamon mixed with the sugar.
Step 2. Use a pastry brush to coat each tortilla with water.
Step 3. Sprinkle the tortilla generously with the sugar/spice mixture. The water works like glue to dissolve the sugar/spice and make it stick to the tortilla.
Note: I've seen similar tortilla chip recipes that have you coat the tortillas with cooking spray or brushing them with oil or melted butter. This water method works great, and I prefer it because it doesn't add any calories or fat.
view on Amazon: pastry brush, sugar/spice shaker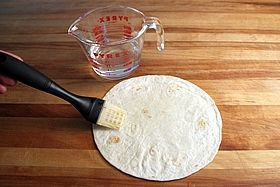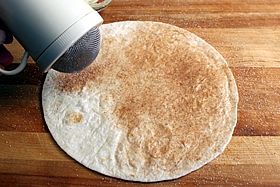 Make sure you cover the entire tortilla with the sugar/spice mixture--go all the way to the edges.
Step 4. Use a pizza cutter or knife to cut each tortilla into 8 wedges.
view on Amazon: pizza (or tortilla!) cutter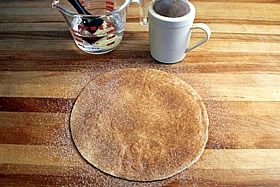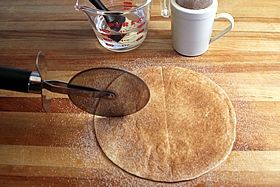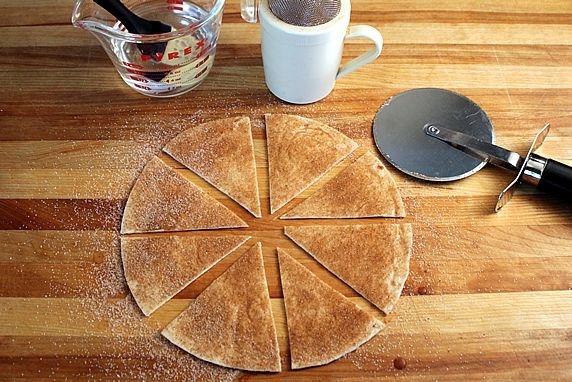 Step 5. Bake for 8 minutes at 400 degrees and check to see if the wedges are lightly browned and crisp. If not return to oven for 1-2 minutes more, keeping an eye on them to ensure they don't burn. (They can go from golden to burned quickly.) Cool completely.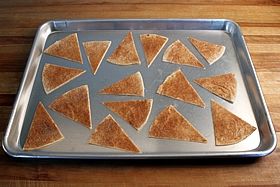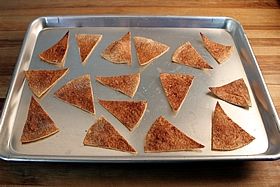 Store the chips in an airtight container. They will keep for several days, so you can make these ahead.
4 chips = 2 Weight Watchers PointsPlus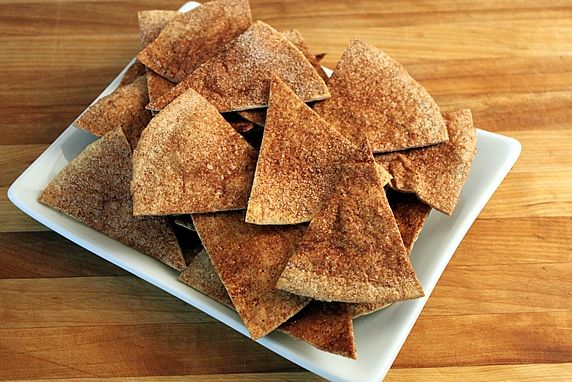 SERVING SUGGESTION #1: with fruit salsa
Use the tortilla chips to scoop up Fruit Salad Salsa.
view Mango Fruit Salad Salsa recipe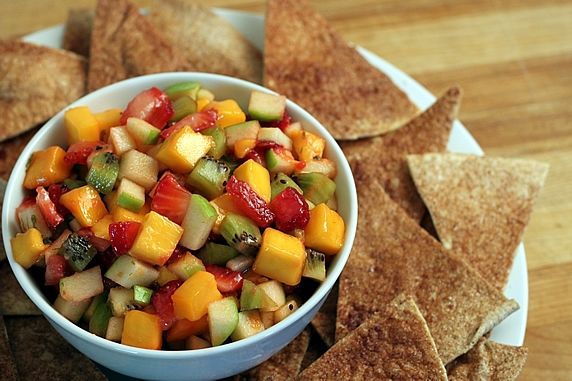 SERVING SUGGESTION #2: with ice cream or frozen yogurt
Serve tortilla chips with vanilla ice cream or frozen yogurt. Try lightly sprinkling the ice cream with cinnamon or pumpkin pie spice and toasted sliced almonds. Stick a tortilla chip or two into the ice cream. Makes a pretty presentation. This is a fun & easy dessert following a Mexican meal.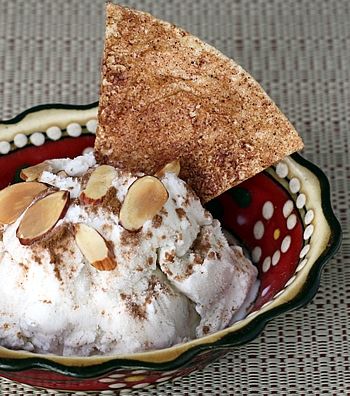 SERVING SUGGESTION #3: with sweet dips
Use the tortilla chips for dipping. Here are two delicious sweet dips that taste great with these chips.
Click to view Caramel Cream Cheese Dip recipe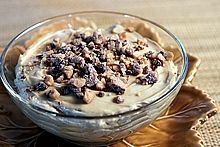 Click to view Pumpkin Pie Cream Cheese Dip recipe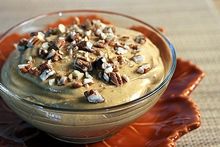 These are also delicious to eat all by themselves. Addictive, really.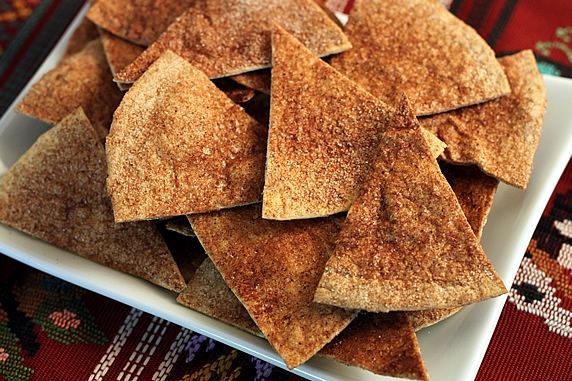 Make it a yummy day!
Monica
Sugar & Spice Baked Tortilla Chips
By Monica Servings: 32 chips
4 (7-8 inch) white or whole wheat flour tortillas
1/4 cup sugar
2 teaspoons pumpkin pie spice* (or use plain ground cinnamon)
water
Preheat oven to 400 degrees. Combine sugar and pumpkin pie spice in shaker or bowl. Use pastry brush to coat top of tortilla with water. Sprinkle top with sugar/spice mixture, covering entire tortilla surface. Use a pizza cutter or knife to cut each tortilla like a pie into 8 wedges. Place tortilla pieces in single layer on baking sheet. Bake for 8 minutes and check to see if lightly browned and crisp. If not, return to oven for 1-2 minutes more, keeping an eye on them to ensure they don't burn. (They can go from golden to burned quickly.) Cool completely. Store in airtight container; will keep for several days. 4 chips = 2 Weight Watchers PointsPlus

SERVING SUGGESTIONS:
--With fruit salsa (recipe at www.theyummylife.com/recipes/135).
--With vanilla ice cream or frozen yogurt sprinkled with cinnamon or pumpkin pie spice.
--With caramel cream cheese dip (recipe at www.theyummylife.com/recipes/27).
--With pumpkin pie cream cheese dip (recipe at www.theyummylife.com/recipes/22).

*Recipe for pumpkin pie spice, at www.theyummylife.com/recipes/24