I co-hosted a bridal shower brunch last weekend, and this fruit salsa was one of the dishes I prepared. It is a fun twist on traditional spicy salsa and chips. My version is a sweet and tangy fruit salad that was inspired by a Pampered Chef recipe. The fruit is chopped into small pieces to resemble a salsa. It's served with Sugar & Spice Baked Tortilla Chips that have been sweetened with sugar and a blend of sweet spices. (See tortilla chip recipe and explanation in my next post.)
Here's bride-to-be, Jillian, helping herself to some fruit salsa at her bridal shower.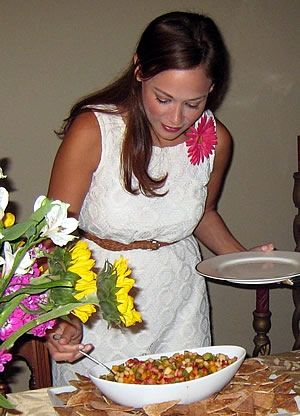 Just like with a fruit salad, you can substitute whatever fruit you like in this recipe. Mangos take center stage in my version, because (1) I love mangos with all my heart, and (2) they are plentiful in the stores now. I'm especially partial to the Champagne mango. King-Man and I have been eating them almost every day lately. Mangos also hold up well after they're cut, maintaining their color and texture longer than many other fruits.
I chose the combination of mangos, strawberries, kiwi, and apples for their complementary flavors, textures and colors. The contrasting colors make for one pretty bowl of fruit salsa. The refreshing tang of lime juice combined with a touch of sweetness from honey are the only dressing these fruits need to make a yummy salsa.
Step-by-step photos for making Mango Fruit Salad Salsa
Step 1. Assemble the ingredients: mangos, strawberries, apple, kiwi, lime, honey.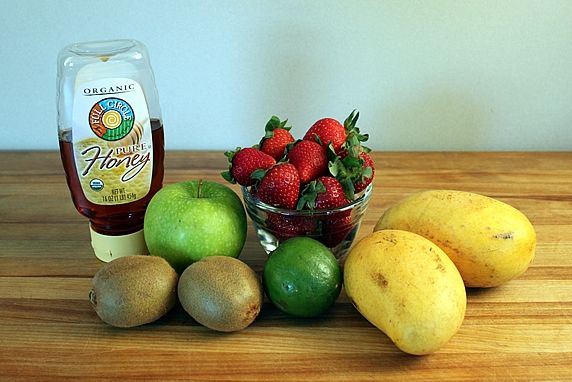 Step 2. Zest the lime. I used a Microplane to make short order of the task.
Step 3. Juice the lime that you've just zested. I used one of these handy-dandy lime squeezers.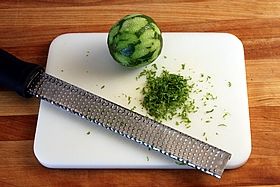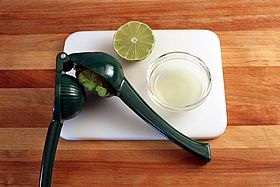 Step 4. Chop the fruit into uniform sizes. Mine were between 1/4" and 1/2". I guess that would mean 3/8", but no need to be that precise. Unless you're left-brained and find joy in that kind of precision. Not that I would know anything about that.
Don't know how to cut a mango? Check out my post:
How to Peel & Cut A Mango into Cubes and Slices

Here is everything that goes into the fruit salsa. I love the simplicity of this recipe.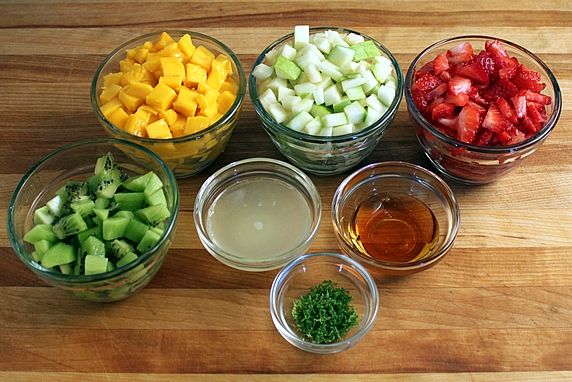 Step 5. Combine the fruits in a bowl, add the lime zest and pour in the lime juice. Toss to coat the fruit evenly. You want the lime juice coating the fruit both for flavor and to prevent browning.
Step 6. Add the honey and toss.
Let it chill in the fridge for 1-2 hours. It's best if you eat it the same day. It still tastes good the next day, but some of the fruit textures will get mushy.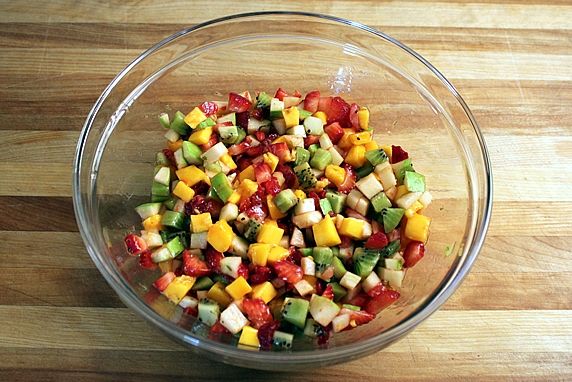 Done! Look at those beautiful colors. So pretty.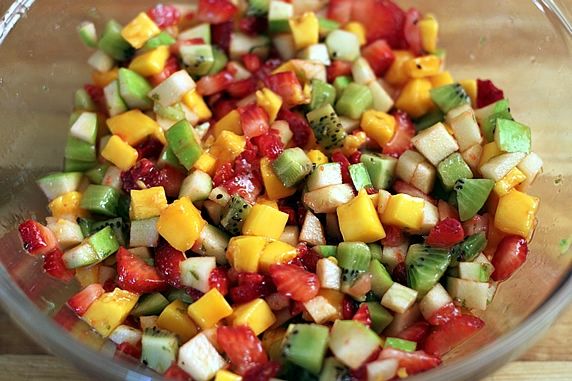 1/2 cup fruit salad salsa = 2 Weight Watchers PointsPlus
Serve the salsa with Sugar and Spice Baked Tortilla Chips. The combination of the sweet, tangy fruit with the crunchy chips is fantastic. These chips have no added fat and are so easy to make. Check out the simple recipe:

View Sugar & Spice Baked Tortilla Chips recipe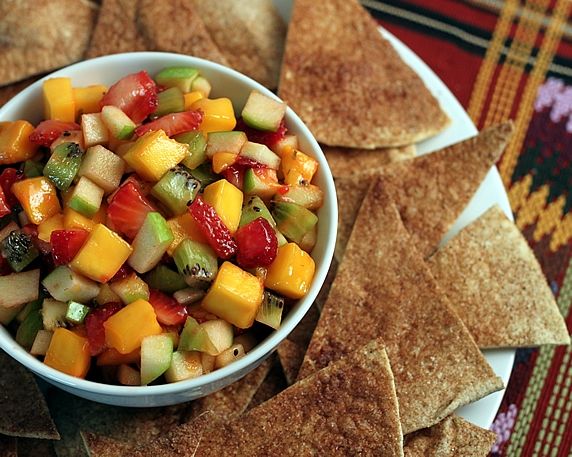 In addition to breakfast or brunch fare, this can be served as a healthy snack, appetizer or dessert.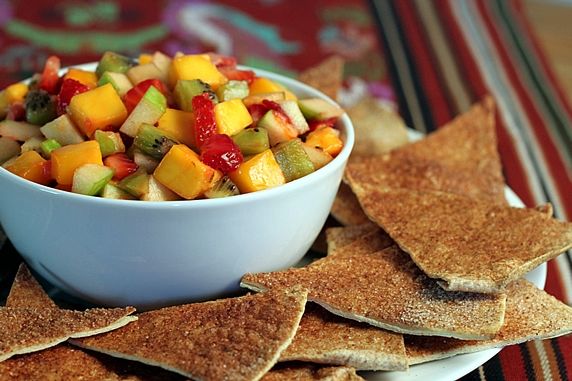 Scoop it up...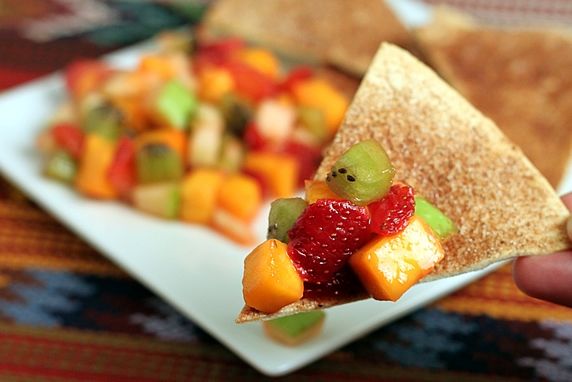 ...and have a bite!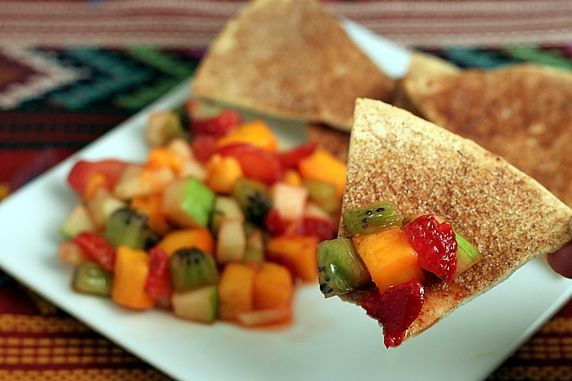 Make it a Yummy day!
Monica
Mango Fruit Salad Salsa
By Monica Servings: Makes 3-1/2 to 4 cup
1 cup peeled, chopped mango (approx. 2 champagne mangos)
1 cup (8 oz.) chopped strawberries
2 kiwis, peeled and chopped
1 cup chopped apple (1 medium size), peeled or unpeeled, Granny Smith recommended
zest and juice from 1 lime
2 tablespoons honey
Chop fruit into uniform 1/4 to 1/2" cubes. Add lime zest and juice; toss to evenly coat fruit (this adds flavor and prevents browning). Add honey and toss. Chill for 1-2 hours before eating. Fruit texture is best when eaten the same day.

1/2 cup fruit salsa = 2 Weight Watchers PointsPlus

Serve with Sugar and Spice Tortillas Chips (recipe at www.theyummylife.com/sugar_and_spice_baked_tortilla_chips).

Other fruits may be substituted. Choose a variety of colors for a prettier presentation.