This delicious, easy drink will wow your party guests. I served it at our Mexican Buffet Dinner Party last month, and it was a winner. I got this idea for combining margaritas and white sangria into a single drink from a recipe at Fine Cooking. You can slice the fruit and get it marinating the day before so that it's a snap to combine the remaining ingredients together in a punch bowl or pitcher at party time. At the party, it can be a self-serve drink that is pretty enough to add a decorative touch to the table.
Step-by-step photos for making
Sparkling Margarita Sangria Party Cocktails
Step 1. Assemble the ingredients: oranges, lemons, limes, mint, tequila, dry white wine, champagne or sparkling white wine, lemon-lime soda, agave syrup
You can substitute a simple sugar syrup for the agave syrup, if you prefer. It's easy to make. Here's how:
Click to view Simple Sugar Syrup recipe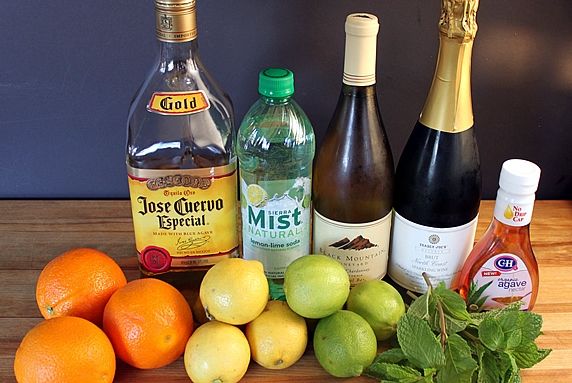 Step 2. Squeeze some fresh lime juice. I use one of these handy lime squeezers.
Step 3. Thinly slice the oranges, lemons, and limes into rounds.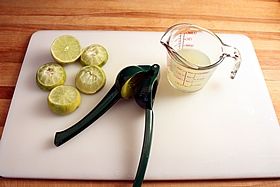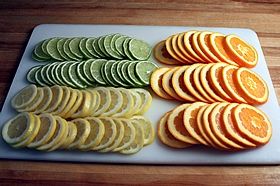 Step 4. Transfer citrus to a shallow plastic container.
Step 5. Add the mint leaves.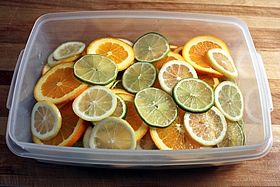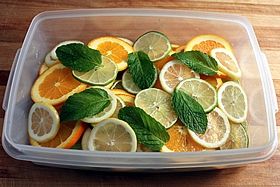 Step 6. Pour on the agave syrup, lime juice, and tequila.
The lime juice adds tartness to the drink. Omit or reduce the lime juice if you prefer a sweeter and less tart cocktail, or add more agave or simple syrup.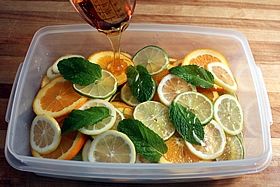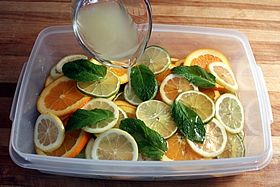 Step 7. Pour on the bottle of wine. Gently stir the fruit mixture.
Step 8. Cover and put in the fridge to marinate for at least 4 hours and up to 24 hours.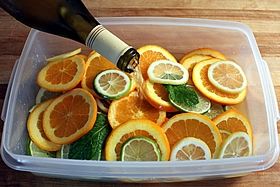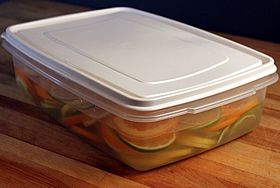 Step 9. Right before it's time to start serving, transfer the citrus mixture to a large punch bowl or 2 large pitchers. Pour in the lemon-lime soda and champagne.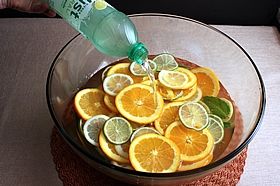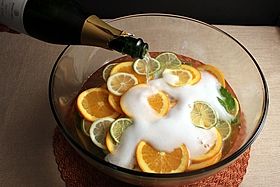 To keep the mixture cold throughout a party, you can rest it in a larger bowl or party tub that is full of ice.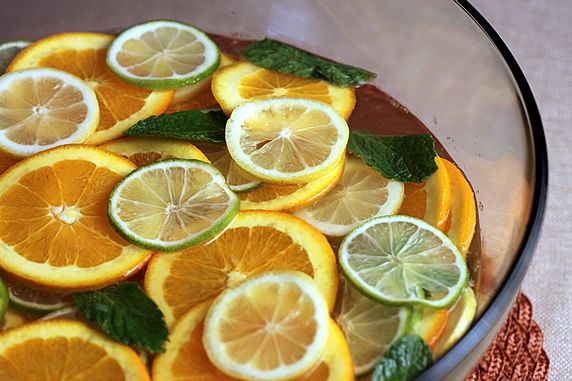 Add citrus slices to each glass before ladling in the liquid.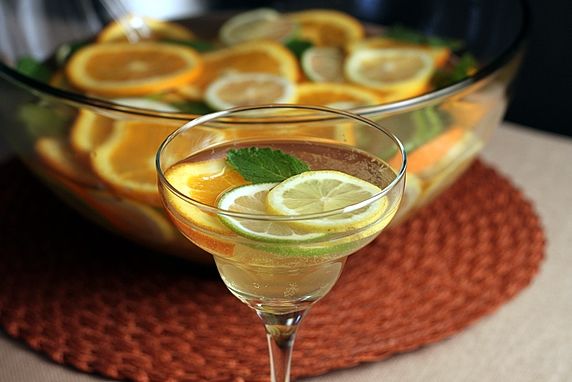 Margarita glasses are fun for serving these cocktails, although you can use any size or shape of cocktail, punch, or drinking glass.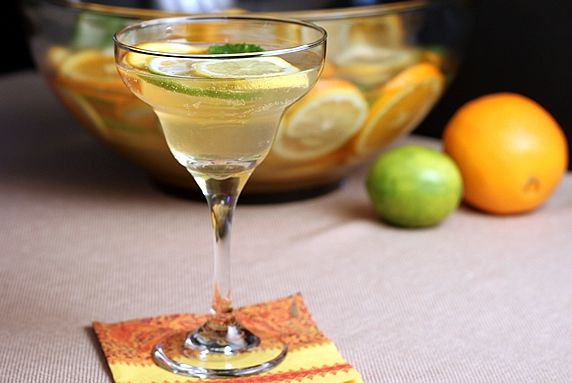 Have some margarita salt available for those who prefer a salted rim. Before adding the citrus and liquid to a glass, rub the glass rim with a cut lime & dip it in the salt.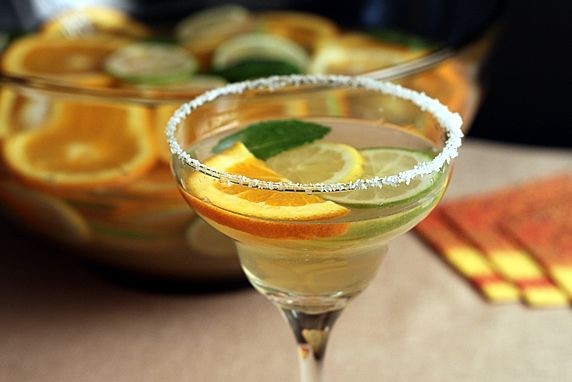 Leftovers? Although this loses its fizz after awhile, it still tastes great for 1-2 days after it's made. The marinated fruit continues to taste good, too. Just put it back in the fridge and you can keep sipping on it long after the party is over.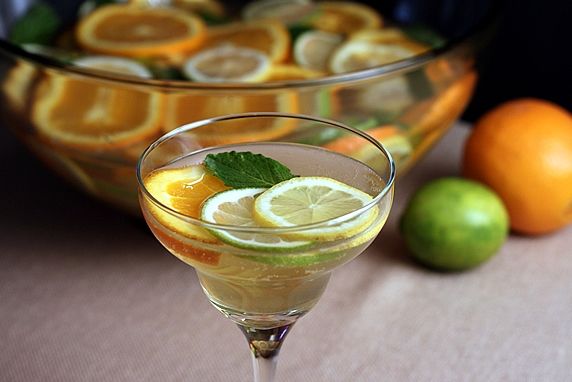 Although I served this with Mexican food at a recent party, this beautiful party cocktail is refreshing and good with any menu at any time of the year.
Make it a yummy day! (scroll to bottom for printable recipe)
You may also be interested in these recipes and tips:
Click to view A Mexican Buffet Dinner Party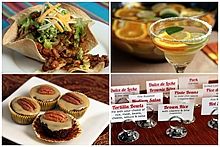 Make-Ahead Frozen Margaritas in Mason Jars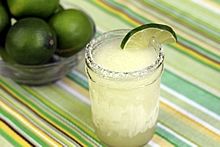 Sparkling Margarita Sangria Party Cocktails
By Monica Servings: makes 4 quarts
3 naval oranges, sliced into thin rounds
4 lemons, sliced into thin rounds
4 limes, sliced into thin rounds
juice from 1-2 limes, enough to yield 1/3 cup juice
6 large mint leaves
2/3 cup agave nectar syrup (or simple sugar syrup; for recipe go to www.theyummylife.com/recipes/48)
1/2 cup tequila
1 750-ml bottle (approx. 3 cups) dry white wine, chilled
2 cups lemon-lime soda, chilled
1 750-ml bottle (approx. 3 cups) champagne or sparkling white wine
margarita salt (optional), chilled
Place sliced fruit and mint in large, shallow plastic container. Add lime juice, agave syrup, tequila, and white wine; mix gently. Cover and refrigerate at least 4 hours and up to 24 hours. To serve, transfer fruit mixture to large bowl; add lemon-lime soda and champagne/sparkling wine. To serve, add slices of citrus to individual glasses, then ladle beverage into glass.

If salted glass rims are desired, before adding fruit and beverage, rub rim of individual glasses with cut lime and dip in salt.

If too tart, add more agave syrup or simple sugar syrup. If too sweet, add more lime juice.