This is the salad I served with my English Beef Pot Pies on the day that I had friends over to watch Pride and Prejudice (see my post, A Taste of Britain Menu ). Truth is, this simple salad would complement many meals. I just happened to choose ingredients with an English identity for my British themed menu:
English cucumbers - these are the long thin-skinned cucumbers that are usually wrapped in plastic to prevent water loss; so they're not waxed like other cucumbers and don't need to be peeled. English cukes have smaller seeds (sometimes they're called seedles, but they're really not), are less bitter, and easier to digest. They are super high in potassium.
English walnuts - This is the "common" walnut eaten in the U.S. and Britain. It originally came from Persia, and was brought to England by the Romans in the 1500's. They are wildly nutritious and a great source of omega-3 fatty acids.
English Stilton Blue cheese - see my last post about Stilton Blue Cheese Salad Dressing and Dip for info about this yummy, British cheese.
Here are step-by-step photos for making this salad.
Step 1: Assemble the ingredients. Salad greens (mine are half baby spinach and half spring greens), walnuts, blue cheese, cucumber, blue cheese dressing.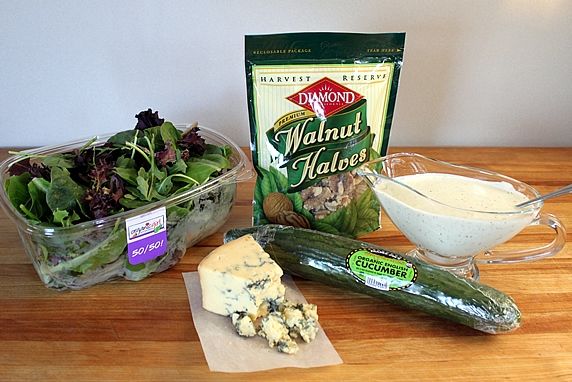 If you'd like to make your own blue cheese dressing, here's my healthified recipe:
Yogurt Blue Cheese Salad Dressing & Dip

Step 2. Thinly, slice the cucumber. I used a mandoline, but a knife will work, too.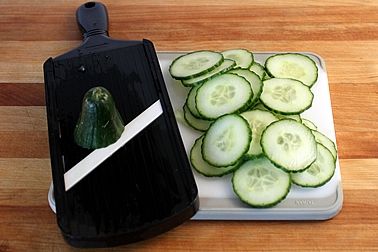 Step 3. Chop the walnuts.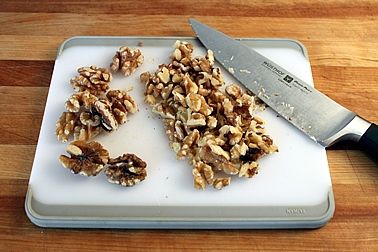 Step 4. Crumble the blue cheese.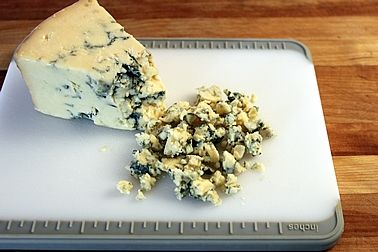 Step 5. Assemble individual plates of salad: cucumbers around the perimeter of the plate, greens in the center, drizzled with blue cheese dressing, then sprinkled with walnuts and blue cheese crumbles.
Note: I think this salad is much prettier arranged on individual plates rather than tossed in a big bowl. Creamy dressings like this look better when they're drizzeled on rather than tossed. Framing the plate with the cucumbers makes a nicer presentation, too.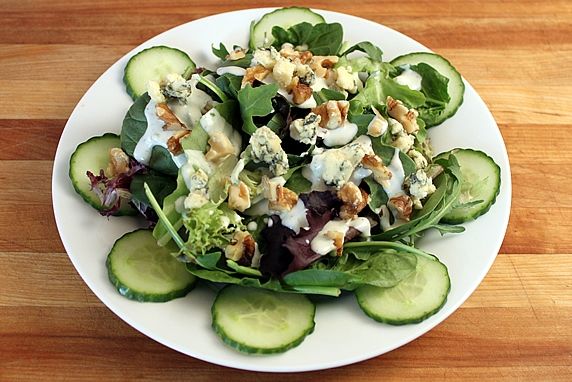 That's all there is to it. This really is an easy salad to prepare. But, often the simplest combinations are the best.
Optional toppings. Other optional tasty additions are sliced apples or raw fresh or frozen English peas (thaw them before serving.)
Assemble ahead, if you like. Arrange the cucumbers and greens on the plates and refrigerate until it's time to serve. Remove the plates from the fridge, drizzle on the dressing, and sprinkle with cheese crumbles and walnuts; or set out the toppings and let people add their own.
This is one of my favorite lunch salads. Love it.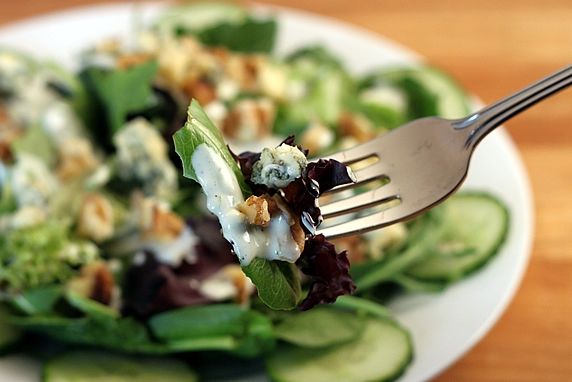 For a great combo, serve this salad with my English Beef Pot Pie.
Click to view English Beef Pot Pie post and recipe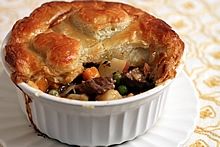 Make it a Yummy day!
Monica
Salad Greens with English Cucumbers, Walnuts, & Blue Cheese
By Monica Servings: 4 servings
1 English cucumber, thinly sliced
8 cups salad greens
1/2 cup blue cheese dressing (see recipe at www.TheYummyLife.com/recipes/116)
1/2 cup crumbled blue cheese (Stilton blue cheese recommended)
1/2 cup chopped walnuts
freshly cracked black pepper
Arrange cucumber slices around the perimeter of 4 salad plates. Add 2 cups salad greens to center of plates. Drizzle each plate with 2 tablespoons blue cheese dressing. Sprinkle each with 2 tablespoons chopped walnuts and 2 tablespoons blue cheese crumbles. Add freshly cracked black pepper to taste.

Other optional toppings:
--sliced apples
--fresh or frozen raw English peas