Blue cheese dressing is one of those things that I could eat with a spoon all by itself. But, that would be naughty, so I eat it most often on salad greens or as a raw veggie dip.
Some blue cheese dressings are too mayonnaisey for me. Most are very high in fat from the mayonnaise or sour cream or both. I fiddled around and came up with this healthier recipe. The base is lowfat Greek yogurt (super high in protein!) and lowfat buttermilk. I added a touch of mayonnaise--just enough to enhance the flavor without overpowering it.
I used Stilton Blue cheese, because it's the best blue cheese in my opinion. Also, because it's an English blue cheese and I was serving this on salad greens alongside my English Beef Pot Pies (see my post A Taste of Britain menu).
NUTRITIONAL INFORMATION (per tablespoon of dressing): 29 calories, 1.9g fat, 1.9g carbs, 1.2g protein, 0g fiber; Weight Watchers PointsPlus: 1
This recipe is so easy--just throw everything in a blender & give it a whirl. Here's how.
Step-by-step photos for making Stilton Blue Cheese Dressing with Yogurt.
Step 1. Assemble the ingredients: Strained Greek yogurt (I used 2% lowfat), blue cheese (Blue Stilton recommended), lowfat buttermilk, white wine vinegar, olive oil, worcestershire sauce, honey, mayonnaise, salt, pepper, fresh chives, garlic powder (oops, not pictured).
Note about the yogurt: Strained yogurt is thicker and will prevent your salad dressing from getting watery. Greek yogurt is already strained. I used the Fage brand, because it is particularly thick and creamy; however, it is more expensive than unstrained yogurt. It's easy to strain your yogurt yourself; here's how.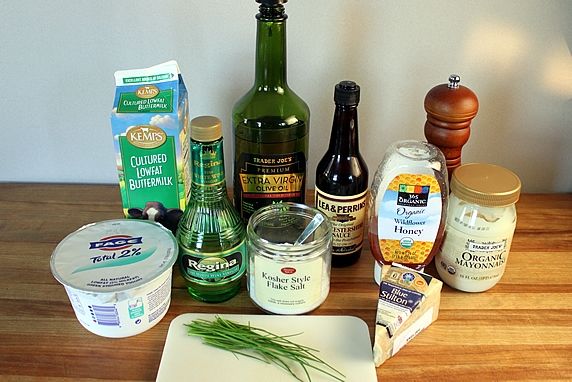 Step 2. Mince the chives.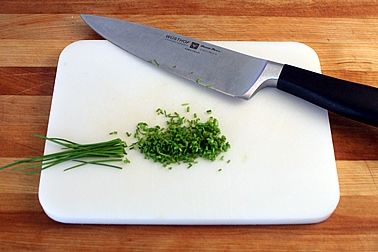 Step 3. Crumble the blue cheese.
Step 4. Throw everything in a blender.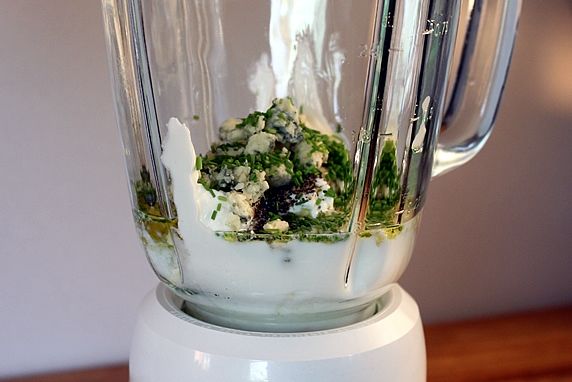 Step 5. Give it a whirl. Done!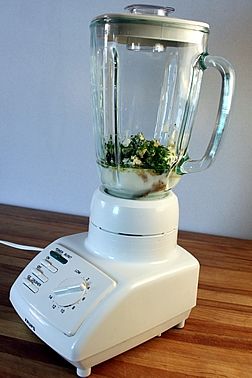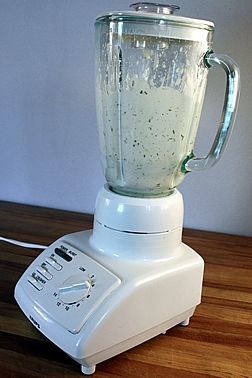 Step 6. The result is a smooth, creamy dressing. If you want it chunky and with a stronger blue cheese taste, pour the dressing from the blender into a bowl or jar, and stir in some more blue cheese crumbles. That's what I do. I like it chunky.
Step 7. Put it in the fridge for at least 4 hours before serving. Those flavors need to get acquainted for awhile. It's even better if you make it the day before. Check the expiration dates on the yogurt, buttermilk, and mayo to determine how long this will keep in the fridge.
I really and truly can eat it with a spoon. Yum!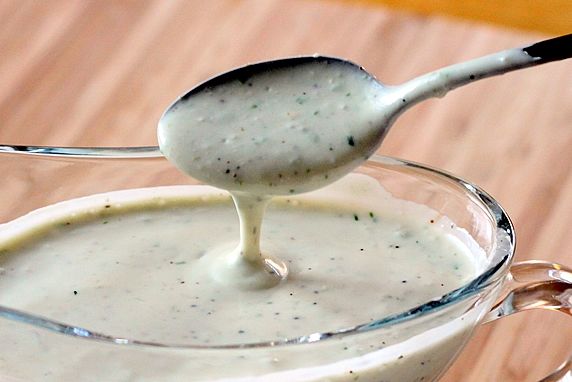 Serving suggestions:
This dressing makes so many things better. Here are a few things to try:
Use on any salad greens to make them instantly delicious.
Mix with shredded cabbage and carrots for a different take on cole slaw.
Use as a dip for raw veggies.
Use as a dip for Honey Teriyaki Hot Wings.
Spread on buns of Barbeque Pulled Pork Sandwiches. (Trust me on this--delicious!)
Spread on any sandwich, for that matter. This is a yummy condiment alternative on most any sandwich: burgers, chicken, roast beef, turkey, etc.
Apple, Blue Cheese, and Walnut Salad - Drizzle this dressing over sliced apples and sprinkle with chopped walnuts.
Creamy English Cucumber Salad - Thinly slice 2 English Cucumbers, sprinkle them with 1 tablespoon of salt, mix, and let stand in a colander for 30 minutes (this releases their liquid so the salad isn't too watery). Blot the cucumbers dry with paper towels. Add 1/4 cup additional buttermilk to this dressing recipe for a thinner consistency. Then add the cucumbers. Let marinate for at least 4 hours or overnight.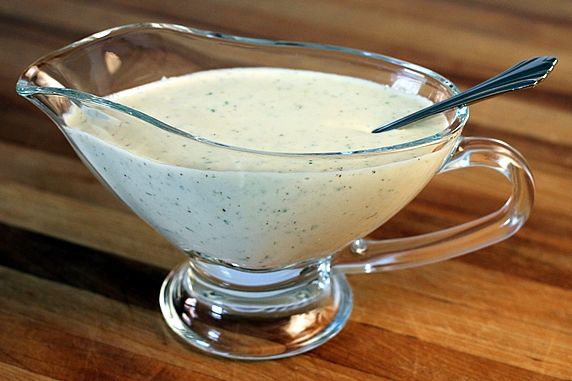 Check out my tasty salad recipe that uses this dressing:
Click to view Salad Greens with English Cucumbers, Walnuts, & Blue Cheese Recipe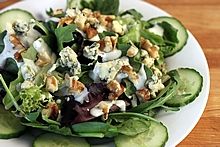 Make it a yummy day!
Other salad dressing recipes that may interest you:
Low-Fat Blue Cheese Salad Dressing & Dip
By Monica Servings: 1 cup, 8 servings
1/2 cup strained, lowfat Greek yogurt
1/4 cup lowfat buttermilk
1/4 to 1/2 cup blue cheese crumbles (Stilton Blue recommended), divided
1 tablespoon white wine vinegar
1 tablespoon mayonnaise
1 tablespoon olive oil
1 teaspoon Worcestershire sauce
1 teaspoon honey
1/4 teaspoon kosher salt
1/8 teaspoon ground black pepper
1/4 teaspoon garlic powder
1 tablespoon minced fresh chives
Set aside 1/4 cup of blue cheese crumbles. In a blender, combine remaining 1/4 cup blue cheese crumbles with all of the other ingredients. Blend in short bursts until well combined and no large blue cheese chunks remain. Pour dressing into serving bowl or storage jar. For a chunky dressing, stir in remaining 1/4 cup blue cheese crumbles (optional). Chill for at least 4 hours before serving; best if made the day before. Will keep refrigerated for up to the expiration dates on the yogurt, buttermilk, and mayo.

SERVING SUGGESTIONS:
--Drizzle on any salad greens.
--Mix with shredded cabbage and carrots for a different take on cole slaw.
--Use as a dip for raw veggies or hot wings.
--Use as a condiment on burgers and sandwiches, even barbecue pulled pork.
--Apple, Blue Cheese, and Walnut Salad - Drizzle this dressing over sliced apples and sprinkle with chopped walnuts.
--Creamy English Cucumber Salad - Thinly slice 2 English Cucumbers, sprinkle them with 1 tablespoon of salt, mix, and let stand in a colander for 30 minutes (this releases their liquid so the salad isn't too watery). Blot the cucumbers dry with paper towels. Add 1/4 cup additional buttermilk to this dressing recipe for a thinner consistency. Then add the cucumbers. Let marinate for at least 4 hours or overnight.

NUTRITIONAL INFORMATION (per tablespoon of dressing made with 1/4 cup blue cheese crumbles): 29 calories, 1.9g fat, 1.9g carbs, 1.2g protein, 0g fiber; Weight Watchers PointsPlus: 1