Originally posted October 2, 2011.
-----------------------------------------------------------------------------
Here's a new SMOKIN' HOT popcorn party mix to add to my collection. The St. Louis Cardinals, my hometown team, made it to the post-season with an astonishing, dare I say RED HOT, surge. It's been pretty exciting for those of us living in the St. Louis sea of red. So, I simply HAD to create a recipe suitable for celebrating our RED HOT CARDS!
It's versatile! I do understand that, sadly, not everyone loves the Cards as much as we do. This popcorn mix recipe can be used for other less thrilling celebrations like a Red Hot Lover Popcorn Mix for Valentine's and anniversaries. Or, it could be a Firecracker Popcorn Party Mix for the 4th of July. In the comments at the end of this post, readers shared that they've also used this mix at a firetruck themed birthday party and for a Santa's Trail Mix. Another reader added green M&Ms to make it a Christmas mix. Red is the color of many other sports teams, too. But, in my heart, this recipe is for the Cards.
If you're not a Cards fan, you may want to immediately skip down to the recipe, because I'm about to share some more Cardinals love.
Cardinals Love
We moved to St. Louis in 1986. The following year the Cards were in the World Series. WOW. What a thrill to a newbie to baseball like me. Even though we didn't win that year, it was a thrill. Before that I don't remember ever attending a baseball game; I know I'd never watched one on TV. King-Man used to say that I didn't know the difference between a touchdown and a homerun. That all changed when St. Louis became our home. This is a baseball town. We had 2 young boys, and there was nothing they loved more than going to a Cards game. Here's our family Christmas card from 1989; T-Man (age 4), Brackenthebox (age 7), and Fredbird (ageless):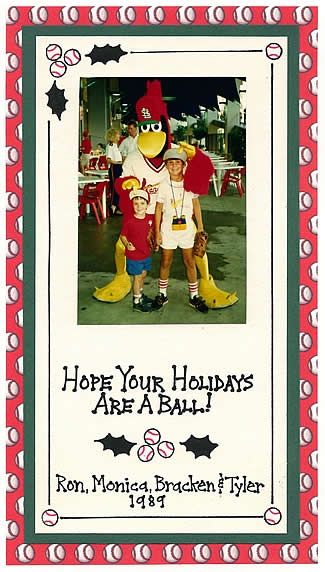 Fast forward to 2011. Brackenthebox and his wife Rachel live in Boston, T-Man lives in San Francisco. They wisely have remained friends with and formed new friendships with Cardinals fans. Case in point: Below is a photo of Bracken & Rachel in Philly a few weeks back when the Cards were playing there. They were tailgating before the game. Jeff and his wife Leah live in Philly now. Simon and fiance Whitney live in Baltimore. Tim lives in Boston. Jeff and Simon both went to high school with Bracken in St. Louis. This group of friends and Cards fans all gathered in Philly last month to cheer on the Birds. In order, l-r: Jeff, Leah, Whitney, Simon, Bracken, Rachel, & Tim. Way to represent. Go Cards!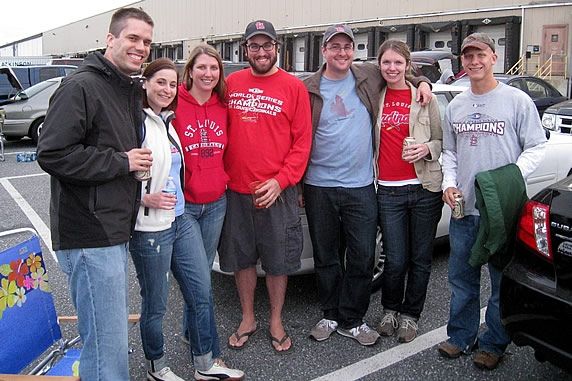 Do It For Torty!
Have you heard about Torty Craig? He is the pet tortoise of Cardinals player Allen Craig. Torty has a Twitter account that has kind of exploded in recent days. We have a thing about turtles in our family, so we're lovin' Torty.
Bracken decided that he needed a Torty shirt, so he designed this one and ordered it from Cafe Press. You can order one there, too. BTW, Bracken doesn't make a penny from this--it's all for fun and Torty/Cardinal love. Here's the link.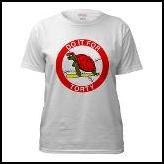 Okay. On to the recipe. It's easy, fun, and YUMMY!
Step-by-step photos for making


Red Hot Popcorn Party Mix
Step 1. Assemble the ingredients: popcorn (I used oil- and salt-free air-popped); white chips for melting (vanilla or white chocolate); honey roasted peanuts, Hot Tamales chewy cinnamon candies; Red Hot candies; coarse sea salt; red & white decorating sprinkles; vegetable oil
view on Amazon: Hot Tamales, Red Hots, red sprinkles, honey roasted peanuts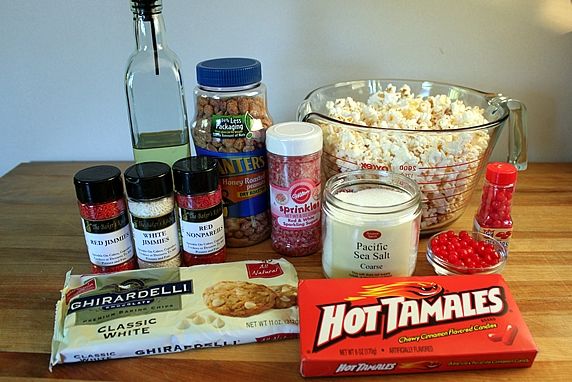 If you're looking for Red Hots, try the candy aisle of your grocery or drug store. They also can be found in the baking/decorating aisle of most grocery stores.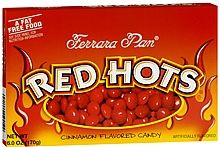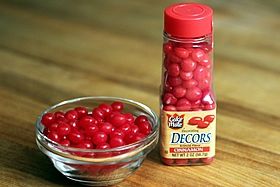 Step 2. Spread 8 cups of popped corn on a large baking sheet. It's easy to pop your popcorn in the microwave. Here's how:
View recipe for Homemade Plain Microwave Popcorn
Step 3. Sprinkle the popcorn with approx. half of the Hot Tamales, Red Hots, and peanuts.
view on Amazon: baking sheet set with lids (I used the large pan that comes with this set)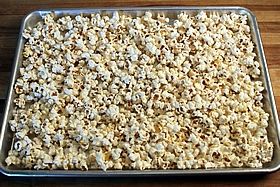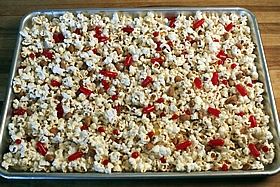 Step 4. Add oil to white chips. (Adding a small amount of canola or vegetable oil, gives the melted chocolate a smoother, glazy texture and appearance.)
Step 5. Combine white chips with oil in small bowl and melt in microwave in 20 second intervals, stirring each time, and continuing to cook just until chips completely melt in when stirred (approx. 60 seconds total). This method is explained in more detail here:
Click to view Melted Chocolate for Dipping and Drizzling Recipe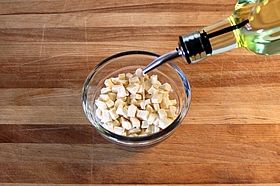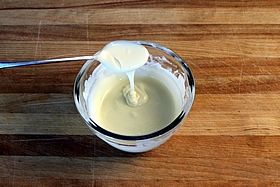 Step 6. Use a spoon to drizzle approx. half of melted chips on top of popcorn mix. This adds flavor, but also works as "glue" to bind the popcorn and candy. Drizzling in layers helps it all stick together.
Step 7. Sprinkle on remaining candy & peanuts, along with the salt.
Step 8. Drizzle on remaining melted chips and immediately (before it hardens) sprinkle with decorating sugar and sprinkles.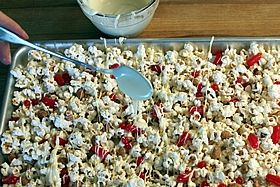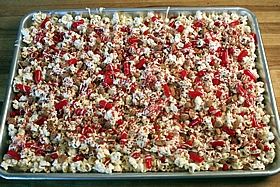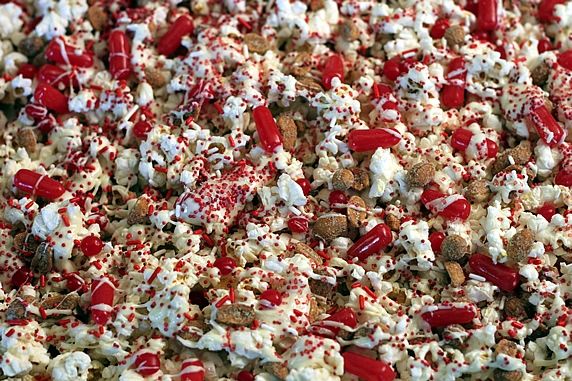 Step 9. Let the mix harden completely and break it into pieces. You can speed up the hardening in the refrigerator, if you're in a hurry.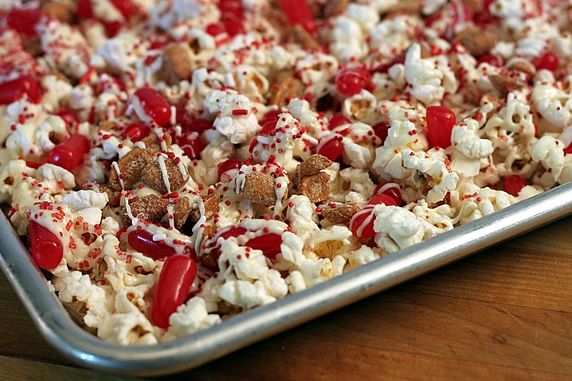 The colors scream RED HOT, and so does the taste. The peanuts scream BASEBALL. Together it screams GO CARDS!
It's kind of like a popcorn candy bark. You can drizzle on more of the melted chips if you prefer it to be even more candy-like.
Cupcake liners make perfect serving cups.
How does it taste? It's my favorite of my popcorn mixes so far. The unusual combo of sweet, salty, spicy, chewy and crunchy really works. It's an addictive snack.
Check out the cute baseball cap snack and ice cream bowls below. I bought them at a local grocery store, but they're also available online. These were my kids' regular snack bowls when they were young--the hat brim serves as a handle, so they're easy to hold and carry around. (They're available for every MLB team.) You could also bag the popcorn mix in cellophane gift bags, with our without the snack bowl. What a fun gift or party favor!
view on Amazon:
Cardinals hat snack bowls, snack bowls for other MLB teams, cellophane gift bags
Cardinals fan or not, this popcorn mix would be good at any party. However, I think it tastes better if you wear a Cardinals hat while you're eating it. But, that's just me.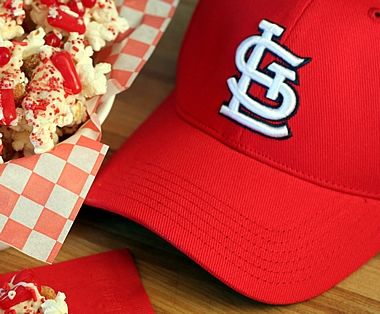 You can see me demonstrate how to make this popcorn on the Channel 4 TV's Great Day St. Louis show and also see some World Series serving and centerpiece ideas in this post:
Click to view TV video clip and World Series ideas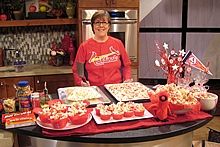 Make it a Yummy day!
Monica
Other popcorn recipes from The Yummy Life that may interest you:
Red Hot Popcorn Party Mix
By Monica Servings: 9 cups
8 cups popped corn (I use air-popped without oil or salt)
1/2 cup honey roasted peanuts
1 6-oz box (3/4 cup) Hot Tamales chewy cinnamon candies
1/4 cup Red Hot candies (find in candy or baking/decorating supplies aisle)
1 cup white chocolate or vanillla baking chips*
1 tablespoon vegetable oil
1 teaspoon coarse sea salt
decorating sprinkles (red/white coarse sugar, nonpareils, or similar)
Spread popcorn on a large baking sheet. Sprinkle half of the peanuts, Hot Tamales, and Red Hots evenly over top. Combine white chips with oil in small bowl and melt in microwave in 20 second intervals, stirring each time, and continuing to cook just until chips completely melt in when stirred (approx. 60 seconds total). With spoon, drizzle half of melted chips evenly over popcorn mixture. Sprinkle on remaining peanuts and candy. Sprinkle with coarse sea salt. Drizzle with remaining melted chips. Sprinkle with decorating red sugar and white nonpareils. After melted drizzles harden, break into pieces and store in airtight container or sealed plastic bags.

*To make the mix more of a candy-like bark, drizzle on additional melted chips.
Check out this Popcorn Mix in Giants and Jets colors,
recipe adapted by Rachel at The Avid Appetite