Awhile back I made a Game Day Popcorn Party Mix in team colors for a Super Bowl party. Today's post is about a similar party mix, with a few additions to make it festive and pretty for Valentine's Day or any "pink" party--wedding, baby girl, princess birthdays, etc. (The colors can be changed for other occasions.) This mix is delicious, easy, and the colors contribute to your party decorations. It's great for classroom party treats or to take to the office to share with co-workers. Serve it in a bowl, or put it in gift bags. This makes a fun gift or party treat or favor.
Step-by-step photos for making


Pretty-in-Pink Popcorn Party Mix
Step 1. Assemble the ingredients: popcorn (I used oil- and salt-free air-popped); white chips for melting (vanilla or white chocolate); semi-sweet chocolate chips for melting (not pictured); honey roasted peanuts, M&M's in red and pink (this Valentine's Day version is widely available in stores in February); coarse sea salt; decorating sprinkles (I used pink nonpareils and red coarse sugar); neutral tasting oil (vegetable or grapeseed), food coloring (oil-based recommended; I used Wilton candy colors.).
In place of the white chips you can use pink Wilton candy melts that are already colored; although the colors aren't as vibrant. You can also omit the food coloring entirely--use plain white melted chips and rely on M&Ms and sprinkles to add color to the mix.
NOTE about food coloring. If you want to color melted baking chips or candy and maintain a thinner drizzling consistency, you need to use an oil based food coloring. This isn't commonly found in grocery stores. The more common water based food coloring will cause the melted chips to seize and thicken to a paste. It can be used, but you have to assemble the mix differently. See my Game Day Popcorn Party Mix post for an explanation.
view on Amazon: organic popcorn, Wilton candy colors, pink Wilton candy melts, pink sprinkels, red sprinkles, honey roasted peanuts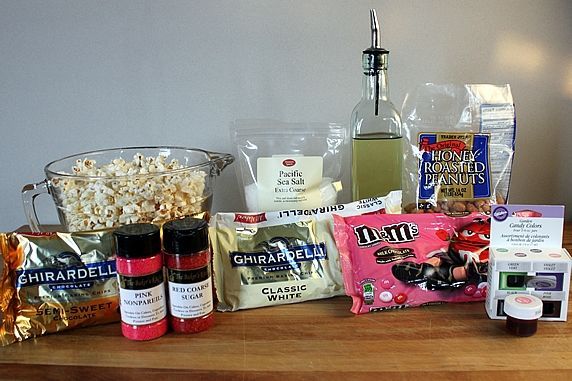 Step 2. Line a large baking sheet (mine is 13x18) with parchment or waxed paper. Spread 8 cups of popped corn on the baking sheet. It's easy to pop your popcorn in the microwave. Here's how:
View recipe for Homemade Plain Microwave Popcorn
view on Amazon: baking sheet set with lids (I used the large pan that comes with this set)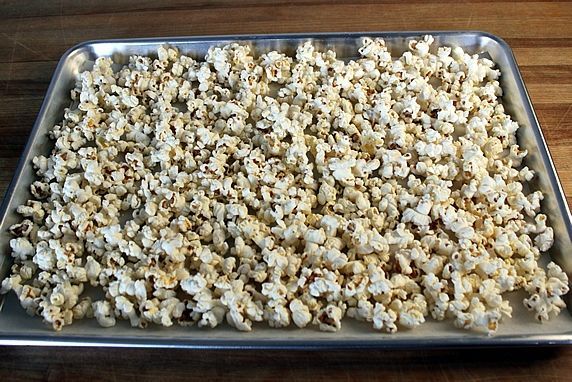 Step 3. Sprinkle evenly with 1/2 cup honey roasted peanuts and 1/2 cup M&Ms.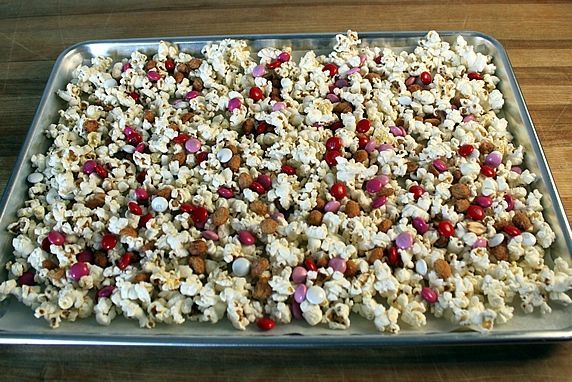 Step 4. Add oil to chocolate and white chips. (Adding a small amount of oil, gives the melted chocolate a smoother, glazy texture and appearance.) Add food coloring to the white chips, if desired.
Step 5. Melt them in the microwave using the method described here:
Click to view Melted Chocolate for Dipping and Drizzling Recipe
Step 6. Use a spoon to drizzle melted chocolate on top of popcorn mix.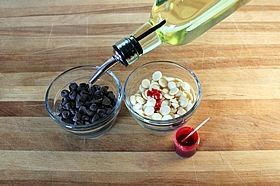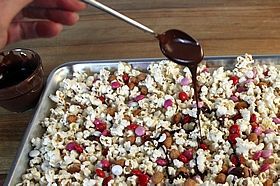 Step 7. While the chocolate is still "wet", sprinkle it with coarse sea salt so the salt will stick. This makes a yummy sweet & salty taste combo.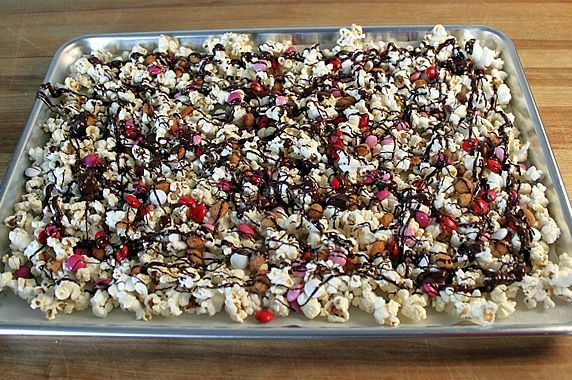 Step 8. Next melt the pink-colored white chips; and drizzle the pretty melted mixture over the popcorn.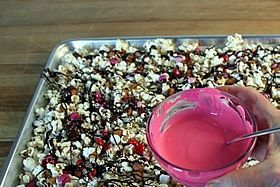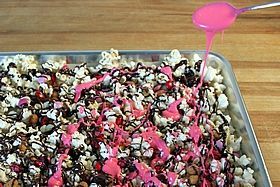 Now, it is "pretty-in-pink"!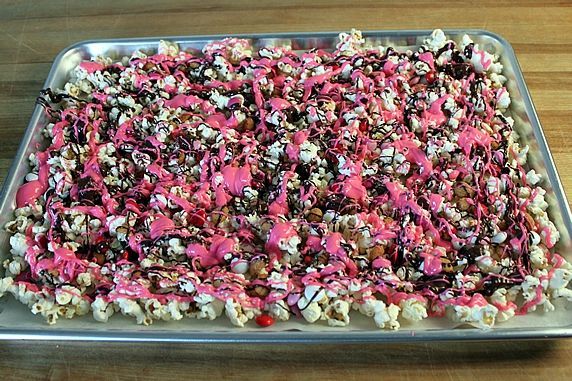 Step 9. Before the pink drizzle hardens, sprinkle it with red sugar and pink nonpareils.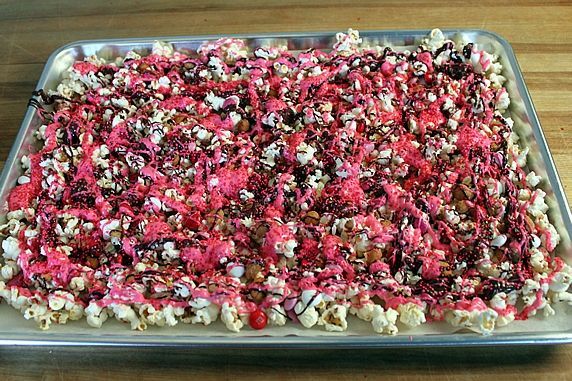 The sprinkles make the mix prettier, and also add some crunch.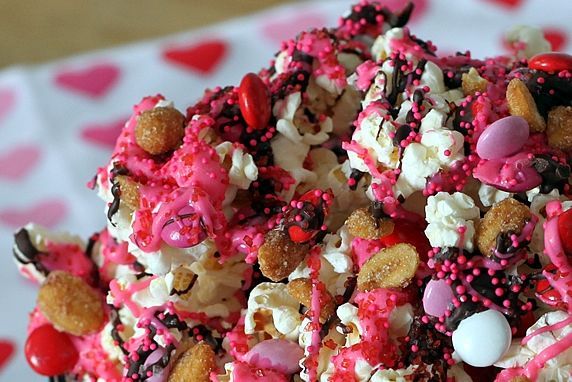 Step 10. Let the mix harden completely and break it into pieces. The hardened melted chocolate serves as glue to hold the candies, nuts, and popcorn together.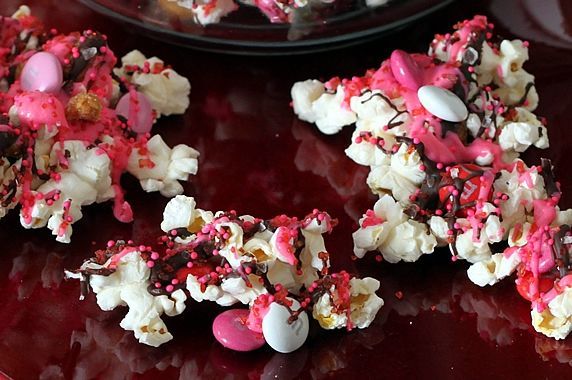 Serve the mix in a bowl or on a platter.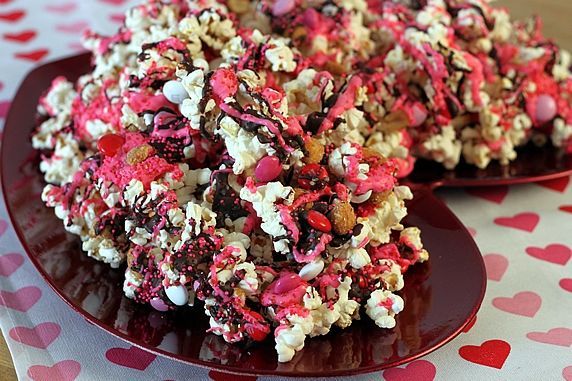 For a party or buffet, make individual servings in cupcake liners.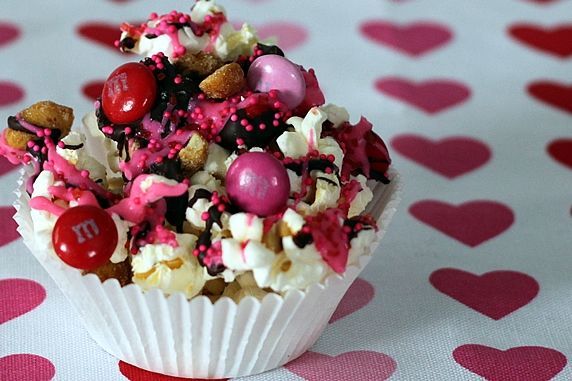 This mix makes a great gift! Put the mix in cellophane bags or a jar. Add ribbons and tags to pretty it up. You can choose from 10 free Valentine's Day downloadable gift tags here:
click here for Valentine's Day Gift Tags
view on Amazon: cellophane gift bags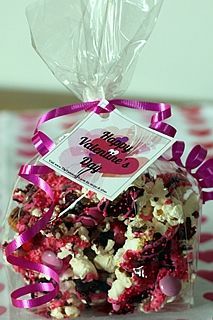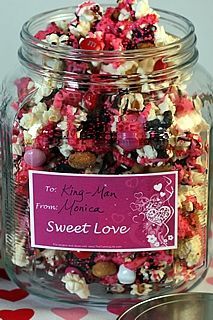 Make sure you keep some for yourself. You deserve a sweet treat, too!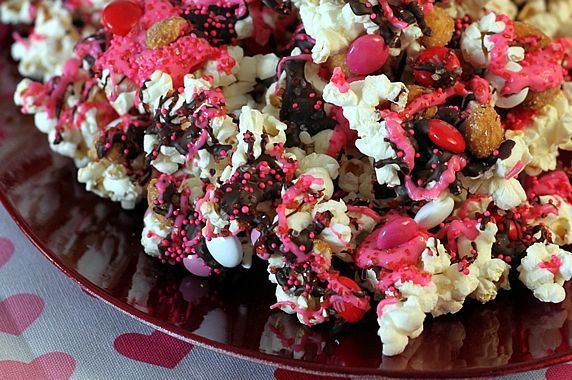 Make it a Yummy day!

Monica
Other popcorn recipes that may interest you:
Pretty-in-Pink Popcorn Party Mix
By Monica Servings: 9 cups
8 cups popped corn (I use air-popped without oil or salt)
1/2 cup honey roasted peanuts
1/2 cup M&Ms* (use red/pink Valentines mix, if available)
1/2 cup milk or semi-sweet chocolate chips
1/2 cup white chocolate or vanillla baking chips **
1 tablespoon canola oil, divided
pink food coloring*, optional (oil based preferred over water based)
1 teaspoon coarse sea salt
decorating sprinkles (red coarse sugar, pink nonpareils, or similar)
Spread popcorn on a large baking sheet that has been lined with parchment or waxed paper. Sprinkle peanuts and M&Ms evenly over top. Combine chocolate chips with 1/2 tablespoon oil and melt in microwave (see melting instructions at www.TheYummyLife.com/recipes/26). With spoon, drizzle evenly over popcorn mixture. Sprinkle with coarse sea salt. Add food coloring and 1/2 tablespoon oil to white chips, melt, and drizzle over popcorn mixture. Sprinkle with decorating red sugar and pink nonpareils. After melted drizzles harden, break into pieces and store in airtight container or sealed plastic bags.

*Modify food coloring and M&M colors for any occasion: colors of sports teams or schools, green for St. Patrick's Day, red/blue for 4th of July, black/orange for Halloween, red/green for Christmas, etc. Food coloring can be omitted entirely--use plain white melted chocolate and rely on M&Ms and sprinkles to add color to the mix.
**White chips are best to melt if you want to color them; other chip flavors can be used as long as their colors work with the occasion.