ATTENTION:
You do not need an ice cream machine to make this
rich, creamy, delicious MAGIC chocolate ice cream!
It's so easy to make this chocolaty delight. All you do is combine the ingredients in a bowl and freeze it. 10 minutes of prep time. No churning in an ice cream machine required. I freeze mine in individual mason jars, because it's fun and easy to grab, serve, and eat that way.
Step-by-step photos for making
Magic Chocolate Dream Ice Cream
Step 1: Assemble the ingredients: heavy cream, salt, vanilla, sweetened condensed milk, instant coffee or espresso powder, bittersweet chocolate
If you want to freeze your ice cream in individual servings like mine, they can be frozen in any small freezer-safe bowls or containers. I like using mason jars and the Libbey bowls (pictured below) because they come with lids. Here are some individual serving-size options:
1 cup (1/2 pint) wide-mouth mason jars (view on Amazon)
1/2 cup (4 oz) mason jars (view on Amazon)
6.5 oz. bowls with lids from Libbey -- not as casual looking as the mason jars, these look pretty on the table. I got mine at my grocery store. (view on Amazon)
Step 2. If you won't be serving the ice cream the same day it's made, I recommend covering each serving with parchment paper (or wax paper) to keep the surface fresh and soft. On a piece of parchment paper, trace around the rim of the container(s) and cut with scissors.
view on Amazon: parchment paper
Step 3. Dissolve the instant coffee or espresso in hot water; stir and set aside. (The purpose of this ingredient is to enhance and intensify the chocolate flavor. The ice cream will not taste like coffee at all; just better & more chocolaty.)
view on Amazon: instant espresso powder, mini-measuring shot glass
Step 4. Chop the chocolate into fine pieces. It's easier to melt it this way. Put it in a big microwave-safe bowl.
Step 5. Add the sweetened condensed milk (you don't use the whole can; so don't dump the whole thing in the bowl--like I did accidentally--had to start over again--ugh!), vanilla, salt, and dissolved instant coffee/espresso.
Step 6. Microwave at full power for 10 seconds. Stop and stir. Continue microwaving and stirring in 10 second intervals just until melted. Let this cool while you whip the cream.
Step 7. In a separate bowl, whip the cream with an electric mixer until soft peaks form. "Soft peaks" means that when you pull out the beaters or a spoon, the peaks of the whipped cream don't remain rigid--they flop over at the top.
Step 8. Add 1/3 of the whipped cream to the chocolate mixture. You don't need to measure--just eyeball it. Whisk it in.
Keep whisking until completely combined.
Put down the whisk and get a rubber spatula for the next step.
Step 9. Add the remaining whipped cream to the chocolate mixture, and gently fold it in. Use a light touch to ensure that your frozen ice cream will have a light texture.
What is the difference between mixing and folding? Folding is a gentler way of combining ingredients in order to maintain a lighter texture and not deflate the mixture's volume. To fold, use a large rubber spatula to cut down through the middle of the mixture; move spatula across the bottom of the bowl and come back up the side of the bowl in a circular motion, pulling up some of the mixture from the bottom over the top of the mixture. Continue cutting down the middle and pulling the bottom batter up over the top, turning the bowl as you fold so the ingredients are evenly distributed.
Stop folding as soon as it's completely mixed together.
Step 10. Spoon mixture into individual jars or bowls. With one recipe batch, I filled 3 half-pint mason jars and two 6.5 oz. Libbey bowls.
view on Amazon: half-pint mason jars (wide mouth), 6.5 oz Libbey bowls with lids
Step 11. Cover and freeze for at least 6 hours and up to 2 weeks.
Step 12. If the ice cream won't be eaten the same day, once it's frozen, remove container(s) from freezer, cover surface with parchment paper, and return to freezer. This will keep the surface fresh and prevent ice crystals from forming.
I love the convenience of having individual servings in the freezer, ready to eat.
Add some toppings, if you like. I've added whipped cream and chocolate shavings. (Hint: Use a vegetable peeler to shave a chocolate bar--easy!) Turn them into sundaes by adding hot fudge or caramel sauce, chopped nuts or fruit, etc.
This ice cream has a light, creamy texture and rich chocolate flavor. Yummy!
This really is Chocolate DREAM Ice Cream. You can make creamy ice cream like magic; no machine needed.
Make it a Yummy day!
Monica
Like vanilla ice cream? Check this out:
Click to view Smooth and Creamy Vanilla Bean Ice Cream recipe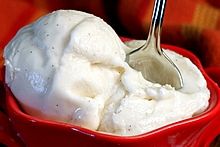 Magic Chocolate Dream Ice Cream - without an ice cream machine!
By Monica Servings: Makes 1 quart
1 teaspoon instant coffee or espresso powder
1 tablespoon hot water
4 oz. bittersweet chocolate, finely chopped
1/2 cup canned sweetened condensed milk
1/2 teaspoon vanilla extract
pinch of salt
1-1/4 cups cold heavy cream
In small bowl, stir instant coffee/espresso and hot water and let sit until dissolved--approx. 5 minutes. In a large microwave-safe bowl, combine chocolate, sweetened condensed milk, vanilla, salt, and dissolved coffee mixture. Microwave at full power for 10 seconds. Stop and stir. Continue microwaving and stirring in 10 second intervals just until melted, about 1 minute total. Let cool. In separate bowl, whip the cream with an electric mixer until soft peaks form. Add 1/3 of whipped cream to the chocolate mixture and whisk until well combined. Add the remaining whipped cream to the chocolate mixture, and gently fold it in until well combined. Spoon mixture into a single large container or individual jars or bowls. Cover and freeze for at least 6 hours and up to 2 weeks.
TIP: If ice cream won't be eaten the same day, once it's frozen, remove container(s) from freezer, cover surface with parchment paper, and return to freezer. This will keep the surface fresh.

Add toppings, if desired: whipped cream, shaved chocolate, chopped nuts, fudge or caramel sauce, fruit, etc.

Nutritional Information for 1/2 cup serving: 162 calories, 10.2g fat, 6.7g sat.fat, 28mg cholesterol, 34g sodium,111mg potassium, 15.5b carbs, 14.2g sugars, 2.4g protein; Weight Watchers SmartPoints: 8

based on recipe from Cook's Country
You might also enjoy these mason jar recipes: