Previously, I shared my popular Make-Ahead Frozen Margarita recipe. It's time for another of my favorite frozen drinks--daiquiris! Like the margaritas, I've been making these for many years. These are so easy, and always a crowd pleaser.
Early in our marriage, King-Man and I lived in Tucson, Arizona. We had a tradition with some fun neighbors of hanging out on our deck on weekends and drinking strawberry daiquiris. We were grad students and didn't have much money, but an evening on the deck with good friends and pitcher of frozen daiquiris was all we needed for a fun night out in. This simple recipe is one of those that makes me nostalgic. When I make a batch today, it still takes me back to those good times on our Tucson deck. I love that about food and recipes. Through the years, made over and over again, they become a connection with good friends and simple traditions, even when we're miles apart. Pat and Jose', our daiquiris-on-the-deck Tucson friends, this one's for you!
4 fruit flavors with endless variations. For years I made just the strawberry version of these daiquiris; but it's so easy to adapt this recipe for any kind of fruit, that I've been branching out to other flavors. In today's recipe, I use the same procedure for making 4 daiquiri flavors: strawberry, blueberry, mango and pineapple. You can also turn a pineapple daiquiri into a pina colada simply by adding coconut milk. I'll show you how I layer more than one flavor in a single glass or jar--just for fun. Feel free to get creative with other fruits, too, or blend together more than one kind.
Simple ingredients with LOTS of fruit. My recipe is heavier on the fruit than most daiquiri recipes, resulting in a more intense fruit flavor and vibrant color. In fact over 50% of these daiquiris are made of fruit. (That makes them healthy, right???) It's basically a fruit puree mixed with some rum. For convenience, you can add some frozen lemonade or limeade concentrate for a tart sweetener; or, you can use fresh lemon/lime juice and sweeten it with agave, honey, or a simple syrup. The fruit puree is often sweet enough that no additional sweetener is needed, but you can easily adjust the sweetness to suit you.
Frozen fruit is preferred. Unless you have access to freshly picked, ripe, sweet, and flavorful fruit, frozen fruit works best in these daiquiris. Truth is, frozen fruit is picked at its peak of ripeness and frozen right away and is often more flavorful, sweet, and nutritious than fresh fruit that is picked before it's ripe and stored--all the while losing nutrients. It's disappointing to buy gorgeous looking fresh strawberries that turn out to be flavorless. Go ahead and use fresh fruit, if you prefer; I know there's so much great fresh fruit available in the summer months. However, you may need to taste-test and add some sweetener if you use fresh fruit.
Make-ahead convenience! I love to serve these when we have parties, but I don't want to be a slave to the blender all night. You can make these frozen daiquiris ahead and pour them into individual size mason jars and put them in the freezer where they are ready to serve when the guests arrive. No last minute preparation or blending drinks throughout the party. Love the convenience; and it's a fun, novel way to serve the daiquiris that our guests always enjoy. King-Man and I like having them on hand in our freezer, too. You can also take a cooler full of these pre-made daiquiris along to a picnic--always a hit!
Nutritional information. I wouldn't call these health food, but as alcoholic drinks go, these aren't as naughty as most because of the use of whole fruit with a relatively small amount of added sweetener.

an 8-oz serving of all of the 4 plain fruit flavors are approx. the same: 208 calories; .5g fat; 36g carbs; 2g fiber; .6g protein; 4 Weight Watchers PtsPlus
an 8-oz serving of the Pina Colada (a pineapple daiquiri plus light coconut milk):
246 calories; 4g fat; 36.2g carbs; 2g fiber; 1.5g protein; 5 Weight Watchers Pts Plus
Here's a quick video that shows how easy these are to make:
Step-by-step photos for
Make-Ahead Frozen Fruit Daiquiris
Step 1. Assemble these ingredients & supplies.
Light rum
Frozen fruit (or ripe, flavorful fresh fruit); strawberries, blueberries, pineapple, or mangos. For a smoother consistency, avoid using raspberries or blackberries because their seeds are larger and give the daiquiris a gritty texture. (I personally don't mind that gritty texture, but it's not for everyone.) Peaches work well, too.
Lite coconut milk (the canned kind found in the Asian aisle of grocery stores)--this is optional for making a pina colada version of the pineapple daiquiri (view coconut milk on Amazon)
Frozen lemonade or limeade concentrate. Look for this convenient ready-made frozen concentrate in the freezer case at your grocery store. Although harder to find, organic versions don't contain high fructose corn syrup (HFCS).
OR, you avoid the HFCS in frozen concentrate by substituting fresh lemon or lime juice plus either agave nectar, honey, or simple sugar syrup. (This is my preference.) My printable recipe at the end of the post provides both options.
view on Amazon: organic agave nectar syrup
The photos below illustrate mixing a batch of Strawberry Daiquiris.
(Use the same procedure for any fruit variety.)
Step 2. Add to blender: rum, lemonade/limeade concentrate (or fresh citrus juice and sweetener), fruit. Blend until smooth. Add ice and blend again until smooth. Done!
You can enjoy the daiquiris right away if you like. Just pour them into a glass and say "Cheers!"
Or, you can put the blended daiquiris in the freezer to drink at another time.
MAKE AHEAD MASON JAR DAIQUIRIS. Pour blended daiquiris into 1/2 pint (1 cup) mason jars, leave about 1/2 inch at the top for expansion when they freeze, screw on the lids and freeze. To serve, remove from freezer, let them rest for 5-15 minutes until they soften a bit & use a fork to break up and stir the semi-frozen daiquiris into a slushy consistency. The alcohol keeps them from freezing to a hard solid state, so they're always ready to remove from the freezer, stir, serve, and drink. These will keep for up to 1 month in the freezer.
Here are 4 varieties: strawberry, blueberry, mango, and pineapple. I added some coconut milk to the pineapple to make it a pina colada--so yum!
You'll love keeping these stocked in the freezer for a refreshing drink at a moment's notice.
FREEZE IN BIGGER BATCHES, TOO. You can freeze them in bigger batches in large jars or containers. Remove them from the freezer, let them thaw a few minutes, stir enough to soften, and pour or scoop them into glasses.
TO MIX MULTIPLE FLAVORS IN ONE JAR: Layer 2 or more layers in a single jar for a pretty presentation and mixed fruit flavor. Pour 1st layer into jar, freeze for 2 hours, add 2nd layer and freeze, repeat with any remaining layers. Try layering Strawberry, Pineapple (or Pina Colada), and Blueberry flavors.
CUSTOMIZE COLORS FOR ANY OCCASION. You can layer any fruit colors to represent team, school, or holiday colors. Red and white for Valentines or St. Louis Cardinals baseball (forgive me, I had to send a little love to the home team); red, white, and kiwi green for Christmas, etc.
ADD EASY GARNISHES
Add fruit garnishes using cocktail skewers for an easy way to fancy them up.
Cut fruit into shapes with mini cookie cutters. I cut pineapple slices into star shapes for these.
View on Amazon: mini cookie cutters, bamboo cocktail skewers
Aren't they pretty? These are all ready for a 4th of July or Memorial Day party.
VIRGIN DAIQUIRIS? Easy. Omit the rum and substitute an equivalent amount of water. Taste and add sweetener, if needed. If made ahead, these will reach a harder ice state when refrozen due to the lack of alcohol. Remove them from the freezer and let them sit at room temperature for 15-25 minutes before stirring into a slushy consistency.
GET READY TO PARTY! You might want to make up a blender or two of daiquiris, freeze them in individual jars or glasses, and be ready for your next party or picnic. Whether celebrating the start of summer, the 4th of July, or any ol' day you choose, these daiquiris are hard to beat. Put them in a cooler covered with ice, for a portable way to beat the heat.
Let me know if you have a favorite flavor or come up with a new one.
Make it a Yummy day!
Monica
You might also like these recipes:
Sparkling Margarita Sangria Party Cocktails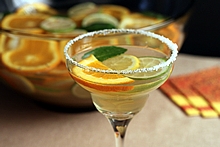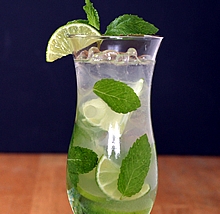 Frozen Fruit Daiquiris
By Monica Servings: 5-6 (1-cup) servings
6 oz. (3/4 cup) frozen lemonade or limeade concentrate (*see substitute at end of directions)
6 oz. (3/4 cup) light rum
4 cups frozen fruit*; may substitute fresh, flavorful, ripe fruit
2 cups ice cubes
sweetener (optional), to taste, if desired (superfine sugar, agave syrup, or other preferred sweetener)
fresh fruit for garnish (optional)
In a blender, combine lemonade/limeade concentrate, rum, and fruit. (Berries can be added whole; other fruits should be cut into cubes/pieces.) Blend until smooth. Add ice. Blend until smooth, and no ice chunks remain. Taste and add sweetener, if desired. If flavor is too intense, add more ice cubes and blend. For stronger fruit flavor, add more fruit and blend.

*RECOMMENDED FRUIT:
--Strawberry (raspberry & blackberry not recommended for this "whole fruit" method, because their larger seeds result in a gritty drinking texture)
--Blueberry
--Mango
--Peach
--Pineapple (optional: add 1 cup canned light coconut milk for a Pina Colada)

MAKE AHEAD MASON JAR DAIQUIRIS:
Pour blended daiquiris into 1/2 pint (1 cup) mason jars, leave at least 1/2" at the top to allow for expansion when they freeze, screw on the lids and freeze. To serve, remove from freezer (let them set out for 5-15 minutes if they're too hard) & use a fork to break up and stir the semi-frozen daiquiris into a slushy consistency. The alcohol keeps them from freezing to a hard solid state, so they're always ready to remove from the freezer, stir, serve, and drink. These will keep for up to 1 month in the freezer.

TO MIX FLAVORS IN ONE JAR: Layer 2 or more layers in a single jar for a pretty presentation and mixed fruit flavor. Pour 1st layer into jar, freeze for 2 hours, add 2nd layer and freeze, repeat with any remaining layers. Try layering Strawberry, Pineapple (or Pina Colada), and Blueberry for a festive 4th of July daiquiri.

VIRGIN DAIQUIRIS: omit rum and substitute equivalent amount of water. Taste and add sweetener, if needed. If made ahead, these will reach a hard ice state when refrozen due to the lack of alcohol. Remove them from the freezer and let them sit at room temperature for 15-25 minutes before stirring into a slushy consistency.

NUTRITIONAL INFORMATION:
approx. the same for an 8-oz serving of all of the plain fruit flavors: 208 calories; .5g fat; 36g carbs; 2g fiber; .6g protein; 4 Weight Watchers PtsPlus
For an 8-oz serving of the Pina Colada (a pineapple daiquiri plus light coconut milk):
246 calories; 4g fat; 36.2g carbs; 2g fiber; 1.5g protein; 5 Weight Watchers Pts Plus

*If you prefer to avoid the high fructose corn syrup often used in frozen limeade and lemonade concentrates, you may substitute:
--1/2 cup fresh lime or lemon juice
--1/3 cup agave nectar OR honey OR simple sugar syrup. (Taste and add more sweetener, if needed.)
This post was updated 5/2015