I did an informal poll awhile back when readers were asked to name their favorite kind of cookie. The results weren't surprising--chocolate chip cookies came out on top. It's hard to find someone who doesn't like this all-American classic. I knew then that I had to share our family's favorite recipe.
Like my thin and crispy oatmeal cookie recipe, you'll only like this chocolate chip cookie recipe if you like them thin, crispy around the edges and a teensy bit chewy in the middle. If you like them thick and chewy throughout, this isn't the recipe for you.
But in our family, this is hands-down the favorite cookie recipe. In fact, it is so loved that a batch of these cookies was often requested in place of a birthday cake. Especially for Bracken (aka Brackenthebox). He loves these cookies. Turns out his birthday was yesterday. My oldest turned 29. (I had him when I was 25. Do the math. Ugh.) He lives with his wife, Rachel, in Boston. So, being the equal opportunity kind of mom that I am, I had to mail some baked goodies to Bracken, just as I did for his brother, T-Man, a few weeks ago. (I wrote previous posts about the Cookie Dough Truffles and Crispy Brown Rice Treats that T-Man received in his birthday box).
First, the required photos aimed at embarrassing Bracken. Required because I embarrassed T-Man by sharing his baby photo 2 weeks ago. It's big brother's turn now. So, here's baby Bracken on his first birthday in Providence, Rhode Island. He definitely enjoyed his first cake and ice cream. It was absorbed through his skin as much as eaten--the baby way.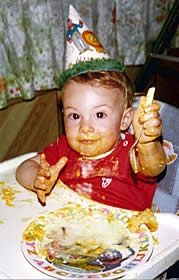 Here's Bracken with a mouth full of chocolate chip cookies. It was his 16th birthday, and the cookies were his requested birthday "cake". King-Man has taught his sons the fine art of dunking warm cookies in a glass of cold milk. It isn't always pretty. Serious slurping and dripping is involved.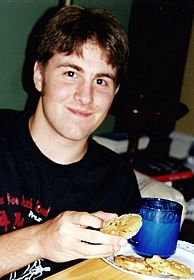 When Bracken was in college and renting a house with friends, I sneaked into his garage on his 21st birthday and left this balloon and batch of chocolate chip cookies on his car. Surprisingly, he preferred to spend his 21st birthday with his friends rather than his parents (go figure), but the mom in me couldn't let his birthday pass without a discreet cookie delivery for the birthday boy.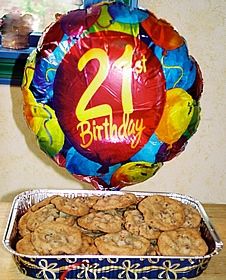 So, yesterday Bracken was eating chocolate cookies baked in my kitchen in St. Louis and mailed to him in Boston. Happy Birthday, Bracken! You know that you will have 29th birthdays now each year forever more. Because I can't possibly be just one year away from having a 30-year-old child. Impossible.
To give credit where it's due, the original recipe on which this one is based came from my step-mom, Sandra. She's a great cook. Sandra gave me her "Mrs. Fields Chocolate Chip Cookie" recipe in 1990, and I've been using it ever since. This one is definitely in our family's recipe hall of fame. In recent years, I've added whole wheat pastry flour and flax seed. The cookies are healthier and taste every bit as good. I added nuts, because Brackenthebox likes them. But, the nuts can be omitted.
NUTRITIONAL INFORMATION (per cookie, without nuts): 133 calories, 7.3g fat, 15.3g carbs, .6g fiber, 10.5g sugars, 1.7g protein; Weight Watchers PointsPlus: 4
Step-by-step photos for making
Whole Grain Chocolate Chip Cookies
Step 1. Assemble the ingredients: whole wheat pastry flour*, ground flax seed (not pictured), baking soda, baking powder, salt, butter, brown sugar, sugar, eggs, vanilla, semi-sweet chocolate chips, chopped pecans (optional)
*NOTE: If you prefer to use regular whole wheat flour instead of whole wheat pastry flour, use half whole wheat flour and half white flour. Or, you can use all white flour.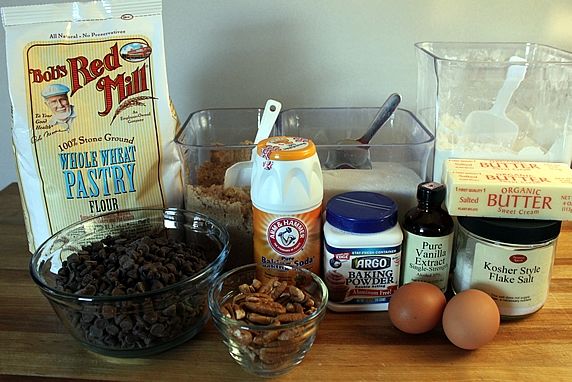 Step 2. Whisk together the flour, ground flax seed, baking soda, baking powder, and salt; set aside. (I use a handy Pourfect bowl for easily whisking dry ingredients and easily adding them to a running stand mixer.)
Step 3. In large mixer bowl, cream the butter.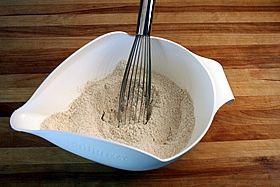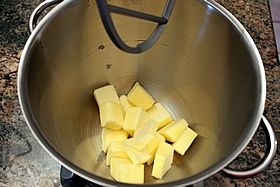 Step 4. Add the sugars and mix until well combined.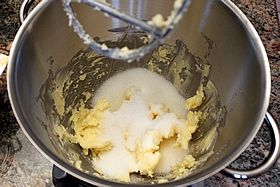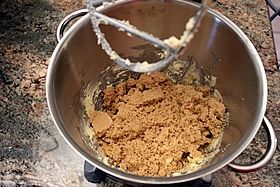 Step 5. Add the eggs and vanilla, mix until creamy.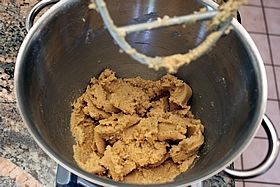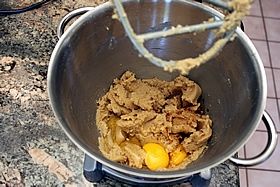 Step 6. Gradually, add the flour mixture 1/2 cup at a time, until well combined.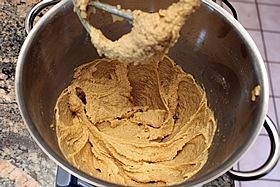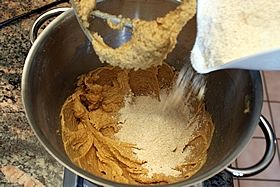 Step 7. Add the chocolate chips and nuts (if using), and mix just until combined.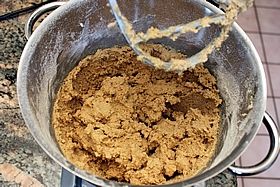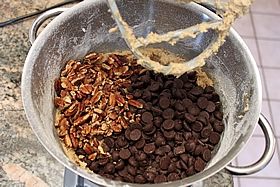 The dough is ready to cook. You can bake the cookies now, or refrigerate the dough and bake the cookies later.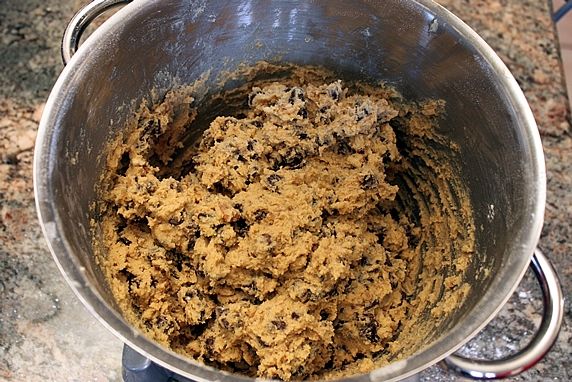 Step 8. Form the cookies into walnut-size balls. A scoop makes the job easy, if you have one. Place the dough balls on a baking sheet. I like to line mine with parchment paper.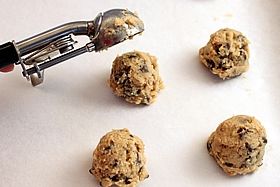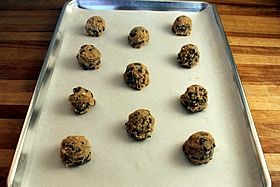 Step 9. Press the top of each dough ball with your fingertips to flatten the balls into disks.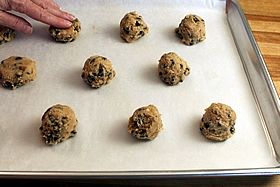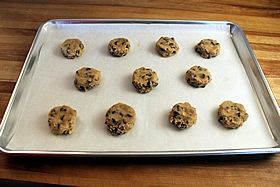 ---------------------------------------------------------------------------------
Tip for freezing the cookie dough:

Here's a great way to have freshly baked cookies every time they're eaten. Place the cookie dough disks in a single layer on a baking sheet and freeze. Once frozen, transfer them to a ziploc bag and store them in the freezer. Now you're ready to prepare a quick pan of freshly baked cookies at any time. No need to thaw them--they can go straight to the oven.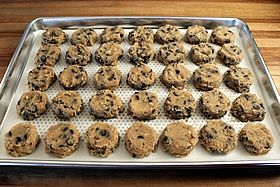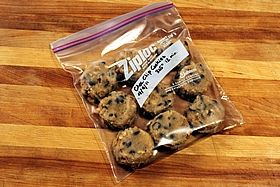 ---------------------------------------------------------------------------------
Step 10. Bake cookies for 12-14 minutes. If you're baking 2 pans at a time, rotate the pans half way through the cooking time. If you're baking frozen cookie dough, add 2-3 minutes to the baking time.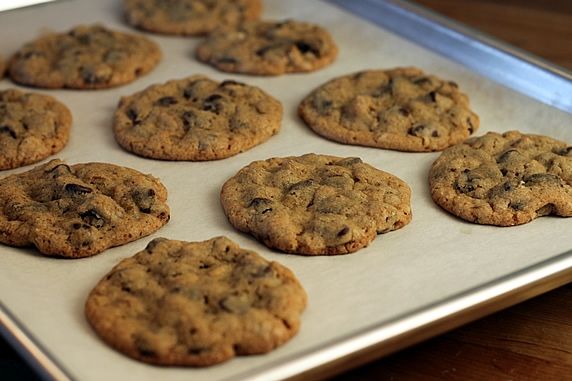 Let them cool on the baking sheet for a few minutes to let them set enough that they don't fall apart when you transfer them to a cooling rack.
It's hard to think of something that tastes better than a warm chocolate chip cookie fresh from the oven.
view on Amazon: cooling rack (this is the #1 recommendation of Cooks Illustrated's Test Kitchen; it fits perfectly inside the 18x13 baking pans pictured above, so it can double as a baking rack when needed)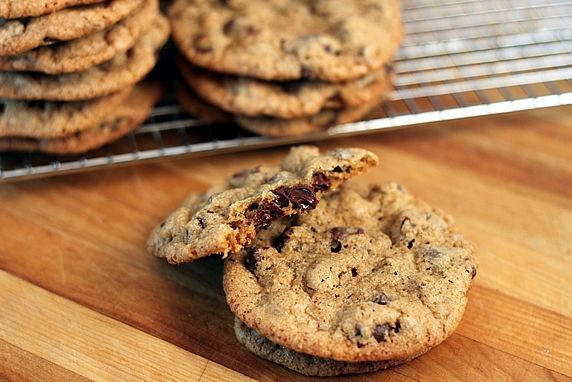 They're especially good when the chocolate chips are still melted. Yum!
Tip for warm cookies every time: You can always eat your cookies warm and melted simply by giving them a 10 second zap in the microwave before eating them. Ooey-gooey good!
I also sent Brackenthebox some Whole Grain Oatmeal Carmelitas in his birthday box--another long-time favorite of his.
Make it a Yummy day!
Monica
Whole Grain Chocolate Chip Cookies
By Monica Servings: 4 dozen
2-1/2 cups whole wheat pastry flour
2 tablespoons ground flax seed
1 teaspoon baking soda
1 teaspoon baking powder
1/2 teaspoon kosher salt
1 cup butter, softened
1-1/2 cups packed brown sugar
1/2 cup sugar
2 eggs
1 tablespoon vanilla
3 cups semi-sweet chocolate chips
1 cup chopped pecans (optional)
Preheat oven to 325 degrees. In medium bowl, whisk together flour, flax seed, baking soda, baking powder, and salt; set aside. In large mixing bowl (use stand or hand mixer), cream butter; add sugars and mix until creamy. Mix in eggs and vanilla. With mixer running, gradually add flour mixture 1/2 cup at a time until completely mixed. Add chocolate chips and nuts (if using) and blend on low, just until mixed. (Note: The dough can be refrigerated at this point and baked later.) Use a scoop or spoon to form walnut size balls of cookie dough. Space 2" apart on a parchment lined baking sheet; flatten them slightly with your fingers. Bake 2 sheets at a time, rotating and switching pans half way through cooking time. Bake 12-14 minutes.

FREEZING TIP: Mix dough, form into flattened balls and freeze in a single layer on a baking sheet. When completely frozen, transfer to ziploc bag and return to freezer. To bake, arrange frozen dough balls on baking sheet and bake as described above, adding 2-3 minutes to cooking time.

NUTRITIONAL INFORMATION (per cookie, without nuts): 133 calories, 7.3g fat, 15.3g carbs, .6g fiber, 10.5g sugars, 1.7g protein; Weight Watchers PointsPlus: 4