I've been making Oatmeal Carmelitas for somewhere in the neighborhood of 25 years. They are a yummy, chewy combination of chocolate, caramel, oats, and nuts. The original recipe was a winner in the 1967 Pillsbury Bake-Off. I think we can safely call this one time-tested.
I've changed a couple of things through the years--substituted whole wheat pastry flour for white flour and now use melted Caramel Bits in place of jarred caramel ice cream sauce. But, my recipe tastes like the original. It's a favorite of Brackenthebox. A batch of Oatmeal Carmelitas was included in his birthday box a couple of weeks ago along with my Whole Grain Chocolate Chip Cookies.
Nutritional Info for 1 serving: 184 calories, 9.6g fat, 23.8g carbs, 1.7g fiber, 14.1g sugar, 1.6g protein; Weight Watchers PointsPlus: 5
Here's how to make these tasty treats.
Step-by-step photos for making
Whole Grain Oatmeal Carmelitas
Step 1. Assemble the ingredients: brown sugar, baking soda, old fashioned rolled oats, whole wheat pastry flour, butter, semi-sweet chocolate chips, chopped pecans, salt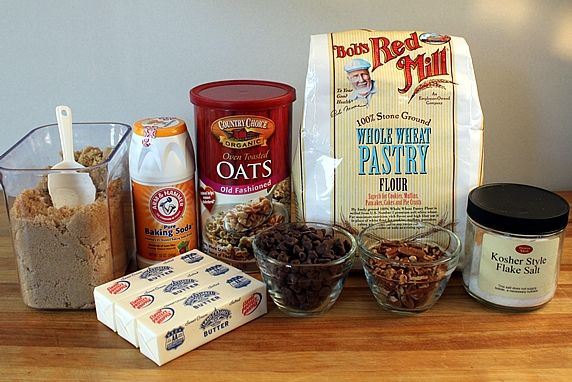 You can choose either of these for caramel: (1) caramel ice cream topping, or (2) Kraft Caramel Bits. I use the Caramel Bits, but the jarred caramel sauce tastes good, too.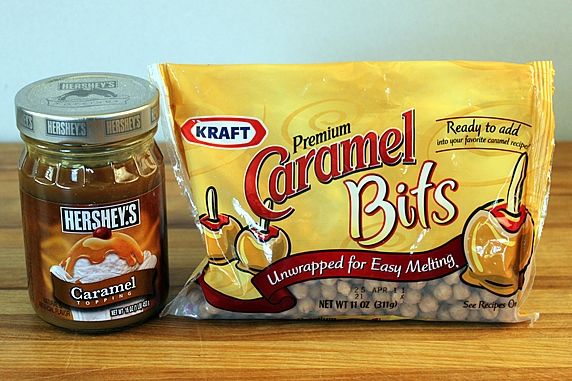 Step 2. Add the flour, oats, brown sugar, baking soda and salt to a mixing bowl.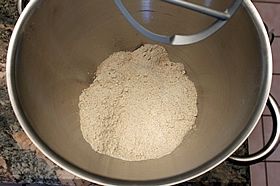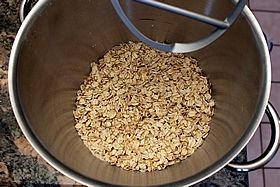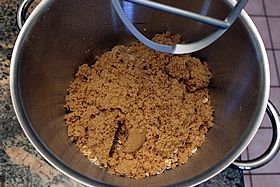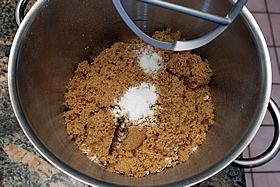 Step 3. Mix on low until the dry ingredients are blended.
Step 4. Add softened butter chunks.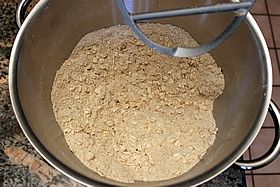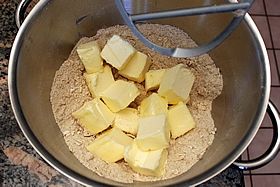 Step 5. Mix until crumbs form. This will be the top and bottom crust for the bars.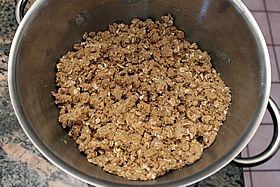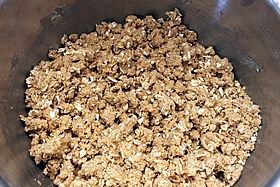 Step 6. Add approx. half of crumb mixture to bottom of a greased 9x13 pan. Spread it out and gently pat it down flat to cover the entire bottom of the pan.
Step 7. Put it in a 350 degree oven and bake for 10 minutes.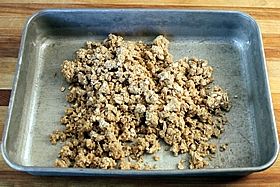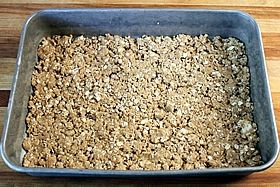 Step 8. While the crust is baking, add some water to the caramel bits and zap them in the microwave until they're melted. It should take around 2 minutes total. Stop after the first minute and stir; then keep microwaving and stirring in 30 second intervals until completely melted.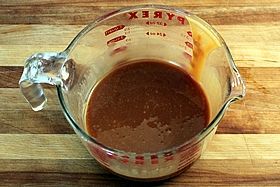 Step 9. After the crust has baked for 10 minutes, remove it from the oven and sprinkle it evenly with the chocolate chips and pecans.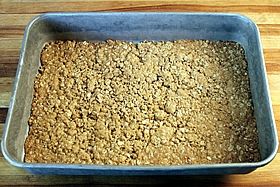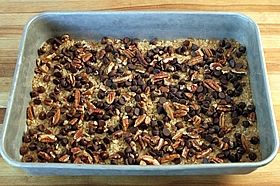 Step 10. Drizzle the melted caramel evenly over the top.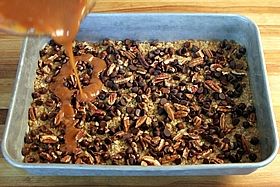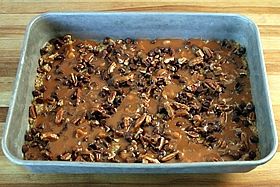 Step 11. Sprinkle the remaining crumb mixture over the top and return it to the oven for approx. 20 minutes.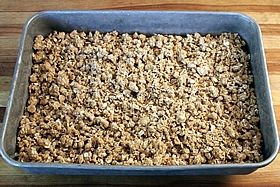 Done! Let it cool completely.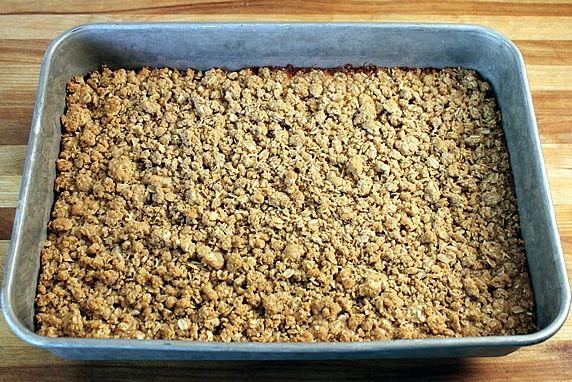 It's MUCH easier to cut the bars neatly if you chill them in the fridge for 1-2 hours. Once they're cut, don't return them to the fridge. Store them at room temperature so they have a chewy consistency--better eatin' that way.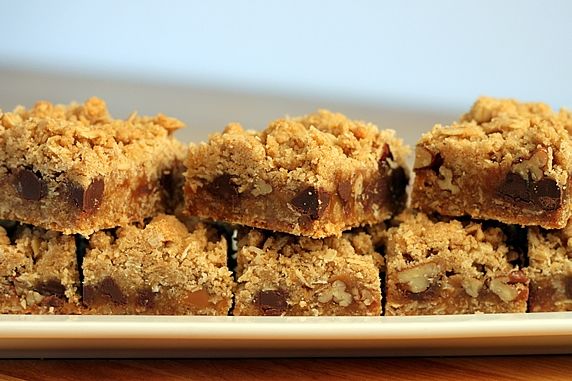 I like mine with the middle melted a bit. A 10 second zap in the microwave will result in an ooey-gooey Oatmeal Carmelita. Like this. YUM!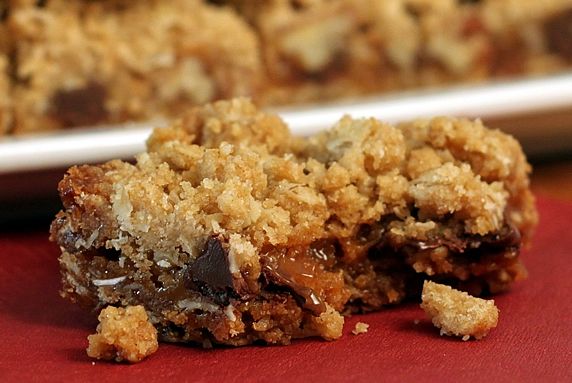 This is one of my favorite bar-type cookies. What's yours?
Make it a yummy day!
Other recipes that may interest you:
Whole Grain Oatmeal Carmelitas
By Monica Servings: 36 bars
CRUST:
2 cups whole wheat pastry flour
2 cups old fashioned rolled oats
1-1/2 cups firmly packed brown sugar
1 teaspoon baking soda
1/2 teaspoon salt
1-1/4 cups butter, softened
FILLING:
1 (11 oz) bag Kraft Caramel Bits*
2 tablespoons water
1 (6 oz) package (1 cup) semisweet chocolate chips
1/2 cup chopped pecans
Preheat oven to 350 degrees. In large mixing bowl, use stand or hand-held mixer to blend the flour, oats, brown sugar, baking soda, and salt. Add the butter and mix on low speed until crumbs form. Pour half of mixture (3-1/2 to 4 cups) into bottom of greased 9x13" pan. Press lightly and distribute evenly. Bake for 10 minutes. Meanwhile, place Caramel Bits and water in microwave safe bowl; microwave at full power until just melted (approx. 2 minutes), stopping after 1st minute and stirring, then cooking and stirring at 30 second intervals until melted. After crust has cooked for 10 minutes, remove from oven, sprinkle with chocolate chips and nuts, and drizzle evenly with melted caramel. Sprinkle top with remaining crumb mixture. Return to oven and bake another 18-22 minutes until golden brown. Cool completely. For easier cutting, refrigerate for 1-2 hours. After the bars are cut, they may be stored at room temperature to restore them to a chewy consistency. If you prefer to eat the bars with a melted center, heat individual bars in the microwave for 10 seconds.

* In place of the Caramel Bits and water, you may substitute 1 cup of jarred caramel ice cream topping mixed with 3 tablespoon of flour.

Nutritional Info for 1 serving: 184 calories, 9.6g fat, 23.8g carbs, 1.7g fiber, 14.1g sugar, 1.6g protein; Weight Watchers PointsPlus: 5