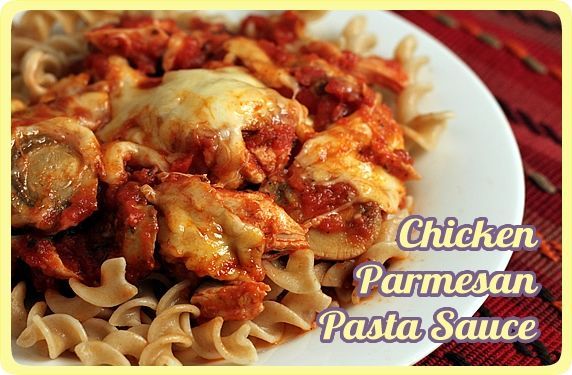 This is a super easy recipe that everyone seems to love. You can make everything from scratch or use some speed scratching to assemble this dish in minutes. Baking this sauce gives it a depth of flavor that makes it taste too good to be this easy. But it is.
Weight Watchers PointsPlus = 6 points per 3/4 cup serving of sauce.
(2 additional points for 1/2 cup cooked whole wheat pasta)
There are 2 ingredients that can make it take longer to prepare, but not if you use the short-cuts I suggest.
You'll need some chopped or shredded chicken. Options:
Cook your own. Try my recipe for Chopped or Shredded Roasted Chicken. If you've already made some of this and frozen it, that makes this meal really fast to prepare.
View Chopped & Shredded Roasted Chicken Recipe
Use leftover cooked chicken. This is a great recipe for after Thanksgiving turkey leftovers, too.
Buy a rotisserie chicken and chop or shred the meat.
You'll need some marinara sauce, or other red Italian pasta sauce. Options:
Buy a jar of good Italian pasta sauce. There are plenty of good prepared sauces out there.
Cook your own. Try my recipe for Marinara Sauce. It's healthy, easy and can be made ahead to can or freeze and have on hand.
View & Print Marinara Sauce Recipe
Here are my step-by-step photos for preparing
Baked Chicken Parmesan Pasta Sauce:
Step 1. Assemble the ingredients. Marinara sauce (or any red Italian pasta sauce), olive oil, cooked chopped or shredded chicken, mushrooms, mozzarella and Parmesan cheese.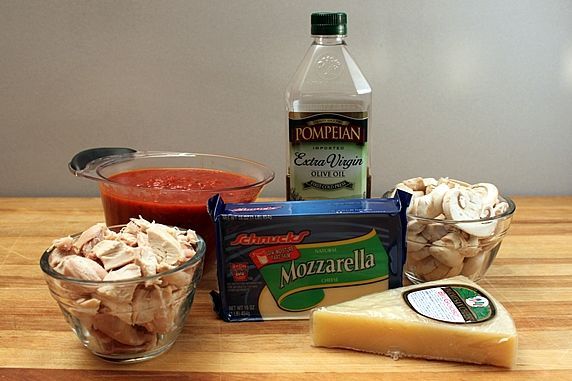 Step. 2. Grate the 2 cheeses. Use the fine shred side of a grater for the Parmesan cheese, and the large shred side for the Mozzarella cheese.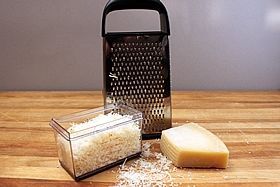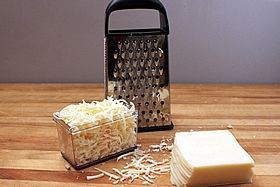 Step 3. Saute the mushrooms in a little olive oil.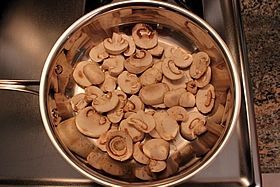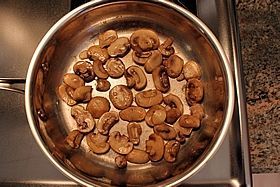 Step 4. Coat a 9x13 baking dish with cooking spray and pour in the marinara sauce.
Step 5. Sprinkle the chicken over the top of the sauce.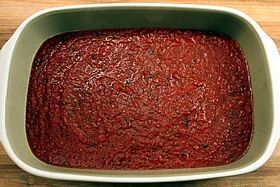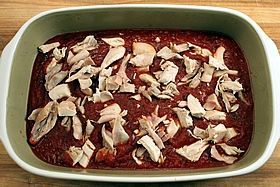 Step 6. Sprinkle the sauteed mushrooms on top of the chicken.
Step 7. Use the back of a spoon or spatula to tap down the mushrooms and chicken into the sauce.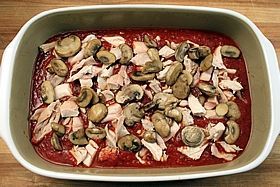 Step 8. Sprinkle the Parmesan Cheese evenly over the top.
Step 9. Top with the mozzarella cheese.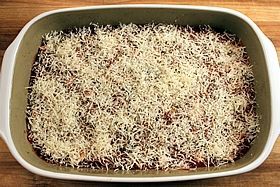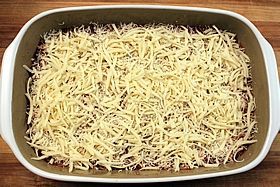 Step 10. Bake for 20-30 minutes, until it's all bubbly and the cheese is slightly browned.
Step 11. Spoon it up!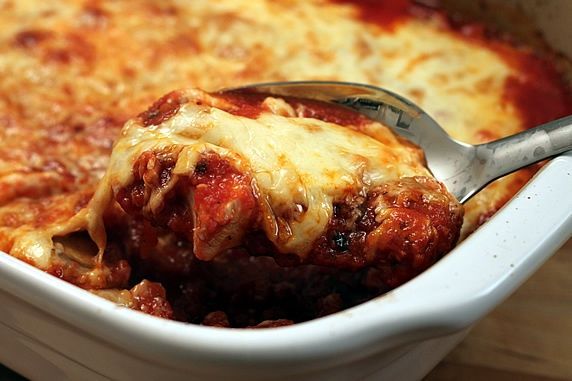 Serve it over any pasta of your choice. I used a whole wheat spiral pasta.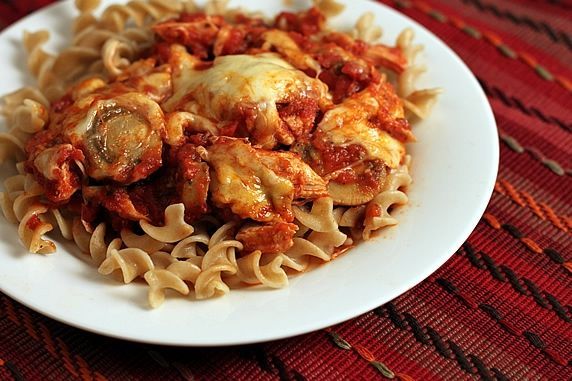 Or, for a lower carb/calorie option, serve the sauce over a bed of steamed veggies. I paired it with asparagus here. Yummy!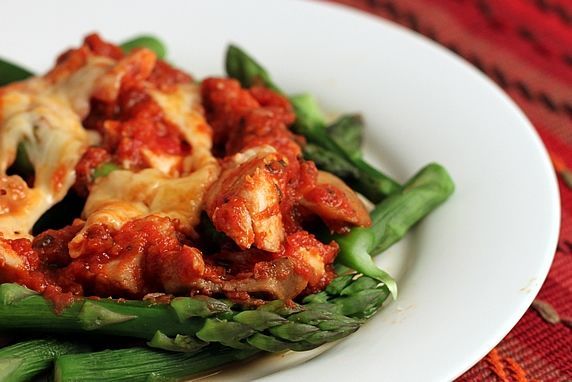 Variations to try:
Before baking, add 1-2 cups partially cooked broccoli with the chicken, mushrooms, and sauce.
Substitute mini meatballs or sliced Italian sausage for the chicken.
For vegetarian version, add all vegetables in place of chicken. Try eggplant, spinach, mushrooms, kale, or broccoli.
NOTE: More sauce may needed to be added as more ingredients are added.
Here's a bite for you. Enjoy!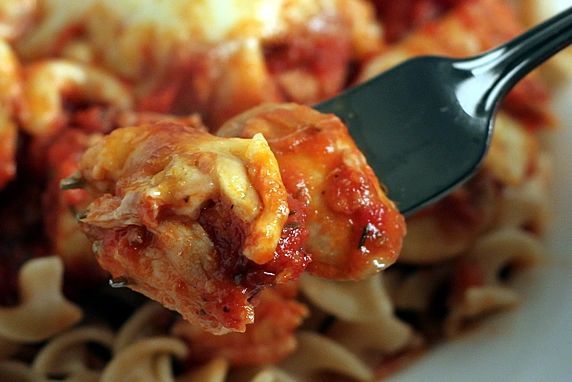 Make it a yummy day!
Baked Chicken Parmesan Pasta Sauce
By Monica Servings: 6-8 servings
4 cups red pasta sauce (marinara* or similar)
2 cups sliced fresh mushrooms
1 tablespoon olive oil
2 cups cooked chopped/shredded chicken** (or turkey)
1 cup grated Parmesan cheese
1 cup shredded mozzarella cheese
pasta, cooked
Preheat oven to 400 degrees. Coat a 9x13 baking dish with cooking spray. Heat olive oil in skillet and saute mushrooms until just cooked. Pour sauce into baking dish. Scatter chicken pieces and mushrooms on top of sauce. With back of wooden spoon or spatula, pat chicken and mushrooms down into the sauce. Sprinkle Parmesan cheese over all. Top with mozzarella cheese. Bake until bubbly throughout and cheese is slightly browned, 20-30 minutes. Serve over pasta along with garlic toast and salad.
WEIGHT WATCHERS PointsPlus = 6 points per 3/4 cup serving of sauce (additional 2 points for 1/2 cup cooked whole wheat pasta)
VARIATIONS:
--In place of pasta, serve baked sauce over a bed of steamed veggies like broccoli or asparagus.
--Before baking, add 1-2 cups partially cooked broccoli with the chicken, mushrooms, and sauce.
--Substitute mini meatballs or sliced Italian sausage for the chicken.
--For vegetarian version, add all vegetables in place of chicken. Try eggplant, spinach, mushrooms, kale, or broccoli.
Note: More sauce may need to be added as more other ingredients are added.
*For Marinara sauce recipe, go to www.theyummylife.com/recipes/17
**For chopped/shredded chicken recipe, go to www.theyummylife.com/recipes/77