My favorite Spinach Strawberry Salad has candied pecans in it. I used to buy the pecans already candied. Nothing wrong with that; but I thought it was time to start making my own. Now that I've figured out how easy it is, I don't know why I didn't start making these a long time ago.
I used the simple technique of coating the pecans with a mixture of egg white, sugar, and seasonings. It works beautifully and results in crunchy, delicious candy-coated pecans. After playing around with flavor combos and cooking times I came up with this recipe that's about as easy as it gets.
Only problem is, these smelled so good while they were baking, so I had to taste one to make sure they turned out okay, and then I needed to taste a few more from different locations in the baking pan. You know, just to make sure they'd cooked evenly. Well, before I knew it, I'd about made myself sick taste-testing these yummy nuts. Totally addictive. That's the problem.
Nevertheless, this is a recipe worth making. These candied pecans are really versatile. Use them for
snacking, just the way they are.
sprinkling on spinach salad, or any salad of tossed greens.
sprinkling on ice cream for an amazing dessert.
sprinkling on baked or roasted sweet potatoes--delish!
sprinkling on freshly sliced peaches.
sprinkling on a warm bowl of oatmeal.
gift giving--downloadable gift tags are at the bottom of this post.
Step-by-step photos for making
Sugar & Spice Candied Pecans
Step 1. Assemble the ingredients: raw pecans, sugar, brown sugar, allspice, cinnamon, cayenne pepper (optional), salt, vanilla, egg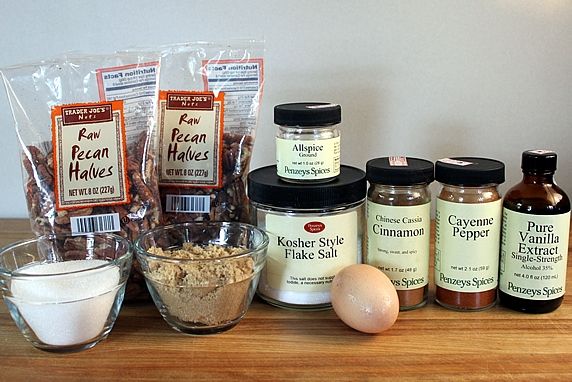 Step 2. Crack an egg and add the white to a large bowl; beat with an electric mixer just until it's foamy.
Step 3. Add all of the other ingredients except the pecans. The cayenne is optional--I add it because it gives the pecans a little kick, and I like them that way.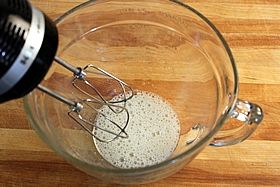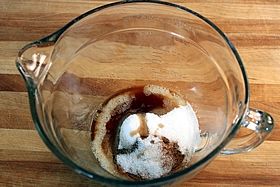 Step 4. Beat until well mixed.
Step 5. Add the pecans to the sweet mixture and stir until the pecans are coated all over.
Step 6. Spread the pecans out on a baking pan (my pan is 13x18) lined with parchment paper.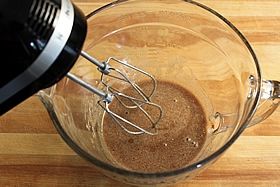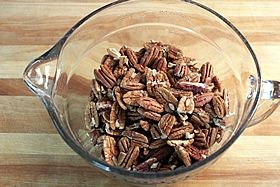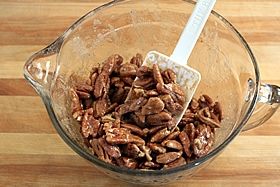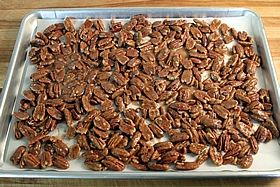 Step 7. Bake for 40 minutes, stirring and flipping them with a spatula half way through the baking time.
Step 8. Remove from oven and transfer parchment sheet (with pecans still on it) to a cooling rack.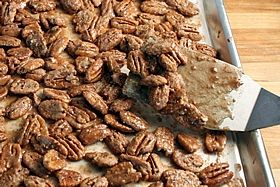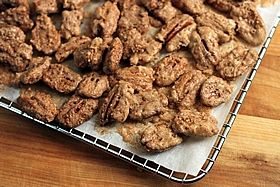 Step 9. Cool completely and break the nuts apart.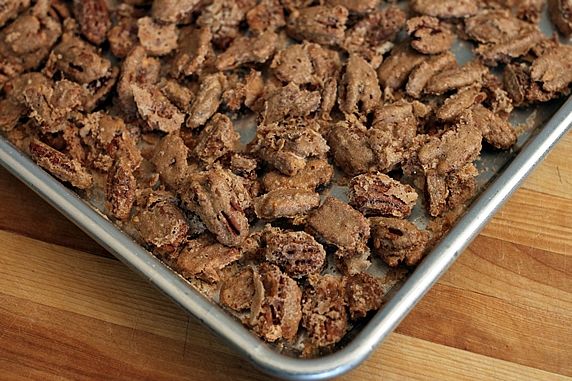 Step 10. Store the nuts in an air tight jar or container at room temperature.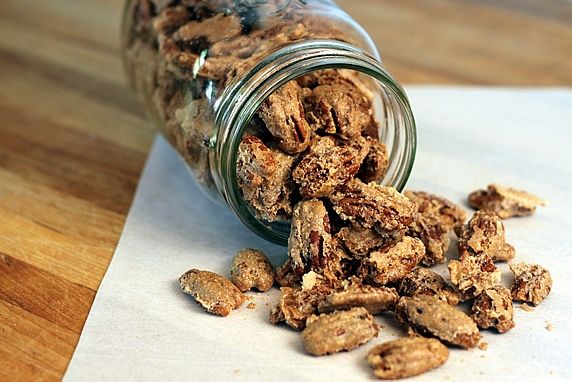 Tins are a fun way to store the candied pecans. I found this old nut tin when I was antiquing recently with my friend Sheri (owner of the awesome online yarn & fabric store The Loopy Ewe). Little did I know how perfect the tin would be for storing these candied pecans.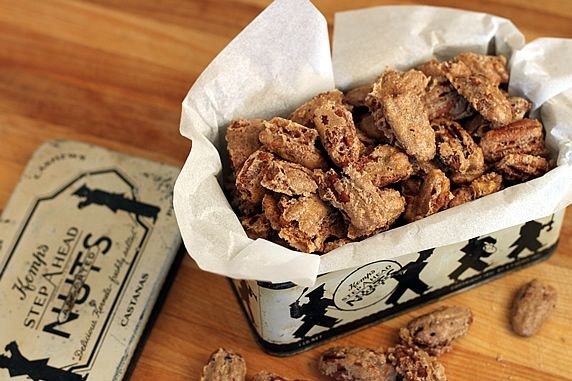 They'll go NUTS over this gift!
These candied pecans make a great homemade gift. Put them in a mason jar or cellophane bag, add a tag and ribbon, and you've got a great gift for hostesses, neighbors, co-workers, teachers--anyone!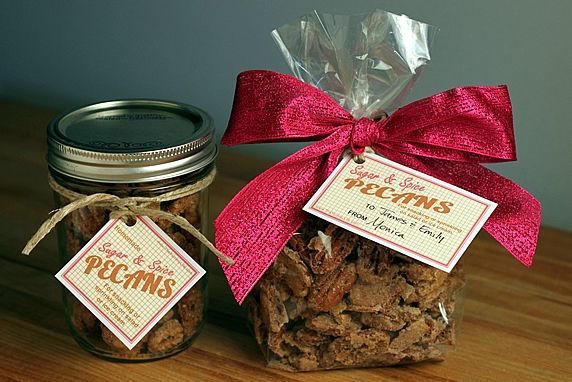 Download printable gift tags
To use the tags:
Print these on card stock, cut them out with scissors, punch a hole in the corner, and hang them from a ribbon or string.
Print them on sticker paper and stick them to your gift. Or, stick them on with tape.
If you don't have a printer or specialty papers, you can have a store with printing services download and print them for you.
To download and print a full sheet of tags, simply click on the image below.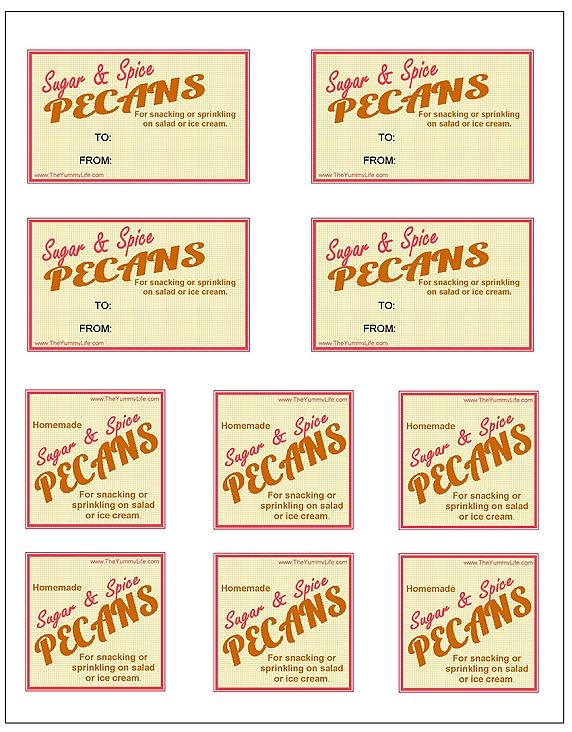 You don't want to give all of your candied pecans away. Because, you need to keep some to feed the addiction you're likely to have once you've made these. Look at their crunchy, sweet goodness. So delish. Betcha can't eat just one!
Make it a Yummy day!
Monica
Try these candied pecans on this yummy salad:
Spinach Strawberry Salad with Candied Pecans & Feta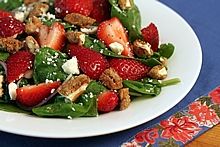 And, sprinkled on ice cream:
Smooth & Creamy Vanilla Bean Ice Cream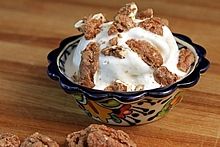 Sugar & Spice Candied Pecans
By Monica Servings: makes 4 cups
1 large egg white
1/2 cup sugar
1/2 cup brown sugar
1 teaspoon cinnamon
1/2 teaspoon allspice
2 teaspoons kosher salt
1/8 teaspoon cayenne (optional--to add some kick)
1 tablespoon vanilla
1 tablespoon water
4 cups (1 pound) raw pecan halves
Preheat oven to 300 degrees. Line a baking sheet with parchment paper. In a large bowl, use electric mixer or whisk to beat the egg white until foamy (30-40 seconds with mixer). Add sugar, brown sugar, cinnamon, allspice, salt, cayenne (if using), vanilla and water; mix until well combined (15-20 seconds with mixer). Stir in pecans until all are well coated with the mixture. Pour onto baking sheet and spread out nuts into a single layer. Bake for a total of 40 minutes; removing pan after 20 minutes, flipping nuts over with a spatula and rearranging pecans into a single layer before returning to oven for last 20 minutes. Remove from oven and slide parchment paper with nuts still on it onto cooling rack. Cool completely, break apart, and transfer to airtight container; store at room temperature.
Note: Nuts may lose their crispiness if they're left out uncovered for an extended period. If that happens, restore crispiness by warming them in oven again for 5-10 minutes.