This blueberry muffin recipe may seem familiar. That's because the batter is the same recipe I used for Blueberry Oat Breakfast Cake in my previous post. Same recipe, different form. I made jumbo muffins (1 cup each), but these can be baked in regular size muffin pans, too.
For step-by-step photos for preparing the batter and topping,
see my previous post.
click to view batter details in breakfast cake version

Once the batter is made, distribute it evenly in muffin tins that have been coated with cooking spray. Sprinkle each one with the streusel topping. And bake. The baking time varies depending on the muffin size. It took these jumbo muffins 28 minutes. Regular size muffins should take around 20 minutes.
View on Amazon:
♦6-cup jumbo muffin pan ♦12-cup regular muffin pan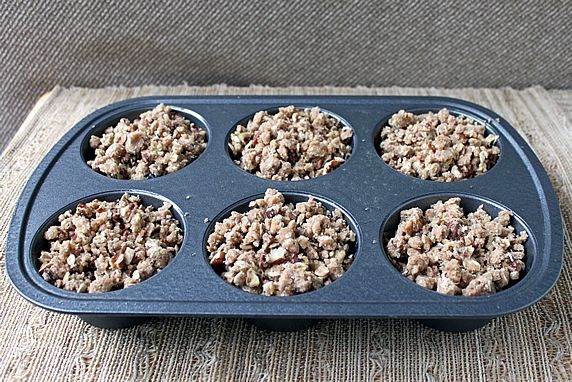 After taking them out of the oven, let the muffins sit in the pan for 5 minutes before removing them.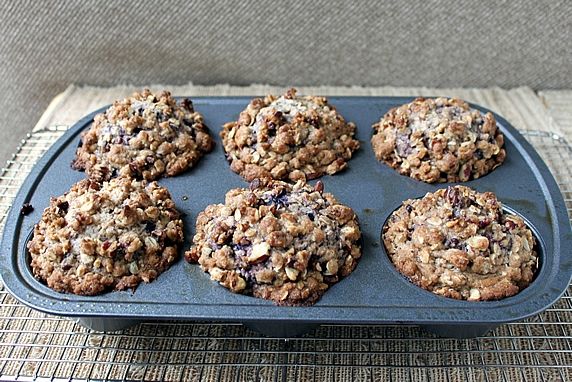 Look at those crunchy tops. Yummy.
You can leave the nuts out of the streusel, if you prefer. I like nuts in mine.
Gently lift them out of the pan. They come out easily (my muffin tins have a non-stick coating); so, no need for paper liners. Let them cool on a wire rack. Well, unless you can't wait and eat them right away!
View on Amazon: wire cooling rack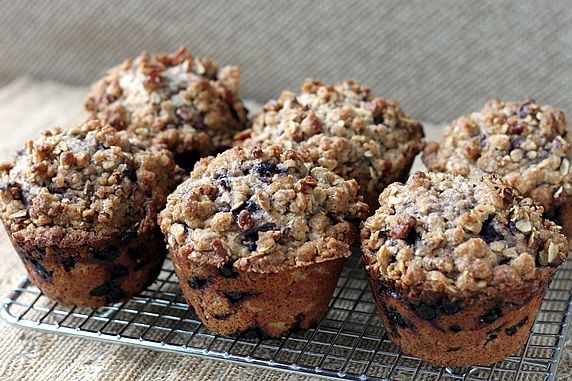 GLUTEN FREE OPTION: You may substitute gluten-free oat and brown rice flours for the white and whole wheat pastry flours called for in the recipe. Use gluten-free rolled oats. The texture won't be quite as light, but still very good and flavorful.
Nutritional Data per regular-size muffin: 253 calories, 11.6g fat, 36.5g carbs, 2g fiber, 4.2g protein; Weight Watcher PtsPlus: 7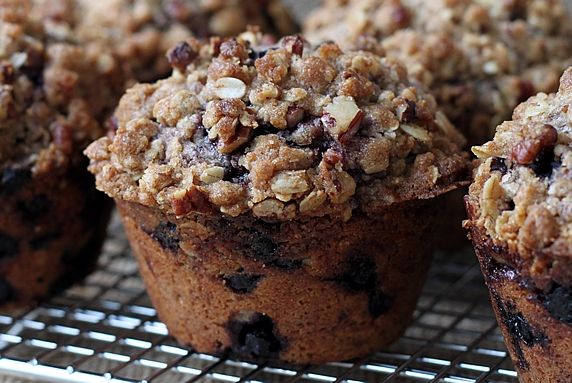 Just like the breakfast cake version of this recipe, the flavors and textures are fantastic. Hearty whole grains with a flavorful, light texture. These are mildly sweet; if you prefer a sweeter muffin, up the sugar for 3/4 to 1 cup.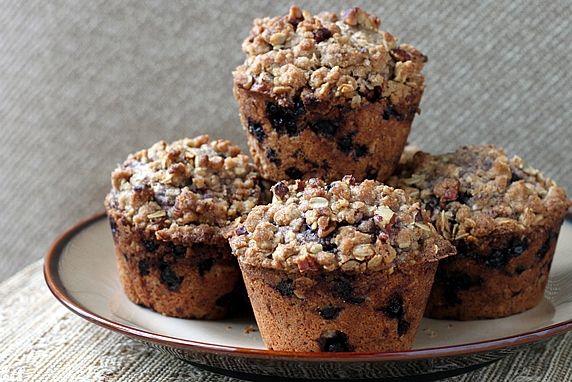 Hope you like these as much as King-Man. These are one of his favorites.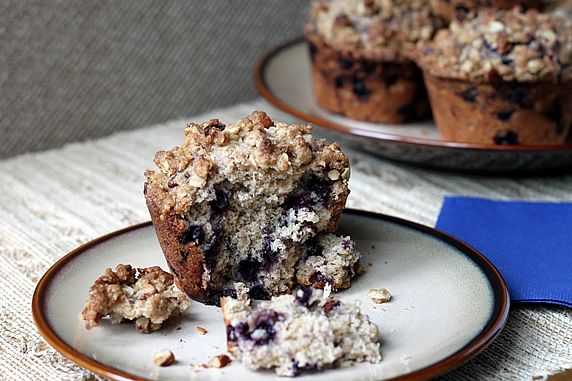 Make it a yummy day!
View whole grain and gluten-free products on Amazon:
whole wheat pastry flour, GF oat flour, GF brown rice flour,
organic rolled oats, GF rolled oats, ground flax seed
Blueberry Oat Streusel-Topped Muffins
By Monica Servings: 6 jumbo, 12 regular
STREUSEL TOPPING:
1/4 cup whole wheat pastry flour*
1/4 cup old fashioned rolled oats*
1/4 cup packed brown sugar
1/4 teaspoon cinnamon
1/4 cup butter, softened
1/4 cup chopped pecans (optional)
CAKE BATTER:
6 oz (1-1/2 cups) fresh blueberries
2/3 cups all-purpose flour, plus 2 teaspoons, divided*
2/3 cups whole wheat pastry flour*
3/4 cup old fashioned rolled oats, uncooked*
2 tablespoons ground flax seed
2 teaspoons baking powder
1/2 teaspoon kosher salt
3/4 cup sugar (increase to 1 cup for a sweeter muffin)
1 egg
3/4 cup lowfat buttermilk**
1/4 cup grapeseed, canola or other preferred neutral tasting oil
1 teaspoon vanilla
Preheat oven to 375 degrees. Coat 6 jumbo or 12 regular muffin tins with cooking spray; set aside.
STREUSEL: In medium bowl whisk together whole wheat pastry flour, oats, brown sugar, & cinnamon. Cut in butter using two forks, a pastry blender, or your fingers. Mix until combined and crumbly. Add pecans, if desired, and mix. Set aside.
BATTER: Rinse the berries well in a colander under running water and spread on paper towels. Let the berries air-dry for at least 15 min. In large bowl, add 2/3 cup all-purpose flour, whole wheat pastry flour, oats, flax seed, baking powder, salt & sugar; whisk until combined. Form a well in center of dry mix; set aside. In separate medium bowl, combine egg, buttermilk, oil, and vanilla; whisk until mixed and pour into well of dry ingredients. Stir wet and dry mixtures together, just until combined to form thick batter. Transfer the berries to a small bowl and toss gently with 2 tsp. flour. Gently fold in blueberries until distributed throughout. Pour batter into prepared muffin pan. Sprinkle evenly with streusel topping.
BAKE 25-30 minutes for jumbo size, 18-23 minutes for regular size; until toothpick inserted in center comes out dry. Let cool at least 5 minutes before gently removing muffins from pan; transfer to cooling rack.

*GLUTEN FREE OPTION: Substitute gluten-free oat and brown rice flours for the white and whole wheat pastry flours. Use gluten-free rolled oats.

**BUTTERMILK SUBSTITUTE: add 2-1/4 teaspoons white vinegar to 3/4 cup low-fat milk, let sit for 10 minutes before blending with other ingredients.

Nutritional Data per regular-size muffin: 253 calories, 11.6g fat, 36.5g carbs, 2g fiber, 4.2g protein; Weight Watcher PtsPlus: 7