Blueberries are one of those superfoods that have all kinds of health benefits. As luck would have it, they're also delicious. Today's recipe is one of my favorites with blueberries along with other healthy whole grains, nuts, and flax seed. It took a little playing around to come up with a combination of hearty, healthier ingredients that produced a light enough texture. I included a portion of white flour to accomplish that. Although this isn't a low-cal recipe, it has healthier ingredients than most coffee cakes. It isn't as sweet as a dessert cake--more like a muffin. The buttery streusel topping adds a flavorful crunch. It's easy to make a gluten-free version of this, too.
I've been wanting to share a blueberry recipe since I first started The Yummy Life blog. That's because I had this scenic photo that I took on a walk in the country when we were visiting my father-in-law on his dairy farm in Wisconsin where King-Man grew up. As I walked the country roads, I came upon a sign for Blueberry Street. How idyllic is that?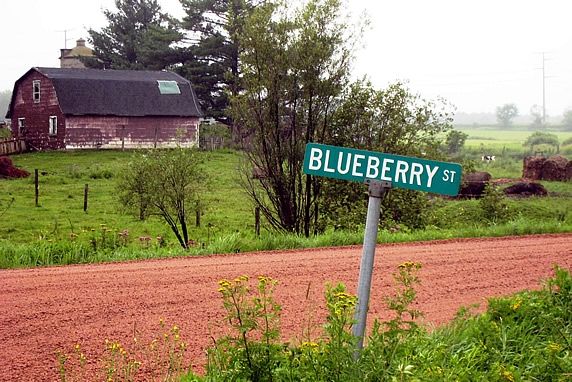 While I was on that walk, right after I'd turned onto Blueberry Street I encountered a dog who greeted me with friendly, tail-wagging enthusiasm as though we were long time pals. (I later learned from my brother-in-law that the dog's name is Gizmo.) As I approached Gizmo's house, he came out to the road and led me on the rest of my walk. King-Man, by the way, was jogging circles around me while I walked. Gizmo trotted along with us the entire time. Occasionally he'd look back to make sure I was keeping up. Then he'd bolt up to where King-Man was running, and then dart back to me. What a friendly, happy pooch. It was clear that Gizmo was having fun and living a yummy life in the country with lots of room to run. Since then, somehow in my mind, blueberries make me think of Blueberry Street, Gizmo, and living The Yummy Life.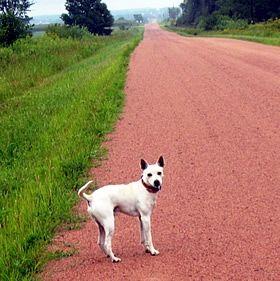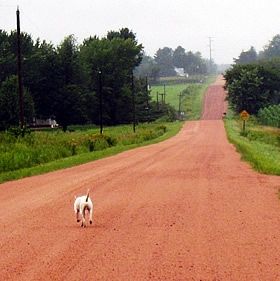 So onto the recipe for today that is yummy to me both figuratively and literally...
Step-by-step photos for making
Blueberry Oat Buttermilk Breakfast Cake
Step 1. Assemble the ingredients:
whole wheat pastry flour (may sub gluten-free brown rice flour)
all-purpose white flour (may sub gluten-free oat flour)
brown & white sugar
old fashioned rolled oats (may use gluten-free oats)
ground flax seed
egg
butter
lowfat buttermilk
grapeseed, canola or other preferred neutral tasting oil
fresh or frozen blueberries
baking powder
kosher salt
cinnamon
vanilla extract
pecans (optional)
View whole grain and gluten-free products on Amazon:
whole wheat pastry flour,
organic rolled oats, ground flax seed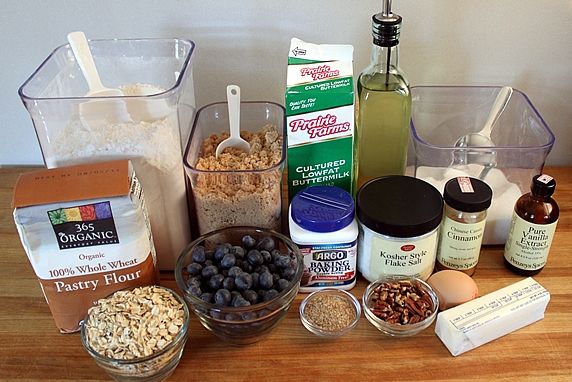 PREPARE THE BLUEBERRIES
Step 2. If you're using fresh blueberries, wash them and spread them out on a paper towel to dry for at least 15 minutes.
Step 3. Mix a little flour with the dry blueberries. (This helps the blueberries and their juices stay intact so they don't bleed out into the cake batter and make it a grayish color.)
Set the coated blueberries aside for now.
NOTE: If you're using frozen blueberries, don't thaw or rinse them. Leave them in the freezer, remove them, and toss them in the flour just before stirring them into the batter. If they thaw and release their juices, it will turn the batter an unappealing grey color.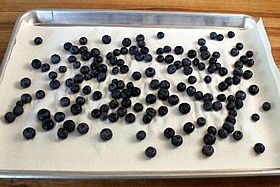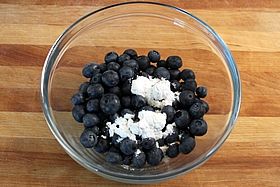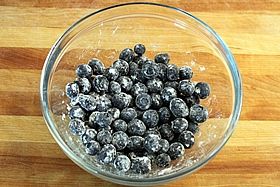 MIX THE STREUSEL TOPPING
Step 4. Combine whole wheat pastry flour, oats, brown sugar, and cinnamon.
Step 5. Add the butter and cut it into the dry mixture using two forks, a pastry blender, or your fingers. (Your fingers work easily for this small amount.) Keep mixing until it's crumbly.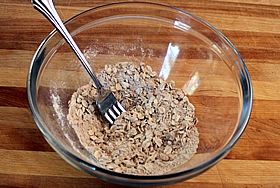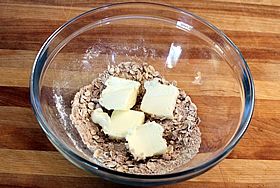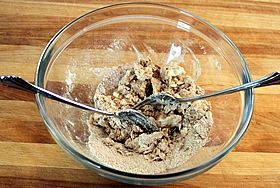 Step 6. Add pecans, if you're a nut person. If not, leave them out.
Set the struesel aside for now.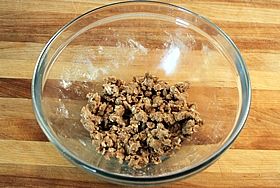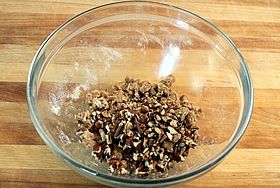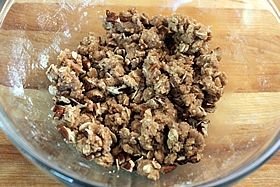 MIX THE CAKE BATTER
Step 7. In a large bowl, combine the flours, oats, flax seed, baking powder, salt, & sugar. Whisk that together and form a well in the center.
view on Amazon: wire whisk, mix-and-measure bowl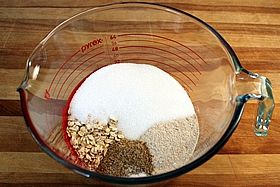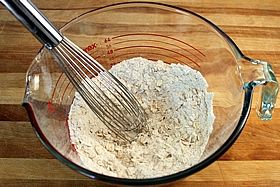 Step 8. In a small bowl, combine the egg, buttermilk, oil, and vanilla. Whisk that together.
Buttermilk substitute: add 2-1/4 teaspoons white vinegar to 3/4 cup low-fat milk, let sit for 10 minutes before blending with other ingredients.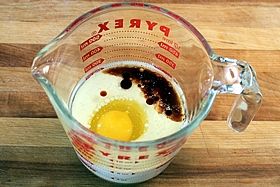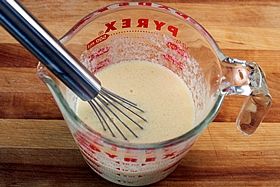 Step 9. Pour the wet mixture into the well of the dry mixture. Stir it just until combined. Careful not to over mix.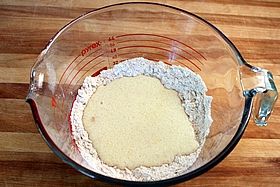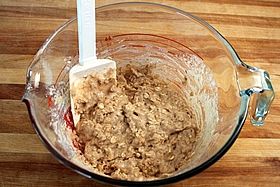 Step 10. Gently fold in the blueberries, just until evenly distributed throughout.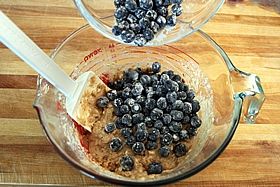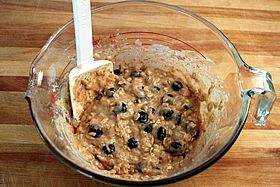 Step 11. Transfer mixture to an 8x8 baking pan that has been coated with cooking spray.
view on Amazon: 8x8 baking dish with cover
Step 12. Sprinkle the streusel on top.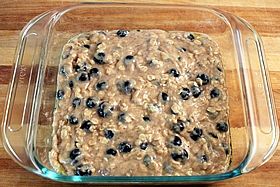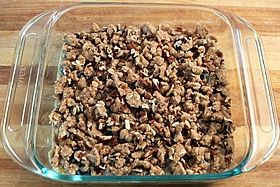 Step 13. Bake it at 375 degrees for 35-45 minutes.
Here's how it looks out of the oven: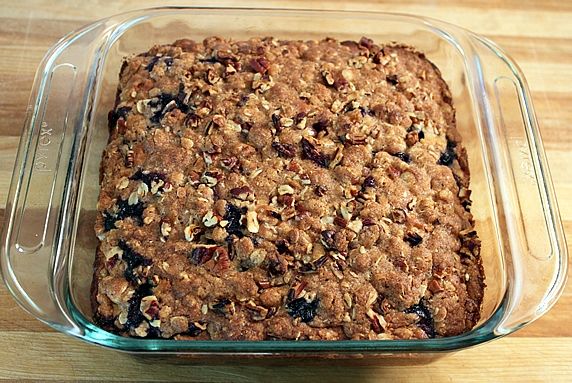 The streusel cooks into a delicious, crunchy topping.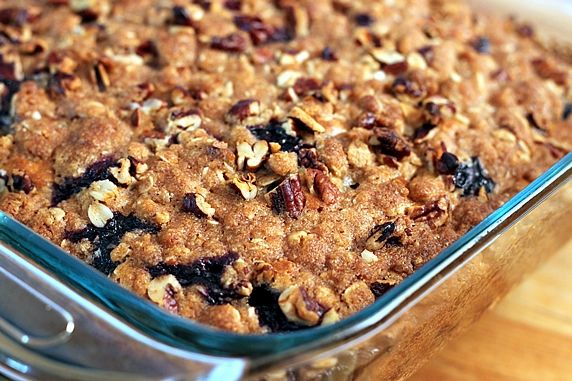 You can cut the cake into 6 or 9 pieces. I usually cut 9 pieces--better portion control that way.
Nutritional Data per serving (cut into 9 pieces): 351 calories, 15.7g fat, 48.7g carbs, 3g fiber, 5.9g protein; Weight Watcher PtsPlus: 10
Let it cool a few minutes before cutting and serving. Look at those juicy blueberries in there. They stay evenly distributed in the batter as it bakes.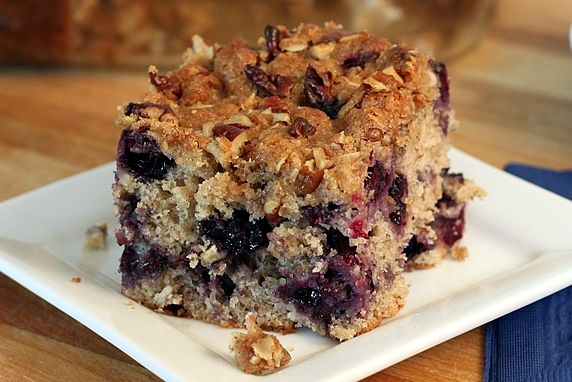 That means every bite is good. That first bite made me as happy as Gizmo trotting along Blueberry Street. Don't look now, but I just may be wagging my tail.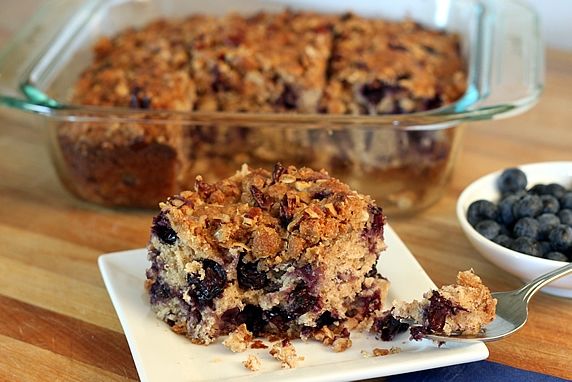 PREP THE NIGHT BEFORE FOR A FRESHLY BAKED CAKE IN THE MORNING. I had overnight guests and wanted to serve one of these blueberry cakes for breakfast. The day before, I prepped the different components in separate containers and had them ready to throw together quickly the next morning. (1) prepare the streusel and refrigerate; (2) whisk together the dry ingredients in a large bowl and cover; (3) whisk together the wet ingredients and refrigerate; (4) wash and dry the blueberries and refrigerate (only if using fresh berries). To assemble the cake in the morning, toss the blueberries with flour, add the wet ingredients to the dry ingredients, fold in the blueberries, top with struesel, ready to bake!
FREEZE THE LEFTOVERS. I was surprised how good this was after being frozen. The streusel topping didn't get soggy, like I thought it might. I flash froze the leftover cake pieces on a baking sheet, transferred them to an airtight freezer bag, and returned them to the freezer. You can put a frozen piece in the fridge the night before, so it is thawed and ready for a quick zap in the microwave for breakfast the next day; or, microwave a frozen piece at a lower power setting. Both ways were good and tasted freshly baked.
GLUTEN FREE OPTION: Substitute gluten-free oat and brown rice flours for the white and whole wheat pastry flours called for in the recipe. Use gluten-free rolled oats. The texture won't be quite as light, but still very good and tasty.
Make it a Yummy day!
Monica
You can use this same batter to make muffins. Here's how:
Click for Blueberry Oat Streusel-Topped Muffin recipe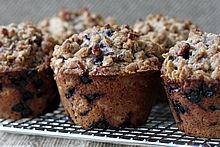 Blueberry Oat Breakfast Cake
By Monica Servings: 6-9 servings
STREUSEL TOPPING:
1/4 cup whole wheat pastry flour*
1/4 cup old fashioned rolled oats*
1/4 cup packed brown sugar
1/4 teaspoon cinnamon
1/4 cup butter, softened
1/4 cup chopped pecans (optional)
CAKE BATTER:
6 oz (1-1/2 cups) fresh or frozen blueberries
2/3 cups all-purpose flour, plus 2 teaspoons, divided*
2/3 cups whole wheat pastry flour*
3/4 cup old fashioned rolled oats, uncooked*
2 tablespoons ground flax seed
2 teaspoons baking powder
1/2 teaspoon kosher salt
3/4 cup sugar (increase to 1 cup for a sweeter cake)
1 egg
3/4 cup lowfat buttermilk**
1/4 cup grapeseed, canola or other preferred neutral tasting oil
1 teaspoon vanilla
Preheat oven to 375 degrees. Coat an 8x8 baking pan with cooking spray; set aside.
STREUSEL: In medium bowl whisk together whole wheat pastry flour, oats, brown sugar, & cinnamon. Cut in butter using two forks, a pastry blender, or your fingers. Mix until combined and crumbly. Add pecans, if desired, and mix. Set aside.
BATTER: If using fresh berries, rinse them well in a colander under running water and spread on paper towels. Let the berries air-dry for at least 15 min. (NOTE: If you're using frozen blueberries, don't thaw or rinse them. Leave them in the freezer until just before stirring them into the batter. If they thaw and release their juices, it will turn the batter an unappealing grey color.) In large bowl, add 2/3 cup all-purpose flour, whole wheat pastry flour, oats, flax seed, baking powder, salt & sugar; whisk until combined. Form a well in center of dry mix; set aside. In separate medium bowl, combine egg, buttermilk, oil, and vanilla; whisk until mixed and pour into well of dry ingredients. Stir wet and dry mixtures together, just until combined to form thick batter. Transfer the berries to a small bowl and toss gently with 2 tsp. flour. Gently fold in blueberries until distributed throughout. Pour batter into prepared baking pan. Sprinkle evenly with struesel topping.
BAKE 35-45 minutes, until toothpick inserted in center comes out dry. Let cool at least 15 minutes before cutting and serving.

*GLUTEN FREE OPTION: Substitute gluten-free oat and brown rice flours for the white and whole wheat pastry flours. Use gluten-free rolled oats.

**Buttermilk substitute: add 2-1/4 teaspoons white vinegar to 3/4 cup low-fat milk, let sit for 10 minutes before blending with other ingredients.

Nutritional Data per serving (cut into 9 pieces): 351 calories, 15.7g fat, 48.7g carbs, 3g fiber, 5.9g protein; Weight Watcher PtsPlus: 10