This cooks while you sleep, so you can wake up to the aroma of a delicious, ready-to-eat breakfast. The oats, chia seeds, pumpkin, and almond milk will give you the fuel to keep going all morning. This recipe can be made gluten-free, dairy-free, and vegan, too.
I've previously shared three recipes for Slow Cooker Steel Cut Oats: apple-cinnamon , cherry-almond and banana-coconut. They are healthy, hearty breakfasts that have been very popular with readers. I've had requests for new flavors, so I'm adding this pumpkin pie version to the collection. (I have another one up my sleeve to share later.) Like the others, it's totally yummy, filling, and good for you. The pumpkin gives this recipe more of a pudding consistency--pumpkin pie mixed with oatmeal. Another healthy way to have dessert for breakfast!
No more burnt oatmeal! Today, I'm demonstrating a way of making slow-cooker oatmeal using a double boiler method to help you avoid burnt edges on your oatmeal. That's particularly important for this recipe, because brown crispy pumpkin edges taste pretty nasty. I liked my other oatmeal flavors with crispy edges, but not this one.
Nutritional Information (per 3/4 cup serving): 149 calories, 3.6g fat, 27.3g carbs, 3.9g fiber, 4.9g protein; Weight Watchers PointsPlus: 4 pts
Step-by-step photos for making
Slow Cooker, Pumpkin Pie Steel-Cut Oatmeal
Assemble the ingredients:
steel cut oats (regular rolled oats aren't recommended); use gluten-free, if desired
unsweetened almond milk (or any other dairy or non-dairy milk of your choice)
pumpkin pie spice (buy it at the store or make your own; here's my recipe)
maple syrup (or another sweetener of your choice); more sweetener is needed in this recipe, because the pumpkin isn't naturally sweet like fruit-flavored oatmeal
pumpkin puree (unflavored & unsweetened); you need half of a 15-oz. can
applesauce (unsweetened); or one apple, peeled, cored, and grated
vanilla extract
ground chia or flax seeds
salt
butter (optional); omit for vegan version
view on Amazon:
♦steel cut oats ♦gluten-free steel cut oats
♦ground chia seeds ♦ground flaxseed
2 Ways to Slow Cook This Oatmeal:
Method #1--The Traditional Way
Spray the inside of the slow cooker with cooking spray, add the ingredients, give them a stir, put on the lid, and cook on low for approximately 5 hours. This pumpkin oatmeal needs less cooking time than the previous flavor varieties in order to avoid brown/burnt edges. Burnt pumpkin does not taste good. Trust me on that. Clean up is a pain if it burns, too.
If you don't have a programmable slow cooker, you can use an on-off light timer to turn your slow cooker on after you go to bed; programmed so that it comes on 5 hours before you'll be getting up in the morning. (A clever tip from my friend Sheri at The Loopy Ewe.)
view on Amazon:
♦Slow Cooker ♦on-off lamp timer (for auto shut-off)
Method #2--The Double Boiler Way
You can completely avoid burnt oatmeal edges and cook it for an extended time by turning your slow cooker into a double boiler. It's easy.
Find a heat-proof bowl that will nest inside your slow cooker.
Coat the inside of the bowl with cooking spray.
Add water to the slow cooker on the outside of the bowl, until it reaches approx. half way up the side of the bowl.
Add the oatmeal ingredients to the bowl, and stir.
Put the lid on the slow cooker and cook on low for up to 8 hours (it was ready sooner, but it held for 8 hours)
This method worked great for me. I had my slow cooker on for 8 hours of cooking, and then it went to the warm mode for awhile after that. There were absolutely no browned or burnt edges. The texture of the oats was perfect. Another benefit of this method--clean up is a breeze! I put the bowl in my dishwasher and dumped the water and dried inside of slow cooker with a towel--done!
view on Amazon:
heat-proof glass bowls for double boiling in slow cooker
(The largest bowl in this set fits inside my slower cooker)
However you cook it, the finished oatmeal is a hearty, healthy breakfast with all the wonderful flavor of pumpkin pie..
Here are some optional toppings that are great with this:
chopped pecans or walnuts
maple syrup or brown sugar
dried fruit (raisins, craisins, chopped apricots)
additional milk or cream
additional butter
I like to top mine off with pecans and a drizzle of maple syrup.
Make ahead, refrigerate or freeze, and reheat leftovers. I make a batch of this, refrigerate or freeze leftovers in individual servings, and reheat them in the microwave. Add a 3/4-cup serving of cooked oatmeal to a microwave proof bowl, add 1/3 cup milk, cook on high for 1 minute. Stir and microwave approx. 1 more minute until hot. (Cook longer and at half power if they're frozen.) Breakfast is ready!
view on Amazon: 1 cup plastic containers
If you're a pumpkin pie fan like me, I think you'll enjoy this healthy breakfast version.
Make it a Yummy day!
Monica
You might also be interested in these:
Slow Cooker Apple Cinnamon Steel-Cut Oatmeal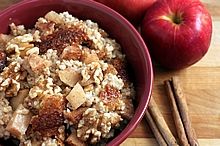 Slow Cooker Cherry Almond Steel-Cut Oatmeal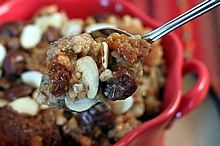 Slow Cooker, Banana & Coconut Milk Steel-Cut Oatmeal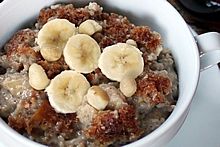 Slow Cooker, Eggnog Cranberry Steel-Cut Oatmeal
Overnight, Refrigerator, No-Cook Oatmeal in 6 Flavors
Slow Cooker, Pumpkin Pie Steel-Cut Oatmeal
By Monica Servings: 7 (3/4-cup) servings
1-3/4 cups unsweetened almond milk (or other dairy or non-dairy milk)
1-1/2 cups water
1 cup uncooked steel-cut oats (gluten-free, if desired)
1/4 cup maple syrup (may substitute other preferred sweetener)
3/4 cup pumpkin puree (unsweetened,unflavored)
1/2 cup unsweetened applesauce (or one apple, peeled, cored, and grated)
1 teaspoon vanilla
1-2 tablespoons pumpkin pie spice
1 tablespoon ground chia or flax seeds
1/4 teaspoon salt
1-1/2 tablespoons butter, cut into 5-6 pieces (optional)
Optional garnishes: chopped nuts, raisins, maple syrup, brown sugar, additional milk or butter
Coat inside of 3-1/2 quart (or larger) slow cooker with cooking spray. Add all ingredients (except optional toppings) to slow cooker, using 1 tablespoon pumpkin pie spice. Stir, cover, and cook on low for approx. 5 hours, or until oats are cooked & softened, but edges haven't browned. (Slow cooker times may vary.) Taste and stir in more pumpkin pie spice, if desired. Spoon oatmeal into bowls; add optional toppings, if desired. Store leftovers in refrigerator. Freezes well.

Alternative slow cooker method for extended cooking time without over-browning the edges: Insert a heat-tolerant bowl inside the slow cooker; coat inside of bowl with cooking spray. Add all ingredients (except optional toppings) to the bowl; stir to combine. Pour water into the slow cooker on the outside of the bowl so that the water fills approx. halfway up the sides of the bowl. Put the cover on the slow cooker, and cook on low for up to 8 hours.

To reheat single servings: Put 1-cup cooked oatmeal in microwave proof bowl. Add 1/3 cup milk. Microwave on high for 1 minute; stir. Continue cooking for another minute, or until hot. (If frozen, microwave longer at half power.)

Recipe may be doubled in 6-quart or larger slow cooker. Increase cooking time 1 hour.

Nutritional Info (per 3/4 cup serving): 149 calories, 3.6g fat, 27.3g carbs, 3.9g fiber, 4.9g protein; Weight Watchers PointsPlus: 4 pts