In a recent post, I shared my recipe for Classic Buttermilk Cornbread. That recipe is good to eat just as it is, but it also can be a starting point for making flavored cornbreads. That's what I've done here--taken my original cornbread recipe and jazzed it up with some Southwest flavors. The cheese, corn, jalapenos, green chiles, and onions make this an entirely different cornbread. It's great to serve with soup, chili, or salad.
A tip about baking with low-fat, sharp cheese. In an effort to reduce calories, I use low-fat sharp cheddar cheese in this recipe. Sharp cheddar cheese has a stronger flavor than a mild cheddar, so that means you can get away with using less cheese in the recipe. Less cheese means less fat and fewer calories. I've also found that lower fat cheeses taste just as good when they're mixed in something that is baked--they provide that same cheese flavor mixed throughout. However, I don't use low-fat cheese on top of dishes like casseroles, enchiladas, or pizzas--they don't melt and spread like a full fat cheese does.
Nutritional information (per serving): 188 calories, 4g fat, 28g carbs, 3.2g fiber, 11g protein; Weight Watchers Pts Plus: 5
Step-by-step photos for making Cheesy Jalapeno Cornbread.

Step 1: Assemble the ingredients. These are the basic ingredients used in my Classic Buttermilk Cornbread recipe. Flour (you can substitute some whole wheat pastry flour for half of the white flour, if you wish), stoneground cornmeal (I use medium grind), baking powder, kosher salt, honey, and buttermilk (I use the convenient buttermilk powder, but you can also use fresh). There is just enough honey in this recipe to give it a hint of sweetness, but it can be omitted altogether if you prefer.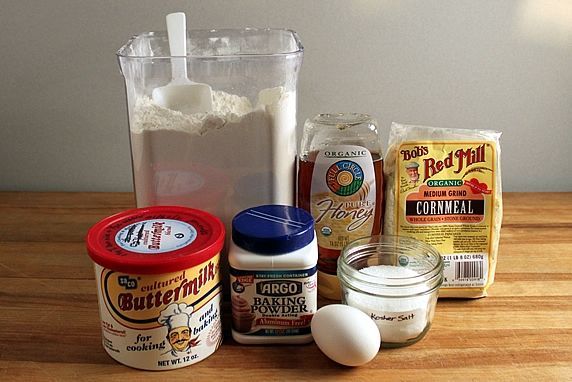 Plus, you'll need these ingredients to stir into the classic cornbread batter: corn (frozen or canned), sharp cheddar cheese, green onions, green chiles, jalapenos (fresh preferred, but you can use the kind in the jar, too)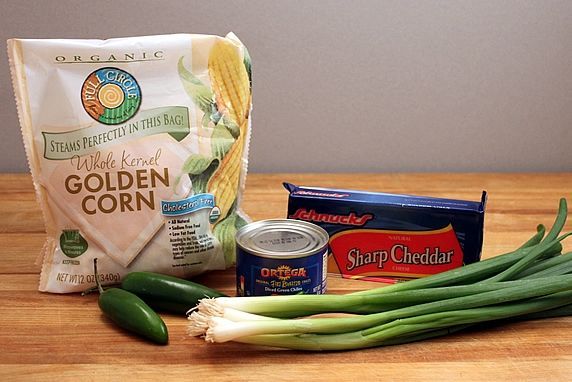 Step 2: Whisk the dry ingredients together in a large bowl.
Step 3: Whisk the wet ingredients together in a separate medium bowl.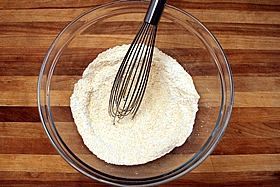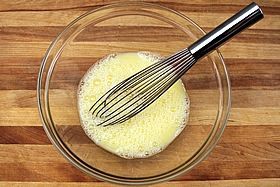 Step 4: Pour the wet ingredients into the dry ingredients. Stir them just until they're combined--don't over mix.
Step 5: Add the corn, onions, jalapenos, green chiles, and shredded cheese (The 1 tablespoon of minced jalapenos isn't enough heat for me. I add more. You can adjust that amount to please your palate.)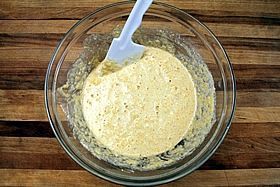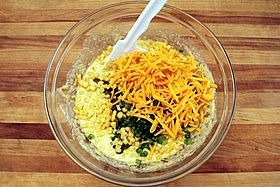 Step 6: Stir just until everything is combined.
Step 7: Pour into a greased 8x8 pan and bake.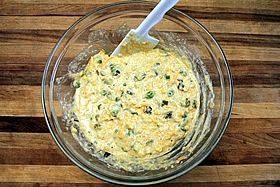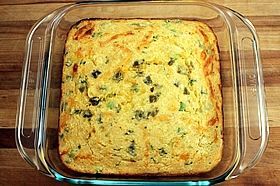 Done! Let it cool in the pan for 10 minutes before you cut it.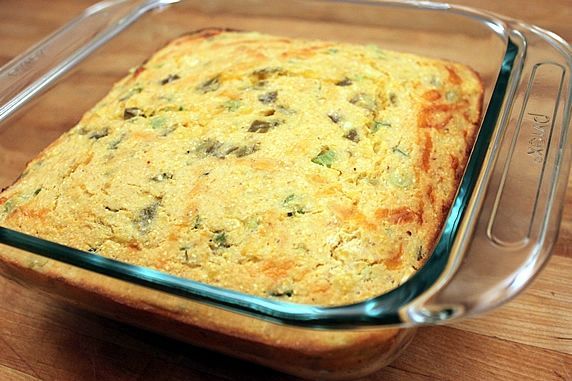 This is so delicious with chili. Or soup. Or salad. Or all by itself.
Try it with my Baked (or Mashed) Potato Soup--they're a perfect combo.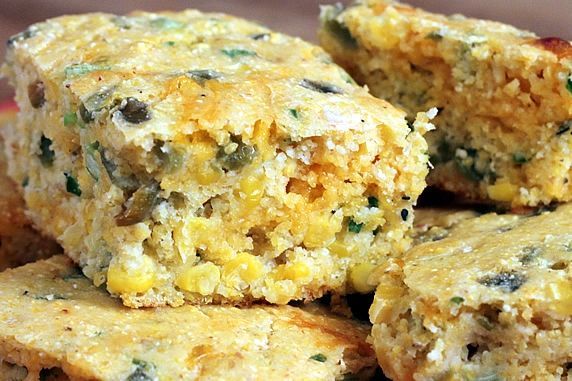 Make it a yummy day!
Cheesy Jalapeno Cornbread
By Monica Servings: 9 servings
Ingredients
1-1/4 cups stone ground yellow cornmeal (medium grind)
3/4 cup all-purpose flour (can use half white flour and half whole wheat pastry flour)
2-1/2 teaspoons baking powder
1/2 teaspoon kosher salt
1 cup + 2 tablespoons lowfat buttermilk*
1 large egg
2 tablespoons honey (optional)
1/4 cup chopped green onions
1 cup corn (canned or frozen)
1 tablespoon minced jalapeno (more or less to taste)
1 (4 oz.) can chopped green chiles (if there's liquid in the can, drain it)
1 cup shredded low-fat sharp cheddar cheese
Directions
--Preheat oven to 400 degrees. Spray 8x8" baking pan with cooking spray. (Can also use 12-cup muffin pan or cast iron skillet.)
--Combine cornmeal, flour, baking powder, and salt in large bowl (plus buttermilk powder if you're using it--see * below). Whisk together.
--In separate bowl, whisk the egg, buttermilk (or water--see * below), and honey together. Add egg mixture to dry ingredients. Stir until just mixed--don't over mix.
--Add onion, corn, jalapeno, green chiles, and cheese; fold into batter until mixed.
Pour into baking pan and bake for 25-30 minutes, until golden and a toothpick inserted in center comes out clean. Let cool in pan for 10 minutes.

*In place of buttermilk, can substitute:
--1 cup + 2 tablespoons water, and
--4 tablespoons + 1 teaspoon dry buttermilk powder.

Nutritional information (per serving): 188 calories, 4g fat, 28g carbs, 3.2g fiber, 11g protein; Weight Watchers Pts Plus: 5
| | | |
| --- | --- | --- |
| | | |