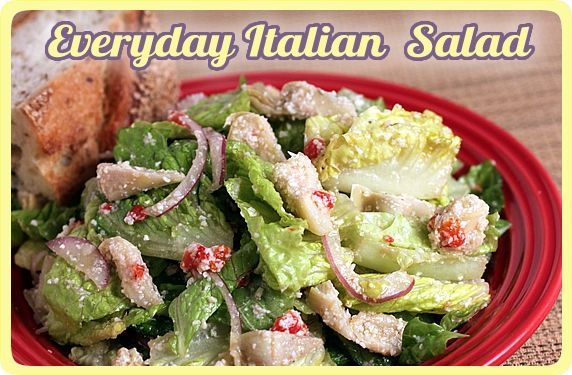 This salad is by far the favorite of our family. It was one salad I could count on my boys eating, even when they were little. We enjoyed it for years at a local St. Louis restaurant, The Pasta House Company. Once I figured out how to make it at home, it became a regular on our dinner menus. It's great paired with just about anything--not just Italian food. It's healthy, wholesome ingredients make it a winner. I almost always make it when we entertain. Everyone seems to love it.
The salad dressing used in this recipe is explained in a separate post, Everyday Vinaigrette. It's a simple, essential dressing for this salad.
Step-by-step photos for making Everyday Italian Salad.
Step 1. Assemble the ingredients: romaine lettuce, quartered artichoke hearts, red onion, diced pimentos or roasted red peppers, grated Parmesan cheese, Everyday Vinaigrette. (Pasta House uses part iceberg lettuce, part romaine lettuce; I prefer all romaine for it's taste and higher nutritional value.)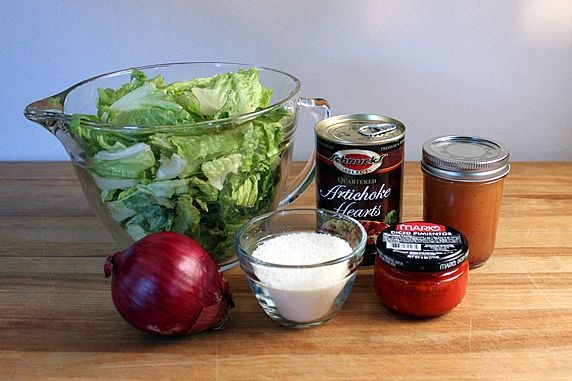 Here's the vinaigrette recipe, in case you need it:
Click to view & print Everyday Vinaigrette recipe
Step 2. Cut each artichoke quarter in half.
Step 3. Thinly slice the red onion. Make them paper thin--they're so much better that way. I use this mandoline.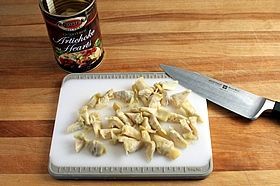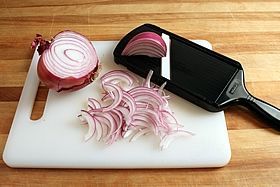 Step 4. Put the lettuce in a large bowl.
Step 5. Add the artichokes.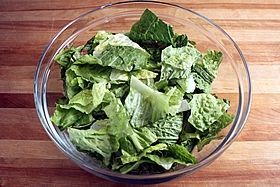 Step 6. Add the pimentos.
Step 7. Add the onions.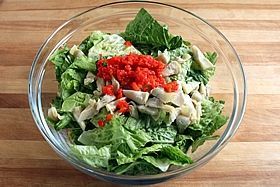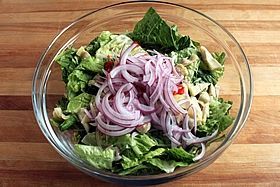 Step 8. Add the Parmesan cheese.
Step 9. Pour on the Everyday Vinaigrette.
Step 10. Toss it all together.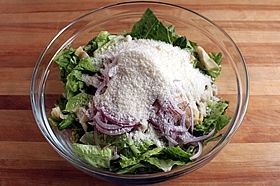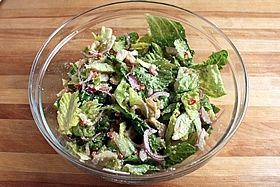 Oh man, does that look good!?!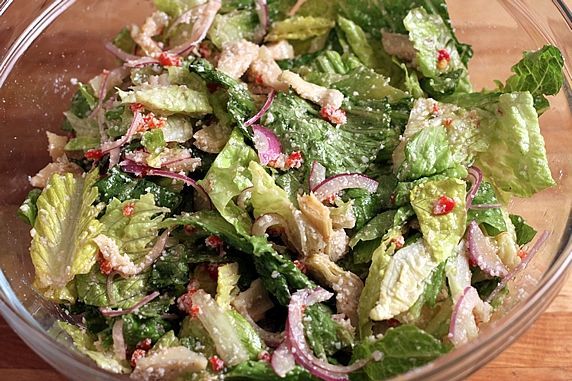 Serve it up. (It's good with toasted pine nuts sprinkled on top, too.)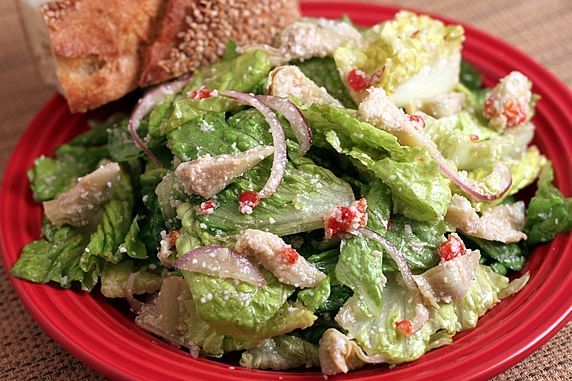 Eat and enjoy!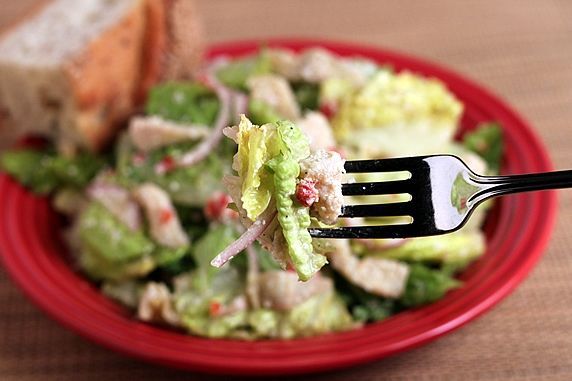 Make it a yummy day!
Everyday Italian Tossed Salad
By Monica Servings: 4 servings
Ingredients
8 cups torn or roughly chopped romaine lettuce (or a standard 10-oz bag of lettuce greens)
1/2 cup quartered artichoke hearts (half of 14 oz. can), drained
1/4 cup diced pimentos or roasted red peppers, drained
1/2 cup thinly sliced red onion
1/2 cup grated Parmesan cheese
1/2 cup Everyday Vinaigrette (recipe at www.TheYummyLife.com/recipes/89)
Directions
Toss ingredients together and serve.

Optional toppings:
--toasted pine nuts
--black olives