Thanks so much to everyone who has stopped by The Yummy Life. Your comments provide ideas and inspiration for me and all who visit.
----------------------------------------------------------------------------------------------
Good Earth Tea Giveaway
Winners and Results
(Giveaway Deadline was 3 pm CST, June 14)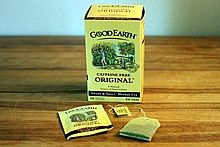 Congratulations to these 6 Giveway winners (they were chosen from 31 entries via a random number generator). Each will receive a free box of Good Earth Original Sweet & Spicy Tea from me. Here are the winners and their comments about their favorite summer tea or cold beverage:
Kathleen - I love tea, especially raspberry tea. Would love to try this tea. I plan on using your recipes for the multitude of teas in your last post!
Christel - I like very cold ice tea with a slice of lime! If I can't get that, raspberry tea is a great alternative.
Shreela - Celestial Seasonings Fruit Sampler is what I always buy. I use one fruit tea bag along with one family-sized Luzianne, with 1/2 tsp Truvia. I also enjoy hibiscus tea, but it's so sour I have to sweeten a lot more than my normal teas, including some real sugar to offset the Truvia taste from using so much of it LOL.
Carmen - I love just plain black sun tea. No sugar, please.
Kelly - Homemade lemonade is my fav :)
Melissa - Fresh strawberry lemonade is my favorite in the summer!
Please email me your addresses ASAP (monica@theyummylife.com), so I can get your tea in the mail. (I need to hear from you within 48 hours; otherwise, another winner will be selected.)
THANKS to all my yummy readers who entered the contest, left comments, and shared the Giveaway on Facebook, Twitter, and Stumpleupon!
I loved reading about your favorite summer drinks. Here's a compiled list:
Lindsey -ginger ale made with real ginger
Mary - Blueberry Hibiscus from Republic of Tea; any of Celestial Seasonings Zinger teas (Lemon, Raspberry, Wild Berry, etc.)
Janna - Spring Grove Soda Sour Lomon, really, really cold.
Sara

-lychee iced tea
Barbara- sangria, a bay leaf being the secret ingredient.
Merideth - Cranberry Spritzer- Ice, real cranberry juice, tonic, some 7up/sprite and several lime wedges squeezed in.
Bev - ice water with a little bit of lime in it.
Diana - fruity iced teas with berries and ginger; plain cold water with a hearty squeeze of lemon.
Christine - mint iced tea
Acme- ice cold seltzer with freshly squeezed lemon; hibiscus syrup to mixed with seltzer for a sweet summer drink
Shumaila - pina coladas!
Kacy - ice cold mint tea brewed with fresh mint leaves
Sarah Elizabeth - green jasmine pearl tea
Danielle & Catharine - fresh watermelon juice, no sugar
Gennie - Thai Iced Tea!
Suzanne - sweet tea
Rachel - Odwalla's pomegranate limeade and my grandmother's version of Good Earth iced tea
Ashley - Tazo Zen tea with a splash of mint simple syrup, iced
Sara - horchata!
Steffani - REALLY sweet iced tea
Megan - simple iced tea with lemon
Now I'm thirsty and anxious to try your thirst-quenching drink suggestions. I'll be sipping my way through them this summer. Thanks to you all!
Make it a yummy day!

Pin on Pinterest