Thanks so much to everyone who has stopped by The Yummy Life. Your comments provide ideas and inspiration for me and all who visit.
----------------------------------------------------------------------------------------------
Giveaway Winners and Results
The Butterfly's Daughter by Mary Alice Monroe
(Giveaway Deadline was 3 pm CST, May 13)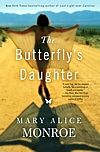 BIG THANKS to Gallery Books of Simon & Schuster
for sponsoring this Giveaway!
Congratulations to these 3 Giveway winners (they were chosen from 29 entries via a random number generator). Here are the winners and their comments about the last good book they read:
Steffani -Recently read The Noticer by Andy Andrews. Great book! I've never read anything by Mary Alice Monroe, but am looking forward to reading this one. Would LOVE to win a copy! Thanks for the opportunity!
Barbara - The Help was the last best book I read. Actually I listened to the audio version recorded by 4 different actresses - great for imagining these wonderful characters.
Shell - Misguided Angels and Bloody Valentine by Melissa De La Cruz.
Please email me your addresses ASAP (monica@theyummylife.com), so the publisher can get your books on their way to you! (I need to hear from you within 48 hours; otherwise, another winner will be selected.)
Thanks to all my yummy readers who entered the contest, left comments, and shared the Giveaway on Facebook, Twitter, and Stumpleupon! I had so much fun reading all of the comments and have added a number of your book suggestions to my reading list. I loved seeing what you've been reading.
Here is a list of recent good reads compiled from your comments:
Sweet Grass by Mary Alice Monroe
The Ape House by Sara Gruen
The Hunger Games series by Suzanne Collins
Bel Canto by Ann Patchett

*

South of Broad by Pat Conroy
These Things Hidden by Heather Gudenkauf
The Divide by Nicholas Evans
Middlesex by Jeffrey Eugenides*
Caramelo by Sandra Cisneros
Friendship Bread by Darien Gee
Angela's Ashes by Frank McCourt*
Shanghai Girls by Lisa See*
The Art of Racing in the Rain by Garth Stein

*

Cutting for Stone by Abraham Verghese

*

Poisonwood Bible by Barbara Kingsolver

*

The Noticer by Andy Andrews
The Secret Holocaust Diaries by Nonna Bannister
Unbroken by Laura Hillenbrand
Annie Freeman's Fabulous Traveling Funeral by Kris Radish
Misguided Angels and Bloody Valentine by Melissa De La Cruz
Eating Animals by Jonathan Safran Foher
Buddha: A Story of Enlightenment by Deepak Chopra
They Cage the Animals At Night by Jennings Michael Burch
anything by the author Alisa Kwitney
Looking for Alaska and Paper Towns by John Green
The Help by Kathryn Stockett (Several people listed this wonderful book--one of my recent faves, too!)*
*These are books that I have also read and can recommend.
As mentioned in my recent post about my Book Club, I will share some of our favorite books through the years in an upcoming post.
Make it a yummy day!

Pin on Pinterest