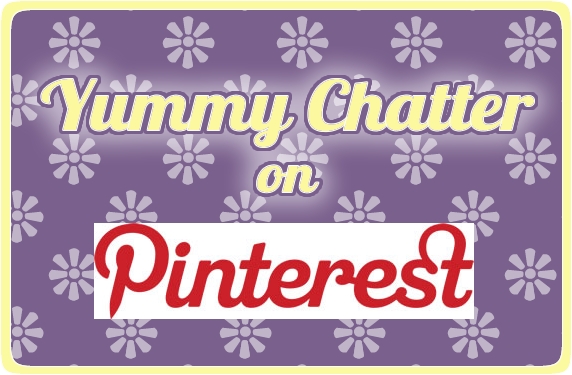 A few weeks ago, I wrote a post called Pinterest Tips--A Tutorial Guide for Beginners. I've heard from lots of readers since then who love Pinterest, too, or have just gotten started with it and are still learning the ropes.
I get way more comments on my posts on Pinterest than anywhere else now; but, if you don't happen to follow the boards of those commenting, you will miss their feedback. The best tips and adaptations for my recipes always come from you, my readers, and I hate for you to miss them. So, I'm sharing a few comments today on a few pins from The Yummy Life.
Not on Pinterest yet?
Let me know in the comments section below, and I'll send you an invitation.
A Few Pinterest Comments on Pins from The Yummy Life
(click the title to view the original post)
Harvest Salad with Pears, Dried Figs & Pepitas
Sandy S. wrote, "This is really good. Fancy restaurant good. Substituted toasted pecans for the pepitas."
Wedding Rehearsal Dinner Centerpieces -personalized with photos and monogrammed mugs
Sara L. wrote, "My favorite snack..."
Rachel T. wrote, "I love that this is healthy and low in calories, yet so pretty and good. Yum!"
Sara B. wrote, "This was really yummy!"

Adrian S. wrote, "Tried this tonight. I cut the recipe in half and didn't use any mayo... I subbed Non-Fat Greek Yogurt and added a tiny squirt of dijon mustard. It is delicious! It made about 8 Oz (1 Cup) of Egg Salad and averages about 22 calories per tablespoon:) Happy girl!"
Chile, Lime, & Rosemary Spiced Nuts
Strawberry Spinach Salad with Feta Cheese, Candied Pecans & Raspberry Poppyseed Dressing
This is my most popular post on Pinterest. It has been pinned over 84,000 times. That number kinda blows my mind.
Molly wrote that she dresses this with her

fave brand--Brianna's Poppyseed dressing. "Mmm... one of my favorite salads... minus the red onion. blech. :)"

Jayne Marie wrote, "....one of my favorites!"

Jennie VH wrote, "

Made this with chevre in place of feta, and a mix of romaine & spinach. Made the dressing w/apricot balsamic vinegar instead of raspberry. Awesome."
Individual Parmesan Hash Brown Cups
Chicken Salad with Cranberries & Pecans
Florence D. wrote, "by far the best Tutorial I have seen; easy +great tips"
Jessica H. wrote, "DIY etched beer mugs for the groomsmen. I'll probably do the big ones with handles though."
Double Chocolate Hot Cocoa Mix
Heather J. wrote, "best meatballs ever. Tried it...it's true!"
Overnight, Slow Cooker Cherry Almond Steel Cut Oatmeal
Cynthia M. made this for her MOPS friends and wrote, "

I slept awful last night, because all I could do was think about this oatmeal, dream about it, wonder how it's doing, check on it, and taste it. It was done at 5:16AM (after 6 hours); and, if I didn't have to bring it somewhere to share, I would have sat

there in the dark and ate half the pot. It was delicious and I'll definitely be making it again. I tripled it and it filled my large (5 qt?) crock to the brim."
Overnight, Slow Cooker Apple Cinnamon Steel Cut Oatmeal
Overnight, Slow Cooker Banana & Coconut Milk Steel Cut Oatmeal
Quick and Healthy Turkey Chili
Tekesha B. wrote, "I made this last night substituting extra lean turkey, hot & spicy taco mix, and cannelini beans and added a little splenda. It was absolutely incredible!! Hubby was circling around me like a shark in the kitchen, couldn't wait for it to finish simmering."
Thanks to all who comment here, on Facebook, Pinterest, or where ever! I love hearing from you; and when you comment every reader can benefit from your tips and feedback. I appreciate you!
Make it a yummy day!

Pin on Pinterest