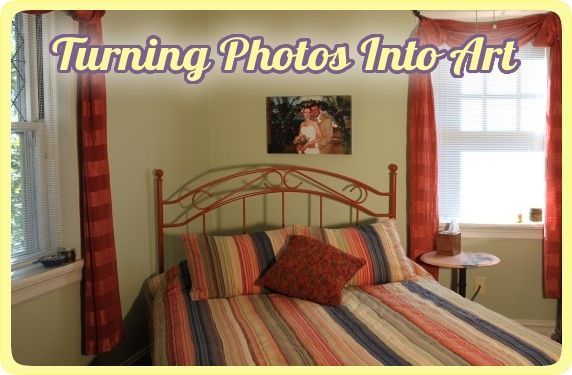 When our son, Bracken (aka Brackenthebox), married Rachel 2-1/2 years ago, I decided it was time to redecorate his old bedroom. It had definitely been a guy's room for many years--blacks and browns and sports memorabilia. I was a bit giddy about having Rachel join the family and improving the male:female ratio in my life, since I'd been way too outnumbered by 3 men for so many years. Since Bracken's old bedroom was now Bracken and Rachel's room when they visited, that gave me all the permission I needed to redecorate with a little more of a girlie touch. Yay!
I took the inspiration for the color scheme of the bedroom from their wedding. They had a picture-perfect destination wedding in Antigua, and chose tropical orange and green for their wedding colors. I decided to use a more muted version of those colors in the bedroom--pale green walls and burnt orange accents. As it turned out, using the same color family from their wedding meant that their wedding photos coordinated perfectly with the bedroom's new look.
It always helps me to have an "inspiration piece" when I decorate--something I love that has colors that will inspire my choices for the rest of the room. My inspiration piece turned out to be one of my favorite photos from their wedding. The happy couple is surrounded by orange flowers and green palm trees in this breathtaking tropical setting, with a beautiful blue ocean in the background. It was a wedding in paradise. No kidding.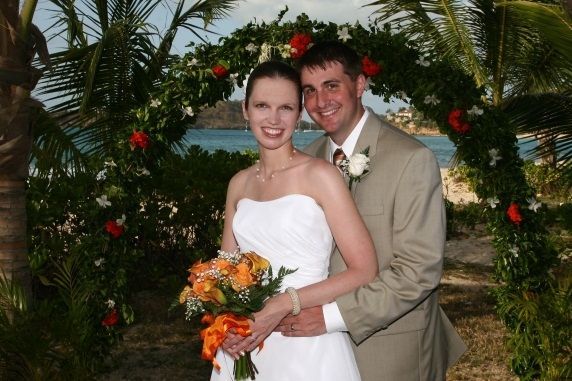 Instead of using the actual photograph, I took advantage of a techie wonder of the internet and had the photo converted to an oil painting effect and printed on canvas.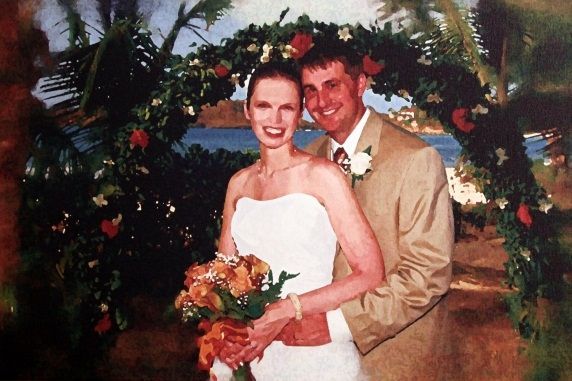 Want to know how easy this is to do? Go to www.photofiddle.com, upload a photo, choose from an astounding list of artsie effects that can be applied to your photo (water color, pencil drawing, pop art, cartoon, the list goes on.....), choose a size, and order it. A few days later, photo art for your wall arrives at your door! There are other sites that offer this service, but I've only used Photo Fiddle; so I can only personally comment on their great service and quality. (No, this is not a paid advertisement. I just like this company and wanted to share this idea with you.).
I love the way they fiddled with this photo. The oil painting effect gave it a unique and special look, added a decorative touch to the bedroom, and at the same time allows us to celebrate this important day in our family's life every time we walk past the room. In my post about creating a Family Photo Time Line, I mentioned how much I love blending photos with my home decor, and this is one more way to do that.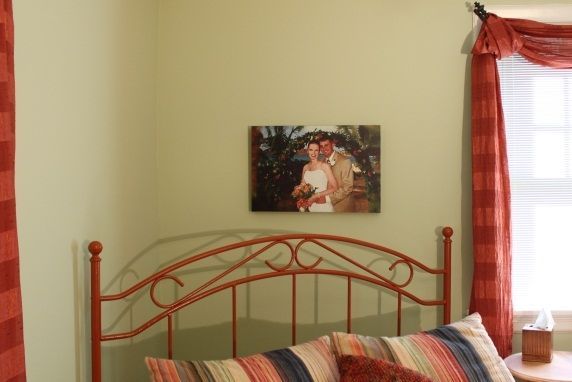 Photo Fiddle will also frame your piece for you, if you prefer that look. In this case, I wanted the more casual, contemporary look of an unframed stretched canvas. This one is 16x24. If I could change one thing, I now realize I would have preferred for it to be a bit larger. When I ordered it, 16x24 sounded really big to me. But, I do kind of wish I'd gotten the next size up now to better fill the wall space. Nevertheless, I really love this wedding-photo-turned-into-art. The colors, the look, and the sentiment make it a win-win-win for me.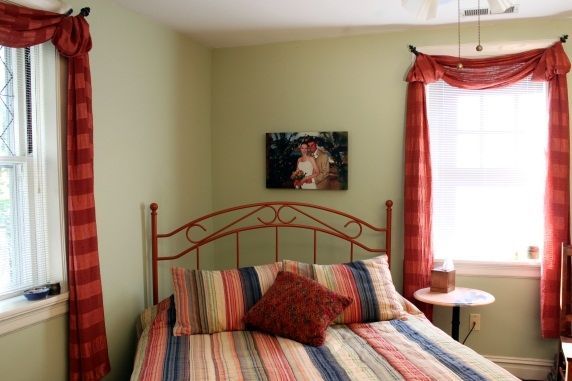 Have you turned any of your photos into art, in this same way or some other way? Please share any ideas you have.
And, make it a yummy day!

Pin on Pinterest