Given a choice between a sweet or savory breakfast, I usually lean towards the savory. Eggs with breakfast sausage are my favorite; I especially like them together in a breakfast sandwich.
Problem is, when I stop and read the ingredients and nutritional information on a package of Jimmy Dean or similar sausage, I find things that I know I shouldn't be putting in my body. Not only is pork sausage normally very high in fat, but the popular brands also contain corn syrup and MSG.
I wondered if I could figure out how to make a breakfast sausage from turkey that would taste good enough to satisfy my appetite for the naughtier version that I've eaten most of my life. With some trial-and-error, I played around with seasonings until I arrived at this recipe. Now I have turkey sausage patties in my freezer that I can thaw quickly in the microwave to eat with an egg any ol' time I'm having a hankerin' for eggs and sausage.
The first batch I made was pretty awful. I way over-seasoned it. I also realized that it needed a hint of sweetness in order to come closer to mimicking the store-bought sausage I was used to. I didn't want to add corn syrup, so I added some applesauce. That turned out to be just the touch of sweetness the sausage needed, and it also added some moisture--a big help since turkey tends to be drier than fattier pork.
I can't say that my turkey breakfast sausage tastes just like Jimmy Dean's; but, I think it's pretty darn delicious. I'm totally satisfied eating this healthier substitute that doesn't sacrifice a bit of flavor.
NUTRITIONAL INFO details are at the end of the post, just below the recipe. WEIGHT WATCHERS PointsPlus: 2 points per sausage patty
Making your own sausage is so easy. Here's how.
Step-by-step photos for making
Turkey Breakfast Sausage
Step 1. Assemble the ingredients: ground turkey, applesauce, salt, pepper, onion powder, garlic powder, coriander, sage, crushed red pepper, cayenne (optional--omit or reduce if you don't like it spicy)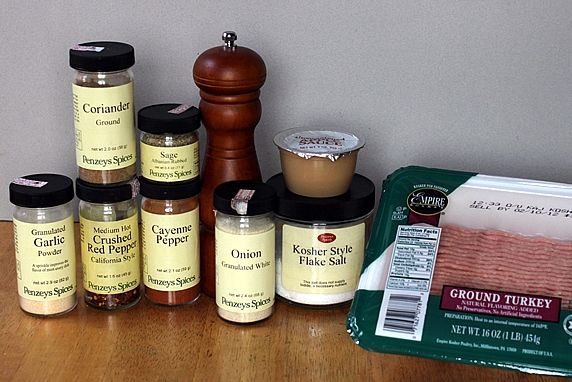 Step 2. Combine the applesauce with all of the seasoning in a large bowl. Stir it well to get all of those flavors well mixed--this way they will be more evenly distributed throughout the turkey.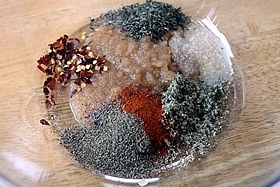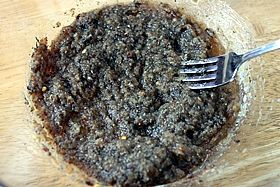 Step 3. Add the turkey and use a rubber spatula, wooden spoon, or your hands to mix it with the seasonings until well combined. Use a light touch so that the turkey doesn't get too packed together (that can result in hockey puck sausage patties).
Step 4. Form patties in whatever size you like. I use approx. 1/4 cup of the turkey mixture for each patty--a scoop is a quick and easy way to measure out equal portions. If the raw meat is sticking to your hands, dip your hands in water before forming the patties.
click here to view Scoop on Amazon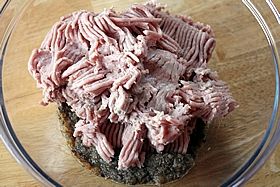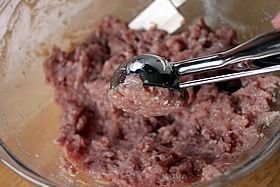 Step 5. Add a little canola or olive oil to a skillet and heat on medium-high heat. Place the patties in the hot skillet and cook them until they are browned on both sides and cooked through.
The apple sauce and turkey will release liquid. Keep the patties in the skillet while the liquid cooks down, caramelizes & browns. This adds great flavor to the sausage and helps it brown.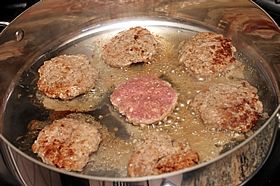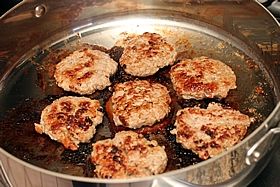 Step 6. Add a little water to the pan to loosen the browned bits. Let the liquid cook down again to add even more brownness and flavor to the sausage patties. Turn the patties as the liquid cooks down, so they get a browned coating. (This trick really helps both the appearance and taste of the turkey patties, since turkey normally doesn't brown as much as pork sausage.)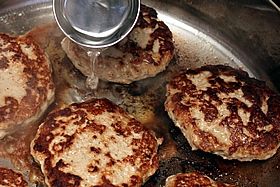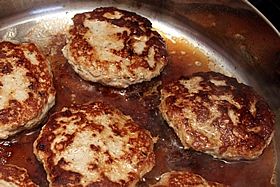 Step 7. The picture below speaks for itself--beautifully browned turkey sausage patties. They taste as good as they look!
Here's a nutritious, delicious high-protein breakfast sandwich: turkey sausage patty, egg, fresh spinach, on a 100% whole wheat English muffin.
That's what I call a yummy breakfast!
I make these regularly now that I have turkey sausage patties in my freezer.
To freeze the sausage: let the cooked patties cool, place them in a single layer on a baking sheet and freeze. Transfer frozen patties to a plastic bag. To thaw 1-2 patties, place them on a small plate and microwave at 50% power for 1 minute, turn them over and repeat for 30 seconds more, or until heated through.
Crumble it. This sausauge is also good cooked, crumbled and mixed into scrambled eggs, breakfast casseroles, and breakfast burritos.
Make it a Yummy day!
Monica
Try turkey sausage in this recipe for
Make-Ahead Healthy Egg McMuffin Copycats
Turkey Breakfast Sausage
By Monica Servings: 8-12 patties
1/4 cup unsweetened applesauce
1 teaspoon salt
1/2 teaspoon ground black pepper
1/4 teaspoon cayenne pepper (omit or reduce for less spicy sausage)
1/4 teaspoon rubbed sage
1/4 teaspoon crushed red pepper flakes
1/4 teaspoon coriander
1/8 teaspoon garlic powder
1/8 teaspoon onion powder
1 pound ground turkey
2 teaspoons canola or olive oil
In large bowl, mix applesauce, salt, pepper, cayenne, sage, red pepper flakes, coriander, garlic powder, and onion powder. Add ground turkey; using a light touch, mix until well combined. Use approx. 1/4 cup mixture to form each patty. (Use more to form larger patties if you want them to be the size of an English muffin.) Heat canola oil in skillet over medium-high heat. Add turkey patties; when browned, flip over and brown other side. Leaving patties in skillet, let juices that are released cook down and brown in pan. Add 2-3 tablespoons water to skillet to dissolve brown bits; as browned liquid cooks down, flip patties so they are coated in the brown liquid as they continue to cook. Remove and eat right away or freeze.

TO FREEZE the cooked patties: let cool, place it in a single layer on a baking sheet and freeze. Transfer frozen patties to plastic bag. To thaw 1-2 patties, place on small plate & microwave at 50% power for 1 minute, flip patties and repeat for 30 seconds more, or until heated through.

NUTRITIONAL INFO for 1 sausage patty (12 patties per batch): 67 calories, 3.7g fat, .9g sat fat, 216mg sodium, 1g carbs, .5g sugars, .2g fiber, 7.5g protein
WEIGHT WATCHERS SmartPoints: 2 points per sausage patty
2 Weight Watchers SmartPoints per patty.