Hello all! As you probably haven't noticed from the different byline at the top this post, I am not, in fact Monica. I am not, as it turns out, even an "I," but am instead a "we" -- Monica's son and daughter-in-law Bracken and Rachel. As big fans of The Yummy Life (and Mom), we've been itching for the opportunity to put up a guest post, and the day has finally come. The photos aren't nearly as nice as what you're used to, but other than that, we hope you enjoy.
We recently had a Superbowl party (as you might imagine), which featured the usual diet-busting grub that we all love, including chili, chicken wings, and a series of dips such as hummus, buffalo chicken, and guacamole.

However, we were surprised to find that one dip actually got the most discussion – our spinach basil dip (taken from a Cooking Light recipe), served with our baked pita chips. Guests would taste the dip and try to guess the ingredients, and they would scoff when we told them the dip was healthy, insisting the dip was too creamy and delicious for that to be true. Similarly, the chips are as easy as could be to make and are crisp and delicious despite being baked with just a touch of olive oil and salt.

This dip and chips are easy and can be made up to 1 day ahead, making this a go-to for our entertaining needs.

Step-by-step photos for making Spinach-Basil Dip and Baked Pita Chips
If you just want the recipes, check them out here:
Spinach-Basil Dip Recipe Baked Pita Chips Recipe
Step 1. Assemble the ingredients. For the dip: olive oil, garlic, a bag of fresh spinach, fresh basil, lower-fat cream cheese (softened at room temp), plain yogurt, Parmesan cheese, salt, and pepper. For the pita chips: fresh 10-12" pita, olive oil, salt, and pepper.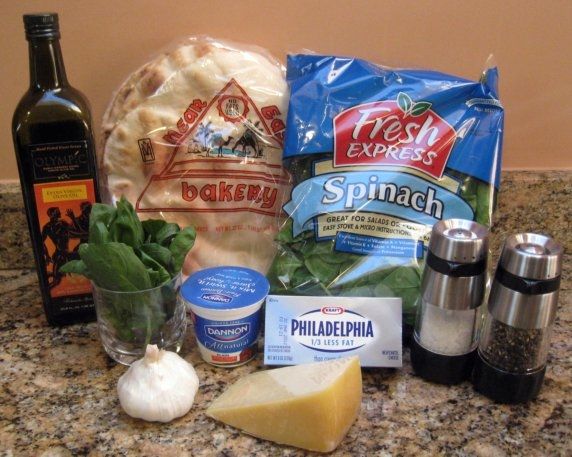 Step 2. For the dip, heat the olive oil in a large skillet over medium-high heat. Add the chopped garlic to soften, then add the whole bag of spinach and the salt. It might overflow the skillet to start, but will cook down after a few minutes.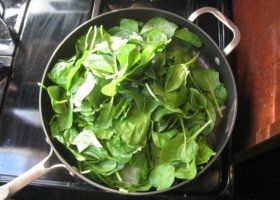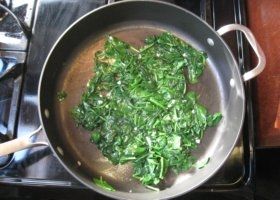 Step 3. Transfer the cooked spinach to a colander and press out any excess moisture. Add the spinach to a food processor or blender. We tend to use our blender because it's more accessible, but the processor is an easier option if you have one. Add the basil, softened cream cheese, and pepper to the spinach and blend/process until smooth. You may need to scrape down the sides a few times to get everything incorporated.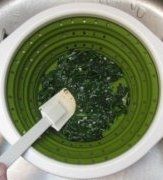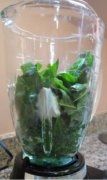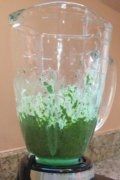 Step 4. Transfer the mixture to a bowl and mix in the yogurt and grated Parmesean. Chill in the fridge for at least 30 minutes and up to a day. We like to serve it with chopped veggies and our baked pita chips (read on for the recipe). Yummy stuff.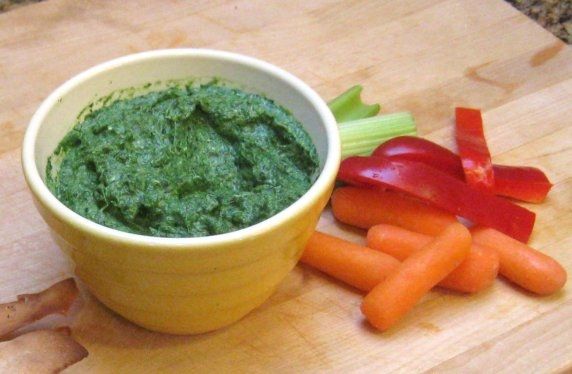 For the chips. Slice the pita through the center to form 8-12 triangular wedges, depending on the size of your pita. A pizza cutter works great for this. For each wedge, tear the front and back halves apart, leaving 16-24 wedges per pita.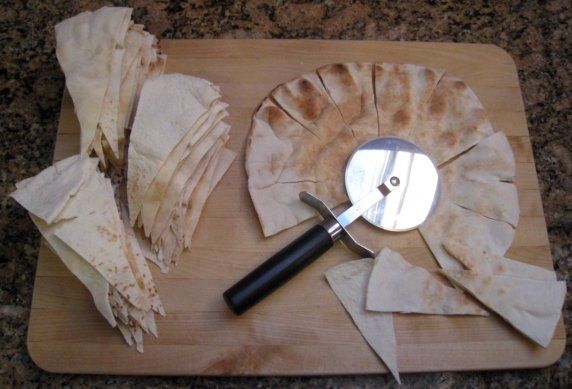 Working in batches, toss 20-25 of the wedges at a time with 1/2 Tbs of olive oil and a few grinds of salt and pepper. You can adjust the amount of seasoning to your preference. Arrange the coated wedges on a baking sheet with as little overlap as possible. Bake at 450°F for 5 minutes, then flip the chips and return to the oven for two more minutes. When they're done, the chips should be a nice golden brown and very crisp.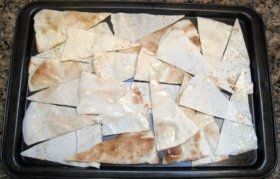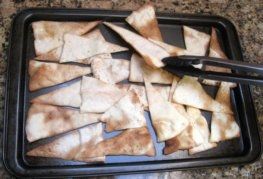 These pita chips go great with just about any dip we've tried: this spinach-basil dip, hummus, onion dip, and even guacamole. All in all, these chips and dip make a yummy, easy snack or appetizer that's healthier than your standard options. Enjoy, and thanks, Mom, for letting us do this guest post!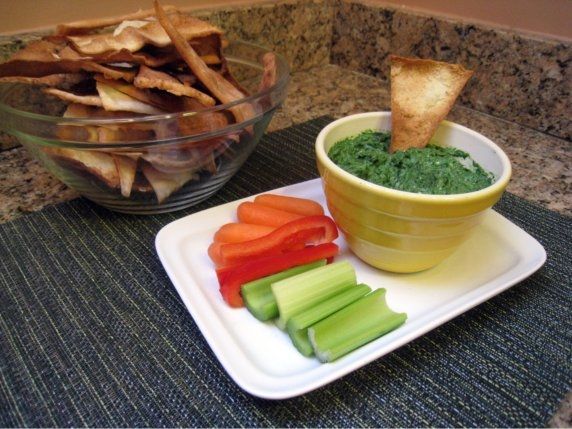 Spinach-Basil Dip
By Monica Servings: serves 8-10 as a dip
1 tsp olive oil
3 cloves garlic (chopped)
1/4 tsp salt
10 oz fresh spinach
1/2 cup fresh basil (12-15 leaves)
3 oz block cream cheese (1/3-less fat)
1/8 tsp pepper
1/3 cup plain, fat-free yogurt
1/4 cup grated Parmesan
Take the cream cheese out of the fridge to soften. Heat olive oil in a 12" skillet over medium-high. Cook the garlic until softened, then add the spinach and salt. Continue cooking until spinach wilts, about 3 minutes. Drain in a colander, pressing to remove excess moisture.

Add spinach, basil, cream cheese, and pepper to a food processor or blender and blend until smooth, wiping down sides of container as necessary. Transfer to a bowl, stir in yogurt and Parmesan, and chill for at least 30 minutes.

Serve with pita chips, veggies, or other dippables.

Recipe by Bracken and Rachel