This salad is as easy as it gets!
I use the convenience of a bag of pre-shredded broccoli & carrots so it can be assembled in under 5 minutes, put in the fridge, and ready to serve an hour later. It's a great side with sandwiches, pulled pork, burgers & grilled meats.
If you haven't tried these bags of pre-shredded broccoli before, you may be surprised that it tastes much like regular cabbage slaw. There is not a distinctive broccoli taste at all. So if you or people you're feeding don't like broccoli normally, you may like this. Give it a try.
This salad is CRAZY good for you!
Broccoli is a super food. Ounce for ounce it has more Vitamin C than orange juice, more calcium than milk, and more fiber than whole wheat bread. It has Vitamins B1 (Thiamin), B2 (Riboflavin), B3 (Niacin), B5 (Pantothenic acid), B6, B9 (Folate), Vitamin C and A. And, it has these minerals:calcium, iron, magnesium, phosphorus, potassium, and zinc. (source)
Carrots are high in beta carotene, antioxidants, and fiber. They enhance vision, fight inflammation in the body, and help regulate blood circulation. Carrots have thiamine, niacin, vitamin B6, folate and manganese, vitamin A, vitamin C, vitamin K and potassium. (source)
Sunflower Seeds are loaded with vitamin E which is anti-inflammatory, reducing symptoms of asthma & arthritis. It also reduces the risk of colon cancer. These mighty seeds are also high in phytosterols that are believed to lower cholesterol, boost the immune system, and reduce the risk of some cancers. Plus sunflower seeds are high in magnesium which helps reduce the severity of asthma, lower high blood pressure, and prevent migraine headaches, as well as reducing the risk of heart attack and stroke. Magnesium is also necessary for healthy bones and energy production. (source)
Nutritional Information for a 3/4 cup serving:
103 calories; 6.5g fat; 9.4g carbs; 2.9g fiber; 4g protein.
Weight Watchers PointsPlus: 3 points
Here's how to make this easy, nutritious salad:
Assemble these 3 ingredients:
a bag of pre-shredded broccoli slaw (This has no additives and is nothing but shredded broccoli and carrots. It's widely available in the produce section of grocery stores.)
dry roasted & salted sunflower seed kernels
raspberry poppyseed dressing (or regular poppyseed dressing)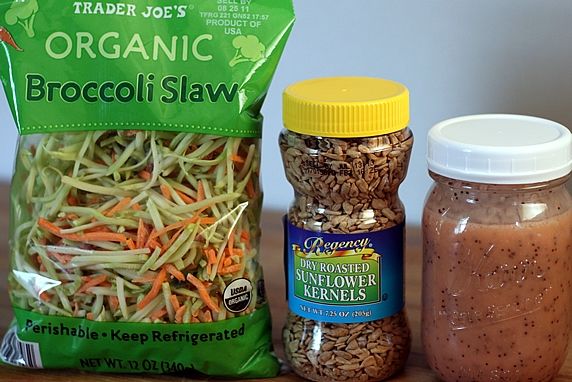 You can purchase bottled poppyseed dressing, but it's easy to make your own. Here's my recipe:
Click to view Raspberry Poppy Seed Salad Dressing recipe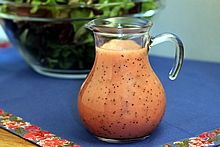 All you do is toss the broccoli slaw with the dressing & refrigerate it for at least 1 hour (up to 24 hours). Wait to toss in the sunflower seeds until right before you serve it--they stay crunchier that way. That's it. Done!
The flavor and texture combination is great--cold/crisp slaw, tart/sweet dressing, nutty/crunchy sunflower seeds. Yum!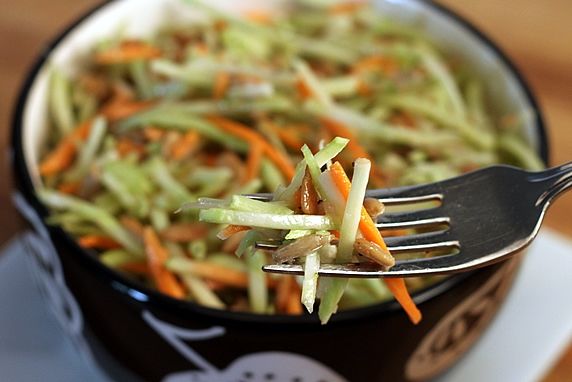 I recently served this with pulled pork sandwiches--it's a great combo. Here's that recipe, in case you'd like to try it:
Click to view Slow Cooker Pulled Pork recipe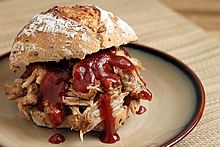 This broccoli slaw is healthy and yummy -- a winning combination.
Make it a Yummy day!
Monica
Broccoli Sunflower Seed Slaw with Poppy Seed Dressing
By Monica Servings: 6 servings
5 cups (12 oz.) pre-shredded broccoli slaw with carrots*
1/2 cup prepared or homemade raspberry poppy seed salad dressing, or plain poppy seed dressing (for recipe, go to www.TheYummyLife.com/recipes/145)
1/2 cup dry roasted, salted sunflower seed kernels
salt to taste
In large bowl, toss together broccoli slaw and dressing. Chill in fridge for at least 1 hour and up to 24 hours. Add sunflower seeds and toss just before serving. Add salt to taste.

NUTRITIONAL INFORMATION per 3/4 cup serving:
103 calories; 6.5g fat; 9.4g carbs; 2.9g fiber; 4g protein.
Weight Watchers PointsPlus: 3 points

To adjust the recipe for any quantity, combine ingredients using this formula:
--1 cup broccoli slaw
--1-1/2 to 2 tablespoons poppy seed dressing
--1-1/2 to 2 tablespoons sunflower seed kernels

*bags of pre-shredded broccoli slaw (with carrots) can be found in the produce section of most grocery stores.
Want more ideas for fast, easy salads? Check out this cookbook of 100 recipes for healthy salads using pre-packaged greens. It doesn't get easier than this! Eating green and healthy doesn't need to mean tons of prep time and complicated ingredients.
Simple Salads Cookbook