No question that the meat I use most often in recipes is chicken breasts in some shape or form. For chicken salad, soups, casseroles, tacos, enchiladas and more, the recipes more often than not call for cooked chopped or shredded chicken. I like to make up a bunch at one time and freeze it. That makes it so quick and easy to throw together numerous future meals. It saves money, too, since chicken is cheaper when purchased in larger quantities.
I'm sharing today what I have found to be the best way to prepare chopped and shredded chicken that retains moisture, tenderness and flavor. With other methods, the chicken often turns out dry, tough, and flavorless--especially after it's chopped and shredded.
First, the chicken needs to get cooked somehow. If I'm going to be serving whole boneless chicken breasts, I prep them using the technique described in my post Preparing Raw Chicken for Perfection. From there, I grill, saute, or bake it, depending on the recipe.
For chopped or shredded chicken, I've tried a number of ways of pre-cooking it. The easiest option is to buy a rotisserie chicken and chop or shred the meat. It is both flavorful and moist. Problem is, these chickens are often loaded with sodium and other flavor enhancers. We've cut way back on salt and mystery ingredients in our kitchen, so I've stopped buying rotisserie chickens for the most part. I've also tried poaching chicken in broth to cook it before shredding or chopping it. The chicken seems to be pretty flavorless that way. To me, anyway.
Then I saw Ina Garten of Barefoot Contessa on the Food Network cooking chicken before chopping it for a chicken salad sandwich recipe. She is one of my favorite celebrity chefs, because she uses simple ingredients and techniques with consistently delicious results. Her recipes never fail. Ina Garten used a simple technique of roasting her chicken that I have since adopted. It results in the most flavorful, moist chopped or shredded chicken that I've ever tasted or cooked. And, it's easy, easy, easy. So, with a nod to Ina, here's what I do.
Start with bone-IN, skin-ON chicken breasts. Three reasons: (1) the chicken costs less than the skinless, boneless kind; (2) the chicken absorbs a deeper flavor from the bone and skin as it cooks; and (3) the chicken remains more moist as it cooks. There is a trace amount of fat from the skin that gets absorbed into the meat, but it is such a small amount and contributes enough flavor and moisture to make it worth it.
Step 1. These are all the ingredients you need: chicken breasts, good olive oil, kosher salt, freshly ground pepper.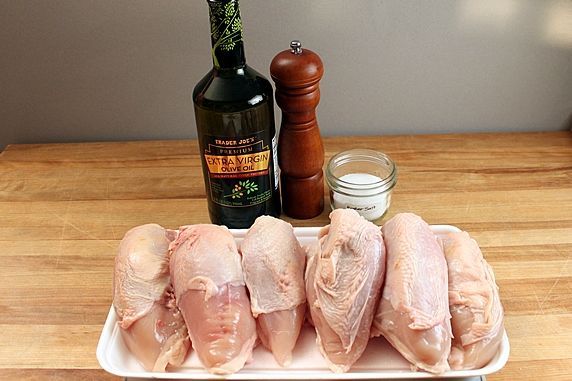 Step 2. Place the chicken breasts, skin side up, on a rimmed baking sheet and drizzle them with olive oil.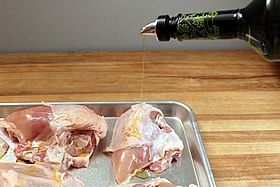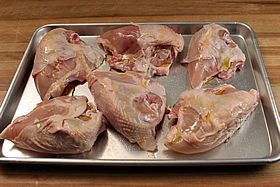 Step 3. Generously sprinkle with salt and pepper. Use your hands to rub each chicken breast, top and bottom, to distribute the oil and seasonings.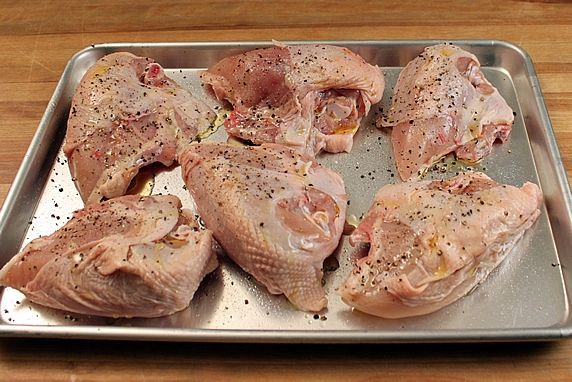 Step 4. Bake at 350 degrees for approx. 35-45 minutes. This roasting process is part of what gives the chicken such good flavor.
Step 5. Use an instant read thermometer to test when they're done. The thickest part of the breast should reach 165 degrees. Don't overcook them!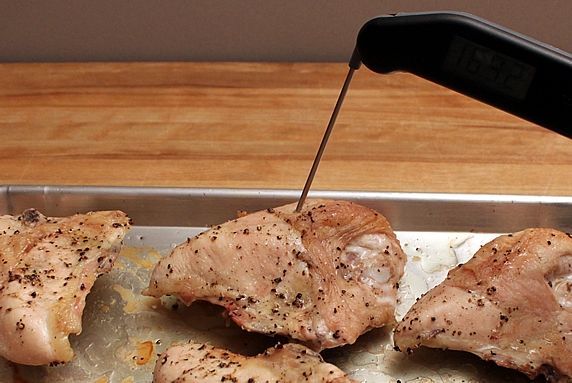 Step 6. Let them rest for 30 minutes. As they cool, the juices settle into the meat and keep it moist.
Step 7. Remove and discard the skin and bones. This is when you will see for yourself how moist the chicken is. Better steal a taste to test the flavor, too. Yum.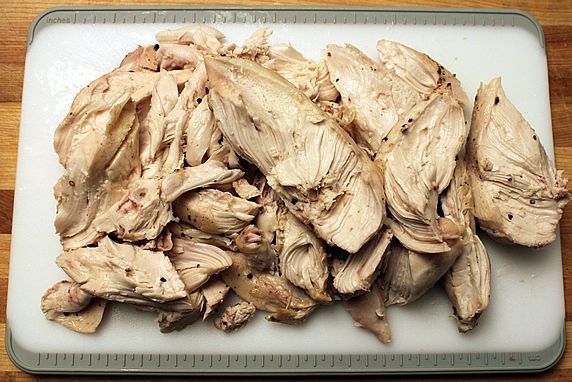 Step 8. Chop or shred the chicken, according to how you'll need it for future recipes. I usually do a combination. I like chopped chicken (1/2" to 3/4" pieces) for chicken salad, and shredded chicken for most other recipes (soup, casseroles, tacos, enchiladas, pulled chicken sandwiches).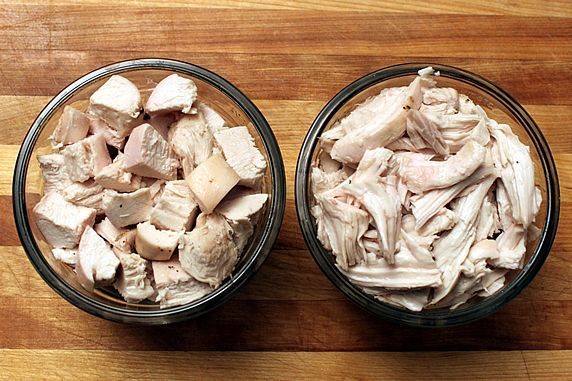 Wasn't that easy? And the best part is that this chicken is so moist and flavorful. Let's face it, chicken breasts can be pretty dry and bland. I'm still amazed when I make it this way just how much better it is than any method I've tried in the past.
HOW TO FREEZE THE CHICKEN:
If you won't be using all of the chicken right away, freeze it in Ziploc bags.
Label your bags. Include the quantity in each bag--this makes it easy to pull out what you need for a future recipe. I usually freeze mine in 1 or 2 cup quantities in pint or quart size ziplocs.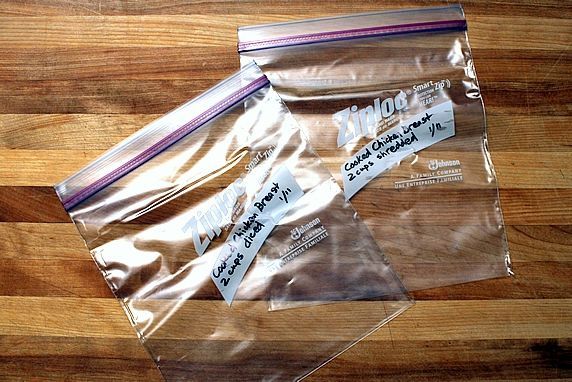 Fill the bags. I use one of these handy Baggy Racks to hold the bags open while I fill them.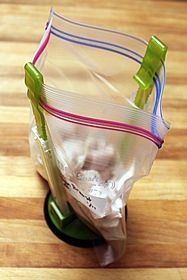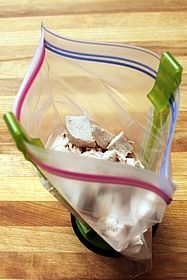 Squeeze as much air as possible from bags, seal, and flatten the contents to make a thin, even layer of chicken throughout the bag. (This facilitates even thawing and reheating of chicken.) Freeze flat until frozen solid. Then the bags may be easily stacked or stored upright in freezer.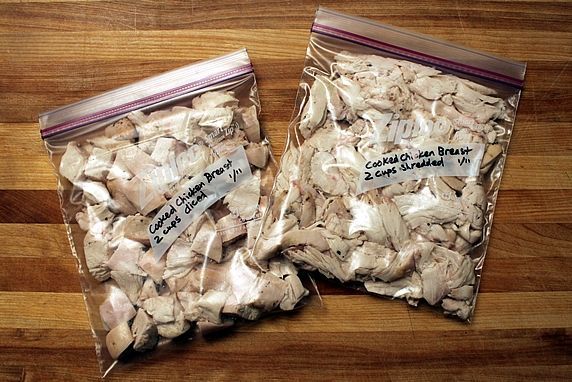 How much chopped or shredded chicken can you get from a chicken breast? It's hard to answer that, because the size of chicken breasts can vary so much. It's more accurate to use weight as a guideline. For the 5 pounds of bone-in chicken breasts that I cooked in these photos, I ended up with 8 cups of chopped and shredded chicken. So, that's a little more than 1-1/2 cups per pound of chicken.
If you use chopped and shredded chicken in recipes as much as I do, I hope you'll give this technique a try. It's so easy, and results in truly delicious chicken.
What's your favorite recipe that uses chopped or shredded chicken?
Make it a yummy day!
Chopped & Shredded Roasted Chicken - for use in other recipes
By Monica Servings: Makes 8 cups
5 pounds bone-in, skin-on chicken breasts
Olive Oil
Kosher salt
Freshly ground pepper
Preheat oven to 350 degrees. Arrange chicken pieces on rimmed baking sheet with the skin side up. Drizzle with olive oil and sprinkle generously with salt and pepper on both the front and back of each piece. Rub each piece all over to ensure that the oil, salt and pepper are well distributed. Bake for 35 to 45 minutes, until internal temperature at thickest part of chicken is 165 degrees. Let rest and cool for 30 minutes to allow juices to settle. Remove and discard the skin and bones. Chop or shred chicken as desired.
To Freeze: measure chicken in 1-2 cup quantities into pint or quart size freezer bags. Squeeze as much air as possible from bags, seal, and flatten the contents to make a thin, even layer of chicken throughout the bag. (This facilitates even thawing and reheating of chicken.) Freeze flat until frozen solid. Then bags may be stacked or stored upright in freezer.