The first time I made these little slider-sized sandwiches was for a trivia night we were attending. Have you been to trivia nights? This one was a fundraiser for a local VA hospital where my friend Becky works. I was part of a table of friends, competing against lots of other tables to see who would win collectively with the best score on a variety of trivia questions. It's kind of like playing Trivial Pursuit with a gymnasium full of people. I pretty much stink at trivia, King-Man is good at the science and history questions. It's a fun evening out with friends, even if I can't recall the altitude of some mountain peak at some obscure location across the world.
Everyone at the table was supposed to bring food to share for snacking throughout the evening. My assignment was to bring something a bit more substantial so that we didn't just end up with bags of chips and cookies at our table. There is, by the way, an unofficial competition between tables to see who brings the best food. Our table was definitely in the running for that. Our food rocked. Our trivia answers? Not so much.
So, I first created these little sandwiches for Trivia Night at the VA. They were a hit. Not only are they tasty, but they also hold up well. I made them several hours in advance and kept them cold until it was time to eat. So, I can recommend them as a good make-ahead food. In fact, King-Man has even taken leftovers to the office the next day, and they were still good then. I often take these along to pot-luck type parties and picnics. They can pass as either an appetizer or a main course.
This recipe has pesto as a main ingredient. If you want to whip some up, check out my post about How to Make and Freeze Pesto. Or, you can use store bought pesto. If there's a Trader Joe's near you, they have a good ready-made pesto in their refrigerated deli section.
Here are the step-by-step photos for Pesto Chicken Slider Sandwiches.

Assemble the ingredients: cooked shredded chicken breast, small dinner rolls, pesto, pine nuts, cheese, fresh baby spinach leaves, salt, and pepper.
view on Amazon: 8-cup Pyrex measuring bowl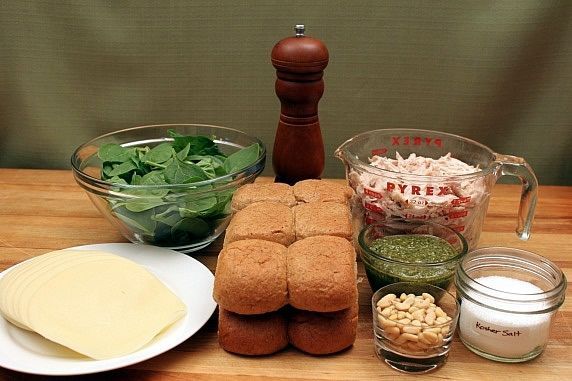 First the chicken mixture. (You can cook and shred your own chicken, or buy a pre-cooked rotisserie chicken.) Here's my recipe:
View Chopped & Shredded Roasted Chicken Recipe
Put the chicken in a large bowl. Add the pesto, salt, and pepper.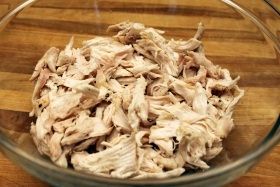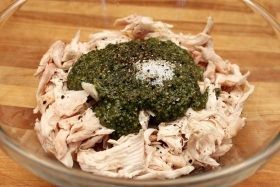 Mix that up and then add the pine nuts and fold them in.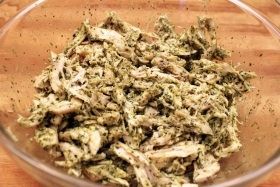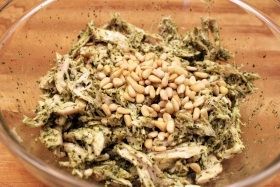 The mixture looks like this. You may want to taste it to see if it needs more salt, but this is usually enough for me.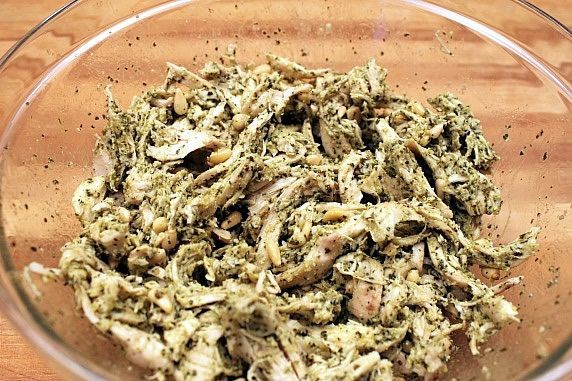 Next split the buns and open them up. Put a spinach leaf or two on the bottom of the bun--make sure you cover the surface of the bun with the spinach. This seals the bun from the filling and keeps it from getting soggy.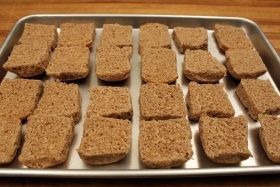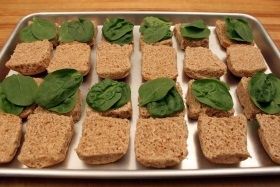 Now add a generous heap of chicken pesto mixture on top of the spinach.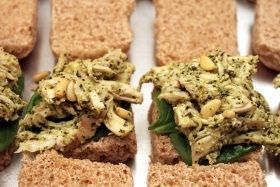 Add a slice of provolone or mozzarella cheese on top of the chicken mixture. Put the bun lid on top. The cheese works like the spinach to keep the top bun from getting soggy.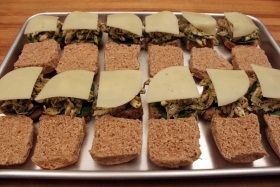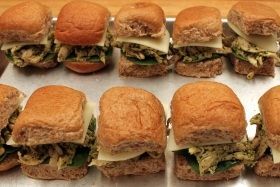 I like to stick a toothpick in each sandwich to hold it together, especially if I will be taking them somewhere.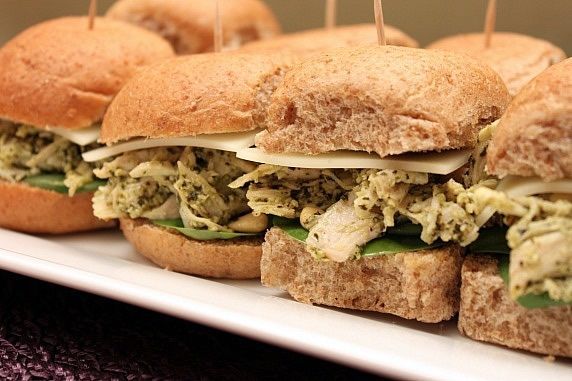 Dig in and enjoy!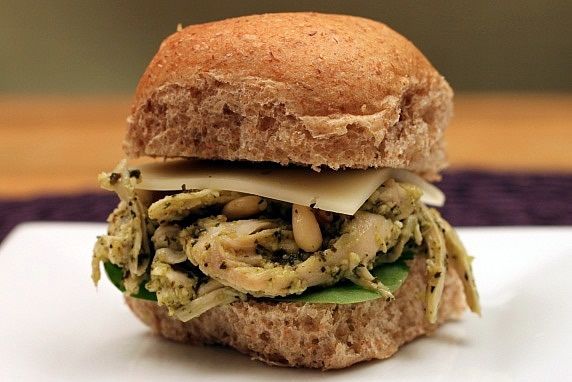 If you have any of the pesto chicken filling leftover, it freezes well.
Variations:
Full-sized sandwiches--simply put the filling on bigger buns.
Large sub sandwich--split a large baquette or loaf of bread through the middle, fill it with the same mixture, and cut the loaf into individual sized sandwiches.
Hot sandwiches--The filling is also good hot and makes a delicious panini or grilled sandwich.
Cold chicken salad--the filling is delicious served over sliced tomatoes and/or greens.
Now you're ready for your next potluck, picnic...or trivia night.
Make it a yummy day!
You may be interested in these related posts:
Pesto Chicken Slider Sandwiches
By Monica Servings: Makes 20 sliders
4 chicken breasts, cooked and shredded (need approx. 4 cups)
1 cup pesto
1/2 teaspoon salt
1/4 teaspoon pepper
1/4 c. toasted pine nuts
18-20 small dinner rolls or croissants
provolone or mozzarella cheese, sliced
baby spinach leaves
Mix shredded chicken with pesto, salt and pepper. Stir in pine nuts. Slice open each roll and assemble sandwiches in this order: spinach on bottom, chicken mixture in the middle, sliced cheese on top. (If you make these ahead, keeping the chicken mixture between the cheese and spinach leaves will keep the bread from getting soggy.) May be made ahead, wrapped in plastic, and refrigerated for several hours before serving. The pesto chicken filling freezes well, if you have leftovers.
Variations: These can also be made as full-sized sandwiches on bigger buns. Or, split a large baquette or loaf of bread horizontally through the middle, fill it with this same mixture, and cut the loaf into individual sized sandwiches. The filling is also good hot and makes a delicious panini or grilled sandwich. It makes a good cold chicken salad on top of sliced tomatoes and/or a bed of greens.