This is the easiest way I know of to make a tasty, healthy rice side-dish. You can serve it plain, or add some veggies and meat to make it a one-dish meal.
You'll need some pesto. This is something you can buy ready-made at the store, but it's easy to make your own. I make several batches at a time and freeze it in ice cube trays, so it's always on hand to quickly add flavor to a variety of dishes (this rice pilaf, scrambled eggs, pasta, and more). Here's my easy pesto recipe:
Click for instructions and recipe for Classic Basil Pesto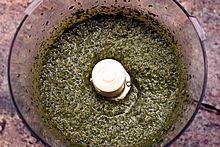 Step-by-step photos for making


Pesto Brown Rice Pilaf
Step 1. Assemble the ingredients: chicken broth (or vegetable broth for a vegetarian version), brown rice, pesto, pine nuts
view on Amazon: organic basmati brown rice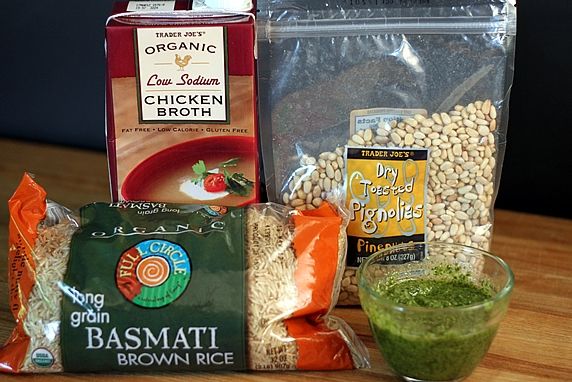 Step 2. Cook the brown rice according to the package directions, except substitute an equal amount of chicken broth for the water when you cook the rice. (Use vegetable broth for a vegetarian version.) You can make the rice in water, but I recommend broth because it adds flavor.
RICE COOKING TIP: We eat a lot of brown rice and I make it in a rice cooker. This is the easiest way to get perfectly cooked rice every time. I make a big batch and freeze the cooked rice in Ziploc bags. I always substitute an equal amount of chicken broth for the amount of water that is suggested for cooking the rice. Brown rice freezes really well, defrosts quickly in the microwave, and is great to have on hand for a healthy side-dish or to add to soups.
Step 3. Add the cooked rice, pesto, and pine nuts to a bowl. Mix it all together.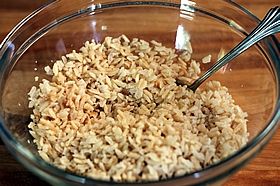 Done. Ready to serve. How easy was that?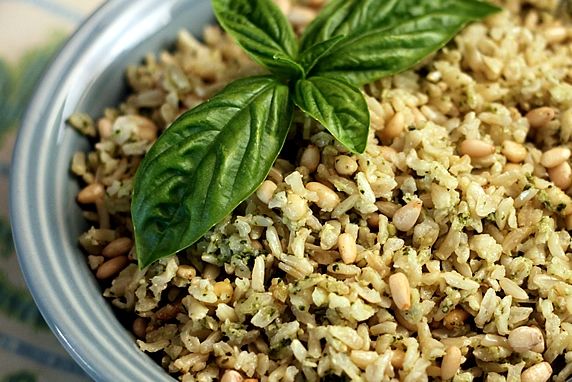 The seasonings in the pesto are all you need to make the rice taste fantastic. The pine nuts add some texture and crunch.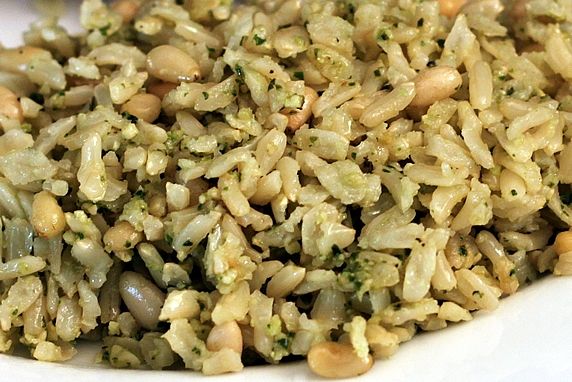 I serve this rice with the recipe from my previous post for Grilled Chicken with Raspberry Rosemary Marinade--a great combo.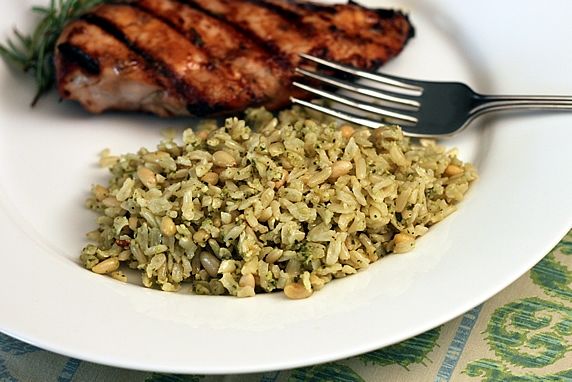 Vary the quantity.
Make whatever quantity of rice you want. Adapt the recipe with this easy formula:
For each cup of rice, add 2 tablespoons of pesto, add 2 tablespoons pine nuts.
Eat this pilaf as a side dish, or try some of these additions to make it a meal:
grilled or sauteed chopped or sliced vegetables (such as mushrooms, red bell peppers, onions, zucchini, peas, carrots)
grilled or sauteed sliced or chopped chicken
grilled or sauteed shrimp
a dash or two of cayenne pepper or red pepper flakes, to spice it up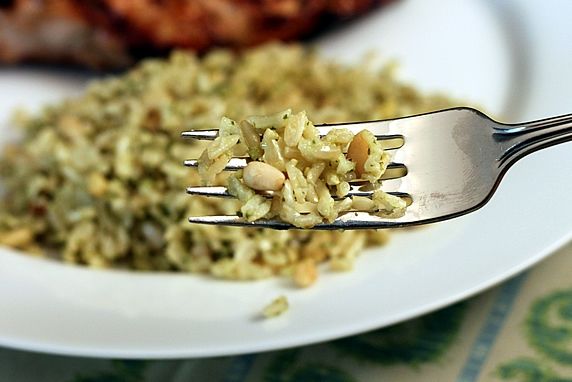 Make it a Yummy day!
Monica
Pesto Brown Rice Pilaf
By Monica Servings: 6 servings
4 cups cooked brown rice (cooked in chicken or vegetable broth in place of water, if desired)
1/2 cup pesto (purchase prepared pesto; or, to make your own go to www.theyummylife.com/recipes/7)
1/2 cup pine nuts, toasted
salt to taste
Cook brown rice according to package directions. For added flavor, substitute an equal amount of chicken broth for the amount of water normally used to cook the rice (or use vegetable broth for vegetarian version).

In a bowl, stir together rice, pesto and pine nuts. Add salt to taste. Serve.

Adjust the quantity to whatever amount of pilaf you want to make using this easy formula:
For each cup of cooked rice, add 2 tablespoons of pesto, add 2 tablespoons pine nuts.

Other addition suggestions:
--grilled or sauteed chopped or sliced vegetables (such as mushrooms, red bell peppers, onions, zucchini, peas, carrots)
--grilled or sauteed sliced or chopped chicken
--grilled or sauteed shrimp
--a dash or two of cayenne pepper or red pepper flakes, to spice it up
Here are more delicious uses for pesto: