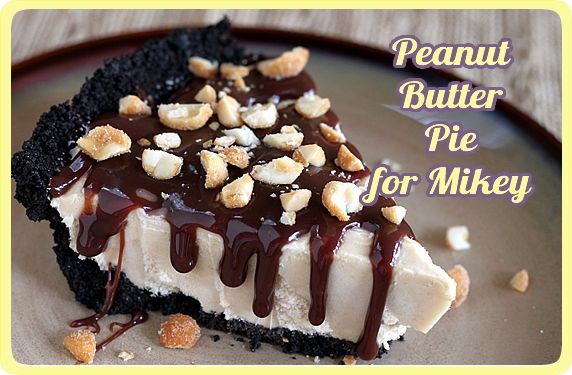 Today's post is in honor and celebration of Mikey. He loved Peanut Butter Pie. This is one of many pies being made around the world. For Mikey.
I didn't know Mikey or his wife, Jennie. But, I've been so moved by their story that it feels like I've known them. You see Jennie is a food blogger (In Jennie's Kitchen). Her husband, Mikey, recently died suddenly and without warning. Jennie bravely shared the sad news on her blog and posted a sweet video of "One Last Dance" of Mikey with one of their daughters. I love the photo of Jennie and Mikey together.
Jennie invited us all to make a peanut butter pie to share with someone we love in honor of Mikey, because peanut butter pie was Mikey's favorite. A fitting tribute.
The blogosphere has been flooded with recipes for Peanut Butter Pie for Mikey. A touching video was made by Tod and Diane. Countless pies have been baked. The Food Network posted a tribute and round-up of recipes. If you Google "Peanut Butter Pie for Mikey" you'll see pages and pages and pages of posts. For those who say the internet is impersonal and hinders meaningful communication, you will find much evidence to the contrary. Bloggers, and food bloggers & their readers in particular, are a caring, sharing, supportive group. It took my breath away to read post after post celebrating Mikey with a peanut butter pie.
So, I made this Peanut Butter Pie. Maybe you'd like to make one, too. Think of Mikey.
About the recipe. I combined a chocolate cookie crust from Martha Stewart with a filling from the Neelys and topped it with my Velvet Hot Fudge Sauce. It's an easy, rich, frozen dessert. For Mikey.
Here's what the pie looked like when I took it out of the freezer. It can be topped with a layer or dollops of whipped cream. You can add some chocolate shavings or cut up Reese's Peanut Butter Cups.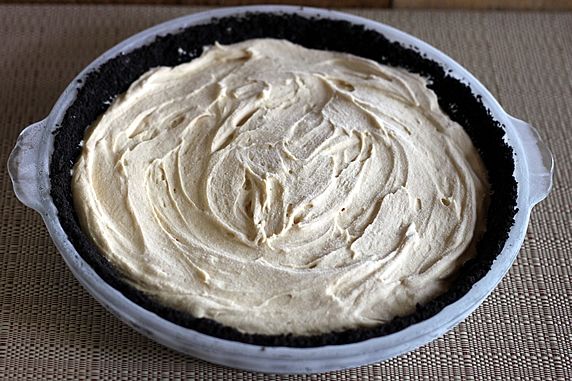 I topped mine with hot fudge sauce and chopped honey roasted peanuts.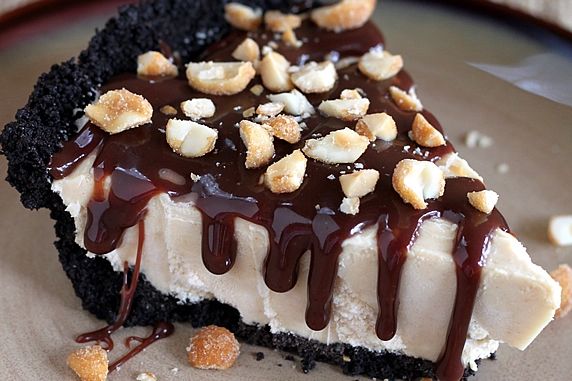 The combination of frozen peanutty cream, gooey hot fudge sauce, and the crunch of sweet & salty nuts are pretty tasty. Pies are normally cut into 8 pieces, but this is rich enough to cut 12 or more pieces from one pie.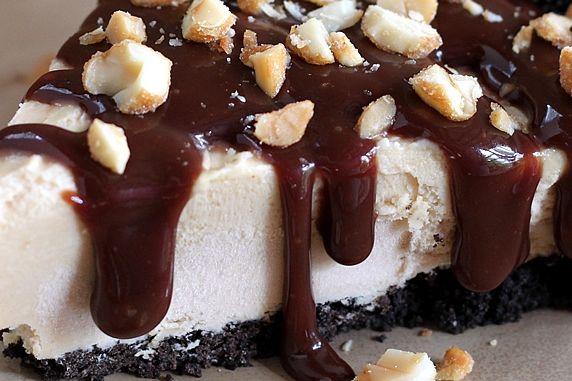 "TO MIKEY."
I shared my peanut butter pie with some friends I love who were visiting me while King-Man was away. We raised our forks with our first bites of pie and said, "To Mikey." I know that every time I make this pie in the future, I will think of Mikey. It turns out that Jennie's simple request will keep Mikey's memory alive for all of us with each peanut butter pie we make. Always.
To Jennie and her girls, I extend my deepest sympathy. Your loss has reminded us all of what matters most. Let's give an extra hug to those we love and savor each precious day with them. And, as always,
Make it a yummy day.
Frozen Peanut Butter Pie with Hot Fudge Sauce
By Monica Servings: 8-12 servings
CRUST:
1-3/4 cups chocolate wafer crumbs (from about 36 cookies)
6 tablespoons unsalted butter, melted
3 tablespoons packed dark-brown sugar
pinch of salt
FILLING:
8 ounces cream cheese, room temperature
3/4 cup powdered sugar, plus 2 tablespoons, divided
3/4 cup creamy peanut butter, room temperature
1 cup heavy whipping cream
1 teaspoon vanilla
TOPPING:
hot fudge sauce (for recipe to make your own, go to: http://www.theyummylife.com/recipes/97)
honey-roasted peanuts, chopped
additional whipped cream (optional garnish)
CRUST: Preheat oven to 350 degrees. In medium bowl, combine cookie crumbs, butter, brown sugar, and salt. Press into bottom and up sides of 9-inch pie plate. Bake 8-10 minutes, until set. Cool completely before adding filling.

FILLING: In large bowl, combine cream cheese, 3/4 cup powdered sugar, and peanut butter; beat with electric mixer until light and fluffy, approx. 3 minutes. In separate chilled bowl, beat cream with electric mixer until it thickens. Add 2 tablespoons powdered sugar and vanilla; continuing beating until stiff peaks form. Gently fold approx. 1/3 of whipped cream into peanut butter mixture just until completely combined. Add remaining whipped cream and gently fold in until completely combined. Pour into pie shell and freeze for at least 4 hours.

TO SERVE: Remove pie from freezer and let sit at room temperature for a few minutes until it softens enough to cut into wedges. Place wedges on dessert plates. Drizzle with hot fudge sauce, sprinkle with chopped peanuts. Add a dollop of whipped cream, if desired.