It might seem strange to talk about laundry in this blog. After all this is supposed to be about The Yummy Life. What in the world could be yummy about laundry? Personally, I've always hated doing laundry. But, it's a necessary chore that everyone has to deal with. A year ago my laundry life changed in a way that made my life considerably yummier.
First, some background. King-Man and I have always lived in old houses. Our current 2 story home was built in the 1920s. We love the charm and character of old houses with high ceilings, wood floors, and beautiful woodwork inside and big trees outside. We don't like the lack of closet space, small kitchens, and laundry areas that are in the basement. In our last 3 homes, the washer and dryer were as far as they could possibly be from the bedrooms where the dirty laundry originates. That has meant hauling the dirty laundry down 2 flights of stairs (except for 1 house that had a laundry chute), and then hauling the clean laundry back up those stairs.
I'd been hearing about the trend of having laundry rooms on the same floor with the bedrooms. Honestly, that's so obvious that I don't know why houses were ever designed any other way. As envious as I was of people who had homes with convenient laundry areas, we just didn't think we had the space to add one to our 2nd floor. We didn't want to sacrafice a bedroom. But, with the increasing popularity and availability of front-loading, stackable washers and dryers in recent years, it occurred to me that maybe we could find a place for a small laundry closet on our second floor. These stackable appliances have a small enough footprint that they really don't require a great deal of floor space.
We figured out a way to add a small closet in our hallway that was pretty much dead space any way. By taking a couple of feet out of two adjacent bedrooms, we had a laundry closet installed that didn't take a big enough bite out of either room to be missed at all. The result has been one of the yummiest home improvements we've ever made. It's not as pretty or exciting as, say, redecorating a living room; but it's yummy just the same. Truth is, doing laundry is something we have to do almost every day. Making that unpleasant chore easier and more efficient leaves more time for the yummier things in life.
So, here's how we transformed our hallway into a laundry and ironing center.
Here is our 2nd floor hallway before the laundry center improvements: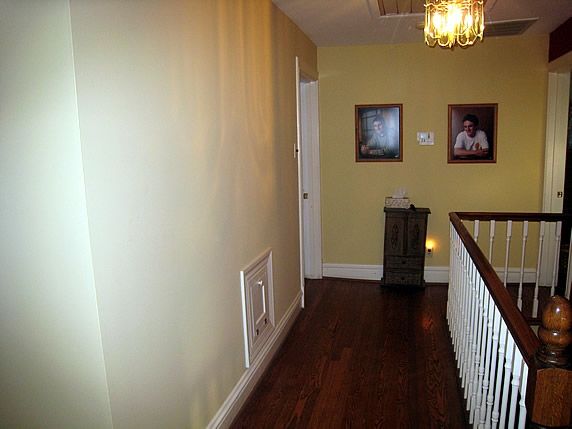 This is that hallway after a laundry closet and ironing center were added. You can see on the wall along the left side of the hallway, there are double doors added--the washer and dryer are behind those doors. There's another door added a little further down--that hides a pull down ironing board.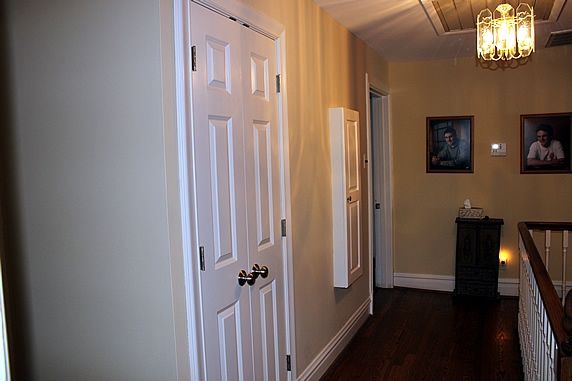 There are open doorways on either wide of the wall. These lead into two separate bedrooms. The laundry closet (behind the double doors) stole space from both bedrooms; but just a little space from each--such a small amount that we don't even miss it in either bedroom. The hideaway ironing board center didn't require any extra space--it fit inside the existing wall.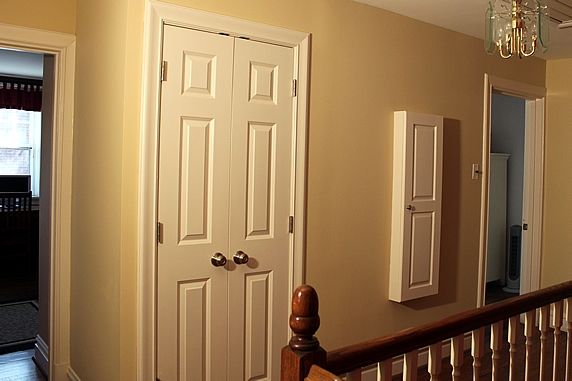 With doors opened up, you can see the washer, dryer and ironing board. It makes good use of this hallway that was only used for walking between rooms before. There was considerable plumbing work required. There is a new drain in the floor, and an overflow pan under the washing machine. We also put a small access door in the back that opens to the bedroom behind the laundry closet. That way it's easy to get to the plumbing, electrical hook ups, and dryer vent. The dryer is vented up through the attic and out the roof.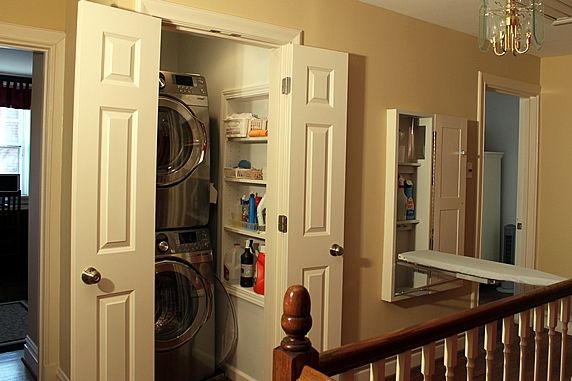 Laundry Closet Features:
1. A stackable washer and dryer. This was a top-of-the-line Samsung set that was at the time #1 rated by Consumer Reports. In particular, we wanted this one because it has very low vibration and is incredibly quiet--important features on a 2nd floor with old wood floors. I can't believe how quiet these are. They clean and dry well, too! I love my new washer and dryer. Love them. I know that sounds weird. But, I love them.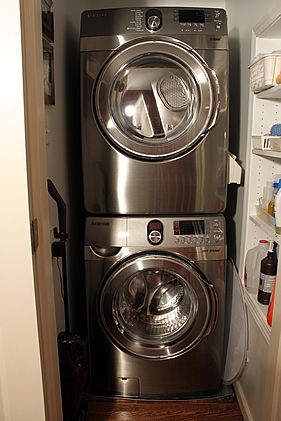 2. A set of adjustable shelves for convenient storage of detergent, stain remover, and other laundry and cleaning supplies. Everything I need is at my fingertips.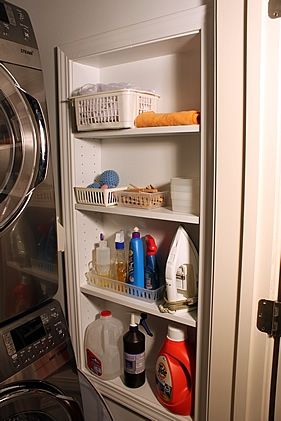 3. On the wall opposite the shelves, we've hung a cordless vacuum that is handy for quick clean up of our wood floors.
4. Above the light switch on that wall I did a little decorating. This was just for me, since I'm pretty much the only one who ever sees it. (Well, and now you all are seeing it!) I framed 2 family photos with a laundry theme. The bottom photo is of T-Man when he was a baby--sitting in a laundry basket. I don't even remember why he was in there, but I've always loved that photo. The top photo is the only baby photo of my mom (aka Grammy) taken in 1934. It's a classic. She's in a laundry basket outside under a clothes line. Those are chickens running around in the background--they lived on a farm. Love that photo, too.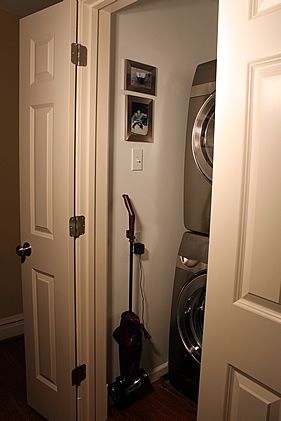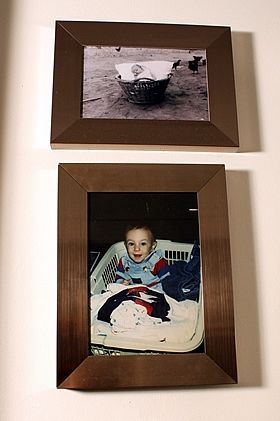 Laundry Closet Dimensions. This includes the space in front of the washer/dryer where we store the laundry cart (explained below). Pretty much every inch of this space is used. The closet dimensions are:
57" deep (this measures the usable space and includes about half of the door frame--the laundry cart inside extends all the way to the back of the closed doors);
35" wide (this is from wall to wall, the width between the sides of the door frame is narrower);
8 feet high (this is our ceiling height, but there is an unused 18" above the top of the stacked washer and dryer).
Laundry Cart on Wheels
This has been essential to this laundry closet working for me. Since the closet opens into the hallway, I wanted something that would be convenient for sorting and hanging laundry. The cart fits inside the closet in front of the washer and dryer and can hide completely behind the closed doors. It's very sturdy and has wheels, so I can roll it in and out easily. I custom designed this from a shelving system available at The Container Store. That way I could make it exactly the right dimensions for the space.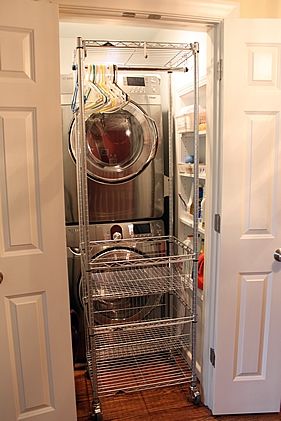 The cart rolls out into the hallway while the washer and dryer are in use.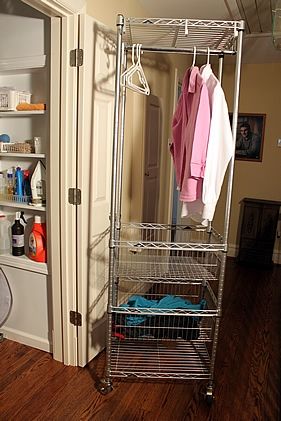 There is a bar for hanging clothes when they come out of the dryer.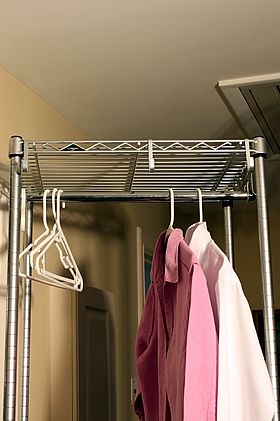 I added hooks around the top for more quick hanging space. The hooks can be purchased separately.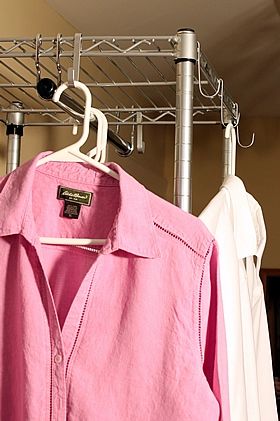 I also added 2 baskets and a bottom shelf for sorting dirty clothes or holding folded clean laundry. These also added some stability to the cart.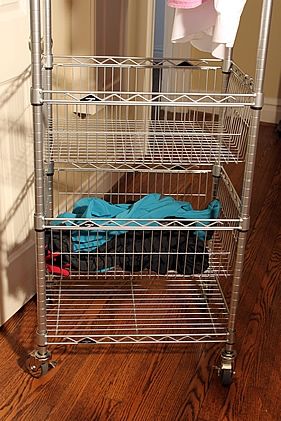 Cart Components. Here are the components I used to build my cart. If you want to make one and don't have a Container Store near you, you can purchase everything you need online here.
For my cart, I used:
2 shelves (18" x 24") for the top and bottom of the cart
4 posts (74-1/2")
2 basket shelves (18" x 24" x 8")
1 clothes hanger rod (24")
4 (3") casters -- these are heavy duty and make the cart roll easily; plus they add stability. I recommend these over the smaller plastic ones.
8 snap on hooks
To customize your own cart, look at the shelf sizes first and determine the width and depth you want. Then choose baskets of the same width and depth. The poles come in several heights--again customize that for your space. The shelving components come in black, white, and silver--another decision to make.
Built-In, Hide-Away Ironing Center
Adding this hide-away ironing board was kind of an after thought, but I'm really glad we have it now. I've never had a place where it's convenient to iron. I first found this model online, but then purchased it locally. Because it's right next to the laundry closet, the ironing board can also double as a laundry folding table.
When the ironing board is down, it extends all the way to the staircase railing and blocks the hallway. No problem. The board easily swivels around to numerous angles.
I roll the laundry cart next to the ironing board so that I can easily hang garments as I iron them.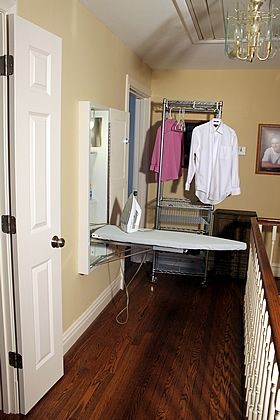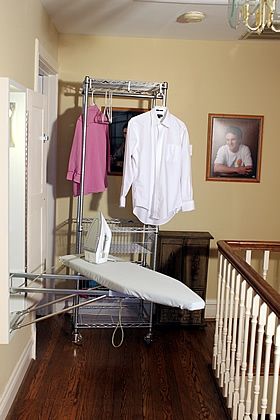 The ironing center has 2 shelves for supplies. It also has a light and plug-in for the iron. There's a timer on it, so it shuts off automatically if you accidentally leave the light or iron on.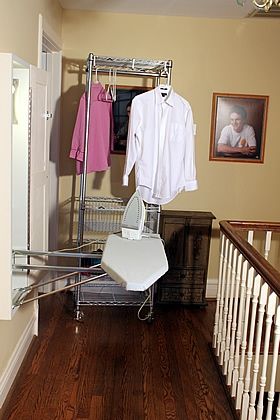 The ironing board folds up and hides away behind a door. Because it's in the way if I leave it out, I'm "forced" to put the iron and ironing board away when I'm finished ironing. For me, that's a good thing. Otherwise, I might be tempted to leave it out. This way there's never a mess. I'm either using the ironing board, or it's closed up and out of view.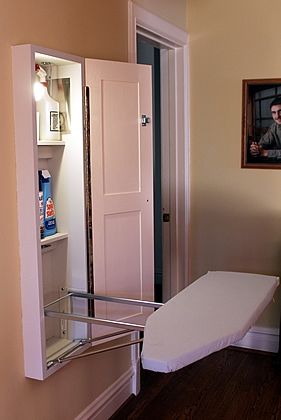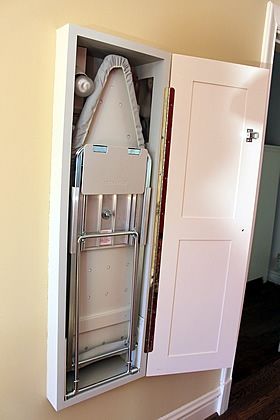 I bought a new hamper, too. I got a wicker hamper from Amazon that looks nice in our bedroom. It has 3 sections, so we sort our dirty clothes as we take them off. That way I can take the clothes directly from the hamper to the washing machine. If we still had kids at home, I would have gotten a hamper like this for their rooms, too.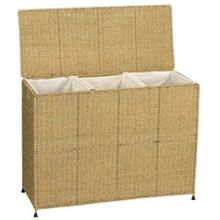 I don't own a laundry basket anymore. I used to. But I had a tendency to let the clean, folded laundry live in the basket forever too long without putting it away. With this new laundry set up, I decided to get rid of the laundry baskets and, again, "force" myself to keep everything put away. Because this laundry closet is so close to our bedrooms, it's easy to remove the clothes from the dryer, hang whatever's necessary on the cart, and take the remaining clothes to my bedroom. I fold the clothes right on top of my bed and put them away right then and there. That way there's never a laundry mess. For some reason, when I used to haul the clean clothes up from the basement in laundry baskets, they were much more likely to stay put in those dang baskets. Forever Indefinitely. We'd start pulling the clean clothes we needed out of those baskets, and before too long the neatly folded clean clothes were a big wrinkled mess. This new set up works so much better for me. Laundry is easier and faster to do, and everything gets put away and closed up when I finished. Done, no mess.
It's yummy. That's all there is to it.
What are your laundry challenges or solutions? This is the place to air your dirty laundry. Right here, right now.
Make it a yummy day!

Pin on Pinterest