I use lots of herbs and spices in my recipes, as you may have noticed. Given that January is a month when many of us are motivated to get organized, I thought I'd share how I organize my spices. I also have photos of spices in 4 other family kitchens.
I'm always a little hesitant to give organization tips, because I see so many organizing ideas in magazines or on TV shows that look good at first glance but ultimately don't work for me. We all have different storage shapes and sizes in our kitchens. Some people have walk-in pantries with lots of shelf space. (I don't. I live in an old 1920's house with a kitchen that has very limited cabinet space.) Some people have lots of kitchen drawers, but maybe not many cabinets. Others have open shelves. The list goes on. Also, we all have different ways of defining order and organization. What's organized to one person may be a mess to someone else.
So, I've asked several of my family members to share photos of how their spices are organized in their kitchens. Hopefully, between the 5 kitchen spice organization methods I share, there might be something you'll find helpful. These photos are from real, working family kitchens. No slick, perfect magazine photos here!
Here are spice organization tips from 5 Family Kitchens across the USA (St. Louis, Boston, California, Utah & Arizona):
#1. Monica's method - Spice Stack organizers
I've used a number of different organization methods through the years. What never works for me is a spice rack that comes with a fixed number of bottles. Often they are pre-labeled. Those look appealing at first, because they look like instant organization. But, I find them to to be impossible to maintain. Those pre-labeled racks don't necessarily have bottles for the spices I use, there's no room to grow, and I don't like to have to transfer my spices to other bottles or containers every time I make a new purchase.
Of all of the spice organization systems I've tried, here is the one that has worked better than any for me. For five years now, I've been organizing my spices in Spice Stacks. These are units with 3 drawers that pull out and tilt. They come in several sizes and colors and can hold 18-54 spice bottles and accommodate a variety of sizes. Multiple units can be stacked.
I store my spices in the vertical cabinet pictured below. In the center of the opened cabinet you'll see 3 white Spice Stacks--each has 3 drawers. I purchased mine from Amazon. They are available in several styles and colors.
view on Amazon: SpiceStack Organizers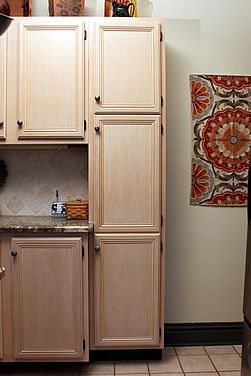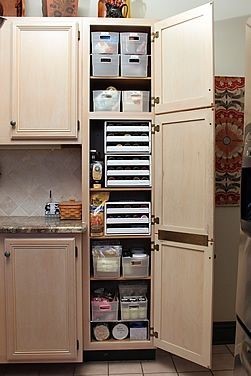 I have 2 Spice Stacks nested on top of each other on a single shelf. A 3rd Spice Stack sits on another shelf below.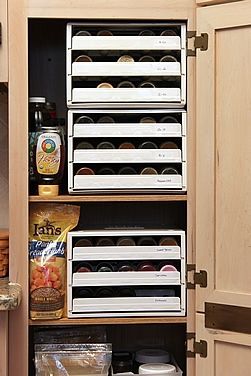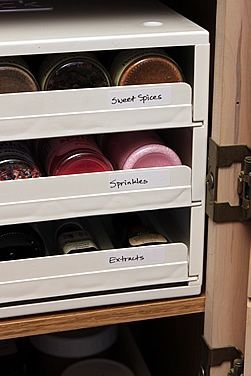 The shelves pull out horizontally. They also tilt down (without falling out!)--this is a feature I love. That means that these racks can be on a higher shelf, but I call pull out a shelf and tilt it to see what's there. I keep all of my sweet baking spices together on one shelf (cinnamon, cloves, nutmeg, etc.), because I often use those in combination.
view on Amazon: SpiceStack Organizers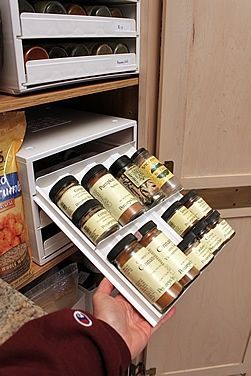 These shelves will also hold extract bottles. I keep my decorating sprinkles and food coloring in another shelf.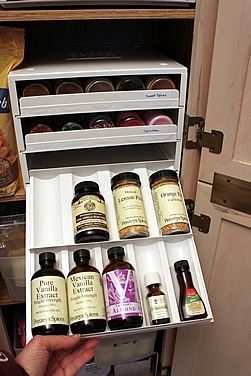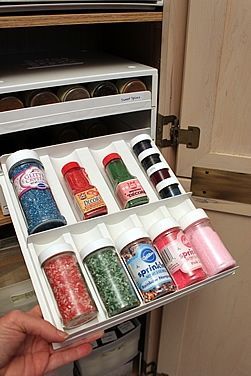 All of my other herbs and spices are in the 6 drawers of 2 Spice Stacks that nest on top of each other. I arrange my herbs and spices alphabetically--that is such a time saver once it's set up that way. I label the shelves with the letters for the spices in the tray. The Spice Stacks come with a sheet of stickers for labeling specific spices in each tray. I haven't found that to work over time, because as I buy new spices and need to rearrange the shelves, those labels can't be moved. Labeling with the alphabet works better for me.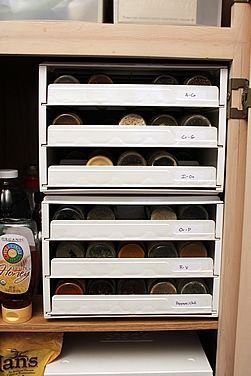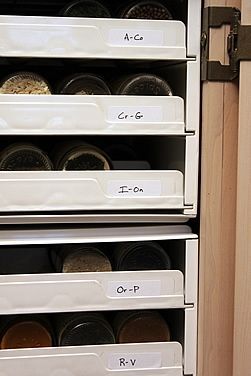 I try to leave some extra space in each drawer to make room for future additions. In the past I've found that when I reorganize a cabinet or drawer, if I leave it completely full then it starts getting messy again as soon as I have something new that needs to go in there. Having extra room to grow and shift things around helps maintain order.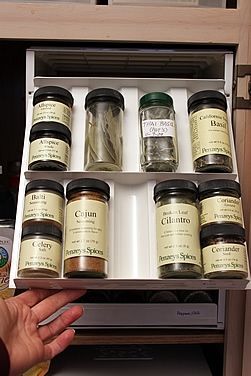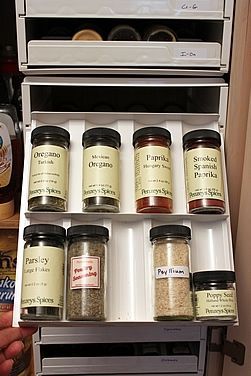 Other than my sweet baking spices, the only other category I separate out is different chili and pepper spices. I like having those all together, because I use them often. That's another thing I've learned--figure out how YOU cook and organize in a way that makes sense to you. It's unlikely that you'll find another person's system that is perfect for you in every way. view on Amazon: SpiceStack Organizers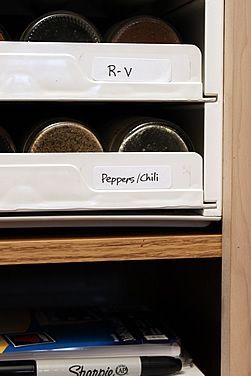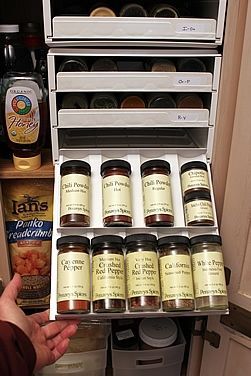 Below my Spice Stacks, I have 2 shelves with plastic boxes (close to shoe box size). I got mine at The Container Store. This is where I store overflow and odd shaped spices and other kitchen supplies. This is so much better than just shoving everything on the cabinet shelves. It's much easier to pull out a plastic box and find what you need, rather than rifling through a bunch of misc. small containers on the shelf. If you want to try this, I recommend measuring the depth of your cabinet shelves before buying plastic boxes. That way you can maximize the use of your cabinet space with the perfect container sizes.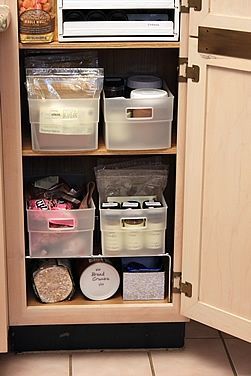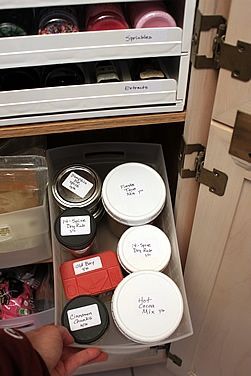 An inexpensive storage option: You could store all of your spices in plastic boxes for an expensive and convenient option. I would recommend labeling the tops of the jars so that you can easily spot and grab what you need. You could group them alphabetically in as many boxes as you need.
Keep labels and marker handy. I keep a Sharpie marker and labels on top of my Spice Stack, so I always know where to find them. I use Avery labels that are widely available at office supply stores. The label sizes I use the most: 1" x 1-1/2" and 1/2" x 1-3/4".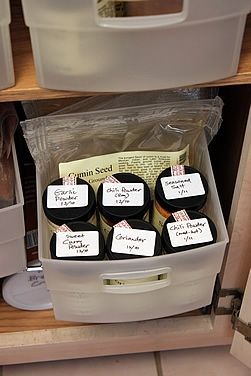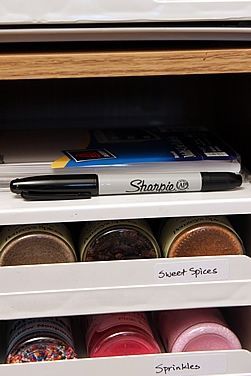 #2. Bracken & Rachel's method: A spice drawer
This is my son and daughter-in-law's spice drawer in Boston. They have a kitchen with with lots of drawers, making this a great use of their space. No extra storage gadgets needed! The spices lay down horizontally where it's easy to see them. This drawer is right next to their stove, so it's very handy. What a simple, convenient storage and organization solution.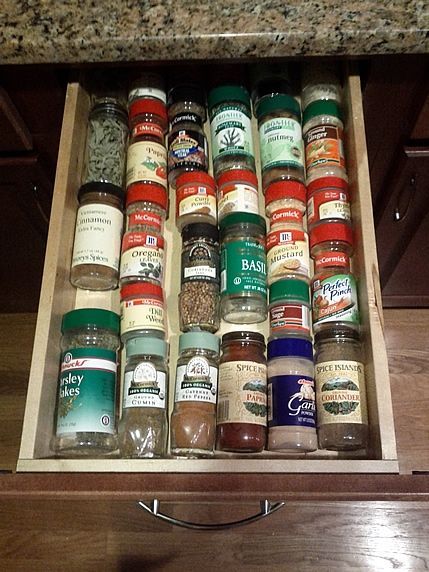 #3. Cali & Armand's method: A spice drawer with tiered insert
This is my sister and brother-in-law's spice drawer in Utah. I love how visible all of the spices are. They are arranged alphabetically.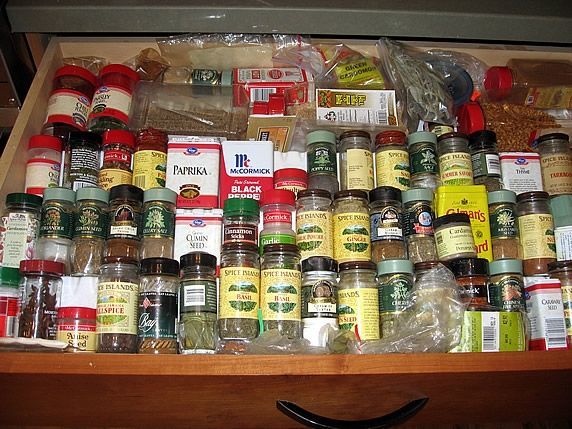 Their drawer has a tiered insert so that the spices are in rows and tilt up to make them easy to see and grab. (Thanks, Cali, for removing the spices so we could see the tiered insert underneath.) Their insert was custom fit when they had their kitchen remodeled. However you can buy something similar on Amazon.
view on Amazon: tiered spice drawer insert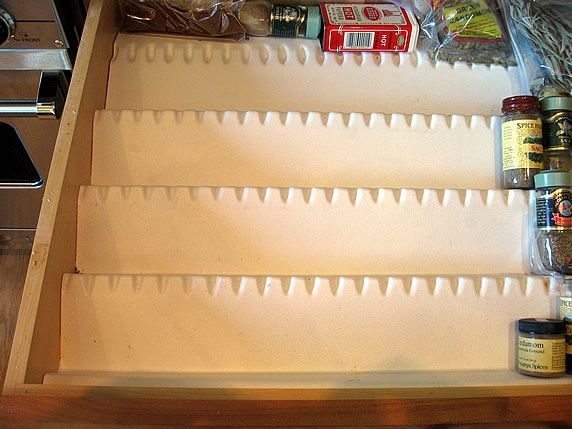 #4. Nelda & Jim's method: A pull-out spice cabinet
This is my California sister and brother-in-law's pull out shelf that holds their spices, oils, and vinegars. They renovated their kitchen not too long ago, and this was one of the custom features. The pull-out cabinet is narrow and easily viewed from both sides. It's right next to their stove for added convenience.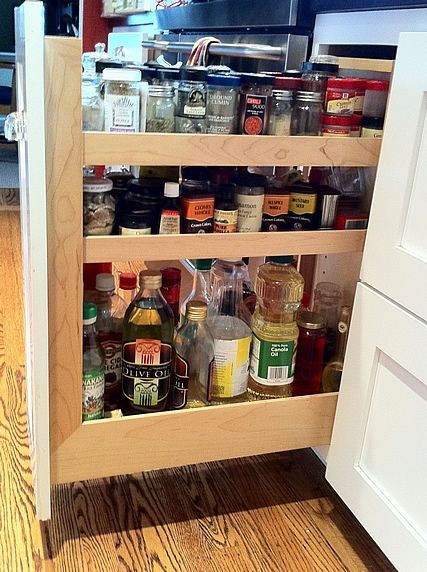 # 5. Grammy's method: Adding a tiered shelf insert to a cabinet
My mom (aka Grammy) in Arizona has added an adjustable tiered shelf to her cabinet to accommodate a variety of spice jar shapes and sizes. Everything is visible and easy to grab. These adjustable shelves are available on Amazon--they also work well for organizing canned goods. This is an inexpensive, flexible storage solution. (You can see where I got the labeling gene!)
view on Amazon:
tiered cabinet organizer, bamboo expandable cabinet organizer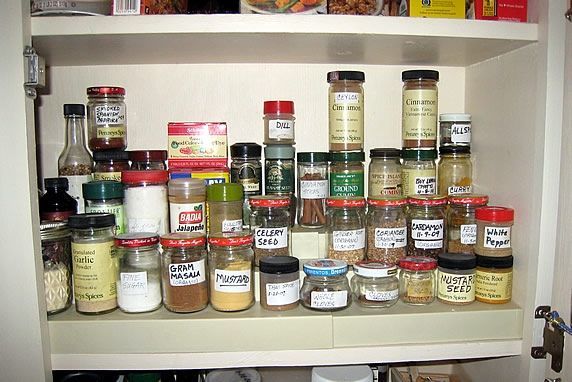 Thanks to my family of cooks who sent me photos to include in this post. I love you guys!
Which one's for you?
I'd love to hear from you in the comments section below. How do you organize your spices? Any tips you'd like to share?
Make it a Yummy day!
Monica

Pin on Pinterest