When I lunch out at this time of year, I'm always quick to zone in on the harvest salads on the menu. It's fun to try different takes on autumn salad ingredients. My friend Sheri (of The Loopy Ewe) and I recently had a delicious harvest salad at a favorite local pizza joint, Dewey's Pizza. In particular, we loved the dried figs, pepitas, and Boursin cheese in Dewey's harvest salad--a combination I hadn't had before.
So, I set out to use some of those same ingredients. I added sliced pears and tossed everything with my maple walnut dressing that I shared in a previous post. It's easy to adapt this recipe by substituting other nuts for the pepitas, other dried fruit fro the figs, other cheese for the Boursin, or apples for the pears. But, here's the combination that I like the best. It's easy to throw this together for a quick lunch or dinner. Add some grilled chicken to make it a full meal. It's good sprinkled with crumbled bacon, too.
Here are the step-by-step photos for making Harvest Salad.

First assemble the ingredients: pepitas (hulled pumpkin seeds), salad greens (I used half baby spinach, half spring mix), pears, dried figs, Boursin cheese.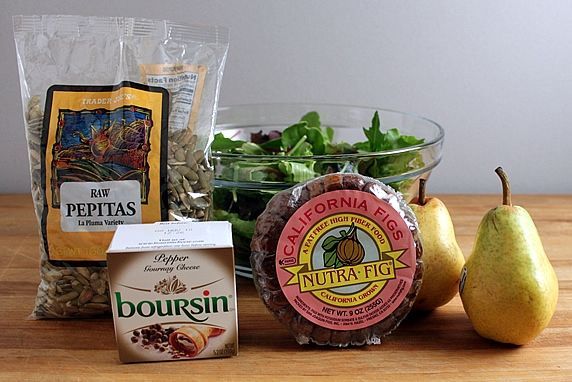 Pepitas, which are hulled pumpkin seeds, are such a perfect harvest salad nut. (You could substitute sunflower seeds, walnuts, or pecans.) Toasting them makes them crunchy and brings out their flavor. Toast the pepitas by spreading them out on a baking sheet, spraying them lightly with cooking spray, sprinkling them with a little salt, and toasting them around 10 minutes until they're golden.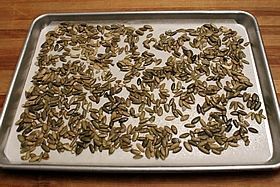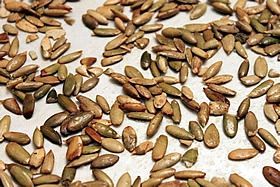 Slice the pears and put them in salt or lemon water for 5 minutes as I explained in my post, How to Prevent Apple and Pear Slices from Browning. Chop the dried figs.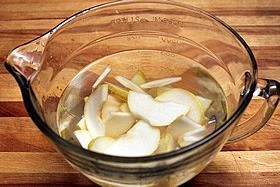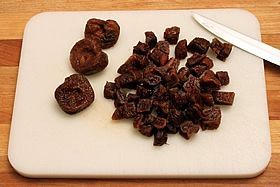 My grocery store has several Boursin cheese varieties with their specialty cheeses. This one is pepper flavor. It also comes plain and with combinations of garlic and herbs. Any would be good--suit your taste. Boursin is a very soft, mild cheese. (You can substitute blue, gorgonzola, or goat cheese.) Crumble the cheese and set aside. I used a little more than half of the cheese round.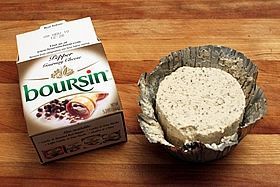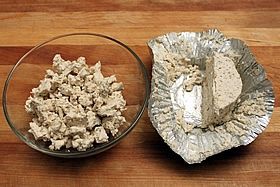 Make a batch of Maple Walnut Vinaigrette. This is a perfect complement to the harvest salad ingredients. In case you need it, here is the recipe:
View Maple Walnut Vinaigrette Salad Dressing Recipe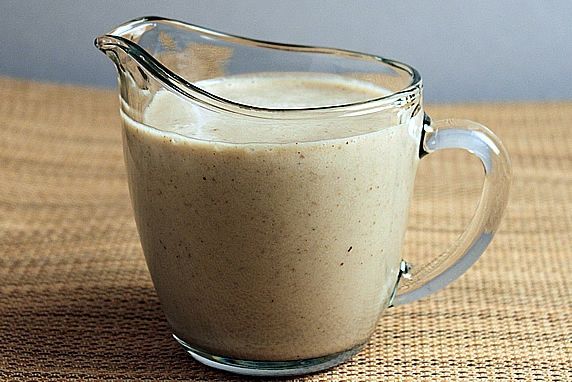 Now it's time to bring everything together. I like to toss the greens with the vinaigrette first. Toss it well so that every green leaf gets coated in the dressing. Then add in the pears, figs, and pepitas and give it a gentle toss--just enough to distribute everything. Sprinkle the cheese on top and serve. (You can toss the cheese with everything else, but because it's so soft it will dissolve into the salad dressing. If you want distinct cheese chunks, it's better to sprinkle it on top of the salad without tossing it in.)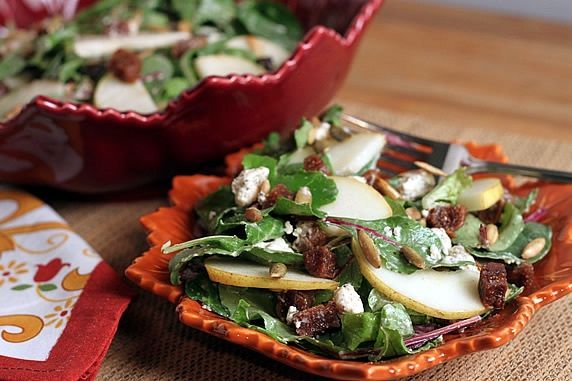 Eat and enjoy!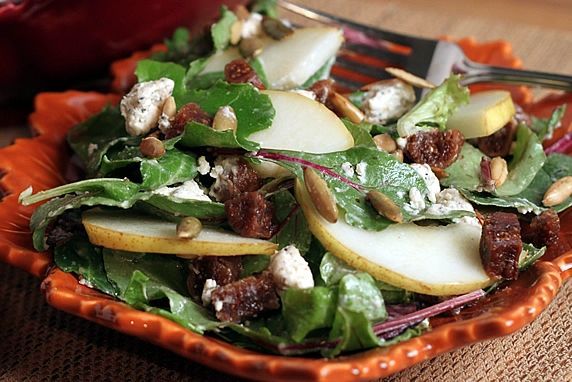 Do you have a favorite harvest salad combination? I'd love to hear what you like.
Make it a Yummy day!
Monica
Other posts that may interest you:
Harvest Salad with Pears, Dried Figs, & Pepitas
By Monica Servings: Serves 4-6
5 oz. (12 cups) fresh salad greens (spring mix and baby spinach are good combination)
1/3 c. toasted pepitas*
1-2 pears, thinly sliced**
1/3 c. chopped dried figs
3-4 oz. Boursin cheese, crumbled
1/4 cup Maple Walnut Vinaigrette (for recipe, go to www.TheYummyLife.com/recipes/38)
Put greens in large bowl. Add vinaigrette and toss until greens are well coated. Add pears, figs, and pepitas and lightly toss. Sprinkle cheese on top and serve.
Variations:
--Substitute apples for pears.
--Substitute sunflower seeds, walnuts, or pecans for pepitas.
--Substitute blue, Gorgonzola or goat cheese for Boursin.
--Substitute another dried fruit for the figs (cranberries, blueberries, cherries)
--Top with grilled chicken and/or crumbled bacon.

*To toast pepitas, spread in a single layer on baking sheet, lightly spray with canola spray, sprinkle with kosher salt, bake at 350 degrees for 10 min, or until golden.
**For tips on preventing pear slices from browning, go to www.theyummylife.com/blog/2010/10/67