Since making my own raspberry vinegar and using it to make raspberry vinaigrette salad dressing, I've discovered my new favorite marinade for chicken--raspberry vinaigrette with a fresh herb added. That's it. So easy. The result is flavorful, moist grilled chicken. The raspberry vinaigrette is already deliciously seasoned (salt, pepper, shallots, honey, and more), so it doesn't need anything else added except whatever fresh herb I have on hand. Rosemary is my favorite with this. I've been using this marinade on boneless, skinless chicken breasts or thighs to make it as low-fat as possible; but you can leave the skin on, if you prefer. I always grill more than we'll eat for dinner so that there is cold grilled chicken left the next day to serve on salad or in a sandwich or wrap.
Step-by-step photos for making
Grilled Chicken with Raspberry Rosemary Marinade
Step 1. Assemble the ingredients: raspberry vinaigrette; boneless, skinless chicken breasts or thighs; fresh rosemary (or substitute another fresh herb such as thyme, tarragon, sage, or basil)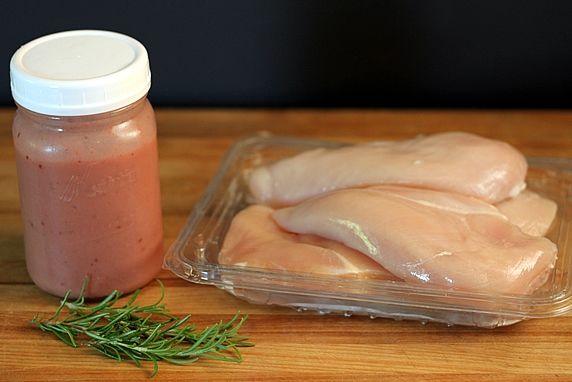 You can purchase bottled raspberry vinaigrette, or make your own. Here's my recipe:
Click to view & print Raspberry Vinaigrette recipe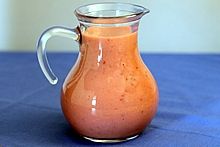 Step 2. Chop 1 tablespoon of fresh rosemary (or substitute another favorite fresh herb such as thyme, sage, or basil).
Step 3. Add the rosemary to the raspberry vinaigrette and whisk them together.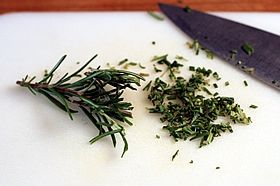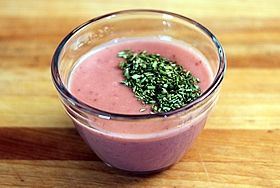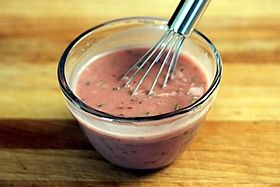 NOTE: If chicken pieces are uneven in thickness, place them inside a ziploc bag and flatten the thicker portions with a meat pounder or the bottom of a skillet to ensure even cooking. (For photos and more detail, read my previous post about preparing chicken breasts.) Flattening may not be necessary with small chicken pieces that have fairly even thickness. That was the case with these chicken breasts; they didn't required pounding.
Step 4. Place chicken pieces in a dish in single layer. Pour the vinaigrette mixture over the top and turn the pieces with tongs until completely coated on all sides.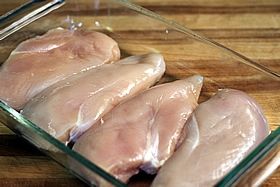 Step 5. Cover and let chicken marinate in the fridge for 30 minutes (no longer than 60 minutes).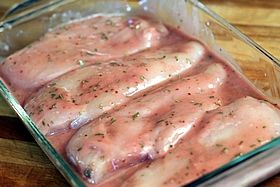 Step 6. Prepare the grill. Preheat it on high, use a grill brush to clean off any previous grilling debris. Using tongs, dip a folded paper towel in vegetable oil and rub the grill grate completely with oil.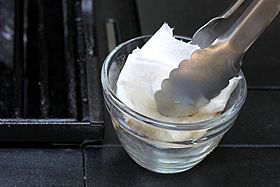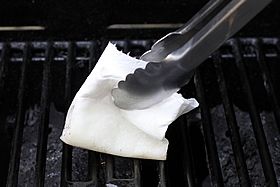 Step 7. Place chicken on grill, discarding the marinade. Cook chicken 2-4 minutes on each side, until the internal temperature is 160 degrees. Use an instant-read thermometer to test the temp. Don't overcook it, or you'll end up with dry, tough chicken.
view instant-read thermometers on ThermoWorks (highly recommended by Cook's Illustrated....and me!):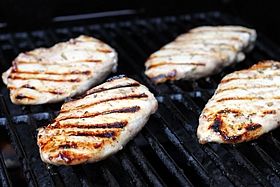 Step 8. Put the grilled chicken in a dish and cover it loosely with foil for 5-10 minutes. This rest time allows the juices to settled in the meat, resulting in moist chicken.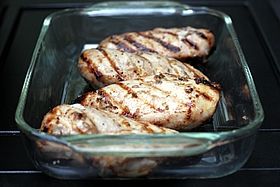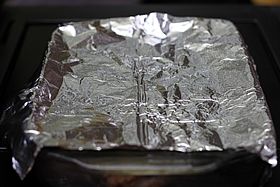 Step 9. Transfer chicken to a platter. Pour any remaining cooked pan juices over top.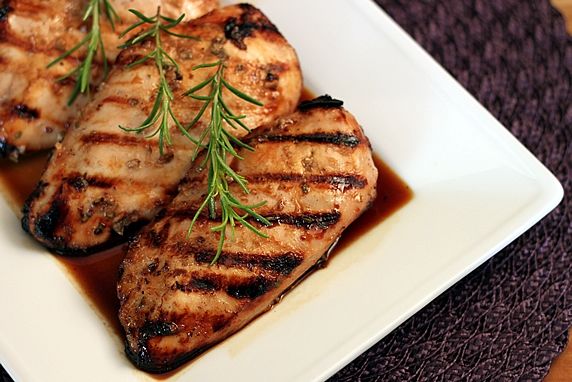 This chicken is great paired with Pesto Brown Rice Pilaf.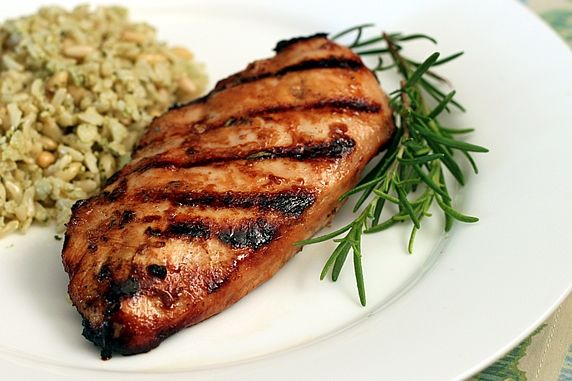 Serve it cold for a salad, wrap or sandwich.
If you have leftovers, store whole pieces in a sealed container in the fridge along with any remaining pan juices left on the bottom of the serving dish. Slice the chicken and serve it cold on top of a salad, in a wrap, or on a sandwich for lunch the next day. The chicken will remain moist if you don't slice it before putting it in the fridge. Wait and slice it right before you want to eat it. Lightly coat the cold sliced chicken with the pan juices before adding them to the salad/wrap/sandwich for added flavor and moisture.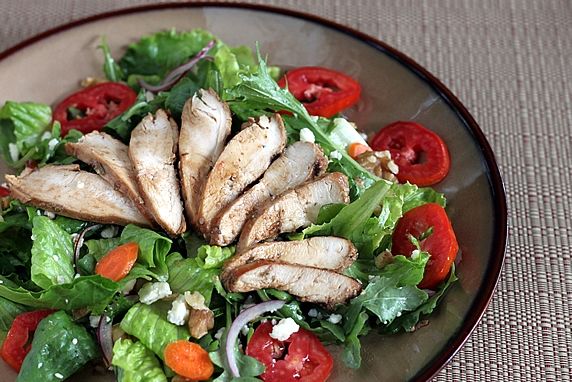 This is my favorite way to grill chicken this summer. What's yours?
Make it a yummy day!
(Keep scrolling to the bottom for the printable recipe)
It's easy to make homemade raspberry vinegar for yourself or gifts.
Here's my recipe:
Click to view & print Raspberry Vinegar recipe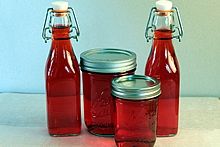 Shopping for an instant-read thermometer? Here are the two top picks from Cook's Illustrated:
Grilled Chicken with Raspberry Herb Marinade
By Monica Servings: 4 servings
2 lbs (4-6 pieces) chicken breasts or thighs, boneless & skinless
1/2 cup raspberry vinaigrette salad dressing (use bottled dressing, or to make your own go to http://theyummylife.com/recipes/146)
1 tablespoon minced fresh herbs (such as rosemary, thyme, tarragon, basil, sage)
If chicken pieces have uneven thickness, place them in a plastic bag and flatten the thickest parts with a meat pounder or the bottom of a skillet. Arrange chicken pieces in a single layer in a pan. In small bowl, combine the raspberry vinaigrette and herb(s); pour over chicken. Use tongs to turn chicken to coat all sides with marinade. Put in fridge to marinate for 30 minutes (no longer than 60 minutes). Heat and oil grill. Place chicken pieces on grill over high heat, discarding the marinade. Grill for 2-4 minutes per side, until internal temperature is 160 degrees at thickest part. Remove to a pan and loosely cover with foil for 5-10 minutes. Transfer chicken to platter; pour any cooked juices left in bottom of pan over top of chicken. Serve.

--SERVE IT COLD. Store whole, grilled chicken pieces in sealed container in the fridge along with any remaining pan juices. To serve, thinly slice chicken, lightly coat slices with pan juices and serve cold on top of a salad, in a wrap, or on a sandwich. (This is a great way to use leftovers.)