This rice is another recipe from our Mexican Buffet Party menu. It was one of the choices for the Taco Bowl Bar at our party. The flavors in this recipe were inspired by Chipotle's Cilantro-Lime Rice, but my version uses brown rice instead of white along with some additional seasonings. This rice is great with Mexican food, but it's flavors also complement Indian food, curries, and grilled meat and fish.
Why brown basmati rice? It's been years since there was any white rice in my kitchen. I initially switched to brown rice for its nutritional benefits, but now I prefer the taste and am especially partial to basmati brown rice.
Brown rice is packed with nutrition compared to white rice. Brown rice has 2.5 times the iron, 3 times the vitamin B3, 4 times the vitamin B1, 10 times the vitamin B6, and is much higher in fiber. (source) According to recent research, replacing white rice with brown rice in your diet can reduce the risk of colon cancer and type 2 diabetes. (source)
Basmati brown rice has a milder nutty flavor and lighter texture than other brown rices, so I find it to be a better substitute for white rice in many recipes. However, any type of brown rice may be used in this recipe.
Nutritional Information (for 1/2 cup serving): 89 calories, 1.4g fat, 17.4g carbs, .9g fiber, 1.6g protein; Weight Watchers PtsPlus: 2
Step-by-step photos for making
Cilantro Lime Basmati Brown Rice
Step 1. Assemble the ingredients: basmati brown rice, vegetable broth (preferably low-sodium), garlic, fresh lime juice, olive oil, kosher salt, oregano (Mexican preferred), cumin, white pepper, cilantro
view on Amazon: organic basmati brown rice, Mexican oregano, organic cumin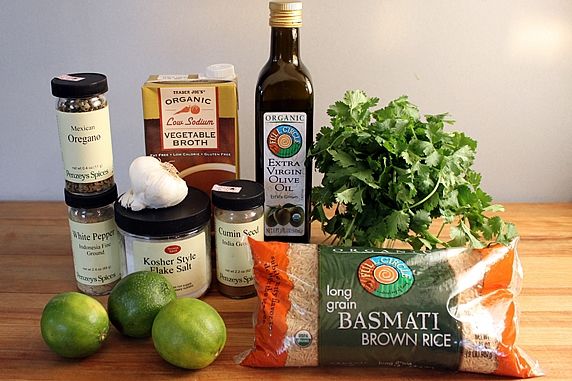 Step 2. Add rice and vegetable broth to a pan and bring it to a boil on the stove-top.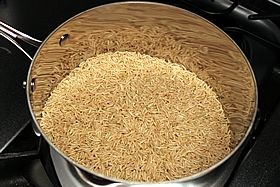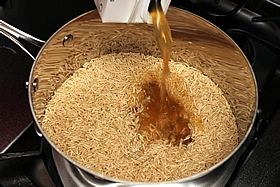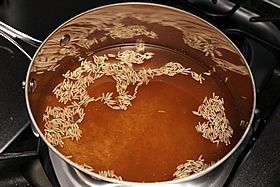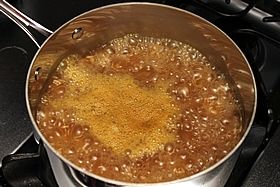 Step 3. Cover the pan and lower the heat to its lowest setting; simmer for 45 minutes.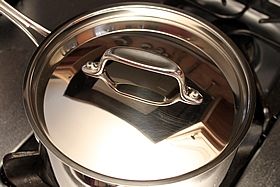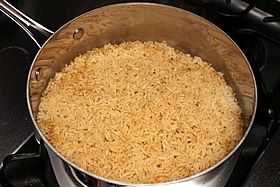 Step 4. Remove from heat, leave the lid on, and let rest for 5 minutes or until all liquid is absorbed. Use a spoon to move rice away from bottom of pan to see if any liquid remains.
Step 5. Once all of liquid is absorbed, fluff rice with a fork.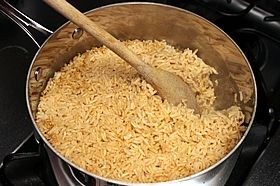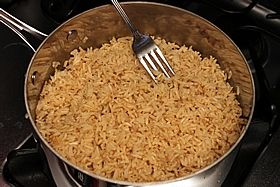 OR, USE A RICE COOKER: An alternative to the stove-top method pictured above is to cook the rice in a rice cooker. This is the easiest way to get perfectly cooked rice every time. Just add the rice and broth, turn it on, and it will automatically turn off when the rice is done. Most rice cookers will also keep the rice warm for an extended period. I make a double batch of this recipe in my rice cooker.
Step 6. Whisk together the garlic, lime juice, olive oil, salt, oregano, cumin & pepper. Add mixture and chopped cilantro to cooked rice. Stir to combine.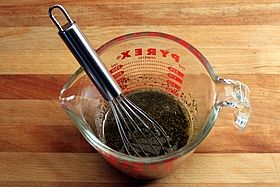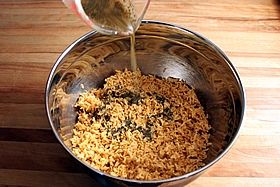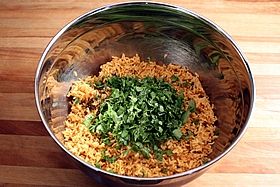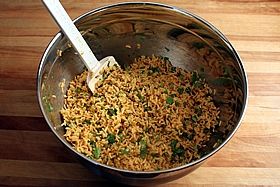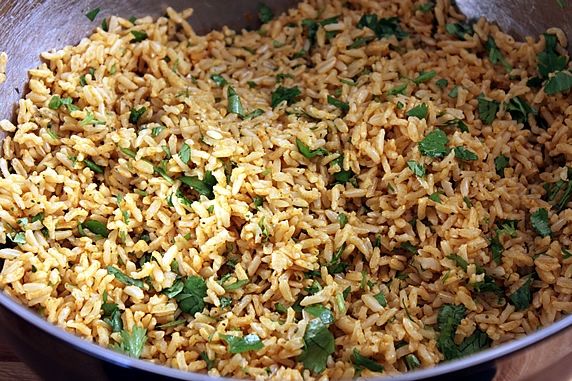 This rice is ready to eat right away, but it also freezes and reheats well.
FREEZING & REHEATING: I freeze this rice in ziploc freezer bags. To reheat, put the frozen rice in a covered micro-wave safe dish and heat it on full power for 2 minutes. Stir it and continue to heat until hot throughout--approx. 1 more minute, depending on the quantity being reheated.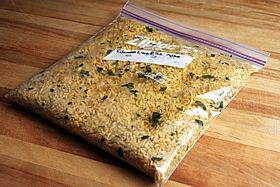 I love having a stash of this rice in my freezer for quick reheating to go with a number of meals. The tartness of the lime juice provides a nice balance with Mexican and other spicy foods. It's really good in a tortilla taco bowl.
click to view Tortilla Bowl Taco Bar recipe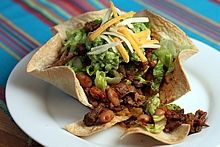 This rice was the perfect complement to the chicken curry that I made for dinner last night. I like it with grilled fish, too.
You can double this recipe for feeding a big group or to have extra to freeze for later. I usually make a double batch while I'm at it. King-Man loves this stuff.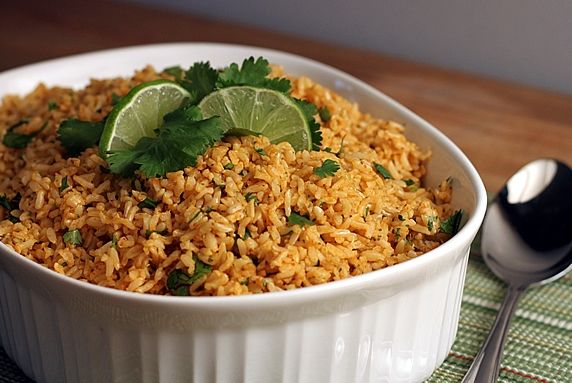 Here's another rice recipe that goes well with a Mexican meal: Fiesta Brown Rice In An Instant Pot.
Make it a Yummy day!
Monica
Cilantro Lime Basmati Brown Rice
By Monica Servings: makes 8 cups
2-1/2 cups (1 pound) uncooked basmati brown rice
4 cups (1 quart) vegetable broth (low sodium preferred)
2 garlic cloves, minced
1/4 cup fresh lime juice
1-1/2 tablespoons olive oil
1/2 to 1 teaspoon kosher salt (or more, to taste, if using low-sodium broth)
1-1/2 teaspoons dried oregano (Mexican preferred)
1-1/2 teaspoons ground cumin
1/2 teaspoon ground white pepper
1-1/4 cups fresh cilantro, chopped
Add rice and vegetable broth to 3 quart pan; bring to boil over high heat, give it a quick stir, cover and lower heat to lowest simmer setting. Continue to simmer on low for 45 minutes. Remove from heat and let stand covered for 5 minutes, or until any remaining liquid in bottom of pan is absorbed. Fluff with fork.

While rice cooks, whisk together the garlic, lime juice, olive oil, salt, oregano, cumin, and pepper. Pour over cooked rice, add the cilantro, and lightly toss with fork until combined. Taste and add salt, if desired.

Freezes and reheats well. Rice and broth may be cooked in a rice cooker instead of on stove top. Recipe may be doubled.

Nutritional Information (for 1/2 cup serving): 89 calories, 1.4g fat, 17.4g carbs, .9g fiber, 1.6g protein; Weight Watchers PtsPlus: 2
You can read all of my tips and other complementary menu items
for serving this rice in tortilla bowl tacos at a big dinner party.
Click to view A Mexican Buffet Dinner Party