These Italian treats are usually healthier than most cookies and made
even healthier in this recipe with the combo of whole wheat flour, olive oil,
almonds and dark chocolate. They're low in sugar, too!
This recipe is so rich in chocolate that it completely masks the whole wheat and olive oil flavor; honestly you'd never know they're there. I also dipped some of my baked biscotti in melted chocolate--admittedly not consistent with the healthifying theme--but it does increase the chocolate decadence of these delicious treats. Plain or chocolate-dipped, these are yummy.
Step-by-step photos for making
Triple Chocolate Whole Wheat Biscotti
Step 1. Assemble the ingredients: whole wheat pastry flour, cocoa powder (use a good quality cocoa), olive oil, baking soda, salt, eggs, sugar, vanilla & almond extract, almonds, dark chocolate chips, coarse or demerara sugar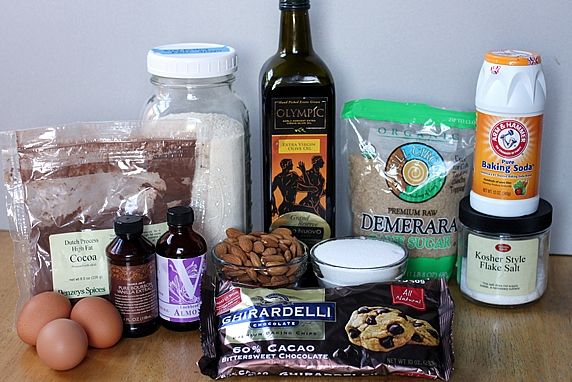 Step 2. Toast the almonds by placing them in a single layer on a baking sheet and baking at 350 degrees for 10-15 minutes, until fragrant.
Step 3. Coarsely chop the toasted almonds.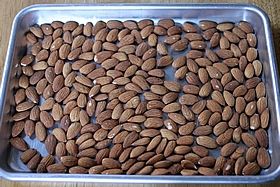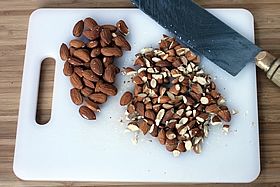 Step 4. In a large bowl, whisk together the flour, cocoa powder, baking soda, and salt. Set aside.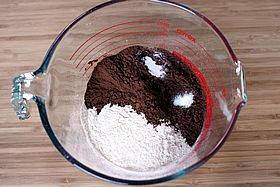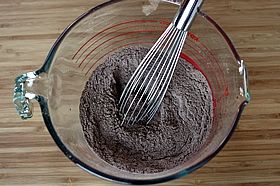 Step 5. In another large bowl, whisk together the eggs, sugar, olive oil, and extracts.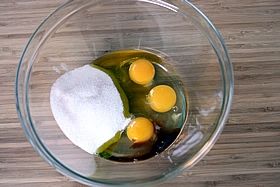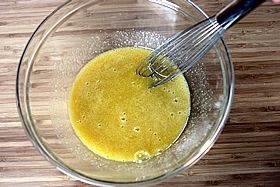 Step 6. Gradually stir the dry mixture into the wet mixture until completely combined. It forms a very thick, stiff batter.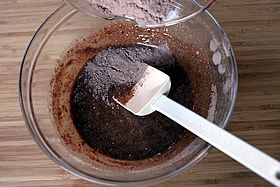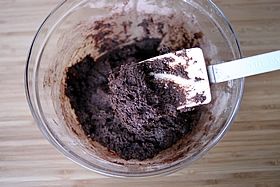 Step 7. Stir in the chocolate chips and almonds. I had to switch from a rubber spatula to a wooden spoon to handle the thick batter better.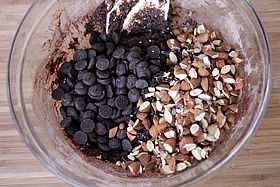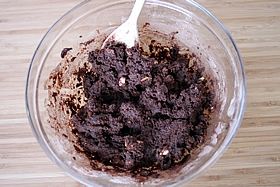 Step 8. Divide the batter in half by running a table knife through the center.
Step 9. Grab half of the batter and form it into a long thin log. Place the log on a parchment lined baking sheet. Repeat with the 2nd half of the batter.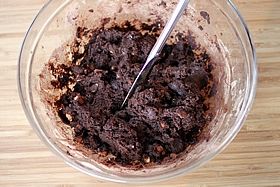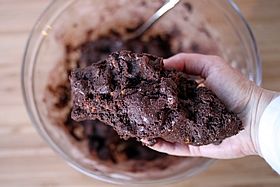 I didn't divide my batter very evenly; I ended up with a 12" log and a 15" log. Doesn't matter really; the important thing is that they are the same width and fit on your baking sheet.
Step 10. Use your hand to slightly flatten the tops of each log.
Step 11. Whisk an egg and brush it lightly all over the surface of the logs.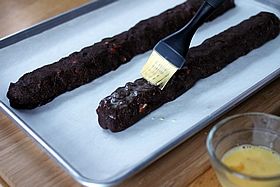 Step 12. Sprinkle with coarse or demerara sugar. This step is optional, if you'll be dipping the biscotti in melted chocolate; but it adds some nice crunch to plain, undipped biscotti.
Step 13. Bake at 350 degrees for 25 minutes.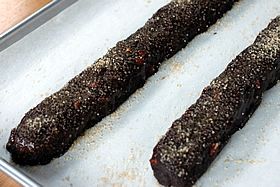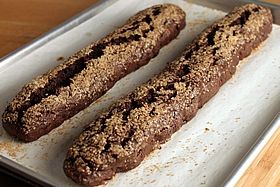 Step 14. Let the biscotti cool for 15 minutes and use a serrated bread knife to cut each log into diagonal 1/2-inch slices. Place slices on parchment lined baking sheet(s) and return to oven for another 20-30 minutes.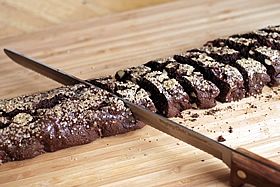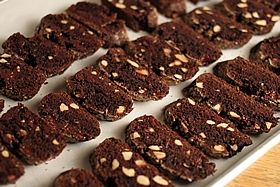 Step 15. Cool completely and store biscotti in an airtight container.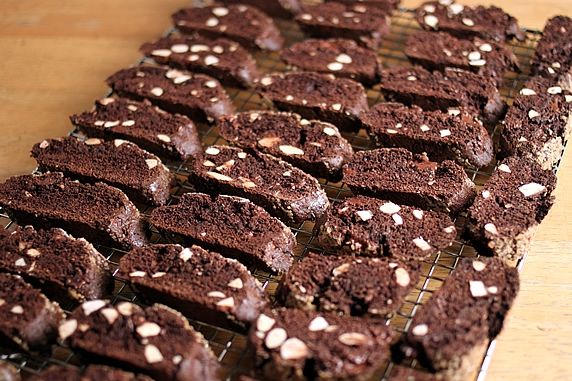 You may prefer your biscotti plain. This is how King-Man likes them. If you aren't familiar with biscotti, don't expect these to be a sweet, chewy cookie. Biscotti, originally from Italy, are dry, crunchy, and less sweet than most cookies. They're often paired with coffee for dunking.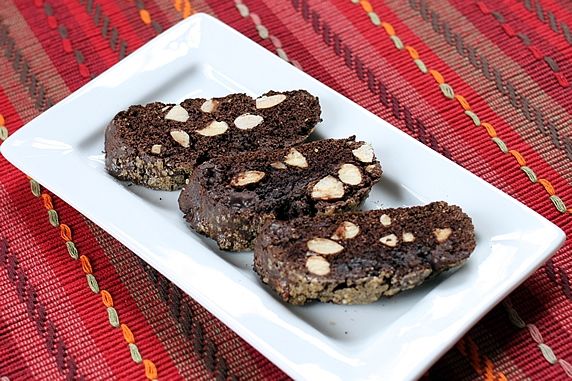 If you prefer to kick them up a notch and make them more cookie-like and sweet (like me), you can dip them in a variety of melted baking chips. Pick your flavor. Butterscotch chips, peanut butter chips, vanilla or white chocolate chips, milk/semi-sweet/dark chocolate chips. This chocolate biscotti would be good paired with any of these flavors.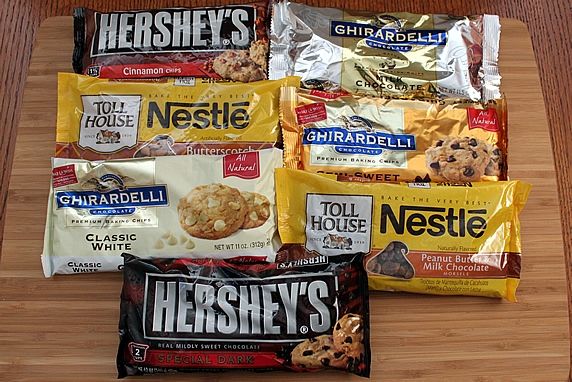 I prefer the rich taste of dark chocolate for dipping my biscotti; plus, the darker the chocolate the better the health benefits. In moderation, it's actually good for you (among the greatest scientific discoveries in recent years!) It's easy to melt the chocolate chips in the microwave. Just add a little canola oil, and follow these directions:
view Melted Chocolate for Dipping and Drizzling recipe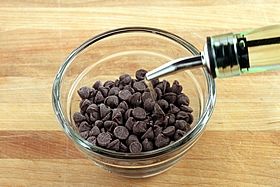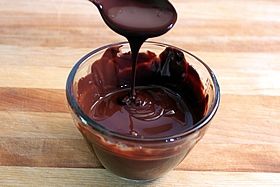 Dip a third to a half of the biscotti in the melted chocolate and place it on parchment paper to harden.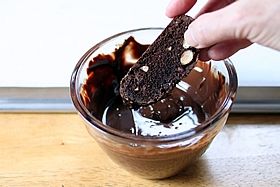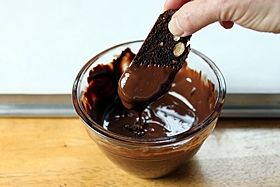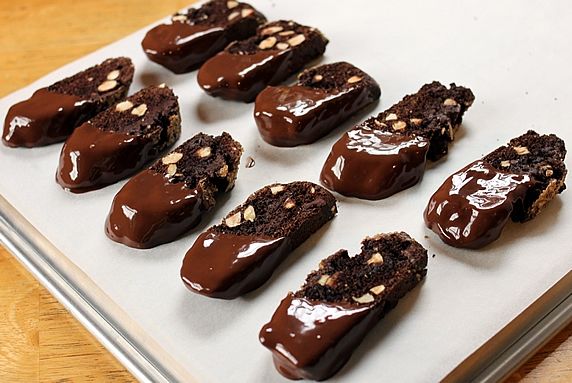 I dipped a few in melted white chocolate chips, too--not as healthy, but yummy!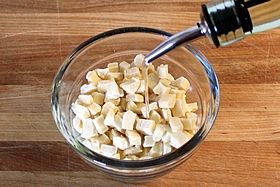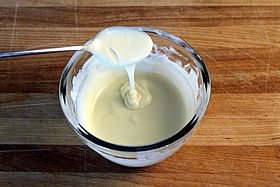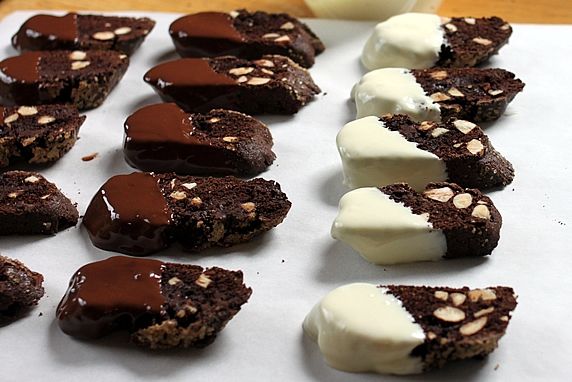 Once the chocolate hardens, they are ready to eat.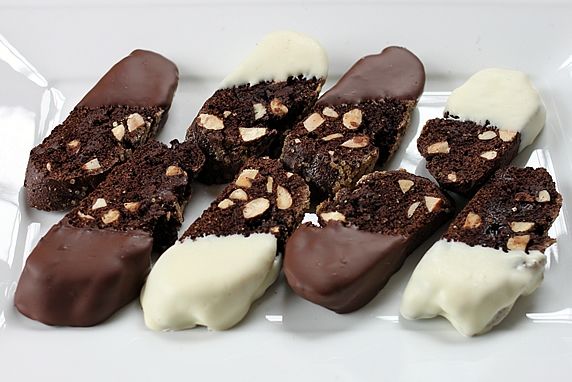 They're crunchy and chocolaty, just the way I like 'em.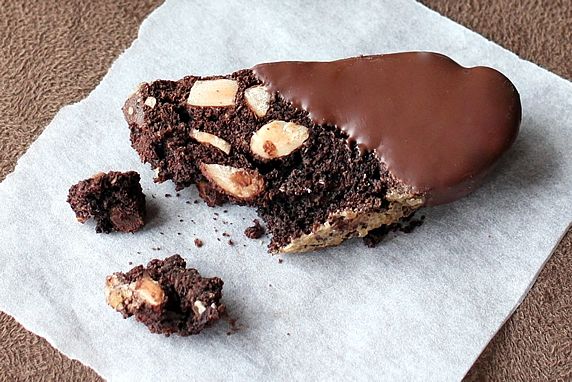 I made these with almonds, but they're also good with pine nuts.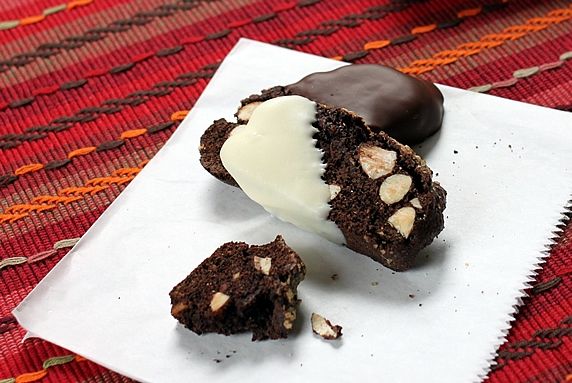 Perfect with an afternoon coffee, espresso, or tea.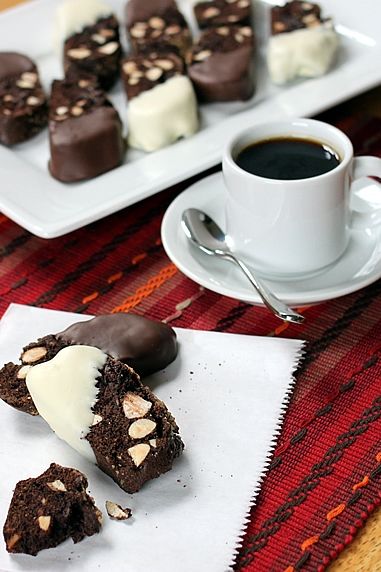 You can also add color to the white chocolate (use oil-based candy coloring) and decorate them with sprinkles if you want to customize the biscotti for special occasions.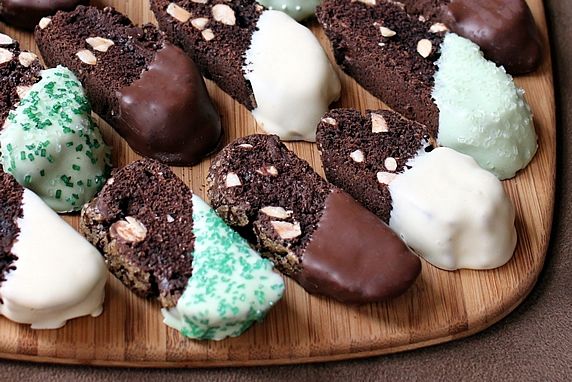 These are are a favorite treat at our house with afternoon coffee or tea. Hope you enjoy them, too.
Make it a Yummy day!
Monica
If you like mint and chocolate together,
you'll love this variation of dipped biscotti.
View recipe for Creamy Mint Glaze for dipping Biscotti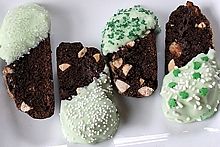 Triple Chocolate Whole Wheat Biscotti
By Monica Servings: makes 35-40
2 cups whole wheat pastry flour
3/4 cups good quality unsweetened cocoa powder
1 teaspoon baking soda
1/4 teaspoon salt
3 large eggs, room temperature
2 tablespoons olive oil
3/4 cup sugar
1 teaspoon vanilla extract
1/2 teaspoon almond extract
1 cup almonds, toasted and very coarsely chopped
3/4 cups dark chocolate chips
FOR GLAZE (optional)
1 egg, whisked
2 tablespoons coarse or demerara sugar
FOR DIPPING BISCOTTI IN MELTED CHOCOLATE (optional)
1-1/2 cups chocolate chips (dark, semi-sweet, white chocolate; or any flavored baking chip)
1-1/2 tablespoons canola oil
Preheat oven to 350 degrees. In a large bowl, whisk together the flour, cocoa powder, baking soda, and salt until evenly mixed. Set aside. In another large bowl, whisk together the eggs, olive oil, sugar, and vanilla & almond extracts until well blended. Gradually stir the dry flour mixture into the egg mixture until completely combined. It forms a very thick, stiff batter. Stir in the chocolate chips and almonds. Divide the batter in half, forming each half into long logs, each approx. 13" long; place on parchment lined baking sheet. With your hand, slightly flatten the tops of each log. Lightly brush surface of each log with whisked egg (you will not need all of the egg). Sprinkle with coarse sugar. Bake for 25 minutes until dough feels firm to touch; remove from oven and cool for 15 minutes. Use serrated bread knife to gently cut each log diagonally into 1/2" slices. Place slices cut side down on baking sheets and return to oven for 20 to 30 minutes, rotating the baking sheets midway through. Cool completely.

MELT CHOCOLATE CHIPS FOR DIPPING (optional): In microwave safe bowl, combine choc. chips and canola oil. Cook on full power, checking at 20 second intervals, stirring each time. Stop heating when most, but not all, of the chips are melted--there should be a few chunks left. Stir until it is smooth and chips are completely melted. (Approx. 60 sec. total.) Be careful not to overcook. Dip a third to a half of each biscotti in melted chocolate; place on parchment paper until chocolate hardens. Store in air tight container.

Recipe adapted from PassionateAboutBaking.com by Deeba Rajpal