This delicious, healthy recipe is a great way to use up leftover chicken or turkey. With Thanksgiving less than a month away, this is a good recipe to keep on hand.
I adapted my favorite chicken salad recipe from Ina Garten by swapping out most of the mayo with Greek yogurt to dial down the calories and increase the nutrition. A hint of honey balances the tartness of the yogurt. Cranberries and pecans are added for some flavor and crunch. Fresh tarragon is my favorite herb to add to chicken salad. It's the finishing touch in this recipe.
SERVING SUGGESTIONS:
Use as a sandwich filling with lettuce.
Serve a scoop over a bed of lettuce or mixed greens.
Add a small dollop to crackers for a quick appetizer.
EASY VARIATIONS:
Plain chicken salad -- omit the cranberries and pecans
Swap out the fruit -- in place of the cranberries, try grapes or apples
Swap out the nuts -- in place of pecans, try sliced almonds, walnuts or pine nuts
NUTRITIONAL INFORMATION per 2/3 cup serving: 226 calories, 10.2g fat, 8.8g carbs, 1.1g fiber, 6.1g sugars, 25.6g protein; Weight Watchers PointsPlus: 6
Step-by-step photos for making
Chicken Salad with Cranberries and Pecans
Step 1. Assemble the ingredients: chopped cooked chicken or turkey breast, Greek (strained) yogurt; light mayonnaise; fresh tarragon leaves, celery, dried cranberries, chopped pecans, salt, pepper, honey (not pictured)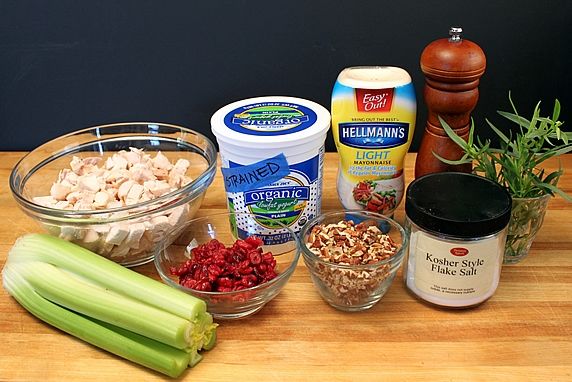 Note about the yogurt:
Strained yogurt is thicker and will prevent your chicken/turkey salad from getting watery. Greek yogurt is already strained. You can purchase Greek yogurt, or make it yourself by straining regular yogurt.
Click to learn how to make Greek yogurt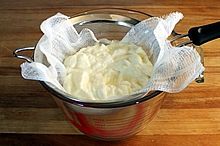 Note about the chicken or turkey:
Use leftover chicken or turkey, buy a pre-cooked rotisserie chicken, or cook your own chicken.
Click to view recipe for chopped, roasted chicken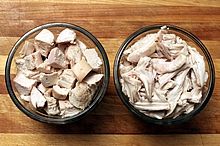 Step 2. Chop the tarragon.
Step 3. Chop the celery.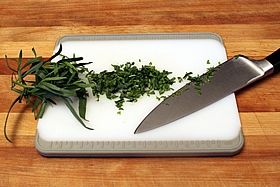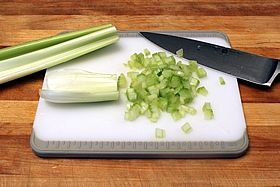 Step 4. Add all of the ingredients to a large bowl and stir until combined.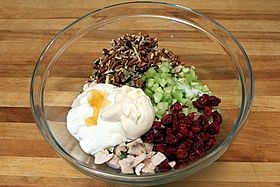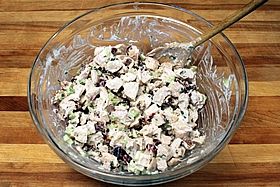 Done!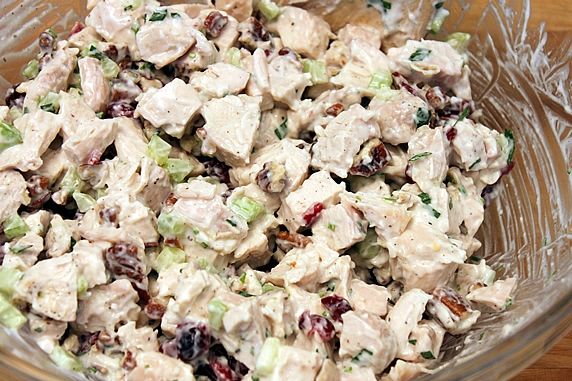 Serve the chicken salad on a bed of lettuce . . .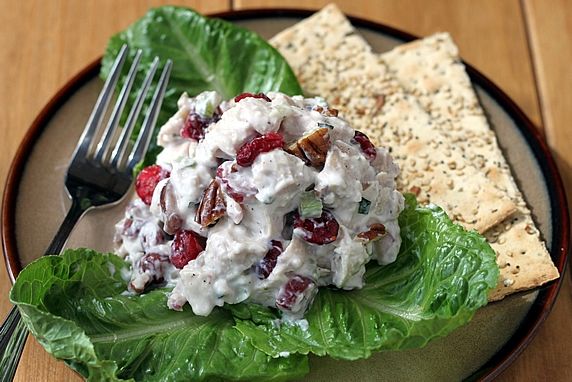 . . . or use it for a sandwich filling.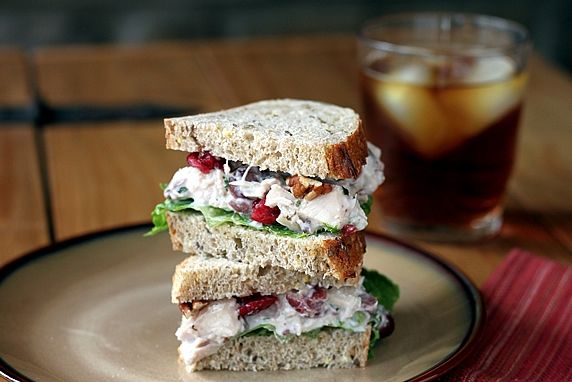 It tastes so rich and creamy, you wouldn't guess that it's good for you, too!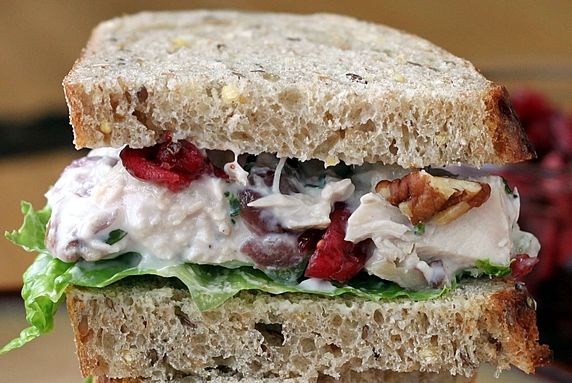 Make ahead tip. You can eat this right away or make it ahead. It will hold a day or two in the fridge, but I've noticed that the yogurt gets absorbed into the chicken/turkey when it sits overnight. This makes the chicken/turkey moist and flavorful, but the salad itself isn't as creamy. You may want to stir in some additional yogurt to restore the creamy consistency if it's eaten the next day.
Make it a yummy day!
Chicken or Turkey Salad with Cranberries & Pecans
By Monica Servings: 6-8 servings
4 cups chopped, cooked chicken or turkey breast*
1/2 cup dried cranberries
1/2 cup chopped toasted pecans
1/2 cup diced celery
1/2 cup low-fat Greek yogurt**
1/4 cup light mayonnaise
1 tablespoon honey
1/2 teaspoon kosher salt
1/4 teaspoon ground black pepper
1-1/2 tablespoons chopped fresh tarragon leaves (or 1-1/2 teaspoons dried)
In large bowl, stir together all ingredients until well combined. Serve in a sandwich or on top of a bed of lettuce. Put a dollop on crackers for an easy appetizer. MAKE AHEAD TIP: Will hold a day or two in fridge, but yogurt gets absorbed into chicken/turkey when it sits overnight. Stir in additional yogurt to restore the creamy consistency if eaten the next day.

EASY VARIATIONS:
Plain chicken salad -- omit the cranberries and pecans.
Swap out the fruit -- in place of the cranberries, try grapes or apples.
Swap out the nuts -- in place of pecans, try sliced almonds, walnuts or pine nuts.

NUTRITIONAL INFORMATION per 2/3 cup serving: 226 calories, 10.2g fat, 8.8g carbs, 1.1g fiber, 6.1g sugars, 25.6g protein; Weight Watchers PointsPlus: 6

*Use leftover chicken or turkey breast, a rotisserie chicken; or cook your own chicken, directions at www.theyummylife/recipes/77
**Use store bought Greek yogurt; or strain regular yogurt to make your own; directions at www.theyummylife.com/recipes/167
Here's another healthy salad/sandwich you might like,
also made with yogurt: