After my post about how to Make Easy Caramel Apples With A Gourmet Flair, I got these photos from my sister, Cali. She and my 15-year-old niece, Kate, had been making caramel apples. (Kate was being a little camera shy. Trust me, there's a beautiful face behind that apple!)
When Kate was little, her family lived in St. Louis. We had a number of cooking escapades together. I've lost count of how many times we made cut-out cookies. Now Kate, Cali and dad/husband Armand live in Utah. I loved receiving these photos, because it almost felt like we were cooking together again. Virtual cooking, I guess you could call it. We were cooking the same things in our kitchens all those miles apart and sharing photos online--so that was sorta close to cooking together.
During their caramel apple cooking adventure, Kate and Cali discovered a couple of tricks and tips I thought I'd pass along.
Tip 1: They melted some peanut butter chips to add to the apple pictured above. YUM!
Tip 2: They drizzled melted chocolate with a ziploc bag, shown in the photo below. Instead of using a condiment squeeze bottle for drizzling the melted chocolate like I demonstrate in my post, they used a heavy duty (freezer) ziploc bag. It's important to be careful not to overheat the chocolate chips. Here's how Cali said they did it:

"I heated the chips in the ziploc with a small amount of oil. I did 10 seconds at a time in the microwave. Just like with melting in a bowl, you want to mix it while some chips haven't melted. I just kneaded the bag in my hand to stir."
Then snip off a bottom corner of the bag with scissors and squeeze out the melted chocolate. How easy is that! And no bowl or bottle to wash. Kate demonstrates: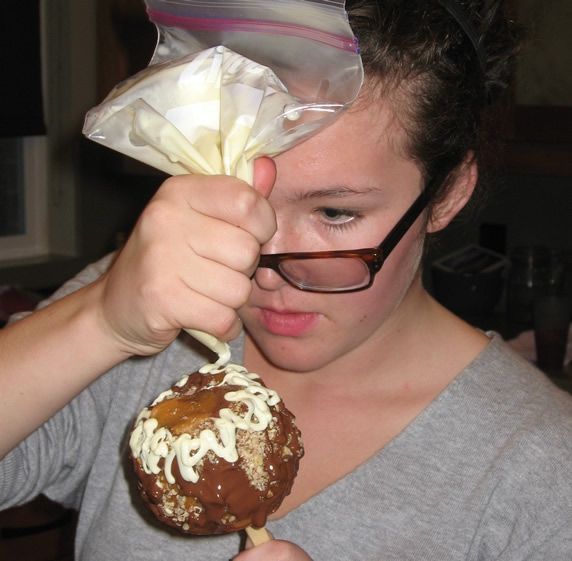 The plastic bag decorating technique was also used on caramel apples in a favorite blog, Jamie Cooks It Up. Jamie uses the melted-chocolate-in-a-bag technique again for making spider webs on cookies. She melts the chocolate chips in a bowl first and adds the melted chocolate to the bag. There are so many fun possibilities for this technique. I love the simplicity of it.
I also used this plastic bag technique for applying toppings and fillings in my post, Many Easy Sweets With 3 Toppings.
I'm getting sidetracked. Back to Cali and Kate's tips.
Tip #3: They cut caramel apples at room temperature.
Cali and Kate found that the technique I demonstrate in my post on How to Cut Perfect Caramel Apple Slices works best when the apples are at room temperature. If the caramel apple has been refrigerated and is still cold, the coating and goodies are more brittle and may break off when cutting through the apple.
Tip #4: They cut larger caramel apples with a knife.
The apple slicer gadget I use to cut my caramel apples may not work for larger apples--it depends on the size of your apple slicer and your apples, I guess. Here's how Cali explains they cut their larger apples with a knife instead of a gadget:
"We cut two lines parallel to the core and then two cuts perpendicular to the first two. The cuts look like a tic tac toe game and it makes eight pieces. I find it good for apples with a larger core than my cutter gadget. If you have ever had an apple from Rocky Mountain Chocolate Factory, that is how they cut them."
Thanks, Cali and Kate for the tips. I enjoyed our virtual cooking experience!
Here's one final shot of Kate. She always liked licking the spoon. Some things never change.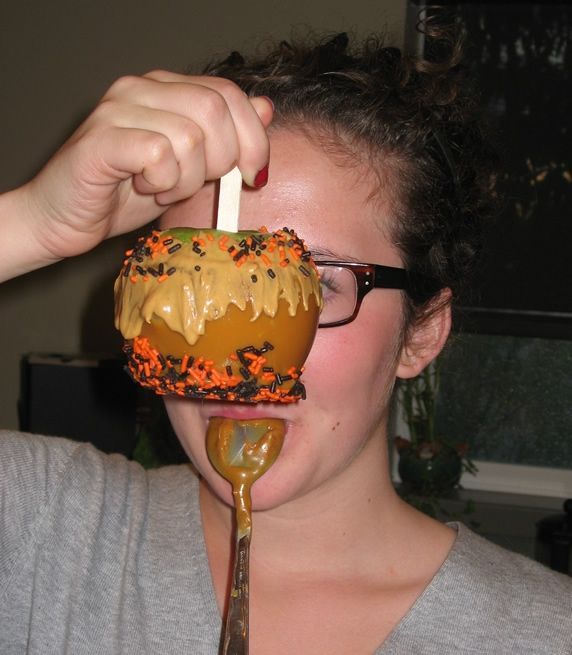 Do you have any tips or questions about making caramel apples? If so, I'd love to hear from you in the comments section at the bottom of this post.
Make it a yummy day!
Other seasonal posts that may interest you:

Pin on Pinterest